Apr. 20, 2012 11:18AM EST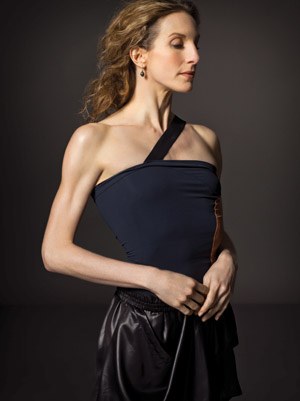 Wendy Whelan (by Henry Leutwyler)
Wendy Whelan
Principal Dancer, New York City Ballet
"One of my most memorable performances took place at the Palais Garnier in Paris in 2008, alongside dancers of the Paris Opéra Ballet. I danced the ballerina role in the second movement of George Balanchine's Symphony in C. It took a lot of mental preparation for me to get ready for that moment—dancing this monumental role at probably the most famous opera house in the world, where Symphony in C actually had its premiere in 1947.
On a more personal note, my childhood ballet teacher was a dancer with POB. She was the first person who believed in me. She told me I had the potential to make something of myself as a dancer. I proudly danced that performance of Symphony in C in her honor. I still have my pointe shoes from that night. It's the only pair of shoes I've ever saved from a performance."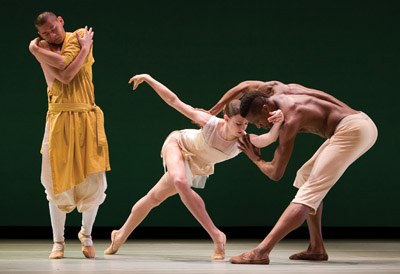 (Courtesy LINES ballet)
Meredith Webster
Alonzo King LINES Ballet
"One performance that remains clear in my memory was in Vaison-la-Romaine, in the Provence region of France. LINES danced there at an ancient open-air amphitheater. We were performing a collaboration with some of the Shaolin monks, and the feeling of being onstage with them, with ancient columns and worn bricks surrounding me and constellations in sight whenever I looked up, was overwhelmingly beautiful."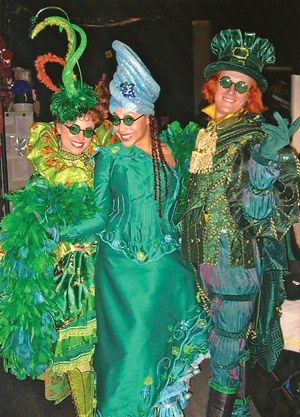 (L to R) Jennifer Di Noia, Afra Hines, Nathan Peck
Afra Hines
Ghost: The Musical on Broadway
"My most memorable performance was my Broadway debut in Wicked in 2006. Growing up I was primarily a dancer—I didn't sing or act. So doing Wicked on Broadway opened a whole new world to me. Now I'm in my third Broadway show, and I love it."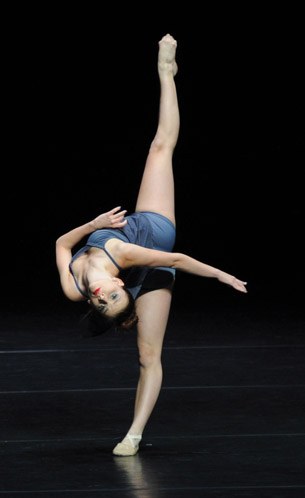 Megan Branch (courtesy Celebrity Dance Competitions)
Megan Branch
Commercial Dancer
"Last summer, I competed for the last time at West Coast Dance Explosion Nationals with my studio, Dance Connection 2. I improvised my solo, and it placed in the top three. It was a little nerve-racking knowing I would be on my own the next year pursuing my dance career, but it felt really good to take the stage that last time and give it my all."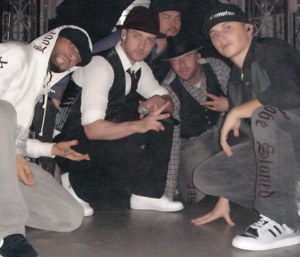 Kenny Wormald (far right) with Timberlake (second from left) and dancers
Kenny Wormald
Commercial Dancer
"When I was performing on tour with Justin Timberlake, we did a show in Boston, MA, at the TD Banknorth Garden. I'm from Boston, and just a few years prior to the performance, I'd been back home in my living room trying to learn JT's choreography. To return to my hometown performing with my favorite artist in the world was amazing. It taught me that anything is possible!"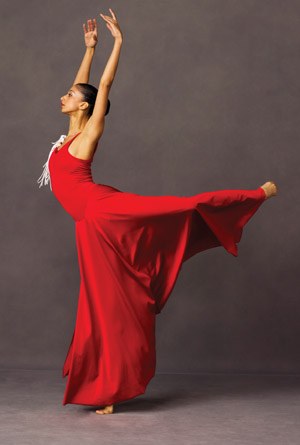 Alicia Graf_Mack (by Andrew Eccles)
Alicia Graf Mack
Alvin Ailey American Dance Theater
"I performed Memoria this last New York season—it's a piece choreographed by Alvin Ailey that I have loved since I was young. Memoria takes its lead dancer on a journey: She hears calls to go to heaven and ascends to another world. Groups of dancers move around her for much of the piece, so it feels like you're dancing in a swirl of light. It was my first season back after not dancing for three years because of a knee injury and arthritis, so the plot of transcendence was close to my heart."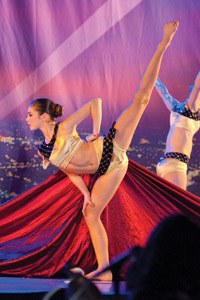 Jacalyn Tatro (Michele Welsh/Inspirations Photography)
Jacalyn Tatro
Student, Inspire School of Dance in Naperville, IL
"Last year, I performed a dance called 'The Lost Soldier' at New York City Dance Alliance Nationals. Because it was on the Fourth of July, I felt a deep connection to what soldiers go through. I think all of us were able to move people in the audience even more than we usually do at competitions."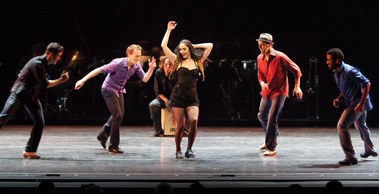 Melinda Sullivan (center) (by Richard Termine)
Melinda Sullivan
Tap Dancer
"This past October, I performed with the New York Song & Dance Company at the Career Transition for Dancers Gala in NYC. I was featured as a vocalist and tap dancer in a number called 'I've Got You Under My Skin.' I looked into the wings during the performance and saw Chita Rivera sitting there, smiling at us. I thought, 'Oh my gosh, I'm singing and dancing for one of the world's greatest song and dance women!' After the show I had the chance to meet Chita. We had an exchange I'll never forget. She was just like, 'Do your thing, girl!' "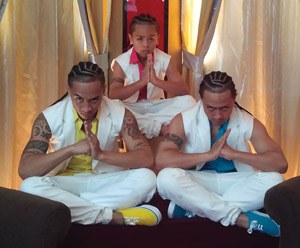 Hefa (left) and his brothers on the "DWTS" set
Hefa Tuita
Commercial/Ballroom Dancer
"Recently, my brothers and I performed a piece that I choreographed on "Dancing with the Stars." To share that moment on the stage with my brothers—to be on TV in front of thousands of people with the people I love most—was so beautiful to me. The energy was kind of spiritual; it almost brought tears to my eyes."
Kalani Hilliker made "Dance Moms" fans sit up a little straighter when she first appeared on "Abby's Ultimate Dance Competition" back in 2013. The then–12-year-old ballerina had charisma, she had sass—and, wow, did she have technique! Abby Lee Miller, the show's infamous host, saw Kalani's star potential from the start, saving her from elimination and ultimately inviting her to perform alongside Maddie Ziegler on Season 4 of "Dance Moms." "I was never supposed to be on 'Dance Moms' beyond that one performance," says Kalani, now 16, but she ended up staying on the show for the whole season—and the following three. "It was my first time, but not my last time, causing drama. And it was also the first time I got to meet the other dancers, who have become like sisters."
Keep reading...
Show less
Boston Ballet's Misa Kuranaga and Patrick Yocum (courtesy Rachel Neville/Boston Ballet)
We're on somewhat of a dance photography kick here at DS, so we figured we'd keep it going in a very big way: an exclusive interview with Rachel Neville, the photographer responsible for all those absolutely drool-worthy dance photos on your Instagram feed. We caught up with Neville at PurePoint Financial in NYC, where her new show, "A Command Performance," is up on display (and we highly recommend you check it out).
Keep reading...
Show less
Thinkstock
Acupuncture has proven benefits for reducing pain and getting dancers back on their feet, but it's also a way to treat your overall well-being—in both mind and body. "Acupuncture works very holistically," says Cassandra Krug, licensed acupuncturist at the Acupuncture Clinic of Boulder, in Boulder, CO. "Even if you come in because of ankle pain, we're looking at your whole body. We're trying to return you to a place of homeostasis, or balance."
Peter Schmidt, a licensed acupuncturist who works with Pacific Northwest Ballet dancers, thinks that acupuncture—when combined with the work of dancer-friendly Western doctors, physical therapists, and orthopedists—results in a higher success rate for his patients. "Acupuncture can't address everything," he says. "But for things that are bothering you that don't show up on an X-ray or MRI, acupuncture could help." Is acupuncture right for you? We talked to the experts to find out what dancers should know before going under the needle.
Keep reading...
Show less
The Top 9 in a Chris Baldock routine (Adam Rose/FOX)
Before we get into this week's recap, let's all show some love for Travis Wall, who had a day yesterday. Just hours before "So You Think You Can Dance" was set to air, Wall was at Disneyland (with friend and "Modern Family" star and aspiring Shaping Sound member Jesse Tyler Ferguson, NBD), where he found himself at a bit of a standstill—literally. "Not gonna be able to make 'So You Think' tonight...because I'm stuck on Indiana Jones," Wall shared on Instagram yesterday afternoon.
But hooray! He eventually did get off the stalled ride, and was in the audience alongside Mandy Moore. We're glad you made it, Travis!
On to the show:
This week, the Top 9 performed solos and duets with their All Stars. You know the drill. As always, we'll skip the solos and get right to the good stuff. (Though the solos were, like last week, so good.) Here's how it all went down.
Keep reading...
Show less


Get Dance Spirit in your inbox