My First Year as a Dance Major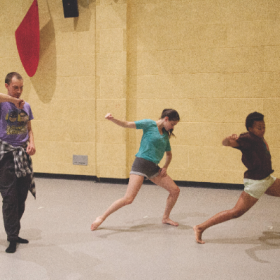 Emily (center) working with choreographer Joshua Peugh and fellow SMU dancer Shauna Davis (by Katie Bernet)
My freshman year at Southern Methodist University in Dallas, TX, was pretty incredible. In just two semesters, I made lifelong friends, took countless hours of technique and academic classes, performed in a variety of works on many different stages and experimented with my own choreography. I also survived dorm life, soreness, injuries—even a massive spider bite. At this time last year, I had no idea how challenging and exciting being a dance major would be!
Here are some reflections on my freshman year. Are you about to head to a college dance program? Read on to get a sense of what your life will be like—and to learn from my experiences.
My Average Day
Each morning, I got started with either an academic class or a ballet class. I spent lunch breaks at the dining hall with the other dancers, and my afternoons and evenings were filled with rehearsals, homework and hanging out with friends. I lived in my school's fine arts community, so between the theater, music and dance students that filled my building there was never a dull moment.
The Good Surprises
One of the first surprises of my freshman year was how quickly the other 18 first-year dance majors became my family. Dance is a unique major because it comes with a built-in support system of like-minded people. We were thrown into constant action, starting rehearsals on our very first day of school for a performance at the opening of a new theater in Dallas. SMU gave us opportunities right from the start and expected us to rise to the occasion.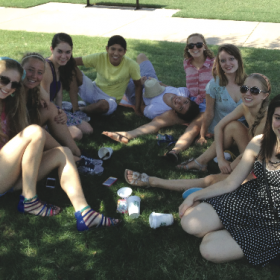 First-year dance majors picnicking on the lawn
I also surprised myself by pledging Chi Omega, a sorority that has introduced me to some truly amazing friends. I discovered that one of the benefits of attending a university is exposure to a variety of life experiences that will ultimately strengthen my art.
The Bad Surprises
Yes, there were a few. The biggest was that I worked on the beginnings of a piece for a student-choreographed show, but unfortunately, it didn't end up making the program. In the moment, it felt like a major setback. But it gave me the time to audition for the summer program I ended up attending in July. It was a reminder not to focus too much on one disappointment—you never know what other opportunities are about to come your way.
Over fall break, I experienced one of the strangest surprises of the year. While camping with some friends, I was bitten by a black widow spider. After stubbornly dancing through the pain for a few days, I ended up in the hospital with a swollen leg and an IV of antibiotics, wishing I'd slowed down and taken better care of myself. Frankly, even without the spider bite, this year would have served as a reminder of how important it is to care for your body as a dancer. I pushed myself to new extremes, but I learned how to rest, too.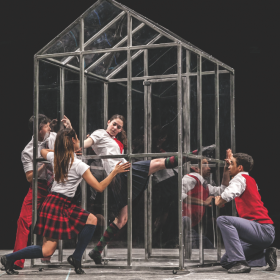 Performing in Joost Vrouenraets' Rite of Spring (by Sharen King Bradford)
Highlights of My Year
The most life-changing experience of my freshman year was performing in Joost Vrouenraets' new Rite of Spring in April. The material was risky, extremely physical and unlike anything I'd ever danced. Joost encouraged us to focus on the intent behind the movement—not only directing us, but also asking for our personal opinions and motivations. He expected us to collaborate instead of waiting to be told what to do. That was so eye-opening. I was also cast in two student-choreographed shows where I worked with upperclassmen. They gave me a chance to show my personality and learn from everyone's unique dance backgrounds.
What I've Learned
After only one year in college, I've learned so much beyond technique and theory. I've learned never to question myself and to have conviction in my art, but also to be open to every new idea. I've learned to use my personal judgment to help me grow, instead of letting it restrict me. I've learned that sometimes you have to put your health first—our bodies will never last if we don't take good care of them. Finally, I've learned that while it's good to have a vision of your future goals, it's even more important to invest in the present. Opportunities and experiences will surprise you. College is an opportunity to say yes to new things, in and out of the studio, without being afraid to fail.
My Advice to You
Incoming freshmen, remember: These four years are a gift! Once we graduate and enter the "real world," opportunities to take class and focus on ourselves will be much harder to come by. Discover what inspires you. Experience as much as you can, but don't forget to take time for yourself. Never be discouraged. Practice patience, both with yourself and with the process of being a first-year. Most importantly, enjoy every minute.
Win It
Sep. 05, 2017 12:10PM EST
Photos by Erin Baiano
It's time to get your pirouette on! From September 5th to September 30th, we're hosting a contest to find out who's the best turner of them all.

Put together your most impressive turning combo. Post a video online. Share your turns with us and thousands of other dancers around the world. And if our editors think you're the top turner, you'll win a fabulous prize.
Keep reading...
Show less
All of 18-year-old Kaylin Maggard's dreams—from scoring the title of National Senior Outstanding Dancer at New York City Dance Alliance Nationals to winning the 2017 Dance Spirit Cover Model Search—are coming true. And to anyone who knows the gorgeous contemporary dancer, that's no surprise.
From the moment the Dance Spirit staff met Kaylin, it was obvious her humility and talent would take her far. Not only did she go full-out during the photo shoot and class at Broadway Dance Center, but she was always cheering on, laughing with, and supporting her fellow CMS contestants Haley Hartsfield and Michelle Quiner. During the voting period, the social media world was abuzz with praise for her work ethic, positive attitude, and generosity.
Since her CMS trip to NYC, Kaylin's moved from her hometown of Columbia, MO, to the Big Apple for her freshman year at Juilliard, and is busy getting acquainted with the city. As for the future? She's taking it one opportunity at a time, but something tells us we'll be seeing this contemporary queen reach new heights every year.
Keep reading...
Show less
J.Crew's putting a whole new spin on its brand —literally. The popular clothing line's inspired ad campaign has a group of cute male models showing off their best moves in a series of playful dance battles. When we saw one of those models throw down the gauntlet with a rather impressive series of chaîné turns, we knew he had to be a trained dancer, and we were right: He's former New York City Ballet corps member Joshua Thew. Dancer and model Smith Reesie also shows off in a seriously impressive freestyle.
Keep reading...
Show less
Lindsey Stirling and Mark Ballas in the Season 25 premiere of "Dancing with the Stars" (Eric McCandless/ABC)
It's fall! The leaves are changing, everything everywhere is pumpkin-spice flavored—and "Dancing with the Stars" is back on the air. For the 25th time. Season TWENTY-FIVE, y'all: Here we go.
Keep reading...
Show less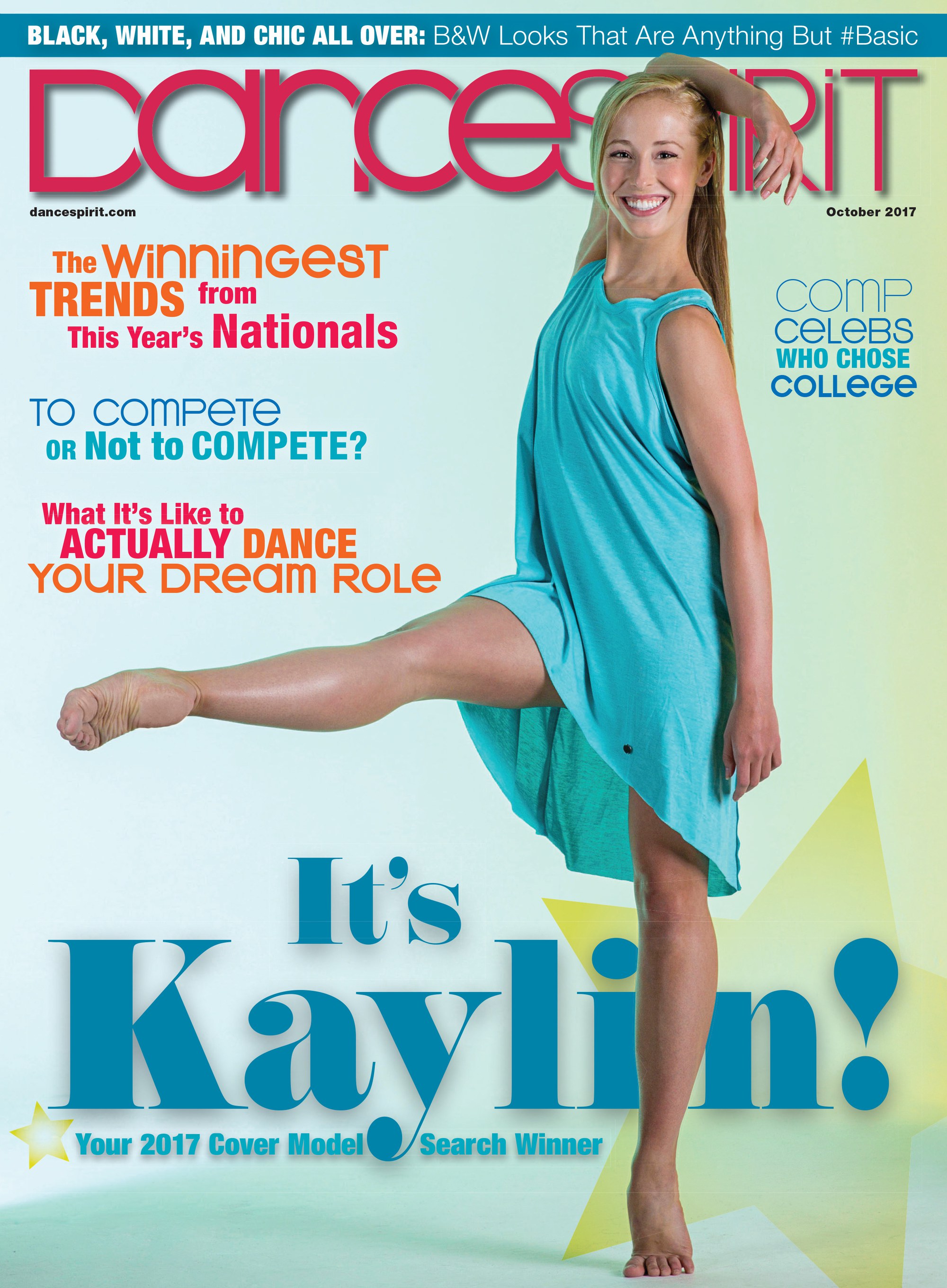 Get Dance Spirit in your inbox