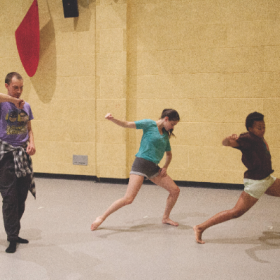 Emily (center) working with choreographer Joshua Peugh and fellow SMU dancer Shauna Davis (by Katie Bernet)
My freshman year at Southern Methodist University in Dallas, TX, was pretty incredible. In just two semesters, I made lifelong friends, took countless hours of technique and academic classes, performed in a variety of works on many different stages and experimented with my own choreography. I also survived dorm life, soreness, injuries—even a massive spider bite. At this time last year, I had no idea how challenging and exciting being a dance major would be!
Here are some reflections on my freshman year. Are you about to head to a college dance program? Read on to get a sense of what your life will be like—and to learn from my experiences.
My Average Day
Each morning, I got started with either an academic class or a ballet class. I spent lunch breaks at the dining hall with the other dancers, and my afternoons and evenings were filled with rehearsals, homework and hanging out with friends. I lived in my school's fine arts community, so between the theater, music and dance students that filled my building there was never a dull moment.
The Good Surprises
One of the first surprises of my freshman year was how quickly the other 18 first-year dance majors became my family. Dance is a unique major because it comes with a built-in support system of like-minded people. We were thrown into constant action, starting rehearsals on our very first day of school for a performance at the opening of a new theater in Dallas. SMU gave us opportunities right from the start and expected us to rise to the occasion.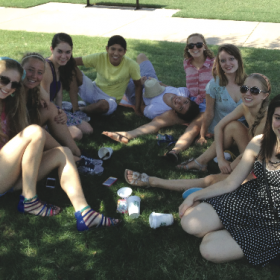 First-year dance majors picnicking on the lawn
I also surprised myself by pledging Chi Omega, a sorority that has introduced me to some truly amazing friends. I discovered that one of the benefits of attending a university is exposure to a variety of life experiences that will ultimately strengthen my art.
The Bad Surprises
Yes, there were a few. The biggest was that I worked on the beginnings of a piece for a student-choreographed show, but unfortunately, it didn't end up making the program. In the moment, it felt like a major setback. But it gave me the time to audition for the summer program I ended up attending in July. It was a reminder not to focus too much on one disappointment—you never know what other opportunities are about to come your way.
Over fall break, I experienced one of the strangest surprises of the year. While camping with some friends, I was bitten by a black widow spider. After stubbornly dancing through the pain for a few days, I ended up in the hospital with a swollen leg and an IV of antibiotics, wishing I'd slowed down and taken better care of myself. Frankly, even without the spider bite, this year would have served as a reminder of how important it is to care for your body as a dancer. I pushed myself to new extremes, but I learned how to rest, too.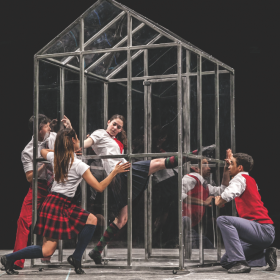 Performing in Joost Vrouenraets' Rite of Spring (by Sharen King Bradford)
Highlights of My Year
The most life-changing experience of my freshman year was performing in Joost Vrouenraets' new Rite of Spring in April. The material was risky, extremely physical and unlike anything I'd ever danced. Joost encouraged us to focus on the intent behind the movement—not only directing us, but also asking for our personal opinions and motivations. He expected us to collaborate instead of waiting to be told what to do. That was so eye-opening. I was also cast in two student-choreographed shows where I worked with upperclassmen. They gave me a chance to show my personality and learn from everyone's unique dance backgrounds.
What I've Learned
After only one year in college, I've learned so much beyond technique and theory. I've learned never to question myself and to have conviction in my art, but also to be open to every new idea. I've learned to use my personal judgment to help me grow, instead of letting it restrict me. I've learned that sometimes you have to put your health first—our bodies will never last if we don't take good care of them. Finally, I've learned that while it's good to have a vision of your future goals, it's even more important to invest in the present. Opportunities and experiences will surprise you. College is an opportunity to say yes to new things, in and out of the studio, without being afraid to fail.
My Advice to You
Incoming freshmen, remember: These four years are a gift! Once we graduate and enter the "real world," opportunities to take class and focus on ourselves will be much harder to come by. Discover what inspires you. Experience as much as you can, but don't forget to take time for yourself. Never be discouraged. Practice patience, both with yourself and with the process of being a first-year. Most importantly, enjoy every minute.
Photo by ABC/Eric McCandless
And that's a wrap on "Dancing with the Stars" Season 24, ladies and gents! It's certainly been one for the books. From injuries to shocking eliminations, let's just say Season 24 has had its emotional ups and downs. But despite all that, the season made for some seriously phenom dancing and some killer performances. And as usual, we've loved watching every second of those cha chas, foxtrots, and waltzes.
Let's get right to the exciting stuff, though: Last night's winning couple of "Dancing with the Stars" is...
Keep reading...
Show less
May. 23, 2017 01:11PM EST
Via @quinn_starner on Instagram
Nearly 80,000 dance-loving Instagram followers can't be wrong: Quinn Starner is one to watch. And what's just as impressive as the 15-year-old's rabid online following is her ever-growing list of competition accolades. Quinn, who trains at Indiana Ballet Conservatory and Stars Dance Company, been named first runner-up at The Dance Awards for two years in a row (as a junior and a teen); was the 2016 West Coast Dance Explosion Teen National Champion; earned first place in contemporary and third place in the classical division at Youth America Grand Prix Regionals in Pittsburgh last year; has won the Grand Prix Award at ADC|IBC; and was a gold medalist at World Ballet Art Competition Grand Prix. Plus, she made it to the Academy round on last year's "So You Think You Can Dance: The Next Generation," and has performed as Clara in the Radio City Christmas Spectacular. Here's what Quinn has to say about her favorite songs, teachers, and career highlights.
Keep reading...
Show less
May. 23, 2017 02:34PM EST
NBC
Want a chance to get personally involved in the HOTLY anticipated TV show "World of Dance"? Of course you do. That's why J. Lo. and the rest of the "WOD" team have launched an interactive version of the upcoming NBC series that lets Snapchatters get in on the action.
Keep reading...
Show less
May. 22, 2017 02:07PM EST
On Saturday morning, Russell Horning—aka 15-year-old Instagram king @i_got_barzz—was already kind of famous. His admittedly bad but weirdly mesmerizing dance videos had earned him shoutouts from the likes of Rihanna (and dance tributes from the likes of Josh Killacky).
But by Sunday morning? By Sunday morning, Russell Got Barzz had reached an entirely different level of memedom. Because Katy Perry tapped the teen—signature backpack and all—to perform "Swish Swish" with her on "Saturday Night Live." And the internet lost its darn mind.
Keep reading...
Show less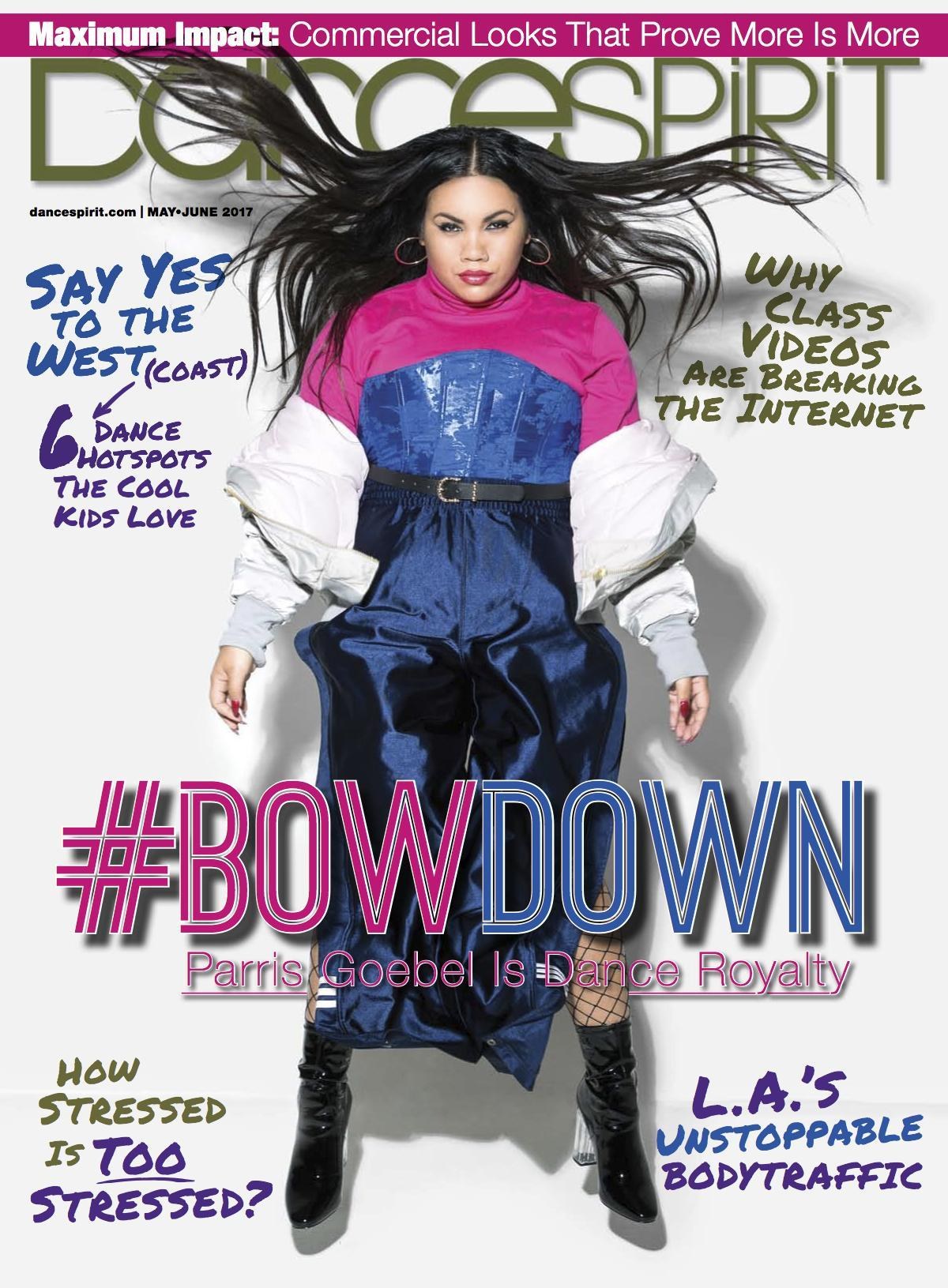 Get Dance Spirit in your inbox