My Top Highlights from NYCDA Nationals
Oh my goodness, you guys: What a crazy, jam-packed, INCREDIBLE week it's been here in NYC! New York City Dance Alliance finished up its Nationals last night with an epic closing gala, capping off nine days of workshop classes and competition. And talk about talent! I'm still kind of overwhelmed by all of the amazing dancers—many of them familiar faces. Here are some of my top moments from NYCDA Nationals.
-First of all, you guys already know that the NYCDA faculty lineup is fantastic. Tony Testa? Melissa Hough? Chloe Arnold? Taja Riley? Andy Blankenbuehler? Dana Wilson? Joey Dowling? Cindy Salgado? Insanity—and those are just the people who were sitting directly in front of me at the gala last night. I loved seeing them cheer on each and every one of the competitors. I especially liked watching ballerina Hough as she relished the ballet dancers—like last year's National Mini Female Outstanding Dancer, Jasmine Cruz—and I had fun looking on as hoofer Arnold got way into some of the tap performances. (Also: Everyone on faculty is ridiculously stylish. Goodness, do I wish I could pull off a crop top like Arnold, or a trumpet ballgown like Dowling.)
-As for the dancers: There were so, so many standouts! I'm having a hard time narrowing down my list. But I especially loved the ones who thought just as much about what they were conveying as how they were conveying it—who gave equal weight to artistry and technique. Mini Female OD finalist Tate McRae paired gorgeous ballet training with a powerful, emotive onstage presence. Teen Female OD winner (congrats!) Jacalyn Tatro wowed with both her incisive legwork and her smoldering, sultry demeanor—she dared you to look away. Two of our Cover Model Search finalists, Christina Ricucci and Sarah Pippin, gave super-strong performances in the Teen Female OD and Senior Female OD categories, respectively (both made the top four!). And tiny tapper Luke Spring showed off not just incredibly fleet feet, but also irresistible charisma in his solo to Michael Jackson's "Dangerous." He earned the National Male Mini OD title—and a comparison, by director Joe Lanteri, to one Mr. Corey Snide, who won his own Mini OD title 10 years ago doing a tap routine to Jackson's "Bad." It was almost too perfect.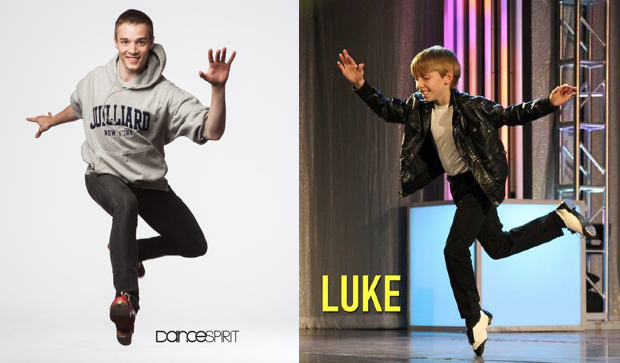 Twinning! (Left) 2004 National Mini Male OD Corey Snide, now a student at The Juilliard School, and (right) National Mini Male OD Luke Spring (left photo by Erin Baiano; right via NYCDA)
-As for the group routines: I love me some drama, but I have to say that my favorite numbers were the upbeat, hard-hitting ones, rather than the angstiest of the angsty. I was totally blown away by the take-no-prisoners ferocity (and the impressive unison) of the Westlake School for the Performing Arts dancers in their Teen group piece, "Royals."
-Let's talk about the college scholarships awarded at NYCDA this week, shall we? I was lucky enough to be part of the college scholarship audition process, so I can say from firsthand experience that the pool of college hopefuls impressed not just with their technique, but also with their eagerness and professionalism. Between NYCDA's college partners—which included the likes of Marymount Manhattan College, Point Park University and PACE University—and the NYC Dance Alliance Foundation, more than $4 million in scholarships were given to more than 50 deserving dancers. $4 million! That's a new record for NYCDA, and kind of a mind-boggling number.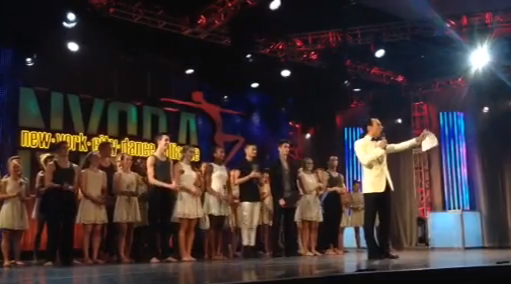 Lanteri onstage with all the scholarship winners (photo via NYCDA)
-Last but not least: NYCDA turned 20 this year! Naturally, they put together an adorable birthday video for the junior gala. But what really touched me was the number of NYCDA alums and former faculty who came out to celebrate the milestone. As Lanteri said last night, NYCDA is a real family—and once you're in, you're a member for life.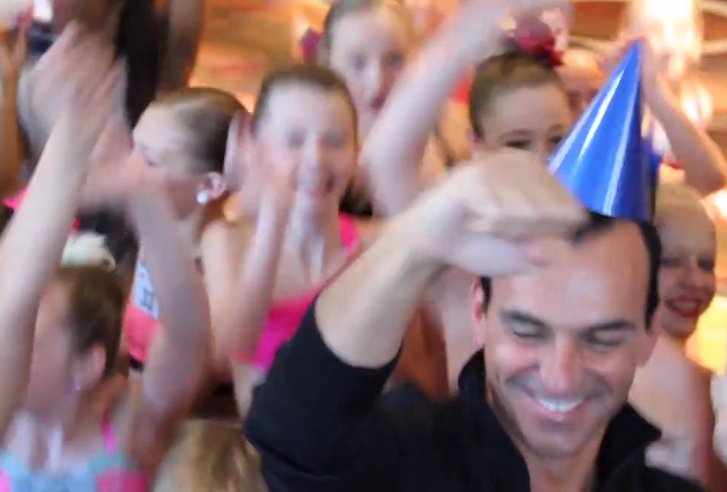 Few things make me as happy as Joe Lanteri in a party hat.
Much of Janelle Ginestra's career has been about helping others shine. She's dedicated herself to supporting and cheerleading her partner, WilldaBeast Adams; the emerging talents in their dance company, ImmaBEAST; and the countless dancers she inspires at master classes and conventions. Her YouTube channel has become a launching pad for young talents like "Fraternal Twins" Larsen Thompson and Taylor Hatala, thanks to viral videos featuring Ginestra's creative vision.
But Ginestra's a skyrocketing success in her own right—an in-demand choreographer, a social media influencer, and a dance entrepreneur, building a legacy one eight-count at a time. It's time for her turn in the spotlight. And she's more than ready. "I want to be a legend in whatever I do," she says. We'd argue that she already is.
Keep reading...
Show less
Win It
Oct. 13, 2017 04:31PM EST
Daphne Lee is a queen, and not just in the "OMG Girl Boss Alert" sense of the word. She's an actual queen—a beauty queen. Crowned Miss Black USA in August, she's been doing double duty as she continues to dance with the Memphis based dance company, Collage Dance Collective. Lee's new title has given her the means to encourage other black girls and boys to pursue their dreams, while also pursuing dreams of her own. The scholarship money awarded with the pageant title will assist her as she earns a Masters of Fine Arts degree at Hollins University.
Keep reading...
Show less
When a choreographer finds a composer whose music truly inspires her, it can feel like a match made in dance heaven. Some choreographers work with the same composers so frequently that they become known for their partnerships. New York City Ballet soloist and resident choreographer Justin Peck, for example, has tapped composer Sufjan Stevens numerous times (last spring, the two premiered The Decalogue at NYCB, to rave reviews); L.A. Dance Project's Benjamin Millepied's working relationship with composer Nico Muhly has spanned a decade and two continents; and when tap dancer Michelle Dorrance premiered the first-ever Works & Process Rotunda Project, a site-specific work for New York City's Guggenheim Museum, last year, percussionist Nicholas Van Young was by her side as an equal partner. Successful collaborations require compatibility between artists, direct and honest communication, and flexible, open minds. But when the stars align, working with a composer can be extremely rewarding.
Keep reading...
Show less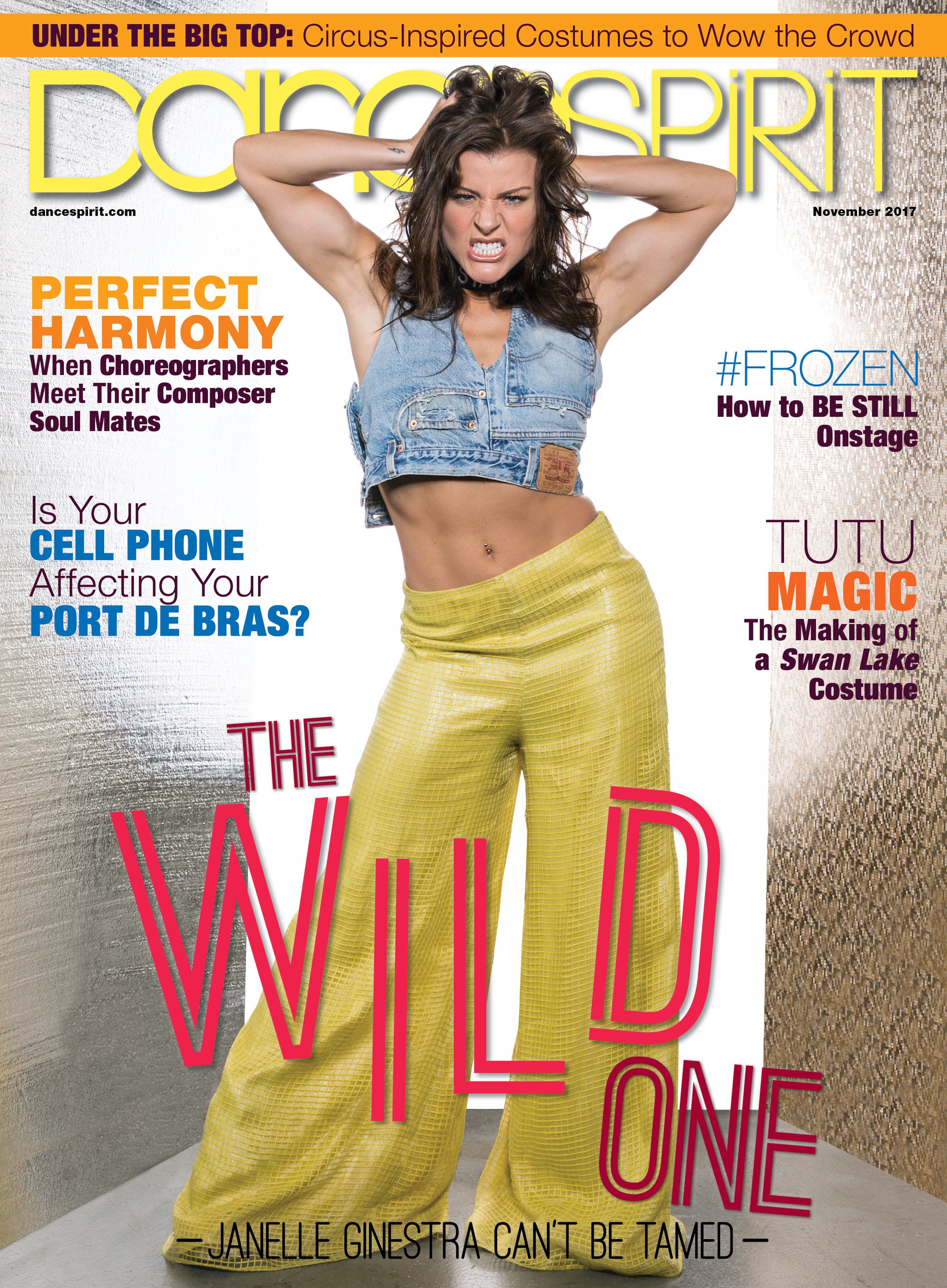 Get Dance Spirit in your inbox