Dec. 13, 2016 06:03PM EST
How to Nail Your Audition Video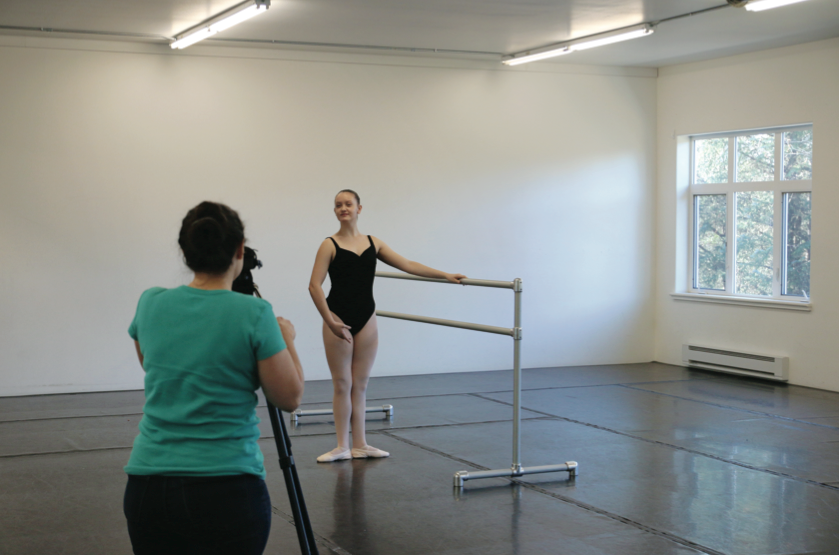 Juneau Dance Theatre student Anna McDowell filming an audition video with Bridget Lujan (courtesy Juneau Dance Theatre)
Auditioning for summer intensives in person may be the ideal—but for Anna McDowell, a 16-year-old student at Juneau Dance Theatre in Juneau, AK, it's rarely possible. "Living in Alaska, it's difficult to travel to auditions," she says. "It gets way too expensive!" Instead, each year, with help from her teachers and a videographer, she puts together a well-crafted video and submits it to schools around the country. Last year, her high-quality video helped her earn acceptance to nearly every program she applied for. Most summer intensive programs, eager to attract students from far and wide, will accept video auditions from those who can't travel to take class. But major schools look at hundreds of submissions each year, which means video auditioners have just a few minutes—or even seconds—to make a great impression. If you're about to create an audition video, follow these tips from the professionals to put your best digital foot forward.
Before you step in front of a camera, visit each summer intensive's website and make a list of their video requirements. Most ballet programs will specify certain steps they want to see, both at barre and in center. "Some places want to see the entire class on pointe, or a variation at the end," McDowell says. That may mean you have to make multiple versions of your audition video. (One year, McDowell made five different videos to accommodate requests from different schools.)
If you're auditioning for a non-ballet program, the directions might be less specific. "Don't be afraid to ask questions," says Nel Shelby, professional videographer and owner of Nel Shelby Productions, who frequently films audition videos. "Email the school or choreographer and ask what they want to see."
Prep for your video shoot as you would for a live audition: Sleep well the night before, make sure you're warm before you dance and choose an appropriate audition look. "I prefer a simple leotard and pink tights," says Lawrence Rhodes, director of The Juilliard School's dance program. "We should see the body completely, and be able to tell what your proportions are like and what your capabilities are."
If you'll be dancing a variation, make sure you're well rehearsed and at ease with the choreography. "Choose something you feel good about, that shows you at the top of your game," Rhodes says. It's worth practicing the basics, too. "Rehearse everything, even barre exercises, to make sure you're comfortable before you film," says Steven Wistrich, director of City Ballet of San Diego.
Ask your coach or teacher to be there on shoot day. He or she can provide technical feedback, and can also help by giving you combinations that will highlight your strengths.
If you can afford a professional videographer, it's worth it: A pro will help you make sure you look your best. But if that's not in your budget, a high-quality smartphone video will work fine, provided you're strategic about the filming process.
Reserve a studio so that you can film yourself solo, rather than trying to tape a regular class. "When there are other people around, I don't know who I'm supposed to be watching," Wistrich says. Make your video easy to watch by choosing a simple background, like a white wall, and avoid shooting in front of a mirror, since seeing the front and back of you at the same time can be confusing and distracting. "Fluorescent studio lights are tricky on film," Shelby says, "so do a test shot to make sure you don't have shadows on your face."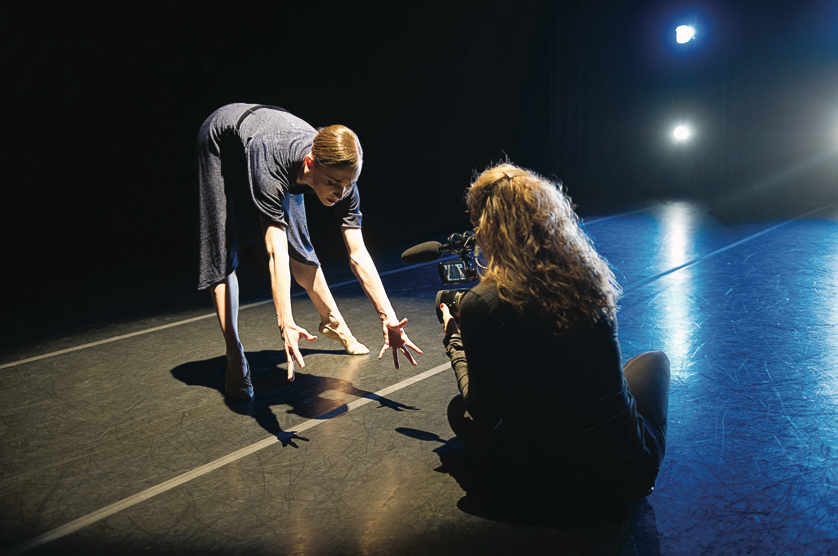 Nel Shelby filming Pacific Northwest Ballet's Margaret Mullin (photo by Christopher Duggan, courtesy Shelby)
Sound levels are also important. Again, do a few tests to ensure your music records at a normal volume. "If it's really loud or soft, people might turn off the video right away," Shelby says. And keep in mind that wearing brand-new pointe shoes that tap the floor noisily might make people think you're not using your feet properly.
There are all kinds of user-friendly editing programs, like iMovie, available to help you compile your footage. But there's no need to get fancy during the editing stage. In fact, the most successful videos are frequently the simplest ones: They're as clear and easily viewable as possible, without a lot of busy graphics, special effects or text. "I don't think it's important that people have a slick reel and fancy cover page," Rhodes says. "We're looking at the dancing. You want to focus on putting something forth that is movement-oriented, musically sound and well coordinated. Those things actually count a lot."
Surprising Video Dos and Don'ts
Videographer Nel Shelby lays out filming rules that might not be intuitive to nonprofessionals.
Shooting from multiple angles might seem sophisticated, but it's actually a DON'T. "It's disorienting to see shots that are high, low, and from the side," Shelby says. "A simple, one-camera angle is best."
DO stabilize your camera. "Even if you're shooting on an iPhone, make sure that it's steady," Shelby says. "Buy a little tripod or mount the phone on the wall."
If you're using a smartphone, DON'T shoot vertically! "We tend to hold our phones vertically, but if you do that, you'll end up with black bars on each side of the finished product, and you'll look smaller in the frame," Shelby says.
DO think about how you're framing your body with the camera.
Be sure not to leave too much room on the top or bottom of the screen.
What's more daunting than getting into your dream college dance program? Figuring out how you'll cover the costs of tuition, room and board, incidental expenses and more. Here's the good news: The right scholarship(s) can bring your dream school well within reach.
Look Around, Look Around
Scholarship applications are due between the fall of senior year and graduation time, so familiarize yourself with funding opportunities during the spring of junior year. And there are a lot of opportunities out there, says Kate Walker, chair of dance at Booker T. Washington High School for the Performing and Visual Arts in Dallas, TX. "A lot of school guidance counselors now have software that automatically matches you with scholarships," she says.
Seek out scholarships on your own, too. According to Walker, "a lot of corporations are required to have some community engagement, including offering scholarships, so research corporations in your community." Your parents' employers might offer assistance too, says Doug Long, an academic and college counselor at Interlochen Arts Academy in Interlochen, MI. "They might have scholarships you can apply for just because your parent works there."
Other sources of grant money you won't have to pay back (as you would a loan)? The YoungArts Foundation; competitions/conventions, like New York City Dance Alliance; and the university or dance department you're applying to. Even some scholarships aimed at athletes are open to dancers!
Apply Yourself
A winning scholarship application involves a fair amount of paperwork, especially if the organization requires you to show financial need. In addition, certain scholarships ask for the College Board's CSS/Financial Aid Profile, which gives the awarding organization a more complete picture of your family finances.
Other ingredients of a successful scholarship application include recommendation letters, a dance and/or academic resumé and an essay or statement of purpose. Treat these components just like college applications: Have multiple trusted adults proofread your materials, and ask for recommendation letters or transcripts long before deadlines.
A note for non-dance scholarships: Including objective measures of achievement can only help you. "List national recognitions, like YoungArts or other competitions," says Long. "That shows the scholarship committees that people at high levels have acknowledged you as an artist of quality." And don't forget who your audience is. "Especially in writing samples, make sure you paint a vivid picture for your reader," Walker says. "Don't assume they know about all the things—like barre every day—that we as dancers take for granted."
No award amount is too small to be worth your time and effort. As Walker says, "Don't pooh-pooh a couple hundred dollars in award money, because any scholarship is funding that you didn't have yesterday."
A version of this story appeared in the July/August 2017 issue of Dance Spirit with the title "All Aboard the Scholar-ship."
Every ballet dancer knows the time, sweat, and occasional tears the art form demands. But many non-dancers are clueless about just how much work a ballet dancer puts into perfecting his or her dancing. So when the mainstream crowd recognizes our crazy work ethic, we'll accept the round of applause any way it comes—even if it comes via four men in tutus. Yep, we're talking about "The Try Guys Try Ballet" video.
Keep reading...
Show less
(via YouTube)
Remember that fabulous old-school clip of dancers tapping in pointe shoes that Tabitha and Napoleon D'umo brought to our attention back in March? As we mentioned then, toe-tap dancing was actually super popular back in the 1920s and 30s—which means there are more videos where that one came from. And because #ToeTapTuesday has a nice ring to it, we thought we'd take this opportunity to introduce you to Dick and Edith Barstow, a toe-tapping brother and sister duo from that era who are nothing short of incredible:
Keep reading...
Show less
(Adam Rose/FOX)
Guess who's back? Back again? The Academy's back! Tell a friend.
After one day at The Academy, the All Stars have successfully taken the Top 100 down to 62. But their work is just getting started: Now they need to keep narrowing the field to a Top 10, ultimately deciding who each will partner with during the live shows.
Keep reading...
Show less


Get Dance Spirit in your inbox