World Dance
Jan. 13, 2010 06:08AM EST
Nakul Dev Mahajan: The Mastermind Behind Bollywood
The red-hot Bollywood routines choreographed by Nakul Dev Mahajan for the past three seasons of "So You Think You Can Dance" have repeatedly earned contestants seats on the hot tamale train. The intricate hand movements and high-energy steps have struck a chord with audiences as well: Mahajan's routine for Season 4's Joshua and Katee spent a week atop YouTube's "Most Viewed" list!
For Mahajan, these accomplishments are the culmination of a longtime devotion to raising the profile of Bollywood dance. "For years, Bollywood dancing wasn't even seen as dance," he says. "People thought it was a freestyle form of dance that could be done by anyone."
His mission to showcase the artistry and excitement of Bollywood dance is still going strong—and it seems to be working. His "SYTYCD" numbers have even inspired a slew of routines at competitions. Read on to get the scoop on how Mahajan helped bring Indian dance to the U.S.
Dance Spirit: You were essentially self-trained and didn't take your first "real" dance class until age 18. How were you introduced to the Bollywood style?
Nakul Dev Mahajan: I've lived in L.A. my entire life, but when my mom was eight months pregnant, she traveled to India and I was born there. I grew up watching Bollywood movies; my mom and dad are avid fans. For immigrants who live outside India, it's a bind that keeps our roots intact and a way of getting our cultural fix. I was drawn to Bollywood, this genre of movies that are so over the top and colorful, especially the ones featuring actor Amitabh Bachchan. He's an icon, a legend whose status in India is probably equal to that of Michael Jackson in the U.S. He took dance to a different level, and my way of learning was by watching him and mimicking the routines I saw onscreen. It was magical. I didn't really know if I was doing it correctly, but it seemed innate.
DS: When did dance first become a viable profession for you?
NDM: Before I had the courage to show anyone my dancing, I would dance alone in my room. However, family friends had seen me dance at parties and talked me into doing a charity event when I was 16. I didn't know it would be the start of something amazing! Offer after offer came in to perform at other places. I also started taking classes from Indian guru Vandana Sheth and training seriously in Kathak dance. Soon I started competing, and enjoyed a five-year winning streak at the [South Asian dance-oriented] Ziba Dance Competition. In 1998, I formed a group called NDM Bollywood Dance Productions and started performing around the country. What began as a hobby became a bona fide Bollywood dance company.
After graduation from University of California, Riverside, I decided to open a Bollywood dance studio. We launched in 2003 in Artesia, CA, which was essential because there is a portion of the city known as Little India. What I thought would be a weekend gig turned into a full-time job over the next five years! We now serve more than 600 kids a year, and we've opened locations in Irvine, Northridge and Bel-Air.
DS: So how did you end up working on "SYTYCD"?
NDM: Nigel Lythgoe is such a worldly person in terms of embracing other cultures. "SYTYCD" brought Bollywood dance to national television at least a year before Slumdog Millionaire came out; the producers wanted to add a new element to their existing repertoire. Prior to the show, I had the privilege of choreographing for "The Office" and "Passions," so the "SYTYCD" producers felt I would be the right guy for the job.
DS: How do traditional Indian dance styles differ from the more modern styles seen in popular culture?
NDM: Kathak is a classical North Indian dance form and the southern version of it is Bharata Natyam. My style is heavily influenced by classical Indian dancing; I feel that classical dance will never die. I do incorporate a lot of Western moves in my choreography, but what sets it apart is its authenticity and the cultural aspect of its movement.
DS: Any advice for dancers who want to learn Bollywood?
NDM: Embrace the fact that it's fun! It should bring a smile to people's faces and have huge entertainment value. The level of energy in performance needs to be high, so dancers should throw themselves into the movement.
What exactly is Bollywood, anyway?
While Bollywood is now known as a dance style, the term originated in reference to the genre of Indian movies that derived its name from a combination of two words: Bombay and Hollywood. These big-screen favorites often revolve around a love story and include colorful musical numbers with throngs of dancers. Bollywood dancing incorporates everything from classical Indian dance to hip hop to ballroom elements, so it's easy to wonder what exactly gives Bollywood its identity. According to Nakul Dev Mahajan: "Bollywood is basically a smorgasbord of world styles of dance put to a playback of Indian music on the big screen." (The routines Mahajan creates for "SYTYCD" emulate these film dances.)
Another signature trademark of Bollywood dancing is its joyous, upbeat nature and fast-paced movements. Why all the whimsy? "Much of the Bollywood audience lives in Third World countries," says Mahajan. "They love to look at the amazing costumes and exotic locations—people want to escape from their lives and Bollywood movies let them become part of the fantasy they're watching."
Photo by Mathieu Young/FOX
(From left) Mean Girls dancers Riza Takahashi, Ben Cook, Kamille Upshaw, Jonalyn Saxer, DeMarius R. Copes, and Stephanie Lynn Bissonnette (photos by Erin Baiano)
Get in, losers. We're going to Broadway.
OK, not losers, actually—more like the bajillion die-hard fans of Tina Fey's 2004 cult hit Mean Girls, who've been wearing pink every Wednesday since a musical adaptation of the film was first teased back in 2013.
Now their world is like a cake filled with rainbows and smiles, because Mean Girls the musical, which had a trial run in Washington, DC, last fall, is set to open at Broadway's August Wilson Theatre April 8. And in a very grool twist, it turns out the show—with direction and choreography by Casey Nicholaw and a book by Fey herself—is delightfully dancey.
Keep reading...
Show less
Maddie Ziegler (via @tiffanyandco on Instagram)
Take a look at Tiffany & Co.'s new ad campaign and you might recognize a familiar face. The one and only Maddie Ziegler has partnered with the luxury jewelry brand and the resulting video is pure brilliance. The glamorous collaboration reveals Maddie's candid thoughts about life as a dancer and the work ethic that's gotten her to where she is today.
Keep reading...
Show less
Photo by Erin Baiano
We've all seen the videos on Instagram: a professional ballerina, casually perched atop a BOSU ball, développé-ing like it's no big deal. When done properly, BOSU ball exercises are both insanely impressive and incredibly effective for strengthening your core, ankles, and overall stability. Dance Spirit turned to Joel Prouty, a NYC-based personal trainer and injury prevention/exercise-conditioning specialist, for his top three BOSU ball moves, ranging from easy to hard.
Photos by Erin Baiano. Modeled by Lauren Post, dancer with American Ballet Theatre.
Keep reading...
Show less
How To
Jan. 30, 2017 01:44PM EST
Illustration by Lealand Eve
A few years ago, 16-year-old Kayla Gonzalez found herself dancing alongside a mean-spirited girl. "She could be so rude," says Gonzalez, who trains at The Dance Zone in Henderson, NV. "It got worse at competitions. She'd make up lies, saying my teammates and I were doing things we weren't. She was always trying to get ahead." Sound familiar? A competitive environment can bring out the very worst in some dancers' personalities. When put in a stressful situation, students can become bossy, overdramatic or downright mean. Here, DS breaks down four toxic types you might encounter, and offers tips on how to respond.
Keep reading...
Show less
The Lethal Ladies performing in STEP (courtesy Fox Searchlight Pictures)
"A dancer's body is her instrument"—we've all heard the saying. But for steppers, who use their bodies to emulate rhythmic drumming, that saying is everything.
Step swept the U.S. last summer with the release of the documentary STEP, which followed three members of the Baltimore Leadership School for Young Women step team. The team also made it onto the "So You Think You Can Dance" Season 14 stage, after member Blessin Giraldo's audition ended in an invite from Nigel Lythgoe himself.
For dance fans, it may have seemed like the summer of step. But this art form has been around for well over a century. What is it, where did it come from, and why is the wider dance world taking notice?
Keep reading...
Show less
Evans as Captain America, saluting tap-dancers everywhere.
Giphy
So WHY isn't there more video evidence of this hidden talent?
Keep reading...
Show less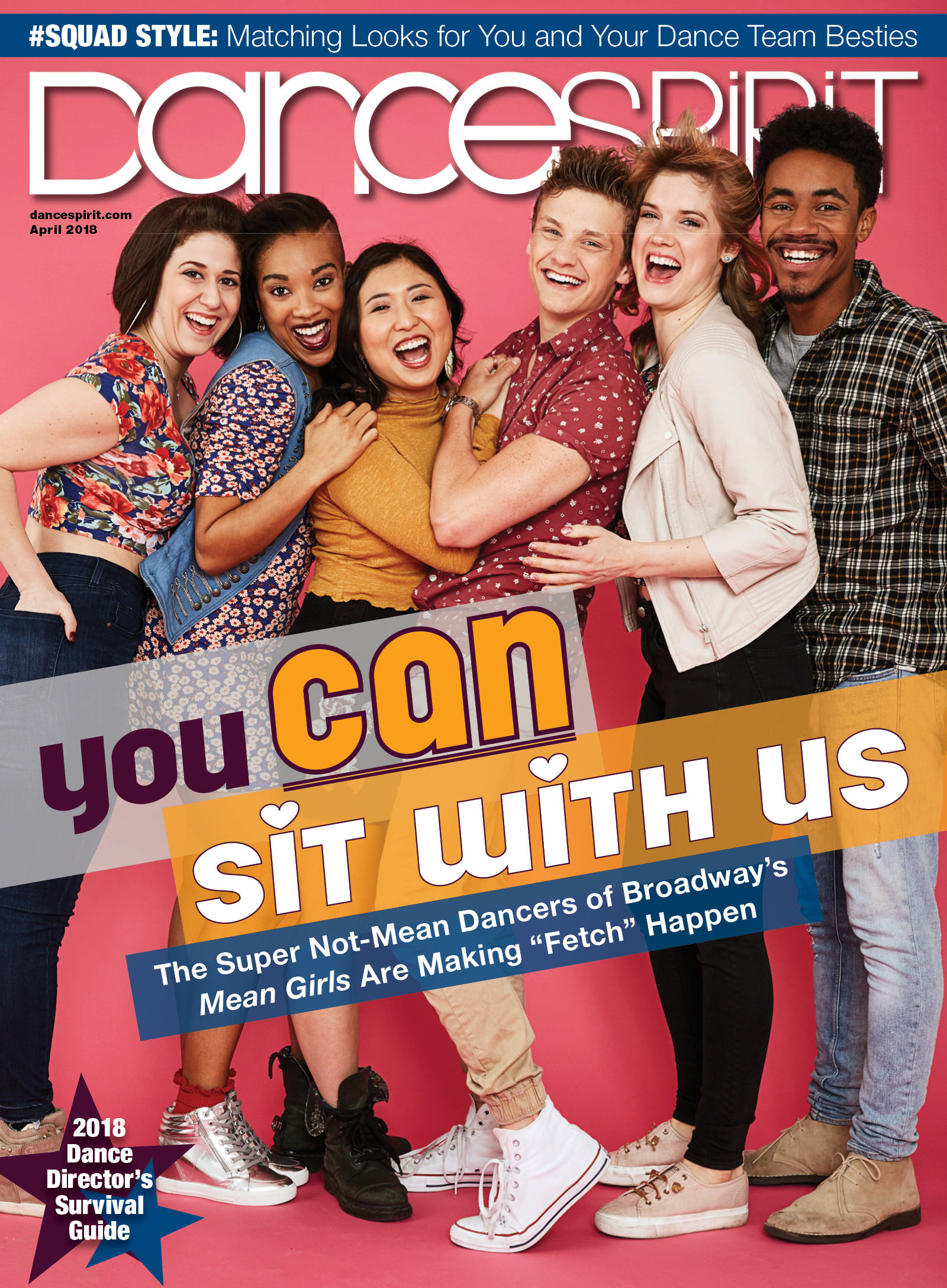 Get Dance Spirit in your inbox