Jun. 15, 2012 10:42AM EST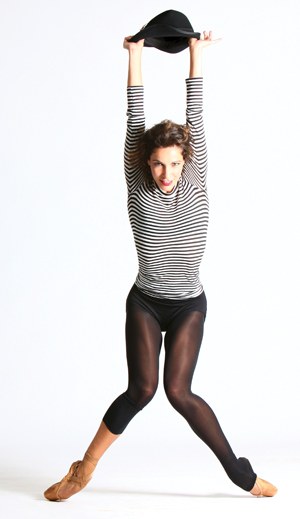 by Jae Man Joo
Complexions Contemporary Ballet's Natalia Alonso dances with fluidity and strength, but it's her fiery presence that makes her hypnotizing onstage. A native New Yorker, Alonso trained at Fedicheva Ballet School, Boston Ballet School, The Ailey School and with Irena Lebedeva. She joined Ballet Hispanico in 2001 and became a principal before leaving for Complexions in 2008. Alonso has commercial cred, too: She has danced on tour with Aretha Franklin and in several Telemundo programs and independent films. In addition to her impressive dance resumé, Alonso has a BA in economics from Wesleyan University and is a certified Gyrotonic instructor. Dying to see her dance? Complexions will perform in Brooklyn, NY, this August.  —Gretchen Schmid
Dear Teenage Me, OK, so you're not perfect. You have to work on your turnout, your teacher keeps yelling at you for swaying your back and your left leg just doesn't go up as high as your right. And all that makes you afraid you're not going to make it as a dancer.
Alonso as a teen
In the meantime, continue to work hard and improve your technique and artistry. Don't force your body to be something it's not. Focus on training correctly to avoid future injuries and develop the best version of yourself. 
Listen: I know things seem a little scary right now. But trust in yourself. Keep working hard. You'll end up where you're supposed to be. 
Ciao for now,
Older and Wiser Me
Dance is a powerful form of expression, and Ahmad Joudeh is using its influence to promote peace.
The 27-year-old is a Palestinian refugee, whose decision to pursue his passion for ballet has made him the target of death threats from terrorist organizations. Despite the danger, Joudeh has decided to continue on his path as a dancer, using his performances as an opportunity to spread a message of peace and cultural awareness.
Keep reading...
Show less
A dance photo of Averi Hodgson (courtesy of Cortney Hodgson)
For 14-year-old Averi Hodgson, focusing on her ballet training while growing up was never easy: She's suffered from epilepsy since she was in first grade, and later, she was also diagnosed with scoliosis. Here, she tells her story of perseverance—and how her determination earned her a spot at the School of American Ballet's 2017 summer intensive.
Keep reading...
Show less
CBS
"Late Late Show" host James Corden was one of the many, many people shocked by President Trump's sudden decision to ban transgender people from the military yesterday. And he decided to voice his outrage in the way most likely to rile a President who's uncomfortable with anything "un-manly": through a big, beautiful, extra-sparkly song-and-dance routine.
Keep reading...
Show less
Jul. 25, 2017 05:04PM EST


Get Dance Spirit in your inbox