America fell in love with Neil Haskell on "So You Think You Can Dance" Season 3—but the talented technician has much more than just spectacular dancing up his sleeve. "I've been acting and singing for almost as long as I've been dancing," Neil says. So it's no wonder this triple threat has gotten comfy on Broadway—in Twyla Tharp's The Times They Are A-Changin', 9 to 5, and most recently, Bring It On: The Musical. He's also been featured in several movies, returned as a "SYTYCD" All-Star for Seasons 7, 8 and 10, and danced at the 2013 Emmy Awards. Want more Neil? Read on for The Dirt. —RZ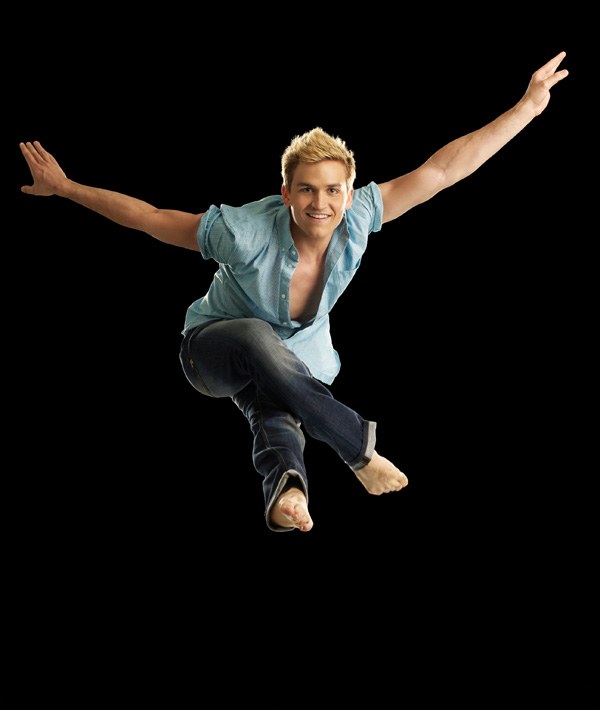 (Photo by Mathieu Young/FOX)
What did you want to be when you were a kid?
An actor, a lawyer or a professional baseball player. (I'm now an all-star shortstop in the Broadway softball league!)
What performer would you drop everything to go see?
Ben Vereen. I met him on the "SYTYCD" set this past season, and I definitely geeked out.
What's your must-see TV show?
It used to be "Breaking Bad," but now that the series has wrapped, my must-see show is "New Girl."
What's the strangest thing in your dance bag?
A headband with a mullet attached. You never know when you'll need a mullet.
What's one thing most people don't know about you?
I'm ridiculously competitive at iPhone games, and I won't stop until I have the high score. You name the game, I'll learn it and kick your butt by the end of the day. Don't even try me. Seriously.
Who is your dance crush?
I can't name just one. I've had crushes on many girls I've danced with.
What's your dream role?
Eddie in Movin' Out on Broadway.
What's been the proudest moment of your career so far?
Opening night of The Times They Are A-Changin', my first Broadway show. That was the moment I felt I'd "made it." At 19, I still had a lot of growing to do, but it was the start of a new chapter.
Sara Mearns and Chase Finlay in Pontus Lidberg's "The Shimmering Asphalt" (via @saramearns on Instagram)
We've said it before and we'll say it again: New York City Ballet principal Sara Mearns is some SERIOUS #goals. Her strength and power onstage borders on superhuman. But what's extra magical about Mearns is that she really puts in the fitness and cross-training work outside of the rehearsal studio. And she's overcome her fair share of injuries. Which is why she was the perfect source for Vogue's latest ballet fitness story.
Keep reading...
Show less
Jul. 23, 2017 07:00AM EST


Get Dance Spirit in your inbox