New Documentary Shows What it Takes to Become a Dance Legend
Attention ballroom dance fanatics! Get ready to set your DVRs, because we've got the perfect fix for your "Dancing with the Stars" withdrawal.
On Monday, July 21st, the PBS documentary series "POV" (Point of View) is featuring two young competitive ballroom dancers in a new film called Dance for Me. The episode follows teen partners Egor and Mie as they experience personal struggles, heartbreak and triumph while trying to make names for themselves in the competitive world of DanceSport. The two don't always see eye-to-eye, but they both share the same goal: to become legends in the world of ballroom dance. Obviously that's quite a big goal to have—but this talented pair is putting in the hard work to achieve it.

The stars of Dance for Me, Mie (left) and Egor (right)
(photo courtesy of Sophia Olsson, © klassefilm)
We caught up with Mie Funch (who is, btw, the absolute sweetest!) to chat about the film and see what she's been up to since it wrapped.
Dance Sprit: What excites you most about the film? And what do you hope viewers take away from it?
Mie Funch: I'm very honored that this will be shown in America. As a young person from Denmark, this is quite big! I'm excited for viewers to understand what it actually takes to be a dancer. I also hope they see that even though you and your partner may be very different—you may even come from different countries, like Egor and I do (he's from Russia)—you can find ways to communicate and work together to get along. Even if that means agreeing to disagree, it can all work out if you accept your differences.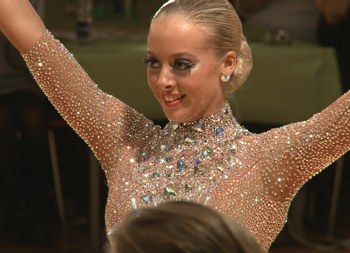 Mie at the European Championships
(photo courtesy of Sophia Olsson, © klassefilm)
DS: What were your initial thoughts after seeing the documentary for the first time? Are you happy with how it turned out?
MF: I was quite surprised! Seeing myself on the big screen was overwhelming, but I like the film very much. It's very real. I like that it shows all of the hard work it takes to become an athlete and a dancer at a high level.
DS: What's your training schedule like?
MF: It depends if a competition is coming up or not, but in general, I train six days a week for two to six hours every day. When I'm not in the studio, I like to go running for stamina training. Yoga and ballet are both great for ballroom dancers too!
DS: What are you working toward now?
MF: Currently, I don't have a partner—Egor and I decided to move on to new partners after we got home from the World Championship in China. Egor is now dancing with another Danish girl and living with her family—he's very happy. There are so many factors to having a working partnership: chemistry, style, ability and more. So my immediate goal is to find a partner and start dancing competitively again. Many top competitive dancers travel around to find partners, but I can't relocate yet because I'm still in school. It makes finding a partner quite difficult!
Dance for Me airs Monday, July 21st at 10 pm EST on PBS (check your local listings for times). Watch the trailer here:
CBS
"Late Late Show" host James Corden was one of the many, many people shocked by President Trump's sudden decision to ban transgender people from the military yesterday. And he decided to voice his outrage in the way most likely to rile a President who's uncomfortable with anything "un-manly": through a big, beautiful, extra-sparkly song-and-dance routine.
Keep reading...
Show less
Jul. 25, 2017 05:04PM EST
(Break the Floor Productions)
In addition to training, competing and winning titles in just about every style you can think of, 13-year-old Kaylee Quinn is a regular on the sci-fi drama "Stitchers," playing the younger version of the show's main character. Her path in dance hasn't been without challenges, though. Last summer, Kaylee won the Hope Award at her regional Youth America Grand Prix, but wasn't sure she'd be able to compete at the NYC finals due to a broken foot. Patience paid off: With her doctor's blessing, Kaylee danced her variations in flat shoes and won the gold medal.
Keep reading...
Show less
Jul. 26, 2017 12:06PM EST
Trae Patton/NBC
Week 2 of Misty Copeland as guest judge, week 2 of merciless cuts...How can the final episodes of "World of Dance" possibly live up to the sheer dramaaaaaaaaa of last night's episode? Well, based on the nail-biting results dished out by Copeland and Co. last night, the competition is only going to get fiercer from here. Without further ado, last night's results, as told by Kween Misty.
Keep reading...
Show less


Get Dance Spirit in your inbox