Meet 18-Year-Old Gianna Reisen, New York City Ballet's Youngest Choreographer
Gianna Reisen (left) rehearsing New York City Ballet corps dancer Emma Von Enck and NYCB apprentice Roman Mejia (photo by Erin Baiano, courtesy NYCB)
After most dancers graduate from The School of American Ballet they have lots of "firsts": first company contract, first performance with that company, and maybe even first solo role. But 2017 SAB grad Gianna Reisen is experiencing a different kind of "first" during her inaugural year in the professional ballet world: She's making her first choreographic debut at Lincoln Center. At just 18, Gianna Reisen is the youngest person ever to create a piece for the renowned New York City Ballet (NBD!). Her new work, Composer's Holiday, set to music by Lukas Foss, will premiere at the company's fall gala on September 28th.
Reisen impressed NYCB ballet master in chief Peter Martins with the ballets she made for SAB's Student Choreography Workshop and The New York Choreographic Institute, prompting Martins to invite her to create a piece for the main company. And though the pressure of such a proposal would intimidate even the most seasoned choreographer, Reisen's pragmatic poise about the whole thing assures us that she's up to the task.
---
Between juggling an apprenticeship at Dresden Semperoper Ballett in Germany and rehearsing dancers in NYC, Reisen's had a busy summer. And though the role of choreographer wasn't a path she expected to pursue professionally, Reisen's eager to make her mark. Check out our interview with Reisen to find out what inspires this dance-making prodigy.
What do you enjoy most about choreographing?
My favorite part is definitely being able to create something that's completely yours. Being a dancer, you create art with your body, but as a choreographer, you can translate your thoughts and emotions on other bodies. When you're a dancer, you're told what to do, but when you become a choreographer you're the boss. I think that's also the hardest part—being in control of other people, rather than other people being in control of you.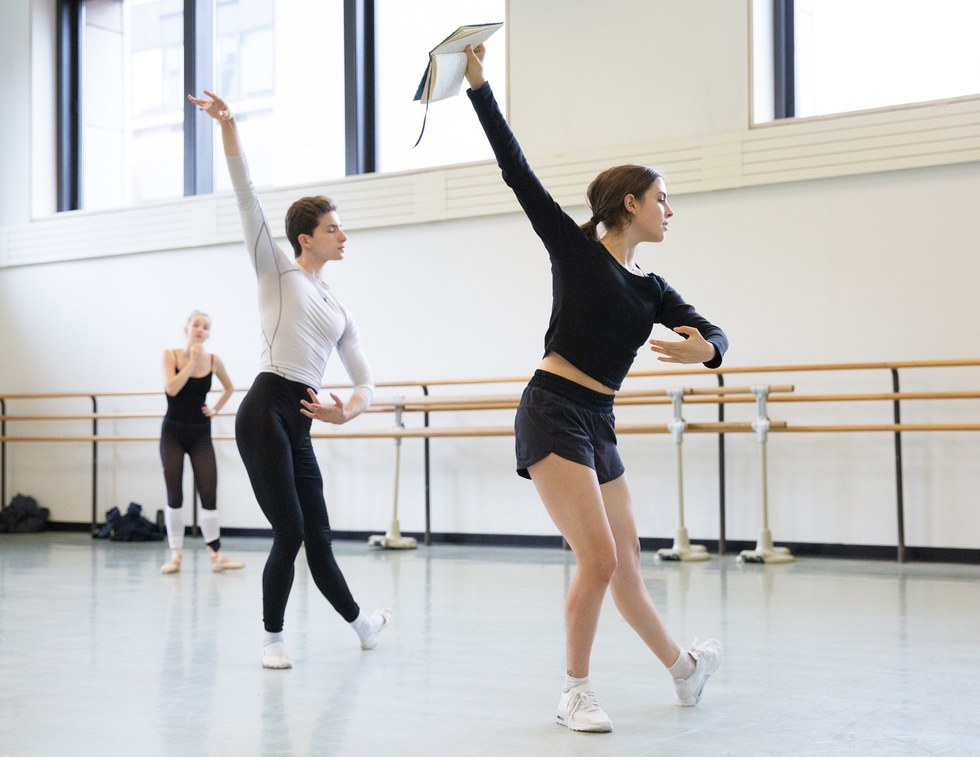 Reisen rehearsing NYCB corps de ballet dancer Ghaleb Kayali (photo by Baiano, courtesy NYCB)
How does it feel to be the youngest choreographer to create something for NYCB?
It's a lot of pressure to be the youngest. There are a lot of eyes on me and interest in my work because I'm so young. It's hard being young, too, because there's that fear that you're not going to be taken as seriously as the more seasoned choreographers. This is the third ballet I've choreographed, so I don't have as much experience as most. But I'm grateful for the experience, and that NYCB has given me the opportunity to pursue this path.
What inspires your choreography?
My inspiration comes immediately from the music. When I hear a piece of music, I feel it. I can't choreograph to music I don't enjoy or don't find interesting. After that, I'm in my head conceptualizing the movement. Converting the concept to real life is the fun part.
For this ballet in particular, my inspiration comes from human movements. I'm trying to achieve a human quality within the dancing. It'll be interesting to see it come to life onstage.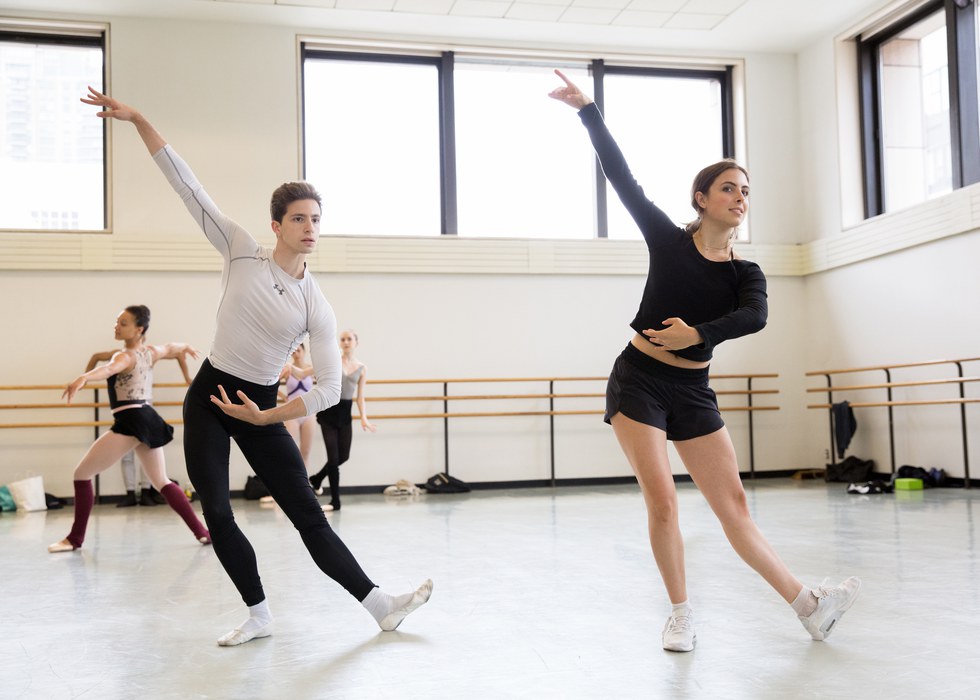 Reisen rehearsing Kayali (photo by Baiano, courtesy NYCB)
What advice would you give younger dancers who are interested in choreography?
I think that any dancer who has an interest in choreography should try it. I find that dancers avoid choreographing because they're afraid they aren't going to be able to think of anything new or be good enough. Bite the bullet, and find a place where you can choreograph. See if you like it.
Where do you see yourself in the next five years?
I'm hoping to pursue a career as a ballet dancer and a choreographer. I know it will be challenging, but it's doable. Honestly, two years ago I would never have thought I'd be choreographing for NYCB, so anything is possible.
(From left) ABT's Erica Lall; NYCB's India Bradley; Washington Ballet's Nardia Boodoo; NYCB's Rachel Hutsell (all photos by Rachel Neville)
Misty Copeland. Her name is synonymous with exquisite artistry and outspoken advocacy. And her visibility has made a huge impact on the ballet world. Ballet's relationship with race has always been strained at best, hostile at worst. But Copeland's persistent message and star quality have finally forced the ballet industry to start talking about racial diversity, inclusivity, and representation. "The rarity of seeing ourselves represented is sad," Copeland says. "The more we see every hue and body shape represented on the stage, the more possibilities young dancers feel they have for themselves."
Keep reading...
Show less
Look at that extension! (Rick Moffitt/Wikipedia Commons)
There are plenty of current Olympic figure skaters who'd make beautiful dancers (first among them Adam Rippon, whose gorgeously choreographed long program won the internet, if not the gold). But today, as we wait for the women's figure skating competition to crown its new champions, we wanted to throw it back to one of the most beautifully balletic skaters of all time: Sasha Cohen.
Keep reading...
Show less
Popular
Feb. 16, 2018 11:58AM EST
Via Jaime Guttenberg's memorialized Facebook page
Yesterday, the dance community was heartbroken to learn that Jaime Guttenberg and Cara Loughran, both 14-year-old dancers, were among the 17 people killed on Valentine's Day in the shooting at Marjory Stoneman Douglas High School in Parkland, FL.
Keep reading...
Show less
Sarah Lane as Clara in The Nutcracker (photo by Gene Schiavone, courtesy American Ballet Theatre)
American Ballet Theatre principal Sarah Lane charms audiences with her bright energy and crisp technique. The San Francisco, CA, native first started dancing at age 4 at a local community center, and at age 7 started training in Memphis, TN, at the Classical Ballet Memphis. Her family later moved to Rochester, NY, where she continued studying at the Draper Center for Dance Education. In 2002, she was a YoungArts Foundation winner in dance, allowing her to become a U.S. Presidential Scholar in the Arts. She joined American Ballet Theatre as an apprentice in 2003, was made a soloist in 2007, and was promoted to principal last fall. Recently, she originated the role of Princess Praline in Alexei Ratmansky's Whipped Cream. Catch her later this spring during ABT's Metropolitan Opera season. —Courtney Bowers
Keep reading...
Show less


Get Dance Spirit in your inbox