May. 17, 2013 12:11PM EST
Nifty Tip of the Day: Smile! You'll Turn Better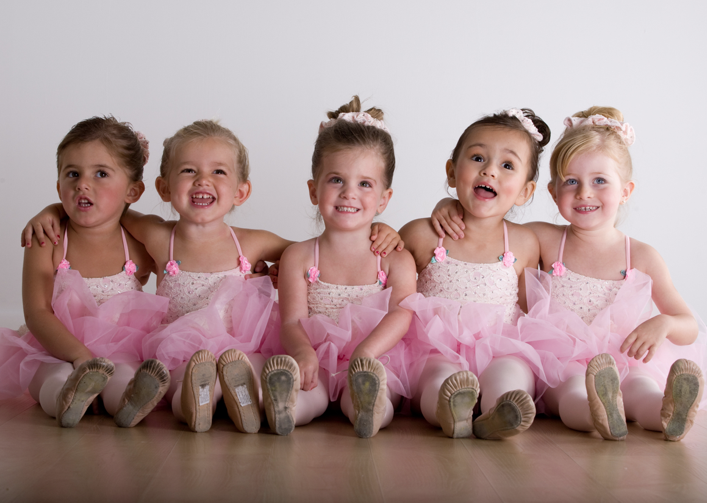 They're all gonna be great turners someday. Well, except that munchkin on the left. (photo Heather Donlan Photography)
Not all of us are born with Gillian Murphy's innate turning ability. But if you're having trouble with your pirouettes, try this neat trick: Smile while you're turning.
Easy peasy, right? Here's why it works:
First, many dancers frown in concentration as they turn, especially if they're struggling. But that stiffens the muscles in your neck and jaw, which makes spotting nearly impossible—and, in turn (hah! see what I did there?), clean pirouettes difficult. Smiling will relax your face, allowing you to spot more naturally.
But there's another advantage to putting on a happy face. A recent study showed that tension in the jaw was often connected to tension in the hips and pelvis. So relaxing your jaw will also loosen up your hip joints, creating more space for rotation and making for a cleaner, better-balanced passé.
Cool, right?
Dance is a powerful form of expression, and Ahmad Joudeh is using its influence to promote peace.
The 27-year-old is a Palestinian refugee, whose decision to pursue his passion for ballet has made him the target of death threats from terrorist organizations. Despite the danger, Joudeh has decided to continue on his path as a dancer, using his performances as an opportunity to spread a message of peace and cultural awareness.
Keep reading...
Show less
A dance photo of Averi Hodgson (courtesy of Cortney Hodgson)
For 14-year-old Averi Hodgson, focusing on her ballet training while growing up was never easy: She's suffered from epilepsy since she was in first grade, and later, she was also diagnosed with scoliosis. Here, she tells her story of perseverance—and how her determination earned her a spot at the School of American Ballet's 2017 summer intensive.
Keep reading...
Show less
CBS
"Late Late Show" host James Corden was one of the many, many people shocked by President Trump's sudden decision to ban transgender people from the military yesterday. And he decided to voice his outrage in the way most likely to rile a President who's uncomfortable with anything "un-manly": through a big, beautiful, extra-sparkly song-and-dance routine.
Keep reading...
Show less
Jul. 25, 2017 05:04PM EST


Get Dance Spirit in your inbox