Nigel Lythgoe's New YAGP Web Series Premieres Today!
It seems like these days, if you wanted to spend all of your free time watching dance on TV, you probably could—not that we recommend it (everything in moderation, right?). But think about it: Just this spring/summer, we've welcomed Teen Vogue's "Strictly Ballet," Hulu's "The Next Step" and Ovation's "Young Marvels" to the dance TV family. Not to mention, we've blocked off our Wednesday evenings for a glorious two-hour feast of "So You Think You Can Dance."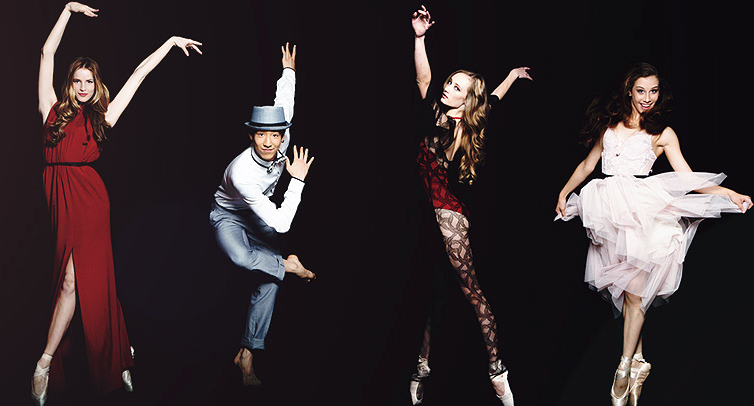 (L to R) Madison, Lex, Sage and Andrea (photo via danceon.com)
Whelp, "SYT" executive producer Nigel Lythoe knows a thing or two about fans of dance TV—namely, they just can't get enough of it. That's why he's introducing two new web series this year, starting with "Dance School Diaries." This docu-series will follow four young ballet dancers—Andrea, Lex, Sage and Madison—as they prepare to compete in the prestigious Youth America Grand Prix. We're not quite sure what to expect. Will the promised drama be juicy or over-the-top? Will it be reality TV or "reality" TV? Normally, I'd say we'll just have to wait and see, but this time we don't have to wait—the series premieres today! There will be 14 episodes in total, airing on YouTube each Friday until mid-September.
Check out the trailer below, then make your way over to YouTube to watch the first episode. And let us know what you think in the comments!
Jul. 23, 2017 07:00AM EST
Jul. 22, 2017 04:55PM EST
via YouTube
It's no secret that ballet in pop culture has sparked its fair share of controversy. Which is why this video from Refinery29, featuring ABT's Isabella Boylston, is not only a super-fun watch, but a breath of fresh air.
Keep reading...
Show less
Jul. 21, 2017 12:26PM EST
via @phil_wright_ on Instagram
Well, this brings class videos to a whole new level! Choreographer Phil Wright and dancer Ashley Liai have been together eight-plus years, but she was still in total shock when he proposed to her mid-dance at Millennium Dance Complex earlier this week. Why? Well, the whole thing was unbelievably perfect.
Keep reading...
Show less
Jul. 21, 2017 11:03AM EST
(Courtesy ABC)
In the dance industry, dancers don't always have a say in what they wear on their bodies. This can get tricky if you're asked to wear something that compromises your own personal values. So what should you do if you find yourself in this sticky situation? We sat down for a Q&A with "Dancing with the Stars" alumn Ashly Costa to answer that very question. Here's what she had to say about the options dancers have surrounding questionable costumes.
Keep reading...
Show less


Get Dance Spirit in your inbox