Nov. 06, 2008 05:46AM EST
Nine ways to stand out in a crowd
You've heard the stories—dancers discovered at conventions and put on the career path to stardom. You've watched with envy as the fortunate few get pulled onstage during class to demonstrate a combination. You've listened to the lucky ones get personal corrections.
Now you want to know when it's going to be your turn. Getting noticed at a convention can be a challenge because you have to compete with hundreds of other dancers. But it's possible! Here are nine ways to stand out.

#1 Dress the part.
Unless your studio teacher gives you a dress code, it's a good idea to dress appropriately for each class you take. Wearing an urban outfit to hip hop, for example, will help you get in character—and convention teachers will notice your effort. "It's not just how you dance, it's what you wear and how you project yourself," says L.A.-based choreographer Lisette Bustamante, who teaches for Hollywood Connection, NTG and Monsters of Hip Hop. "If you want to be stylish, go ahead." Just avoid hats that cover your face—you want the teacher to be able to see your eyes and facial expressions.

#2 Wear bright colors.
Bright colors make you easy to identify. Convention teachers see too many students to know everyone's name, but they can remember that bold chartreuse leotard or flame-red T-shirt. "If they all wear the same thing, they're harder to notice," says Gregg Russell, who teaches at Co. Dance, Dance Olympus, Project Motivate and 3D Dance Network. "But if there's one girl who has all the intangibles and she's wearing a yellow shirt when you have a big room with 200 or 300 kids, I'll say, 'Hey, yellow shirt!'"

#3 Introduce yourself.
Most teachers appreciate students who thank them for class. "I encourage dancers to introduce themselves," says Jamal Sims, who teaches at Monsters of Hip Hop and has choreographed for artists like Diddy, Nick Cannon and Usher. "This business is all about networking and getting your name known." Be tactful—if class is about to start, don't get in the way of the teacher, who has a lot to accomplish in a short amount of time. Likewise, if the teacher is being harangued by hordes of doe-eyed dancers after class—while clearly trying to escape to his or her next obligation—that is not the time to introduce yourself, either. Wait for the right moment.


#4 Do the choreography precisely.
Unless the teacher specifically asks you to add a personal touch to the movement, do your best to execute each combination as it was demonstrated. After all, that's what you'll be expected to do as a professional dancer. "Someone who stands out to me pays attention to detail and does the choreography like I taught it," says Sims. "Unless I ask, take your personal style out of it."

#5 Dance full-out.
Do your best to dance everything full-out, whether it's a mark or not and whether it's your favorite style of dance or not. A teacher will see you as a hardworking, disciplined dancer who is making the most of class. (It's also a great way to build stamina.) But be respectful of the other dancers around you.

#6 Try everything.
If you're taking a class that's new or challenging, take a deep breath and give it 100 percent. Conventions are a safe place to experiment and make mistakes. "I'm easygoing, but when I see people give up, that bothers me," says Russell. "I can tell if you've never danced tap before, so if you get one step, that's an amazing accomplishment."

#7 Support other dancers.
Dancers who choose camaraderie over cutthroat competition promote a healthier learning environment—something teachers love! That means cheering for others, offering praise when it's merited and helping fellow students remember steps if they need it. "With tap, for instance, I give them a minute to work on a step on their own and I come around to help," says Russell. "The people who stand out help their friends. I'm a big fan of cheering for others. You're part of the class even if you aren't dancing. Especially in this internet age when everyone is isolated, it's nice to cheer people on even if you don't know them."

#8 Do whatever it takes.
If you're struggling with a step, watch other students to see how they tackle the movement. Or, raise your hand and ask intelligent questions. Be proactive, rather than reactive. "That separates the good ones from the great ones," says Russell. "The great ones do whatever it takes to get it."

#9 Bring the passion.
Convention teachers are probably just as exhausted as you by the end of the day, so if you bring your drive, they will be inspired by your positive, rejuvenating energy. It also means you have the right attitude and work ethic to meet the demands of professional life, where you might be required to perform or rehearse all day. "Fire, passion and individuality make a dancer stand out," says Bustamante. "Focus, pick up the choreography and pull it toward you. Be there to enjoy the class and get what you need."
Win It
Sep. 05, 2017 12:10PM EST
Photos by Erin Baiano
It's time to get your pirouette on! From September 5th to September 30th, we're hosting a contest to find out who's the best turner of them all.

Put together your most impressive turning combo. Post a video online. Share your turns with us and thousands of other dancers around the world. And if our editors think you're the top turner, you'll win a fabulous prize.
Keep reading...
Show less
All of 18-year-old Kaylin Maggard's dreams—from scoring the title of National Senior Outstanding Dancer at New York City Dance Alliance Nationals to winning the 2017 Dance Spirit Cover Model Search—are coming true. And to anyone who knows the gorgeous contemporary dancer, that's no surprise.
From the moment the Dance Spirit staff met Kaylin, it was obvious her humility and talent would take her far. Not only did she go full-out during the photo shoot and class at Broadway Dance Center, but she was always cheering on, laughing with, and supporting her fellow CMS contestants Haley Hartsfield and Michelle Quiner. During the voting period, the social media world was abuzz with praise for her work ethic, positive attitude, and generosity.
Since her CMS trip to NYC, Kaylin's moved from her hometown of Columbia, MO, to the Big Apple for her freshman year at Juilliard, and is busy getting acquainted with the city. As for the future? She's taking it one opportunity at a time, but something tells us we'll be seeing this contemporary queen reach new heights every year.
Keep reading...
Show less
New York City principal Lauren Lovette has become an icon thanks to her emotional maturity and exceptional musicality. The 26-year-old quickly rose through the ranks after joining the company as an apprentice in 2009, reaching principal status in 2015. A Thousand Oaks, CA, native, Lovette started studying ballet seriously at age 11, at the Cary Ballet Conservatory in Cary, NC. After attending two summer courses at the School of American Ballet, she enrolled as a full-time student in 2006. Last year, she made her choreographic debut with For Clara, her first piece for NYCB. Catch her latest work this month during the company's fall season. —Courtney Bowers
Keep reading...
Show less
In our "Dear Katie" series, former NYCB soloist Kathryn Morgan answers your pressing dance questions. Have something you want to ask Katie? Email dearkatie@dancespirit.com for a chance to be featured!
Dear Katie,
I know I'm not getting good enough dance training from any of my local studios. But I'm not sure I'm ready to move away to study at a big-name school, either. How do you know when you're ready to leave home to pursue your passion?
Marisa
Keep reading...
Show less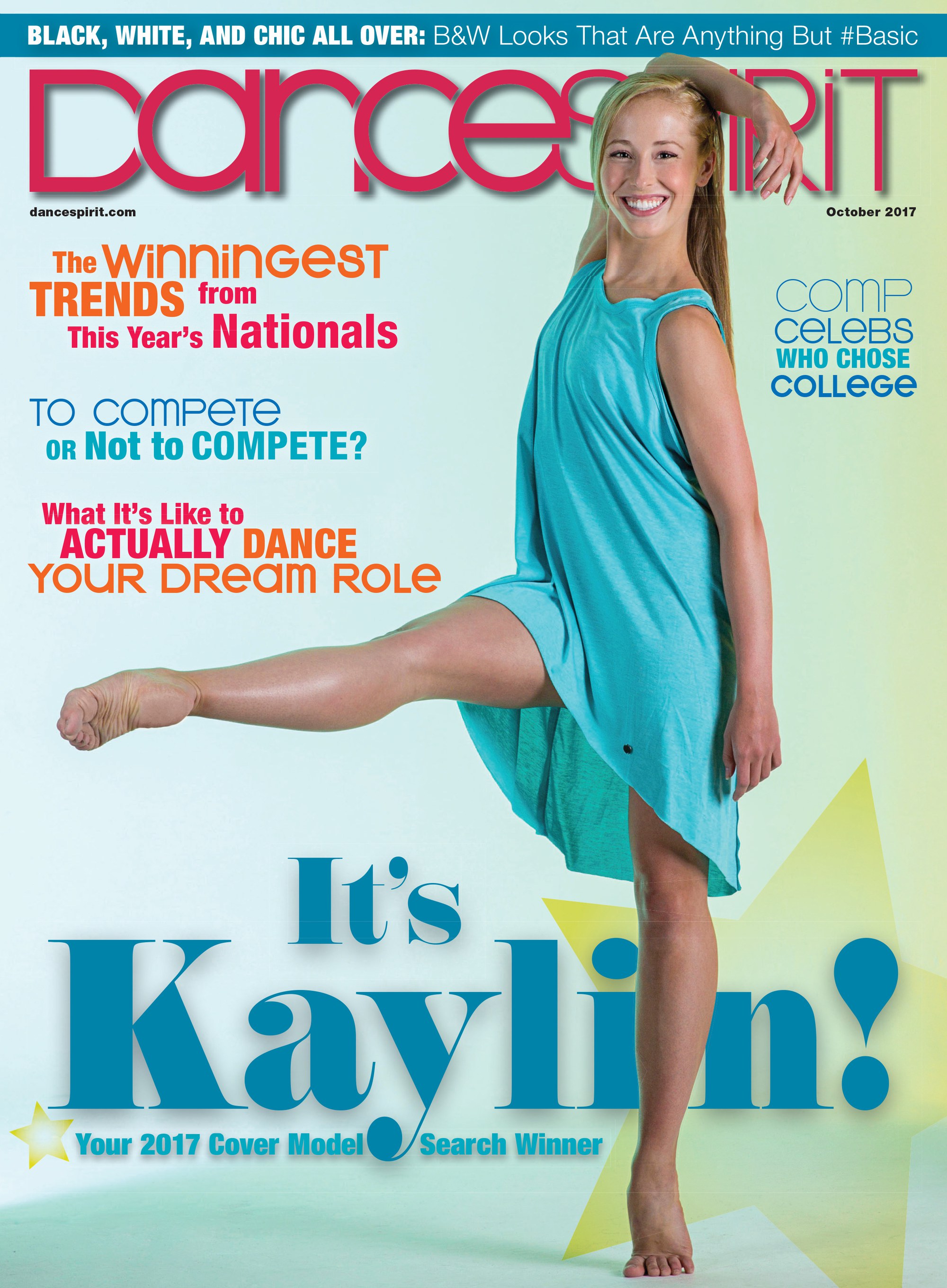 Get Dance Spirit in your inbox