You spend your days jumping, leaping, bending, twisting and generally putting a ton of stress on your knees. But be kind to them—they're two of your most important body parts! One of the best ways to avoid knee pain is to strengthen the muscles surrounding your kneecaps. "These exercises will help improve your alignment, which is essential for knee health," says DS fitness consultant Michelle Rodriguez, who is the founder of Manhattan Physio Group in NYC. "Many knee injuries can be avoided if you pay careful attention to always keeping the knee over the middle of the foot, regardless of whether you're in parallel or turned out."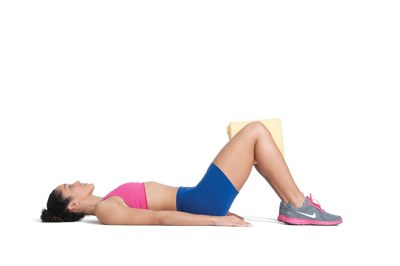 Bridge with Pillow Squeeze 
Lie on your back with your knees bent and your feet flat on the ground, hip-width apart. Place a folded pillow between your knees.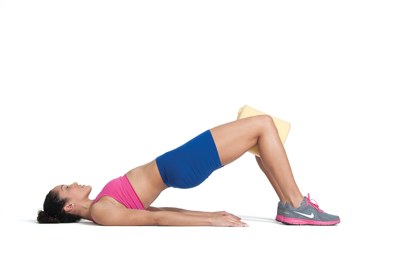 Press into your heels to lift your pelvis off the ground until it's level with your knees. Don't let the pillow drop! Keep the sides of your pelvis level and your belly button pulled into your spine as you lower your hips to the ground. Repeat 10 times.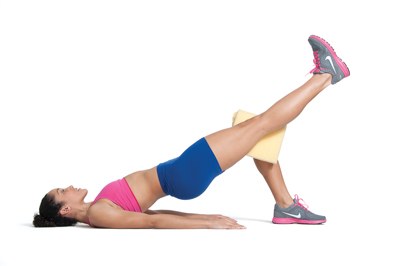 Make It Harder!
With your hips lifted in the bridge position, straighten one knee. Keep the rest of your body level and stable.
Keeping your hips elevated, bend your knee, and slowly lower your foot to the floor. Repeat on the other side. Repeat five times on each side.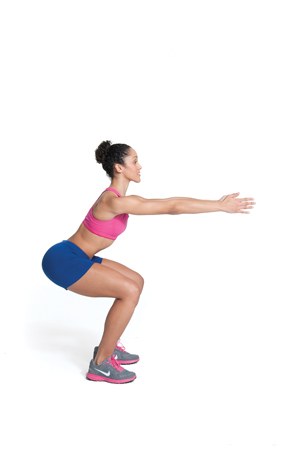 Double Leg Squat (that's "chair pose" for you yoga buffs!)
Stand with your feet hip-width apart.
Begin to squat by reaching your sit bones back past your heels and bending your knees to 100 degrees. Keep your weight in your heels and reach your arms forward to counter-balance your weight. Make sure your kneecaps don't pass beyond your second and third toes. Press into your heels and activate your glute muscles to return to standing, bringing your hips in line with your shoulders and lowering your arms to your sides. Repeat 10–15 times.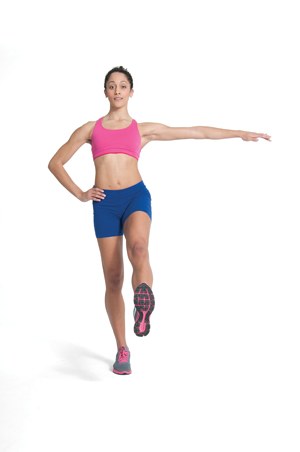 Parallel Pliés with Heel Taps
Stand on your right leg with your left leg extended in front of you, a few inches off the ground. Hold your left arm out to the side for balance.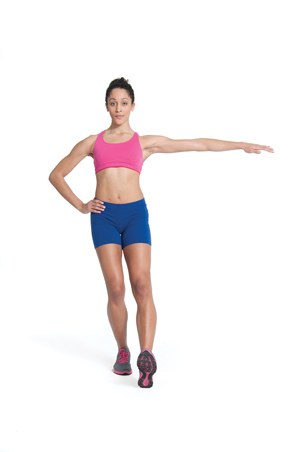 Bend your right knee—be sure to align your kneecap directly over your second and third toes—as you reach your left foot to the ground in front of you, lightly tapping your heel to the floor.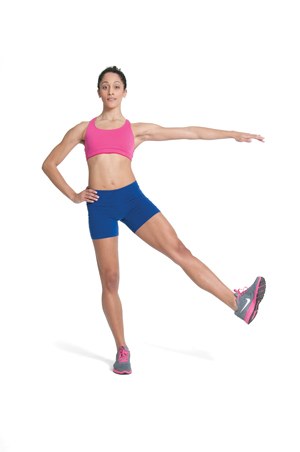 Straighten your right knee as you lift your left leg, reaching your left foot out to the side.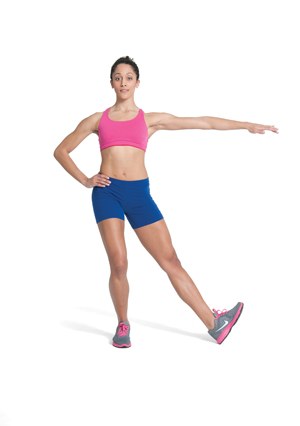 Plié your right leg as you tap your left heel to the floor. Your right leg should be doing all the work.
Repeat to the front and side, completing 10 reps each and then switching to the opposite side. Pay attention to proper alignment throughout the exercise. Your working knee should bend directly over your toes.
Michelle Rodriguez, MPT, OCS, CMPT, is the founder and director of Manhattan Physio Group. She is a physical therapist specializing in orthopedic manual therapy and dance rehabilitation.
Photography by Sibté Hassan. Hair and makeup by Chuck Jensen for Mark Edward Inc. modeled by nikeva stapleton.
Nikeva Stapleton is a graduate of the Ailey/Fordham BFA Program. She is currently a freelance dancer and model in NYC.
Jun. 15, 2017 02:00PM EST
From left: Haley Hartsfield, Kaylin Maggard, and Michelle Quiner (photos by Erin Baiano)
Congratulations to Dance Spirit's 2017 Cover Model Search finalists: Haley Hartsfield, Kaylin Maggard and Michelle Quiner! One of them will win a spot on Dance Spirit's October 2016 cover. Learn more about the dancers on their profile pages, and then vote for your favorite below.
We also want you to get social! We'll be factoring social media likes and shares into our final tallies. Be sure to show your favorite finalist some love on Facebook, Instagram, and Twitter, sharing their profile pages and using the hashtag #DanceSpiritCMS.
Keep reading...
Show less
An outfit that makes you feel confident on the convention floor is always a "do" (via Break the Floor Productions)
Attention, ladies and gentlemen: We've officially hit Nationals season! And that means it's time to dig through those closets to find the perfect clothes to get you noticed during convention classes. The task can feel totally overwhelming—but we're here to help. Follow our guidelines, and you'll be rocking the dance floor with Travis Wall and making Stacey Tookey yell "GORGEOUS!" in no time.
Keep reading...
Show less
Royal Flux performing on "World of Dance" (NBC)
Oh man. This is getting ROUGH.
Last night marked the second round of head-to-head duels on "World of Dance." Once again, we were feeling real pity for the judges—and it takes a lot for us to pity J. Lo—because we've reached a point in the competition where there aren't any clear winners. Everyone's insanely good. And yesterday's showdowns paired acts that were so unalike, comparing them felt a little unfair.
So, who emerged from these cruel duels victorious?
Keep reading...
Show less


Get Dance Spirit in your inbox