You spend your days jumping, leaping, bending, twisting and generally putting a ton of stress on your knees. But be kind to them—they're two of your most important body parts! One of the best ways to avoid knee pain is to strengthen the muscles surrounding your kneecaps. "These exercises will help improve your alignment, which is essential for knee health," says DS fitness consultant Michelle Rodriguez, who is the founder of Manhattan Physio Group in NYC. "Many knee injuries can be avoided if you pay careful attention to always keeping the knee over the middle of the foot, regardless of whether you're in parallel or turned out."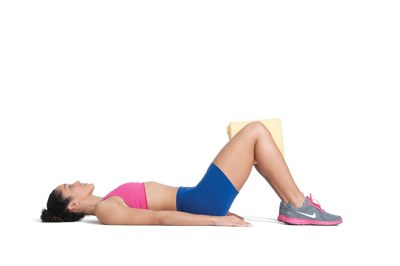 Bridge with Pillow Squeeze 
Lie on your back with your knees bent and your feet flat on the ground, hip-width apart. Place a folded pillow between your knees.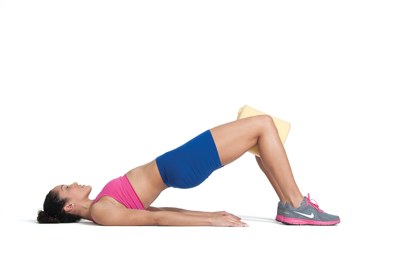 Press into your heels to lift your pelvis off the ground until it's level with your knees. Don't let the pillow drop! Keep the sides of your pelvis level and your belly button pulled into your spine as you lower your hips to the ground. Repeat 10 times.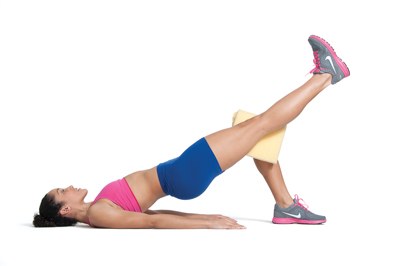 Make It Harder!
With your hips lifted in the bridge position, straighten one knee. Keep the rest of your body level and stable.
Keeping your hips elevated, bend your knee, and slowly lower your foot to the floor. Repeat on the other side. Repeat five times on each side.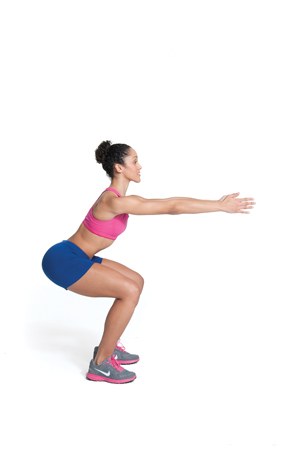 Double Leg Squat (that's "chair pose" for you yoga buffs!)
Stand with your feet hip-width apart.
Begin to squat by reaching your sit bones back past your heels and bending your knees to 100 degrees. Keep your weight in your heels and reach your arms forward to counter-balance your weight. Make sure your kneecaps don't pass beyond your second and third toes. Press into your heels and activate your glute muscles to return to standing, bringing your hips in line with your shoulders and lowering your arms to your sides. Repeat 10–15 times.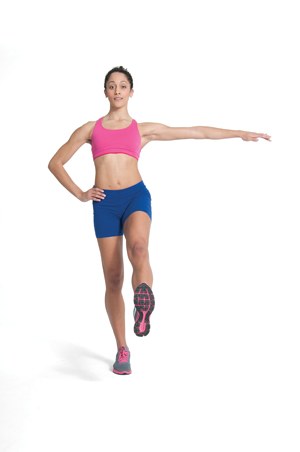 Parallel Pliés with Heel Taps
Stand on your right leg with your left leg extended in front of you, a few inches off the ground. Hold your left arm out to the side for balance.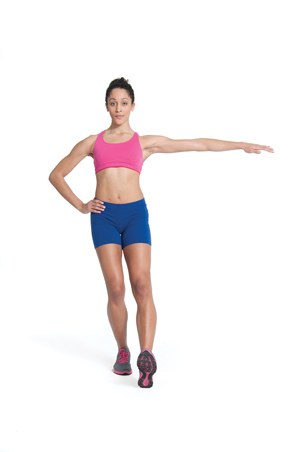 Bend your right knee—be sure to align your kneecap directly over your second and third toes—as you reach your left foot to the ground in front of you, lightly tapping your heel to the floor.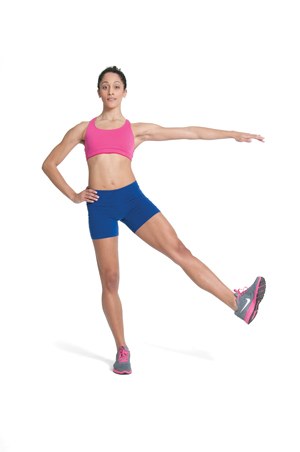 Straighten your right knee as you lift your left leg, reaching your left foot out to the side.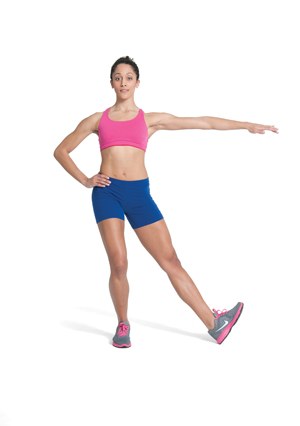 Plié your right leg as you tap your left heel to the floor. Your right leg should be doing all the work.
Repeat to the front and side, completing 10 reps each and then switching to the opposite side. Pay attention to proper alignment throughout the exercise. Your working knee should bend directly over your toes.
Michelle Rodriguez, MPT, OCS, CMPT, is the founder and director of Manhattan Physio Group. She is a physical therapist specializing in orthopedic manual therapy and dance rehabilitation.
Photography by Sibté Hassan. Hair and makeup by Chuck Jensen for Mark Edward Inc. modeled by nikeva stapleton.
Nikeva Stapleton is a graduate of the Ailey/Fordham BFA Program. She is currently a freelance dancer and model in NYC.
Kalani Hilliker made "Dance Moms" fans sit up a little straighter when she first appeared on "Abby's Ultimate Dance Competition" back in 2013. The then–12-year-old ballerina had charisma, she had sass—and, wow, did she have technique! Abby Lee Miller, the show's infamous host, saw Kalani's star potential from the start, saving her from elimination and ultimately inviting her to perform alongside Maddie Ziegler on Season 4 of "Dance Moms." "I was never supposed to be on 'Dance Moms' beyond that one performance," says Kalani, now 16, but she ended up staying on the show for the whole season—and the following three. "It was my first time, but not my last time, causing drama. And it was also the first time I got to meet the other dancers, who have become like sisters."
Keep reading...
Show less
Boston Ballet's Misa Kuranaga and Patrick Yocum (courtesy Rachel Neville/Boston Ballet)
We're on somewhat of a dance photography kick here at DS, so we figured we'd keep it going in a very big way: an exclusive interview with Rachel Neville, the photographer responsible for all those absolutely drool-worthy dance photos on your Instagram feed. We caught up with Neville at PurePoint Financial in NYC, where her new show, "A Command Performance," is up on display (and we highly recommend you check it out).
Keep reading...
Show less
Thinkstock
Acupuncture has proven benefits for reducing pain and getting dancers back on their feet, but it's also a way to treat your overall well-being—in both mind and body. "Acupuncture works very holistically," says Cassandra Krug, licensed acupuncturist at the Acupuncture Clinic of Boulder, in Boulder, CO. "Even if you come in because of ankle pain, we're looking at your whole body. We're trying to return you to a place of homeostasis, or balance."
Peter Schmidt, a licensed acupuncturist who works with Pacific Northwest Ballet dancers, thinks that acupuncture—when combined with the work of dancer-friendly Western doctors, physical therapists, and orthopedists—results in a higher success rate for his patients. "Acupuncture can't address everything," he says. "But for things that are bothering you that don't show up on an X-ray or MRI, acupuncture could help." Is acupuncture right for you? We talked to the experts to find out what dancers should know before going under the needle.
Keep reading...
Show less
The Top 9 in a Chris Baldock routine (Adam Rose/FOX)
Before we get into this week's recap, let's all show some love for Travis Wall, who had a day yesterday. Just hours before "So You Think You Can Dance" was set to air, Wall was at Disneyland (with friend and "Modern Family" star and aspiring Shaping Sound member Jesse Tyler Ferguson, NBD), where he found himself at a bit of a standstill—literally. "Not gonna be able to make 'So You Think' tonight...because I'm stuck on Indiana Jones," Wall shared on Instagram yesterday afternoon.
But hooray! He eventually did get off the stalled ride, and was in the audience alongside Mandy Moore. We're glad you made it, Travis!
On to the show:
This week, the Top 9 performed solos and duets with their All Stars. You know the drill. As always, we'll skip the solos and get right to the good stuff. (Though the solos were, like last week, so good.) Here's how it all went down.
Keep reading...
Show less


Get Dance Spirit in your inbox