You spend your days jumping, leaping, bending, twisting and generally putting a ton of stress on your knees. But be kind to them—they're two of your most important body parts! One of the best ways to avoid knee pain is to strengthen the muscles surrounding your kneecaps. "These exercises will help improve your alignment, which is essential for knee health," says DS fitness consultant Michelle Rodriguez, who is the founder of Manhattan Physio Group in NYC. "Many knee injuries can be avoided if you pay careful attention to always keeping the knee over the middle of the foot, regardless of whether you're in parallel or turned out."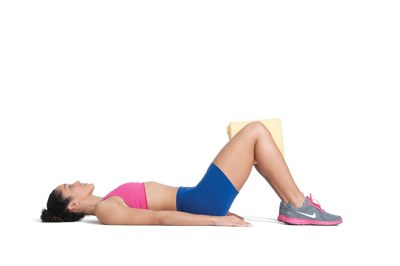 Bridge with Pillow Squeeze 
Lie on your back with your knees bent and your feet flat on the ground, hip-width apart. Place a folded pillow between your knees.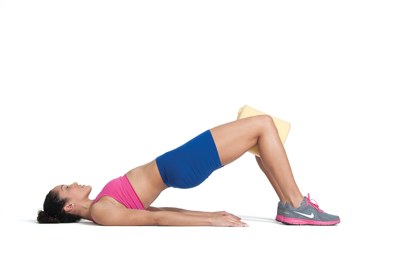 Press into your heels to lift your pelvis off the ground until it's level with your knees. Don't let the pillow drop! Keep the sides of your pelvis level and your belly button pulled into your spine as you lower your hips to the ground. Repeat 10 times.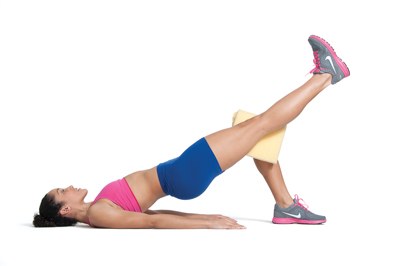 Make It Harder!
With your hips lifted in the bridge position, straighten one knee. Keep the rest of your body level and stable.
Keeping your hips elevated, bend your knee, and slowly lower your foot to the floor. Repeat on the other side. Repeat five times on each side.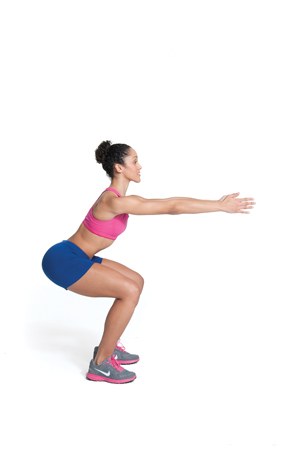 Double Leg Squat (that's "chair pose" for you yoga buffs!)
Stand with your feet hip-width apart.
Begin to squat by reaching your sit bones back past your heels and bending your knees to 100 degrees. Keep your weight in your heels and reach your arms forward to counter-balance your weight. Make sure your kneecaps don't pass beyond your second and third toes. Press into your heels and activate your glute muscles to return to standing, bringing your hips in line with your shoulders and lowering your arms to your sides. Repeat 10–15 times.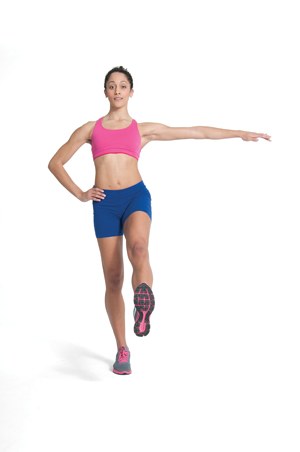 Parallel Pliés with Heel Taps
Stand on your right leg with your left leg extended in front of you, a few inches off the ground. Hold your left arm out to the side for balance.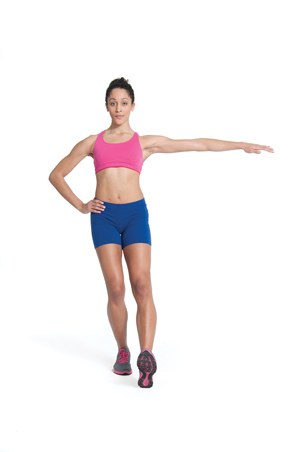 Bend your right knee—be sure to align your kneecap directly over your second and third toes—as you reach your left foot to the ground in front of you, lightly tapping your heel to the floor.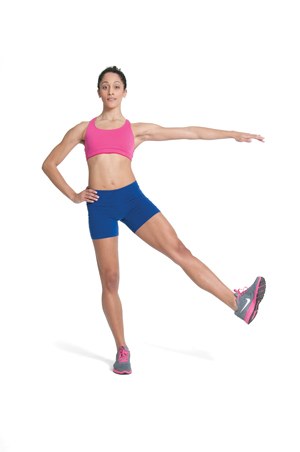 Straighten your right knee as you lift your left leg, reaching your left foot out to the side.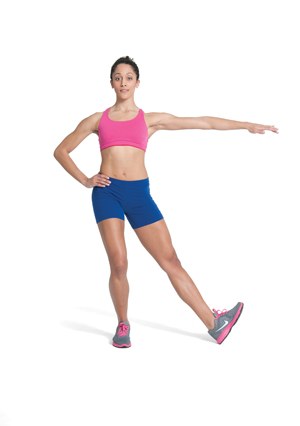 Plié your right leg as you tap your left heel to the floor. Your right leg should be doing all the work.
Repeat to the front and side, completing 10 reps each and then switching to the opposite side. Pay attention to proper alignment throughout the exercise. Your working knee should bend directly over your toes.
Michelle Rodriguez, MPT, OCS, CMPT, is the founder and director of Manhattan Physio Group. She is a physical therapist specializing in orthopedic manual therapy and dance rehabilitation.
Photography by Sibté Hassan. Hair and makeup by Chuck Jensen for Mark Edward Inc. modeled by nikeva stapleton.
Nikeva Stapleton is a graduate of the Ailey/Fordham BFA Program. She is currently a freelance dancer and model in NYC.
Much of Janelle Ginestra's career has been about helping others shine. She's dedicated herself to supporting and cheerleading her partner, WilldaBeast Adams; the emerging talents in their dance company, ImmaBEAST; and the countless dancers she inspires at master classes and conventions. Her YouTube channel has become a launching pad for young talents like "Fraternal Twins" Larsen Thompson and Taylor Hatala, thanks to viral videos featuring Ginestra's creative vision.
But Ginestra's a skyrocketing success in her own right—an in-demand choreographer, a social media influencer, and a dance entrepreneur, building a legacy one eight-count at a time. It's time for her turn in the spotlight. And she's more than ready. "I want to be a legend in whatever I do," she says. We'd argue that she already is.
Keep reading...
Show less
Win It
Oct. 13, 2017 04:31PM EST
When a choreographer finds a composer whose music truly inspires her, it can feel like a match made in dance heaven. Some choreographers work with the same composers so frequently that they become known for their partnerships. New York City Ballet soloist and resident choreographer Justin Peck, for example, has tapped composer Sufjan Stevens numerous times (last spring, the two premiered The Decalogue at NYCB, to rave reviews); L.A. Dance Project's Benjamin Millepied's working relationship with composer Nico Muhly has spanned a decade and two continents; and when tap dancer Michelle Dorrance premiered the first-ever Works & Process Rotunda Project, a site-specific work for New York City's Guggenheim Museum, last year, percussionist Nicholas Van Young was by her side as an equal partner. Successful collaborations require compatibility between artists, direct and honest communication, and flexible, open minds. But when the stars align, working with a composer can be extremely rewarding.
Keep reading...
Show less
(From left) Nia Sioux, Kendall Vertes, Chloe Lukasiak, and Kalani Hilliker (via @chloelukasiak)
Keep reading...
Show less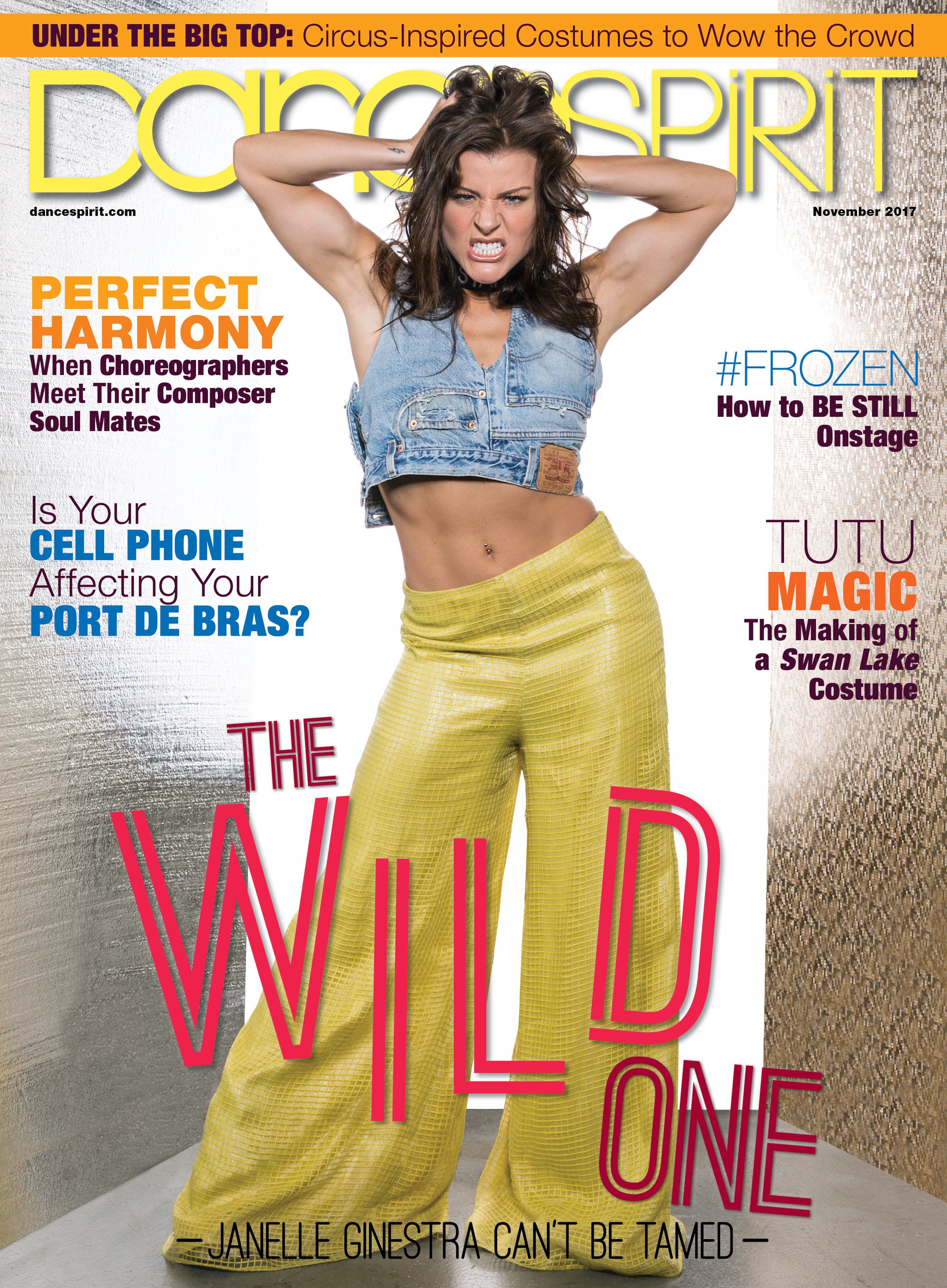 Get Dance Spirit in your inbox