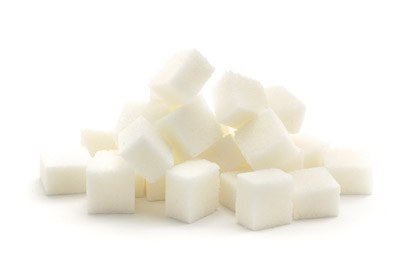 As dancers, we're hyperaware of what we put into our bodies since what we eat directly affects how we dance. You've probably glanced at the nutrition facts of your favorite foods to check the calorie count and fat grams, but even foods we think of as healthy can be secretly sugary. Do you know how much sugar you're consuming? Take our quiz.
Picture it: An easy way to visualize your sugar intake is to think in terms of packets, not grams. DS health and nutrition expert Caroline Lewis-Jones explains the math: "One packet of sugar contains 2.8 grams, so divide the grams of sugar in a product by 2.8 to find out how many packets of sugar are in it. But remember to consider how many servings you're consuming. If you drink an entire 20-ounce Mountain Dew (which is 2.5 servings), you'll need to multiply the grams of sugar in the serving size by 2.5 before you divide."  
grams of sugar in a product  x  serving size  /  2.8 grams  =  number of sugar packets you are consuming
1. A 16.9-ounce Mountain Dew contains _____ packets of sugar
a. 10          b. 19.3          c. 7           d. 23.2 
2. A 6-ounce Original Yoplait Strawberry Yogurt contains _____ packets of sugar
a. 9.3          b. 2          c. 6          d. 3.7
3. A 16-ounce (Grande) Starbucks Caramel Frappuchino contains _____ packets of sugar
a. 20.5          b. 22.9          c. 12          d. 18
4. A 16-ounce Jamba Juice Banana Berry contains _____ packets of sugar
a. 30          b. 25.6           c. 17           d. 20.4
5. A regular-size Snickers Bar contains _____ packets of sugar
a. 20          b. 15          c. 10.7          d. 26.4
Caroline says:  Sugar consumption is one of the biggest factors contributing to our society's health problems. (We shouldn't be consuming more than 18 packets a day!)
Simple swaps, like subbing a tall glass of water splashed with 100 percent fruit juice for a Mountain Dew, can make a big difference. Watch your sugar intake, dancers—be plant-strong (eat lots of fruits and veggies) and you'll dance and feel stronger!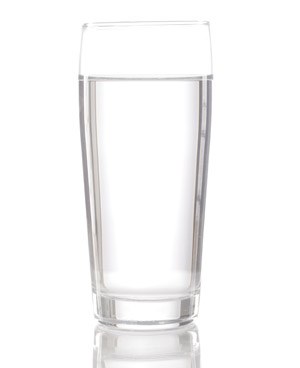 Big Gulps, Eh?
You know it's important to stay hydrated while you dance, but did you know that you should be gulping—instead of sipping—your water? According to Leslie Bonci, director of sports nutrition at the University of Pittsburgh Medical Center, when you gulp fluids, they quickly pool in your stomach, triggering the stretch receptors that create the pressure necessary to rapidly empty your stomach. That prevents the cramping that occurs when fluids stay there too long.
DID YOU KNOW? Exercising (dancing!) can significantly reduce severe headaches. According to a new study published in the journal Cephalalgia, researchers found that people who exercised for 40 minutes, three times a week, felt the same positive effects on their migraines as the participants who took daily doses of topiramate, a drug that helps prevent migraines.
Answers: 1. d, 2. a, 3. b, 4. d, 5. c 
(via YouTube)
Remember that fabulous old-school clip of dancers tapping in pointe shoes that Tabitha and Napoleon D'umo brought to our attention back in March? As we mentioned then, toe-tap dancing was actually super popular back in the 1920s and 30s—which means there are more videos where that one came from. And because #ToeTapTuesday has a nice ring to it, we thought we'd take this opportunity to introduce you to Dick and Edith Barstow, a toe-tapping brother and sister duo from that era who are nothing short of incredible:
Keep reading...
Show less
Adam Rose/FOX
Guess who's back? Back again? The Academy's back! Tell a friend.
After one day at The Academy, the All Stars have successfully taken the Top 100 down to 62. But their work is just getting started: Now they need to keep narrowing the field to a Top 10, ultimately deciding who each will partner with during the live shows.
Keep reading...
Show less
Sara Mearns and Chase Finlay in Pontus Lidberg's "The Shimmering Asphalt" (via @saramearns on Instagram)
We've said it before and we'll say it again: New York City Ballet principal Sara Mearns is some SERIOUS #goals. Her strength and power onstage borders on superhuman. But what's extra magical about Mearns is that she really puts in the fitness and cross-training work outside of the rehearsal studio. And she's overcome her fair share of injuries. Which is why she was the perfect source for Vogue's latest ballet fitness story.
Keep reading...
Show less


Get Dance Spirit in your inbox