Dancers expect their bodies to give 100 percent, year-round—and with no time to feel tired, sick or sore, vitamins can seem like a magical way to prevent all ailments. When carefully incorporated into a healthy diet, vitamins can help boost your body's health and performance. But blindly consuming an alphabet soup of daily supplements can do more harm than good. The key is to be thoughtful about which vitamins you choose, how much you take and when you take them. Don't know where to start? Get the scoop on smart supplementing from our four specialists.
Keep reading...
Show less
Fueling dancers' ever-moving bodies can be an artform in and of itself. We had three professional dancers journal everything they ate on a given day, to see how they navigate the complex world of nutrition while juggling classes and rehearsals. Then we asked Rachel Fine, registered dietitian for The School at Steps in NYC and founder of To the Pointe Nutrition, to weigh in on their choices. What she says might surprise you!
Emily Schoen
Keigwin + Company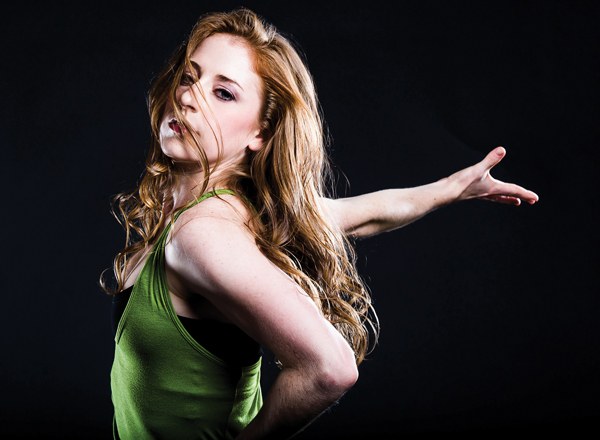 Keigwin + Company's Emily Schoen (photo by Matthew Murphy, courtesy Emily Schoen)
8:30 am, breakfast (before
10 am–12 pm ballet class):
•    1 Thomas' cinnamon-raisin English muffin
•    2–3 tablespoons Trader Joe's creamy almond butter, salted
•    homemade cold-brew coffee with a splash of half-and-half
"If I don't eat the right breakfast, I crash in class. This combo gives me a balance of fat and protein to keep me satiated, and carbohydrates for an energy kick. Plus, Thomas' English muffins are easy to find on tour!"
12 pm, snack:
•    1 apple
1 pm, lunch (eaten throughout the afternoon Keigwin + Company rehearsal):
•    a serving of honey and harissa farro salad with parsnips, carrots and feta cheese (recipe from The Smitten Kitchen Cookbook)
•    1 hard-boiled egg
"I like to munch on this grain salad throughout rehearsal. It's fresh and light, so it doesn't make me too sleepy."
5 pm, snack:
•    1 dark-chocolate almond-coconut Clif Mojo Trail Mix Bar
8 pm, dinner:
•    1 piece of homemade garlic bread
•    1 serving of spaghetti with 1/2 cup of homemade marinara sauce
•    arugula salad with lemon juice, olive oil, salt and pepper
•    1/2 scoop of Ben & Jerry's Half Baked ice cream
"I've let go of the notion that certain foods are 'bad,' and just focus on eating reasonable portions of real food. A small scoop of full-fat ice cream leaves me much more satisfied than the low-fat stuff."
FINE SAYS: I'm glad to see Emily choosing whole-food sources for her recipes. When using premade items, you should reach for those that are minimally processed. How can you tell? Look at the ingredient list on the box and see how many you recognize—and can pronounce.
To start her day, Emily makes a great choice with almond butter. It has anti-
inflammatory omega-3s, vitamin E to protect her cells, magnesium to facilitate muscle contraction and iron to oxygenate her tissues. Farro, which Emily eats throughout rehearsal, is a nutrient-packed grain, with protein, fiber and even some iron and calcium. Eating little bits of it over time will help provide a steady supply of the sugar she needs for energy—and it'll keep her from feeling too bloated.
While nutrition bars are a great grab-and-go source of fuel, many of the products
advertised as "nutrition" or "energy bars" are really just glorified candy bars, with added sugars. I'd suggest that Emily opt for a brand with more fiber and fewer processed ingredients, like Lärabars or KIND bars. And at dinner, I'd tell Emily to toss in some lean protein, like shrimp or grilled chicken breast, to help rebuild tired muscles.
Dominic "D-trix" Sandoval
Quest Crew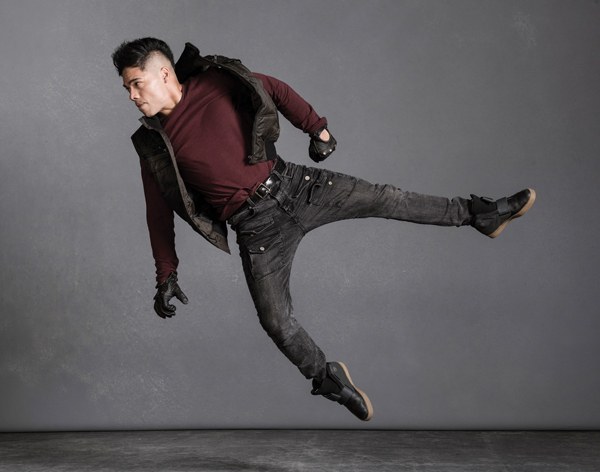 Quest Crew's Dominic "D-trix" Sandoval (Photo courtesy MTV)
9 am, breakfast (before 10 am–1 pm wardrobe fittings and camera rehearsals for "America's Best Dance Crew"):
•    16-ounce ("grande") Starbucks iced, sugar-free caramel macchiato with soy
milk
•    Starbucks reduced-fat turkey-bacon and egg-white sandwich
"I like adding soy to my morning drink because it makes it taste much sweeter—but with less sugar and fat than cream. And turkey bacon and egg whites taste just as good as regular bacon and eggs."
1 pm, lunch (before 2–5 pm rehearsal with Quest Crew):
•    chicken breast with sides of green beans, mac and cheese and corn bread
5 pm (before 5–7 pm rehearsal with Quest Crew):
•    16-ounce Jamba Juice Protein Berry Workout Smoothie
"I like drinking a protein smoothie between workouts, instead of at the end of the day."
7 pm, dinner (before 9 pm–4 am rehearsal with Quest Crew):
•    Chipotle chicken salad with rice, beans, grilled veggies, corn, cheese, sour cream and lettuce
•    pineapple-orange-mango Mountain Dew Kickstart
"Because rehearsals go so late, I'm usually hungry before bedtime. But I've found that drinking a glass of water—instead of snacking—tends to curb my late-night cravings."
FINE SAYS: When eating out, it's easy to consume excessive sugar, unhealthy fats and sodium. At Starbucks, be careful of sugar substitutes, such as those found in sugar-free syrups, as they can cause stomach discomfort. But as far as Starbucks' breakfasts go, the sandwich D-trix chooses is a good option for maximizing protein and reducing sodium and sugar.
Though a homemade version with fewer added sugars would ultimately be best, D-trix's smoothie is a solid choice before rehearsal. Protein is critical for muscle recovery, and the carbohydrates in the juice will help replenish his energy.
Overall, I'd make sure D-trix is getting enough water, especially since he's dancing all day. I'd tell him to forgo the soda—which is loaded with sugar and lacks nutritional value—and opt for seltzer or unsweetened brewed iced tea to sip on throughout rehearsal.
Liana Blackburn
Britney Spears' Britney: Piece of Me; author of DailyDancerDiet blog (dailydancerdiet.com)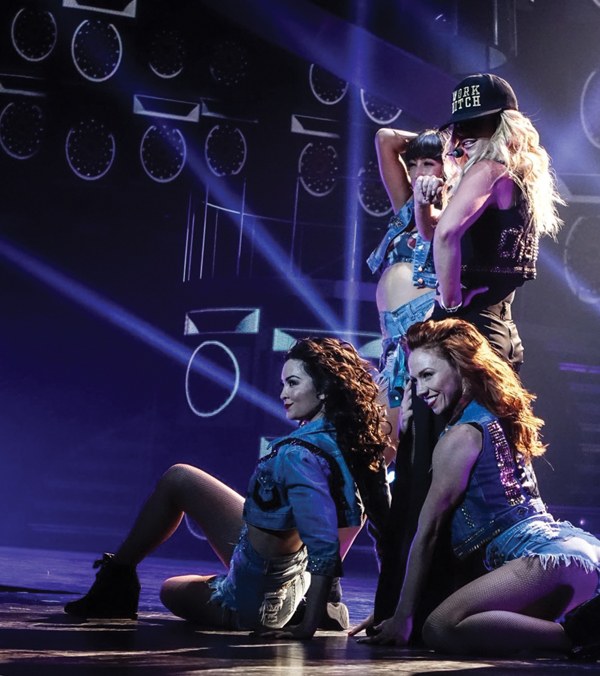 Liana Blackburn (bottom right) in Britney: Piece of Me (Photo by Jonathan Pears, courtesy Liana Blackburn)
9 am, breakfast:
•    1 glass of water
•    2 organic, pasture-raised eggs from Vital Farms, pan-fried
•    organic broccoli, zucchini and mushrooms sautéed in coconut oil and tossed with quinoa and a pinch of salt
•    1/4 avocado
"Eating veggies first thing makes me feel fresh and energized for the day. While I don't have food allergies, I've found that my body operates best when I refrain from eating gluten, dairy, refined sugar, caffeine, soy and processed foods."
11:30 am, snack:
•    homemade butternut-squash waffle with 1 tablespoon organic almond butter and organic strawberries
12 pm, snacks (eaten throughout 12–4 pm rehearsal):
•    homemade green drink with kale, cucumber, celery, lemon, water and ginger
•    Mary's Gone Crackers (original flavor)
•    organic carrots
"If I'm not fueled during rehearsal, it drags me down and I have trouble focusing. I
always bring plenty of snacks so I'm prepared in case rehearsal runs long."
4:30 pm, lunch:
•    homemade organic veggie soup with kidney beans, Swiss chard, celery, zucchini, carrots and sesame seed oil
6 pm, snack:
•    1 Lundberg Family Farms salt-free brown-rice cake topped with hummus, organic cucumbers, a drizzle of olive oil and a sprinkle of salt
8 pm, dinner:
•    3 ounces baked wild-caught Alaskan salmon seasoned with soy sauce and salt
•    steamed organic green beans lightly pan-fried with coconut oil and salt
•    1/2 cup wild rice
•    1/4 avocado
45 minutes before bed, dessert:
•    1 handful organic blueberries
•    1 piece of 80-percent cacao dark chocolate
•    herbal organic peppermint tea
FINE SAYS: I applaud Liana's use of wholesome ingredients! She's getting the most nutritious bang for her buck. Veggies for breakfast may seem like an odd choice, but they're great any time of day. That said, be careful not to fill up on veggies alone. They don't have enough protein for optimal muscle building and won't keep you satiated all day. So it's great that Liana chooses eggs to help keep her energy levels stable for the long day ahead of her.
The sodium in processed foods can really add up, so opting for low-sodium products, like Liana does, is a great way to keep it in check. But I also love that Liana adds salt back into her diet by sprinkling it on the foods she eats. Dancers need salt to replenish their electrolytes after intense rehearsals, particularly when it's hot and humid outside.
I'd suggest that Liana add some nut butter to her afternoon snack of plain crackers. While the carbohydrates from the crackers will help supply the glucose (sugar) Liana's body needs during a long rehearsal, protein will help keep her blood sugar levels stable to avoid spikes—which can cause fatigue and/or dizziness.
Jeraldine Mendoza
The Joffrey Ballet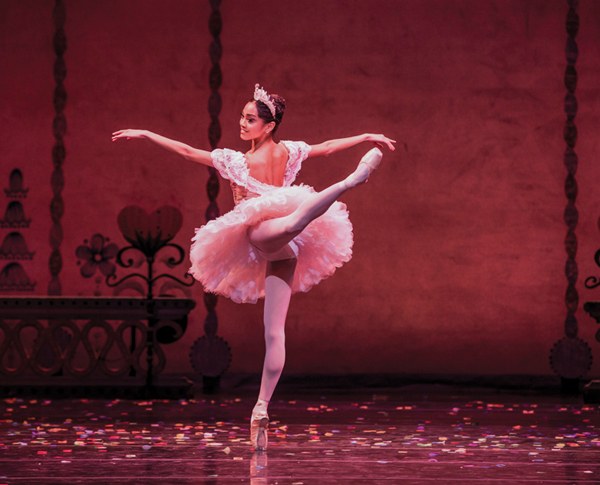 (Mendoza in The Nutcracker (Photo by Cheryl Mann, courtesy Joffrey Ballet)
7:30 am, breakfast (before 9:45–11:15 am company ballet class):
1 cup French-press coffee with a splash of cream and 2 sugars
Siggi's Fig and Lemon Zest yogurt
5 rounded tablespoons of KIND brand coconut granola
"I'm not usually very hungry when I wake up, but eating a little something before class makes all the difference in my energy and mood in the morning."
11:15 am, snack (before 11:30 am–2:30 pm rehearsal):
1 Cool Mint Chocolate Clif Bar
"If I'm even slightly hungry, I can't function! We get a five-minute break every hour of rehearsal, and I often use that time to snack on a Clif Bar, pretzels, cheese or chocolate soy milk."
2:30 pm, lunch (before 3:30–6:30 pm rehearsal):
a kid's-size cheesy chicken quesadilla with tomatoes from Freshii (a restaurant in town)
pretzels and cheese
"I like to eat something small at lunch, so I don't feel like taking a nap during our second rehearsal block."
7:30 pm, dinner:
1 slice of NYC-style pepperoni pizza from Panino's Pizzeria
1 arancini ball from Panino's
1 can of Barq's root beer
"I'm naturally a pretty healthy person, so I let myself eat what I crave. I try to listen to my body and give what it wants—and in this case it was pizza!"
FINE'S ASSESSMENT: Jeraldine starts her day with a high-protein and high-fiber meal. It's a great combination that will keep her energy levels sustained throughout the morning. I also like how Jeraldine orders the kid-sized portion of the cheesy chicken quesadilla. It helps lower the overall fat and sodium content of the meal. That said, I'd also advise Jeraldine to include more healthy fats in her daily diet. Adding flaxseeds or chia seeds to her morning yogurt; avocado or guacamole with her lunch; or olive oil to a side salad at dinner are great ways to get these in.
Do you feel overtired, have a hard time catching your breath during grand allégro or seem unable to remember the choreography you learned an hour ago? If you're experiencing these symptoms, don't assume that you just can't keep up. There might be a good reason for your sluggishness: iron deficiency.
Iron deficiency occurs when the body doesn't absorb enough of the essential mineral, causing a wide range of issues. It's a common problem for female athletes, but one that's relatively easy to fix. Here's how dancers can identify, overcome and prevent iron deficiency.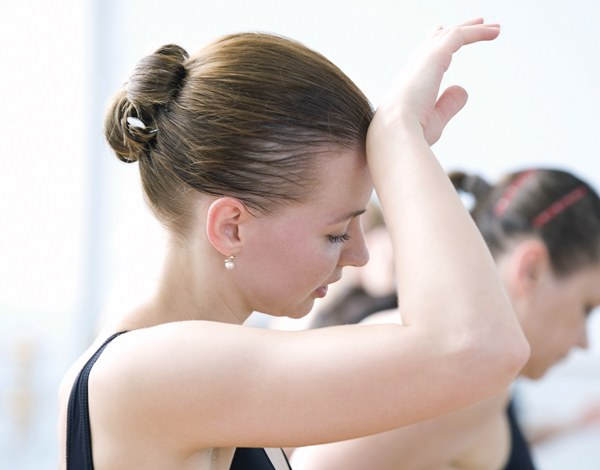 (via Thinkstock)
Why You Need Iron
"Iron is important because it helps carry oxygen in our blood to the tissues in our body," says Dr. Eleni Lantzouni, who specializes in adolescent medicine at the Children's Hospital of Philadelphia. "An athlete's need for iron is higher than that of any other person," Lantzouni adds. "And teenagers need more than any other age group, since they're still growing." Female dancers in particular require adequate iron in their diets to make up for the amount lost during their monthly periods.
If you're iron deficient, you tend to cramp more often because your muscles aren't getting enough oxygen. You can also experience "brain fog"—your thinking may not be as quick and sharp as it could be, making you less likely to pick up combinations or remember and apply corrections.
Iron deficiency may also mean a greater chance of injury. "When you don't get as much oxygen to your tissues and organs, you faint easily," Lantzouni says. "You can get out of breath and your heart rate might accelerate, causing palpitations or other symptoms." If you push through severe fatigue, your muscles might not respond as quickly as they would otherwise, making injuries more likely.
Symptoms of Iron Deficiency
Fatigue is the number one sign that you're low on iron. "You feel more tired, and you aren't capable of getting to the end of a variation with the same oomph," says Emily Cook Harrison, registered dietitian at The Centre for Dance Nutrition in Atlanta. Your aerobic capacity is diminished due to iron's role in transporting oxygen throughout our bodies.
Other symptoms of iron deficiency include a weakened immune system. "You may get sick more often, and can be more susceptible to cold and flu viruses," Harrison says. Your complexion, your gums and the beds of your fingernails could look paler than usual. You might also have circles under your eyes. "With a decrease in immune function, you just feel kind of bad and rundown," she says.
If you're experiencing any of these symptoms, go to your doctor. A simple blood test can determine if you're iron deficient.
How to Increase Your Iron Intake
There are plenty of ways to get more iron from your diet. Red meat and chicken are good sources of easily absorbable iron. Broccoli, beans, nuts, grains and leafy green vegetables provide iron as well, although you might need to eat a variety of these foods to get the iron you need. "If you're vegetarian, have orange juice with your meals," says Lantzouni. "Vitamin C seems to increase iron absorption." Heating iron-rich vegetables can help, too. "If you cook them down a tiny bit, you're actually going to make the iron more absorbable," says Harrison. "Sauté kale in some broth or olive oil, or bake it to concentrate the nutrients."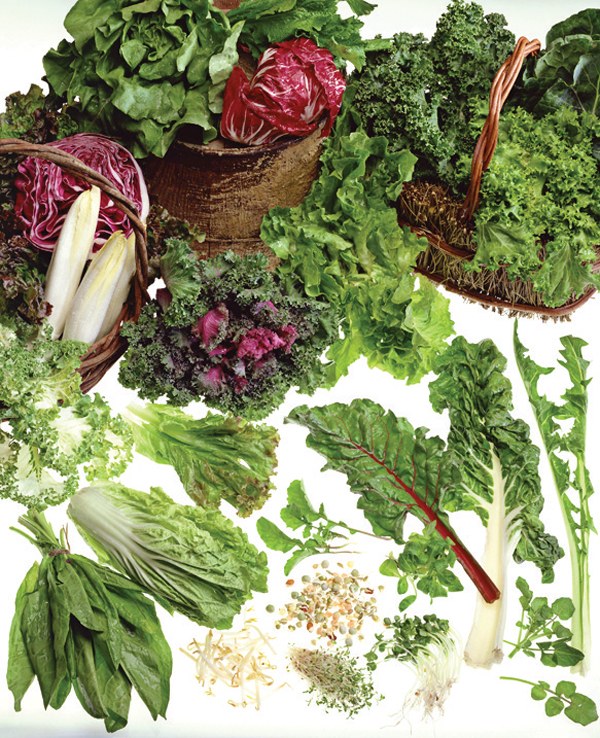 Dark, leafy greens are a great source of iron (Photo Jumpiter Images/Thinkstock)
Multivitamins can be useful, but getting iron from food is preferable. And if you're also taking calcium, avoid taking the two supplements at the same time. "Iron and calcium compete for absorption," Harrison says.
Emily Cook Harrison, registered dietitian at The Centre for Nutrition in Atlanta, recommends this iron-rich kale salad:
Mix a little bit of lemon juice and olive oil with a quarter teaspoon of maple syrup.
Massage the dressing into a handful of kale and add dried fruit (cranberries, raisins or apricots) to taste.
"This kale salad takes just five minutes to make! It's a really popular recipe with my dancers," Harrison says. "The vitamin C and acid from the lemon juice help with the absorption of the iron in the kale, plus the dried fruit is another good source of iron."
The Paleo, or "caveman," diet is a growing trend in the dance world and beyond. Many dancers are turning to this low-carb, high-protein way of eating in an effort to feel healthy. Some swear it gives them more energy with less bulk, making it less uncomfortable to dance right after eating.
Despite the hype, Paleo isn't right for everybody—because while it's true a diet of lean meats and tons of fruits and vegetables is good for you, it's what you can't eat on it that has nutrition professionals concerned.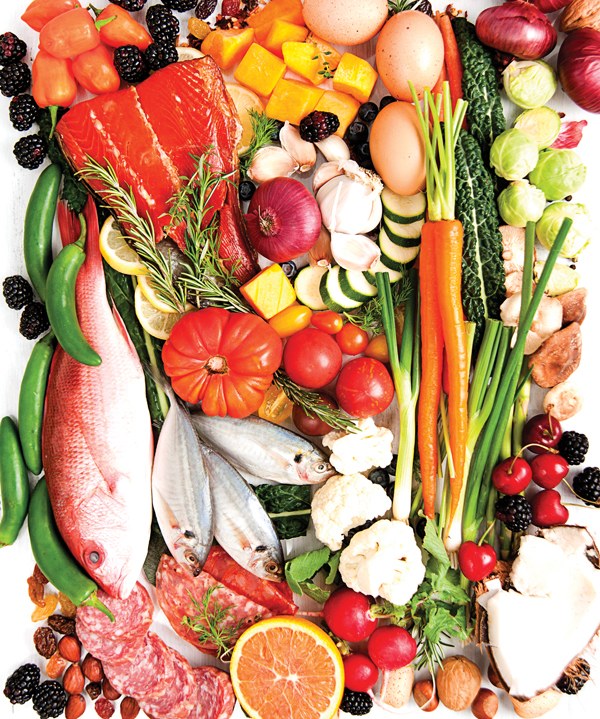 Paleo foods (photo by Anti Gerasim/Thinkstock)
What Is the Paleo Diet?
"Paleo" is short for the Paleolithic era—a period ending about 10,000 years ago, before the rise of agriculture, when cave people hunted for meat and foraged for nuts, berries and seeds. The Paleo diet suggests that we should only eat what our ancestors ate, and that means no processed foods, refined sugar, vegetable oils, salt, grains, potatoes, legumes (beans and peanuts) or dairy.
Paleo-approved foods include the meat of grass-fed animals, seafood, fruits and vegetables, eggs, nuts, seeds and more healthful oils, like olive or coconut. (Surprisingly, some say dark chocolate in moderation is OK, too, because it's primarily cacao with minimal sugar.) And with no calorie counting or portion control, Paleo doesn't place limits on how much you can eat.
What does this look like? Pennsylvania Ballet principal and Paleo devotee Lauren Fadeley fuels her dancing day with a lot of nuts, dried fruits, veggies and lean meat. "I'll have a spoonful of almond butter when I'm running out the door in the morning," she says. Energy bars made from nuts and dried dates and spaghetti squash with meat sauce are also two of Fadeley's standbys.
The premise of the Paleo diet is that our bodies aren't made to digest agriculturally based or processed foods. Advocates claim that it helps people lose weight while boosting energy levels and overall health. Fadeley thinks she has better muscle tone; Broadway dancer Katelyn Prominski, who also subscribes to the Paleo lifestyle, says it keeps her feeling light before a show. "I'm eating a lot of food, but it doesn't drag me down," she says. In addition, the Paleo diet helps her manage her type-1 diabetes, since the regimen is low on carbohydrates.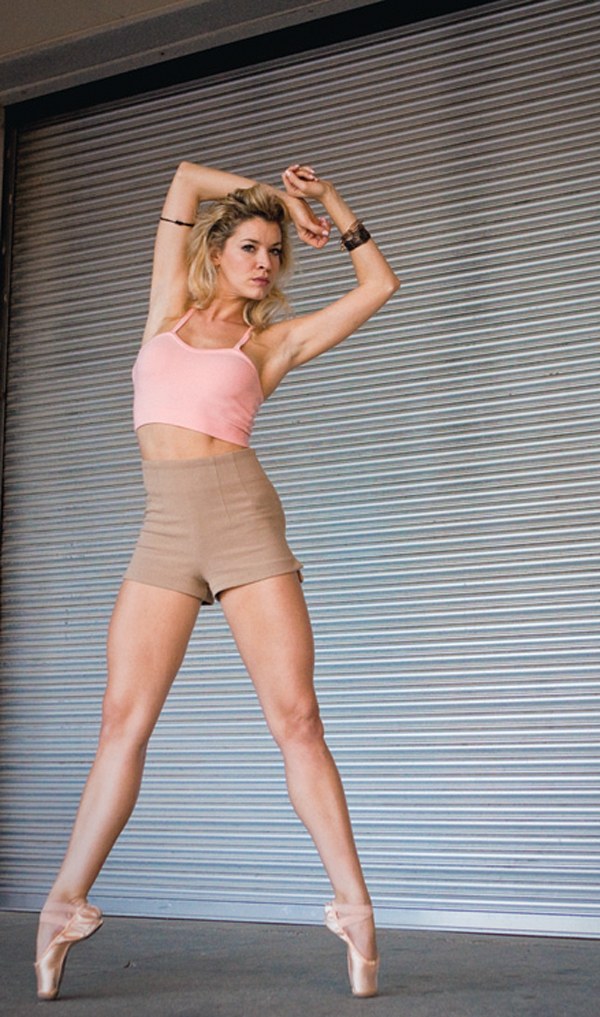 Katelyn Prominski eats Paleo to manage her type-1 diabetes (DRG Photography, courtesy Katelyn Prominski)
What the Experts Say
"As with every diet, there are pros and cons," says Peggy Swistak, a registered dietitian who works with dancers at Pacific Northwest Ballet. "The Paleo diet is high in fiber and eliminates junk food, since you can't eat anything processed. But it's very low in calcium and carbohydrates, which dancers need." Swistak estimates that the Paleo diet only offers about 700 milligrams of calcium per day, and young dancers need at least 1,000 to 1,200 milligrams daily. "You can always take supplements, but that's not as healthy," she says.
Emily Cook Harrison, a registered dietitian at the Centre for Dance Nutrition in Atlanta, agrees. "Carbs are the best source of energy for any athletic activity, especially dancing," she says. "If you're just burning protein, it's like putting the wrong kind of gas in your sports car. It'll go, but it's not the best fuel." Excess protein, Harrison says, can also lead to bone loss and increase a dancer's risk of getting injured. "You're not allowed any dairy or even soy milk on this diet," she says. "It's a recipe for a stress fracture."
Eating Paleo might help you lose weight, but it's mostly fluid—and not fat—that you're dropping. "You need a certain amount of water in your body to metabolize carbohydrates," says Swistak. "If you cut carbs, you're cutting fluid, so it just looks like you lost weight."
A Moderation Mantra
That said, if you allow yourself some flexibility when it comes to carbs and dairy, trying out Paleo for a while could help you form better eating habits. "No one argues that getting rid of junk food is a bad thing, and the Paleo diet was originally meant to be just a three-week plan," Swistak says. "If you can avoid sugar and refined starches for a few weeks, maybe you won't want to eat them as much when you go off the diet."
Fadeley has been eating Paleo for four years—on and off. "If I'm craving something, I let myself have it," she says. She takes vitamin supplements, eats dairy products on occasion and indulges on weekends. And she admits to going off the diet during summer breaks. "Some people are really strict about it, but I just do the things that make me feel the best."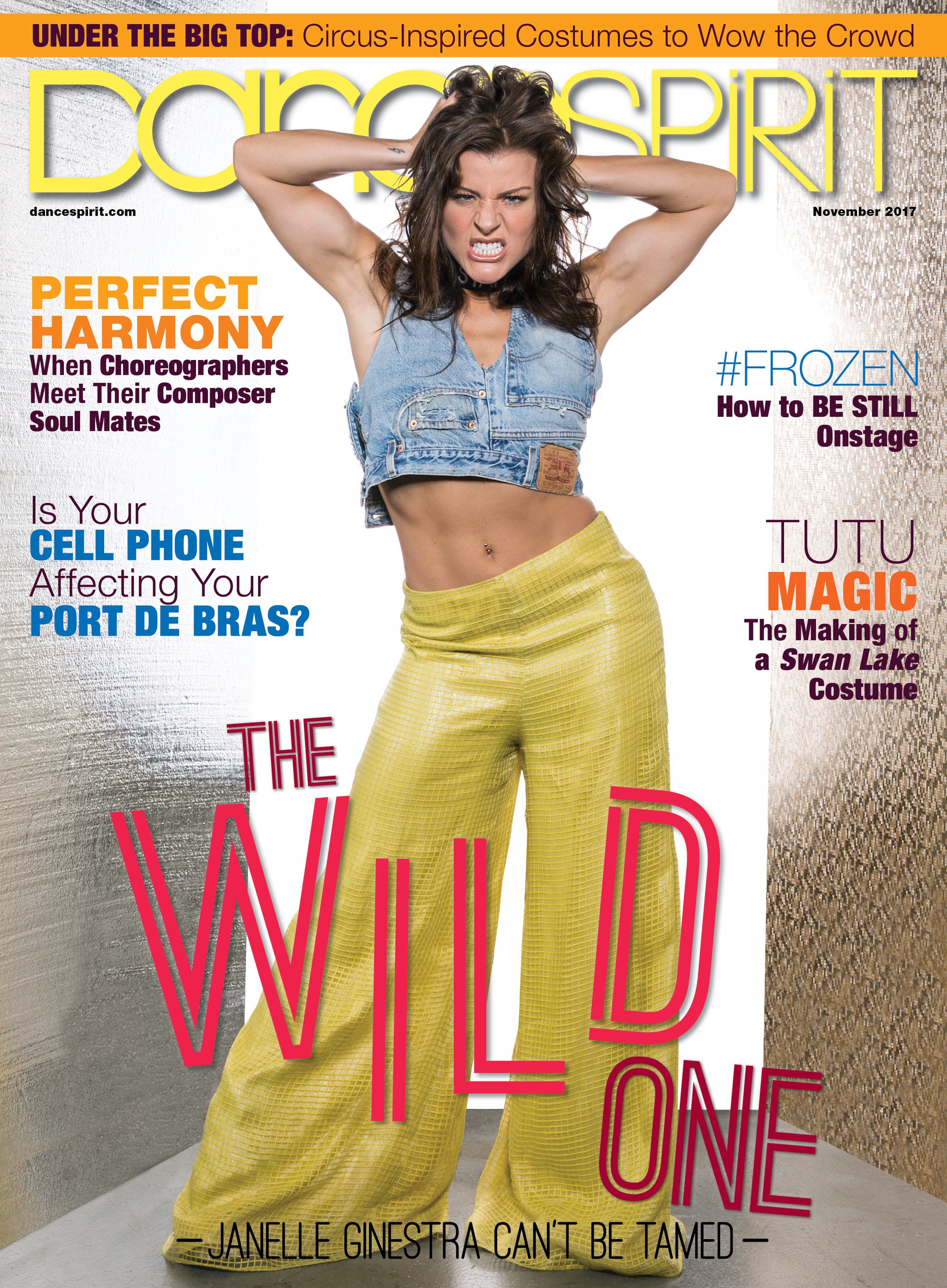 Get Dance Spirit in your inbox