Nov. 07, 2012 12:19PM EST
Obama Might Do Some "Gangnam-Style" Celebrating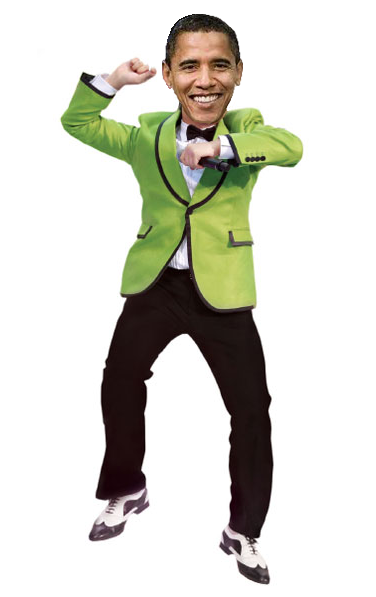 Unsurprisingly, everything today seems to be all-election, all the time. We figured we'd jump on that bandwagon, especially since we just heard a bit of dance-related political news too good to pass up.
Namely: How will Barack Obama celebrate his re-election at the Inaugural Ball? By doing the Gangnam Style dance—maybe. (Hopefully?)
Obama told a New Hampshire radio station that he was pretty confident he could "do that move," at least, though the ball probably isn't "the appropriate time to break that out." He might, however, do it "privately for Michelle." Bow chicka wow!
Seeing as Michelle has already showed off her amazing Dougie, can we put politics aside and all agree that this is one presidential couple with moves? (And if our 44th president does, in fact, bust out his invisible horse dance at the ball, can we also all agree to put that meme—once so brilliant, now so, so tired—to rest? Thank you.)
Jul. 22, 2017 04:55PM EST
via YouTube
It's no secret that ballet in pop culture has sparked its fair share of controversy. Which is why this video from Refinery29, featuring ABT's Isabella Boylston, is not only a super-fun watch, but a breath of fresh air.
Keep reading...
Show less
Jul. 21, 2017 12:26PM EST
via @phil_wright_ on Instagram
Well, this brings class videos to a whole new level! Choreographer Phil Wright and dancer Ashley Liai have been together eight-plus years, but she was still in total shock when he proposed to her mid-dance at Millennium Dance Complex earlier this week. Why? Well, the whole thing was unbelievably perfect.
Keep reading...
Show less
Jul. 21, 2017 11:03AM EST
(Courtesy ABC)
In the dance industry, dancers don't always have a say in what they wear on their bodies. This can get tricky if you're asked to wear something that compromises your own personal values. So what should you do if you find yourself in this sticky situation? We sat down for a Q&A with "Dancing with the Stars" alumn Ashly Costa to answer that very question. Here's what she had to say about the options dancers have surrounding questionable costumes.
Keep reading...
Show less


Get Dance Spirit in your inbox