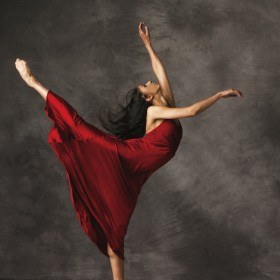 Alicia Graf mesmerized NYC dance audiences from the first moment she stretched her ridiculously long and lithe limbs onstage. Growing up, she trained intensively in ballet with Donna Pidel at the Ballet Royäle Institute of Maryland in her hometown of Columbia, MD, and attended summer intensives at American Ballet Theatre, School of American Ballet and the International Ballet School. In 1996, at just 17 years old, she joined Dance Theatre of Harlem. Her unique movement, which could shift from liquid lace to sharp power in an instant, captured audiences and critics alike. Unfortunately, just three years into her ballet career, mysterious joint swelling sidelined the young phenom: She had arthritis.
Alicia turned to academics and earned a bachelor's degree from Columbia University. But upon graduation, with her disease in remission, she was able to revisit her first love: dance. She returned to Dance Theatre of Harlem, and then freelanced with Alonzo King's LINES ballet and Complexions Contemporary Ballet before joining Alvin Ailey American Dance Theater in 2005. When her arthritis returned with a vengeance in 2008, she was forced to leave the stage again. Here, Alicia recounts her struggles—and triumphs—dancing with arthritis. —Lauren Kay
Performing with Dance Theatre of Harlem was always a dream of mine. So when I left Maryland in 1996—in the middle of my senior year of high school—to move to NYC and join the company at age 17, I made my dream a reality. Under the tutelage of Arthur Mitchell, I received critical acclaim by age 18 for performing roles such as the Siren in Balanchine's Prodigal Son. Most importantly, I finally started to feel comfortable in my own skin in a very competitive career.
Unfortunately, I noticed something strange was happening with my body just three years later, in January of 1999, during a national tour with DTH. After a series of performances, my knee started feeling unstable, even when just walking up the stairs. It wasn't painful, but there was an incredible amount of swelling.
When I returned to New York, I saw a doctor who drained an entire syringe of fluid from my knee. He sent me back to work the next day, citing tired muscles and overwork as the cause of the inflammation. But as the year went on, I had to have my knee drained two more times.
By April, sharp pain led me to reassess my symptoms. My doctor had sent the fluids for testing but nothing ever showed up in the lab results. The next logical conclusion was to assume an injury was causing my problems. I had arthroscopic surgery to correct a tiny section of frayed cartilage in my knee and prayed the swelling would go away. Three weeks post surgery, the time when most dancers who have this procedure are back in physical therapy, I was still sitting in bed, staring at a knee three times its normal size. It took another year, thousands of tears and many doctors before my cousin, a rheumatologist, diagnosed me with arthritis, more specifically, undifferentiated seronegative spondyloarthropathy. I call it the "anti-dancer" disease because physical therapy and ice, the normal tools that dancers use for injuries, have little effect. Instead, it's a true autoimmune disorder; the inflammation isn't caused by physical stress or overuse of my joints from dancing.
In 2000, with my knee still in pain, I reluctantly left dancing completely behind and pursued a degree in history from Columbia University. Dancing was no longer a part of my daily routine. Thankfully, a medication called Sulfasalazine brought the swelling down over the next three years and by 2003 my disease had gone into remission.
I had no serious thoughts of pursuing a career in dance upon graduation, and I had already accepted a full-time finance job on Wall Street. But I had been taking a few dance classes recreationally during my senior year, both on campus and at Steps on Broadway. I decided to try to dance to make a little money over the summer before starting my new life as a businesswoman. One of the dancers at Complexions Contemporary Ballet was injured, and after director Dwight Rhoden found out I was dancing again, he asked me to fill in during a summer tour to Italy. He promised that my parts wouldn't be too intense and I wouldn't have to wear pointe shoes.
Swept up in movement and music, I fell in love with dance again, and never returned to the desk job. Carmen de Lavallade, one of my idols, pulled me aside after a Complexions rehearsal and said, "You have a real gift and your time is not promised. You can go back to business at any time. You should dance for as long as your body will allow." So that's what I did.
The long hours of training didn't bother me. I loved spending my entire day in the studio. Even the smell of sweaty feet excited me! At first, I was scared to put my pointe shoes back on for fear that my ankle might swell. But it didn't and my dance career soared. The only pain I felt was the pinch from blisters and sore muscles. Between 2003 and 2005, I danced with Dance Theatre of Harlem, Complexions Contemporary Ballet and guest performed with Alonzo King's LINES.
In June of 2005, I joined Alvin Ailey American Dance Theatre and went on my first international tour with the company that same summer. I felt good about my life and my body, which stayed strong and healthy despite the physical demands of traveling and performing. There was only one glitch: While on tour, I started having trouble with my sight. I didn't think much of it, attributing the constant glare in my eyes to the bright lights on stage.
The day after we returned from the tour, I woke up and stared at a painting hanging in my bedroom. It took me a minute to realize that the sharp lines and colors seemed much more cloudy and blurred than I had remembered. I rubbed my eyes a few times, but my vision wouldn't clear. I frantically looked around the room. Not only did the painting look blurry, but so did my window frame, my TV and my own image in the mirror.
Terrified, I immediately went to see an ophthalmologist. She explained that my cloudy vision was a result of uveitis, an inflammation of the middle layer of the eye and a symptom of my arthritis. I finished my first 5-week long NYC Alvin Ailey season with my left eye completely dilated.
After discovering the arthritis in my eye, the flexor hallucus longus (FHL) tendon in my foot started to swell, and I lost all mobility in my ankle. Cortisone shots helped to speed up the healing process, but I missed a four-week tour to Paris. A few months later, my elbow became extremely swollen and I knew that it was time to go back on heavy medication.
While still performing with Alvin Ailey, I started taking Methotrexate, a medication used to treat cancer and other autoimmune disorders. My hair started to thin, and the medicine didn't help my condition. I weighed my options (because every medication has a side effect) and decided to try Humira, upon my doctor's recommendation. The tricky thing about this particular drug is that it is administered by self-injection. I had to keep the syringes cold, a difficult task on a touring schedule. The mini fridge I kept in my backpack became the butt of a lot of silly jokes on the road. We would kid around that I would be stopped by airport security for carrying a bomb in my bag. I laughed my way through some very difficult times with good friends.
In 2008, I left Alvin Ailey and the professional dance world once again. This time, arthritis coupled with a small tear in the cartilage of my right knee forced me to stop. I moved to St. Louis to be closer to my fiancé and to earn a master's degree in nonprofit management from Washington University. When I'm not at the university, I teach dance at the Center of the Creative Arts (COCA) and try to stay active by going to the gym and taking dance classes occasionally.
Now that I'm not dancing full-time, it's easier to take my medication. But the reality of the situation is still hard to deal with. The constant use of steroidal eye drops that are used to treat the uveitis has caused cataracts in my left eye. My doctor said that we'll discuss surgery by the end of the year.
The saying, "what doesn't kill you will make you stronger" has definitely been true for me: My journey with arthritis has been both crushingly devastating and triumphant. While it forced me to take a long hiatus from dancing at the age of 20, I discovered that I'm much stronger in talent and spirit than I realized. From my first year with Ailey, I had a keen awareness that my time on the stage was not promised. I made every class, every rehearsal and every performance count. I'm determined to excel in my life despite the physical challenges. I'm not sure what my future has in store, but armed with two degrees and a life of dancing, I'm prepared for anything.
Win It
Sep. 05, 2017 12:10PM EST
Photos by Erin Baiano
It's time to get your pirouette on! From September 5th to September 30th, we're hosting a contest to find out who's the best turner of them all.

Put together your most impressive turning combo. Post a video online. Share your turns with us and thousands of other dancers around the world. And if our editors think you're the top turner, you'll win a fabulous prize.
Keep reading...
Show less
All of 18-year-old Kaylin Maggard's dreams—from scoring the title of National Senior Outstanding Dancer at New York City Dance Alliance Nationals to winning the 2017 Dance Spirit Cover Model Search—are coming true. And to anyone who knows the gorgeous contemporary dancer, that's no surprise.
From the moment the Dance Spirit staff met Kaylin, it was obvious her humility and talent would take her far. Not only did she go full-out during the photo shoot and class at Broadway Dance Center, but she was always cheering on, laughing with, and supporting her fellow CMS contestants Haley Hartsfield and Michelle Quiner. During the voting period, the social media world was abuzz with praise for her work ethic, positive attitude, and generosity.
Since her CMS trip to NYC, Kaylin's moved from her hometown of Columbia, MO, to the Big Apple for her freshman year at Juilliard, and is busy getting acquainted with the city. As for the future? She's taking it one opportunity at a time, but something tells us we'll be seeing this contemporary queen reach new heights every year.
Keep reading...
Show less
J.Crew's putting a whole new spin on its brand —literally. The popular clothing line's inspired ad campaign has a group of cute male models showing off their best moves in a series of playful dance battles. When we saw one of those models throw down the gauntlet with a rather impressive series of chaîné turns, we knew he had to be a trained dancer, and we were right: He's former New York City Ballet corps member Joshua Thew. Dancer and model Smith Reesie also shows off in a seriously impressive freestyle.
Keep reading...
Show less
Lindsey Stirling and Mark Ballas in the Season 25 premiere of "Dancing with the Stars" (Eric McCandless/ABC)
It's fall! The leaves are changing, everything everywhere is pumpkin-spice flavored—and "Dancing with the Stars" is back on the air. For the 25th time. Season TWENTY-FIVE, y'all: Here we go.
Keep reading...
Show less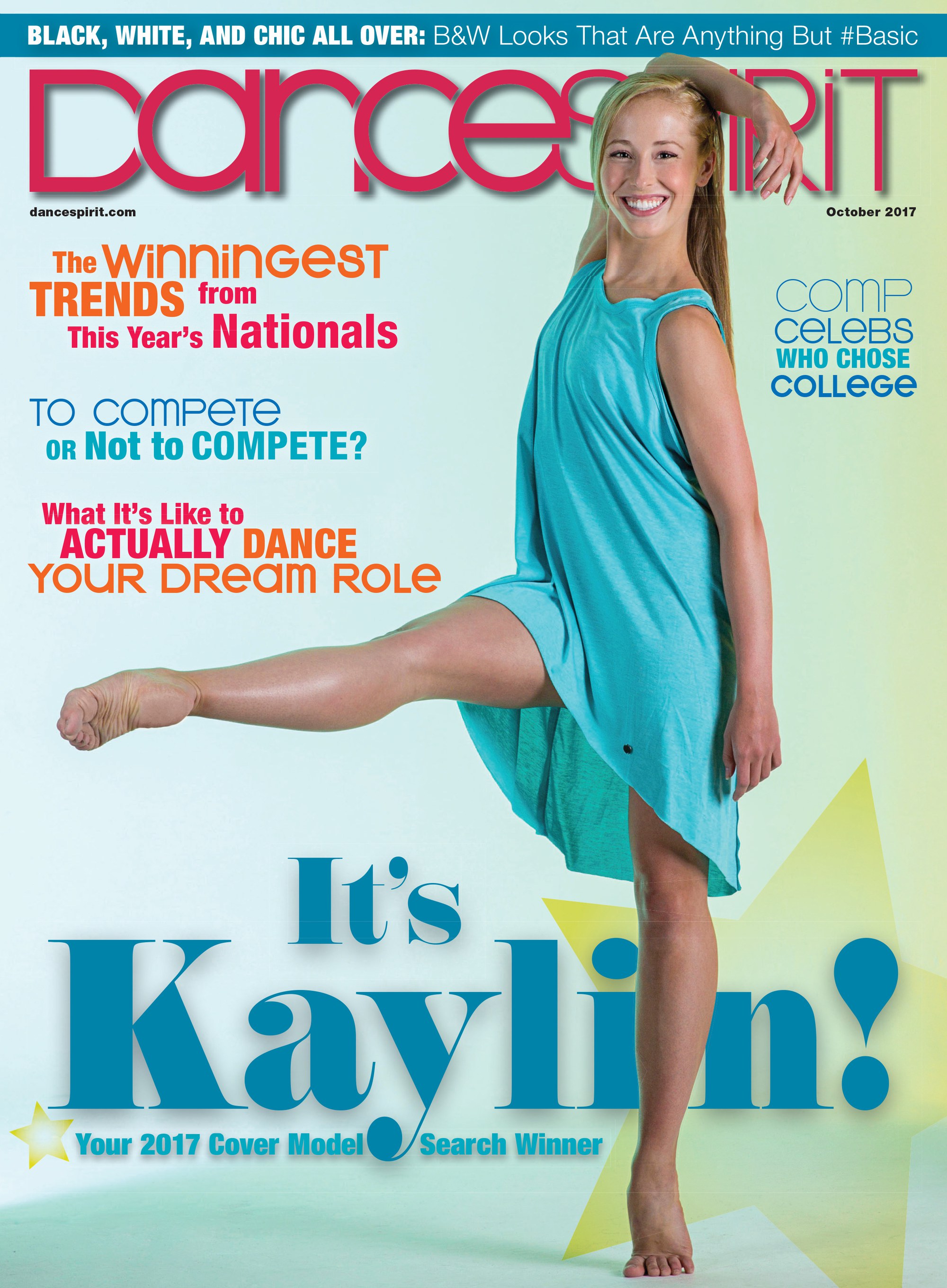 Get Dance Spirit in your inbox