Olympic Opening Ceremony Recap (aka Where Has All The Dancing Gone?)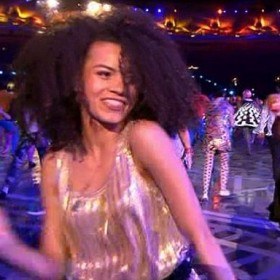 I love the Olympics, but the one thing I look forward to above all else? The opening ceremonies! This year was no different. I was pumped on Friday night and all prepared to write a blog about the dance-iest moments of the show. But then, no dancing… for almost an hour! Yes, the Abraham Lincoln look-alikes did some fun hand motions and the kids jumping on the bed were very precious (and surprisingly un-fazed by the 100-foot-tall Voldemort), but it wasn't until the "Frankie and June Say Thanks Tim" section that the dancers really got to show their chops… kind of.
I was a little confused by the story (how did they have Facebook and smart phones in the 60s?), but by the time they got to the 70s, I was having a good time. Then, it got even better with the awesome, 80s-tastic neon costumes. The choreography by Kenrick "H2O" Sandy wasn't exactly mind-blowing, but it got the job done—representing each era—and I can't imagine how hard it would be to choreograph that many people! The best part? Jasmine Breinburg, 18, the formerly unknown dancer who played June couldn't have asked for a better big break—billions of people will now recognize her face.
Overall, this opening ceremony didn't really compare to the Beijing games in terms of dance-iness. But, I did learn a lot more about British history. And nothing beats seeing the Queen leaving her corgis behind to skydive with James Bond. Only in England…
Jun. 15, 2017 02:00PM EST
From left: Haley Hartsfield, Kaylin Maggard, and Michelle Quiner (photos by Erin Baiano)
Congratulations to Dance Spirit's 2017 Cover Model Search finalists: Haley Hartsfield, Kaylin Maggard and Michelle Quiner! One of them will win a spot on Dance Spirit's October 2016 cover. Learn more about the dancers on their profile pages, and then vote for your favorite below.
We also want you to get social! We'll be factoring social media likes and shares into our final tallies. Be sure to show your favorite finalist some love on Facebook, Instagram, and Twitter, sharing their profile pages and using the hashtag #DanceSpiritCMS.
Keep reading...
Show less
An outfit that makes you feel confident on the convention floor is always a "do" (via Break the Floor Productions)
Attention, ladies and gentlemen: We've officially hit Nationals season! And that means it's time to dig through those closets to find the perfect clothes to get you noticed during convention classes. The task can feel totally overwhelming—but we're here to help. Follow our guidelines, and you'll be rocking the dance floor with Travis Wall and making Stacey Tookey yell "GORGEOUS!" in no time.
Keep reading...
Show less
Royal Flux performing on "World of Dance" (NBC)
Oh man. This is getting ROUGH.
Last night marked the second round of head-to-head duels on "World of Dance." Once again, we were feeling real pity for the judges—and it takes a lot for us to pity J. Lo—because we've reached a point in the competition where there aren't any clear winners. Everyone's insanely good. And yesterday's showdowns paired acts that were so unalike, comparing them felt a little unfair.
So, who emerged from these cruel duels victorious?
Keep reading...
Show less


Get Dance Spirit in your inbox