Ballet
Nov. 15, 2011 10:30AM EST
On Balance: How to Nail Long Balances
Few things top that jaw-dropping moment when a ballerina hits a balance—and just stays. And when you're over your leg and in control, balancing can look (and feel) so easy. But if you're unsure of yourself and tense, you'll be facing some nerve-racking moments onstage. Follow these tips from the pros to improve your balances. With strengthening exercises and a strong mental focus, you'll be on your way to creating showstopping moments of your own.
Lay the Foundation
Give yourself a solid base for long balances by strengthening your ankles and lower legs. Melody Mennite, a Houston Ballet principal, likes to do relevés at the barre to work out her ankles and calves. "Do them on two feet and then on one foot until you feel like it's getting harder—then push through and do some more," she says. "Be consistent about doing them every day."
You'll also need the support of strong core muscles holding you tight around your middle, like a corset. Regular crunches help, but Boston Ballet principal Misa Kuranaga recommends using an exercise ball to do side sit-ups, too. "It's hard to get at your obliques without using a tool," she says. Kuranaga lies on her side over the ball, keeping her feet on the floor, and lifts her torso up towards her hip. If you try this exercise, pull your stomach in at the navel and avoid twisting your body.
Mennite recommends doing back-ups to strengthen the back muscles, too. "While you're working one side of your body," she says, "you have to strengthen the other side as well."
Plus, many balances are held in arabesque or attitude, which require rock-solid back muscles.
Get There and Stay There
How can you make sure you're over your standing leg from the get-go? If you're doing a relevé up to pointe, think about aligning yourself over the supporting foot as soon as you plié, so that all you have to do is go straight up. If you're doing a piqué into the balance, you have more to consider. "The forward motion can make or break it," says Tina LeBlanc, a teacher and former principal with San Francisco Ballet. "Pull up as you piqué to engage your center, so that it's not just a lateral movement." Practice the piqué several times to see how much you need to push from your back foot. Too much force is usually better than too little, because it's easier to save a balance when you're falling forward (and can still use your core to steady yourself) than when you're falling backward.
Once you're up there, think of pointing your foot hard into the floor. "If you sit into your leg or rely on the pointe shoe," LeBlanc says, "you'll have too much play in the ankle, and it won't be as strong." Imagine that your standing leg ends at the top of your hip, not at the top of your thigh, so you feel a connection to your core. Try to keep energy moving out through your limbs. That way, your balance will be dynamic and expansive instead of static and brittle.
Find Your Focus
How you use your eyes can help you balance—especially when there's a partner involved. "Focus is really important," Kuranaga says. When she dances the Rose Adagio from Sleeping Beauty, which is notorious for its long balances, Kuranaga asks her partners to stand a little to the side of her so they're not in her line of sight, focusing instead on a wing or a piece of scenery as she balances. "If I see something moving, I get really distracted," she says.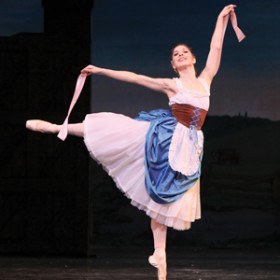 Houston Ballet's Melody Mennite holds a long balance as Lise in La Fille Mal Gardée. Photo by Amitava Sarkar.
However, LeBlanc suggests a different strategy: "You'll look more confident if you make eye contact with your partner, which is what the character you're playing would realistically do," she says. Some dancers also find that locking eyes with a partner can be steadying. Try both strategies: Look at your partner during one run-through of a piece, and pick a focal point in the distance the next. See which one works best for you.
Also think about your mental focus. When you're scared and tense, it's harder to hold a balance. "If you're frightened and get stiff, you're more likely to topple over like a tree," Mennite says. "But if you're relaxed, your body can make the minuscule adjustments that help extend the balance."
Whatever happens, avoid visibly struggling to stay in a pose. No one wants to see the effort behind the balance. If it doesn't work, find a beautiful way out. "I pull up and try to float my arms a little bit," Kuranaga says. "That preserves the magic."
Win It
Sep. 05, 2017 12:10PM EST
Photos by Erin Baiano
It's time to get your pirouette on! From September 5th to September 30th, we're hosting a contest to find out who's the best turner of them all.

Put together your most impressive turning combo. Post a video online. Share your turns with us and thousands of other dancers around the world. And if our editors think you're the top turner, you'll win a fabulous prize.
Keep reading...
Show less
All of 18-year-old Kaylin Maggard's dreams—from scoring the title of National Senior Outstanding Dancer at New York City Dance Alliance Nationals to winning the 2017 Dance Spirit Cover Model Search—are coming true. And to anyone who knows the gorgeous contemporary dancer, that's no surprise.
From the moment the Dance Spirit staff met Kaylin, it was obvious her humility and talent would take her far. Not only did she go full-out during the photo shoot and class at Broadway Dance Center, but she was always cheering on, laughing with, and supporting her fellow CMS contestants Haley Hartsfield and Michelle Quiner. During the voting period, the social media world was abuzz with praise for her work ethic, positive attitude, and generosity.
Since her CMS trip to NYC, Kaylin's moved from her hometown of Columbia, MO, to the Big Apple for her freshman year at Juilliard, and is busy getting acquainted with the city. As for the future? She's taking it one opportunity at a time, but something tells us we'll be seeing this contemporary queen reach new heights every year.
Keep reading...
Show less
New York City principal Lauren Lovette has become an icon thanks to her emotional maturity and exceptional musicality. The 26-year-old quickly rose through the ranks after joining the company as an apprentice in 2009, reaching principal status in 2015. A Thousand Oaks, CA, native, Lovette started studying ballet seriously at age 11, at the Cary Ballet Conservatory in Cary, NC. After attending two summer courses at the School of American Ballet, she enrolled as a full-time student in 2006. Last year, she made her choreographic debut with For Clara, her first piece for NYCB. Catch her latest work this month during the company's fall season. —Courtney Bowers
Keep reading...
Show less
In our "Dear Katie" series, former NYCB soloist Kathryn Morgan answers your pressing dance questions. Have something you want to ask Katie? Email dearkatie@dancespirit.com for a chance to be featured!
Dear Katie,
I know I'm not getting good enough dance training from any of my local studios. But I'm not sure I'm ready to move away to study at a big-name school, either. How do you know when you're ready to leave home to pursue your passion?
Marisa
Keep reading...
Show less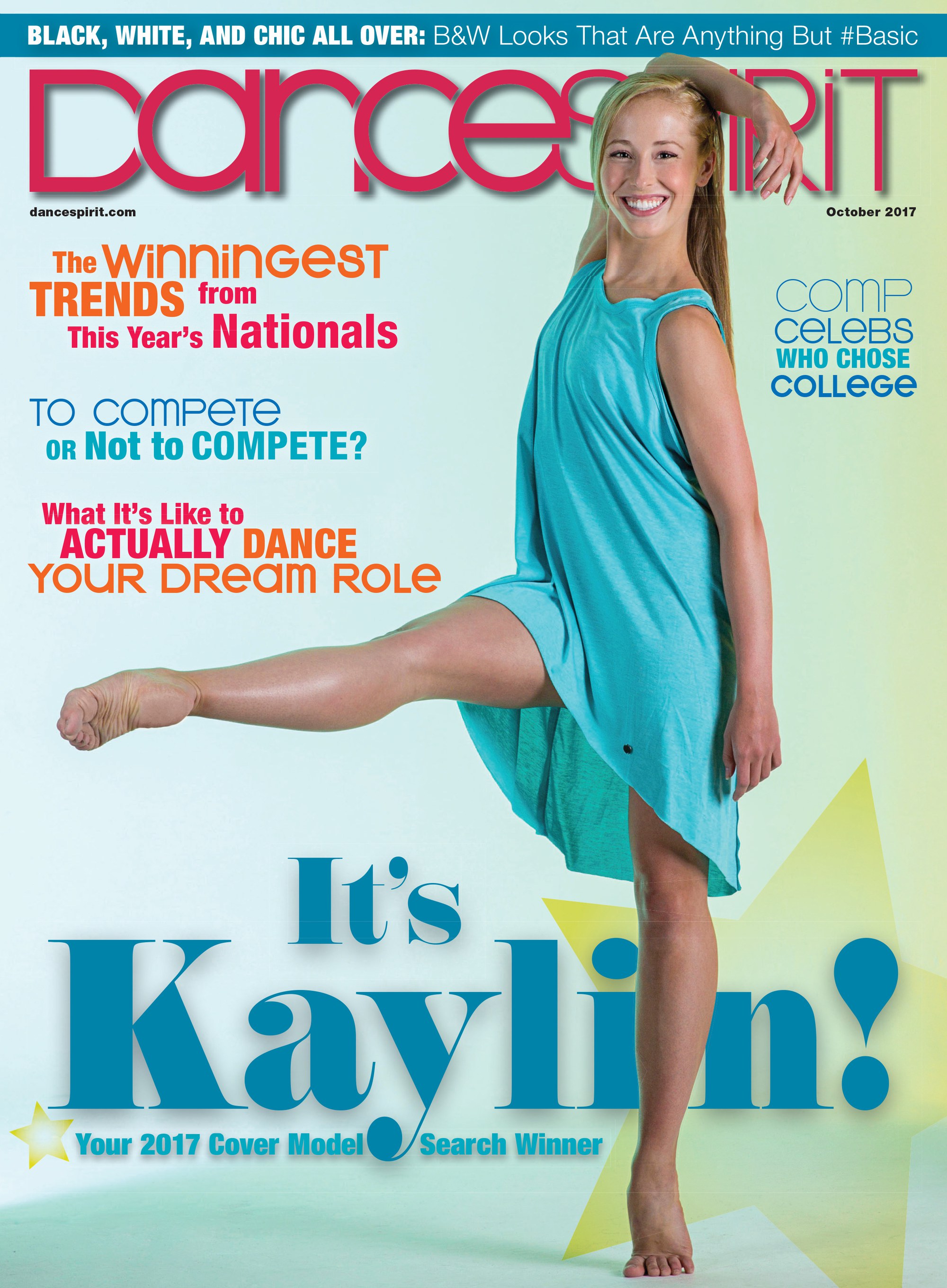 Get Dance Spirit in your inbox