Mar. 23, 2017 01:15PM EST
On Tour with Shaping Sound
Shaping Sound Dance Company first debuted its full-length production That's Where I'll Be Waiting in 2013. Two years later, the contemporary show—with explosive energy from co-choreographers Travis Wall, Nick Lazzarini, Teddy Forance and Kyle Robinson, and dancers like Jaimie Goodwin, Chantel Aguirre and Amy Yakima—is still going strong, earning nightly standing ovations. What's it like touring with one of the most popular dance productions around? Dance Spirit asked longtime company member Kate Harpootlian (whom you'll recognize from "So You Think You Can Dance" Season 12 Team Stage!) to keep a diary for a week on Shaping Sound's 2014–15 tour. —Jenny Ouellette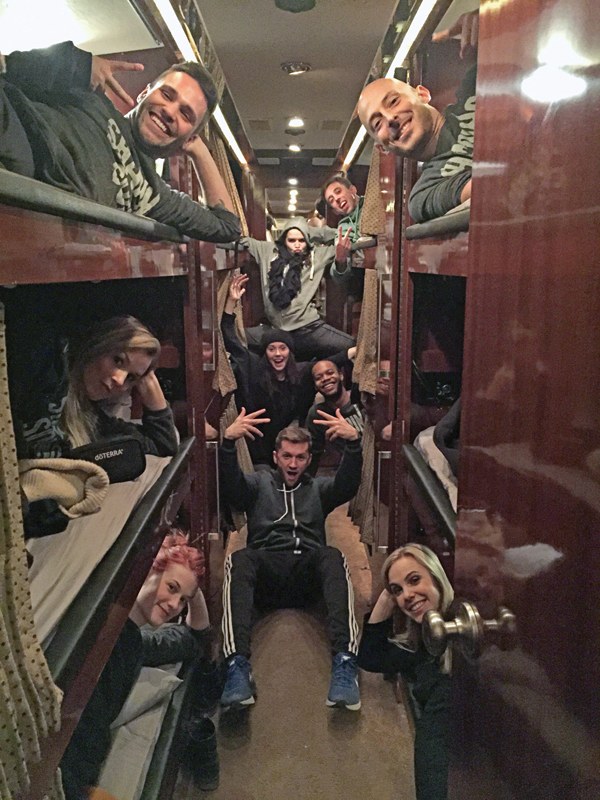 Kate Harpootlian (lower left) on the tour bus with Shaping Sound Dance Company (photo courtesy Harpootlian)
January 23: Last Rehearsal in L.A.
I was really excited to get back into rehearsals for the second half of Shaping Sound's second tour. Once in L.A., we had four days to regroup, which is usually pretty fun. I've known most of the dancers since I was teenager, so getting together is like a big family reunion.
This time, though, the week got serious after our company's morning ballet class. One of the show's dancers, Matthew Peacock, found out he'd been booked as the assistant choreographer for Madonna's Grammy performance. It's an amazing opportunity for Matthew, but it means one of our understudies, Rory Freeman, will now be taking over his part. Our limited four-day rehearsal period—which we've had to do without props, since they're in Texas already—has been pretty hectic. Rory is a rock star, though, and our last run-through went smoothly.
January 27: Tech in Fort Worth, TX
Today we flew from L.A. to Fort Worth—and we didn't waste much time before going to the theater for tech. Once we were onstage, with the lights, costumes and props (!), it really sank in that tour was starting. Our set features walls that we climb up and fall off. We move them around ourselves during the show, and remembering to lock or unlock the walls while we're performing isn't easy. So a thorough tech is absolutely necessary.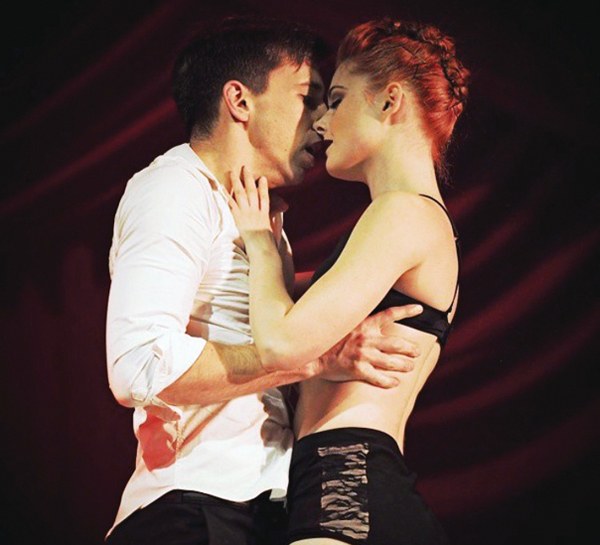 With fellow Shaping Sound dancer Ben Susak (courtesy Harpootlian)
January 28: Opening Night in Fort Worth
Tonight's performance was electric. My favorite part of the show is the duet I perform with Ben Susak in the "Wild Is the Wind" section. We have a great connection and we both really get into character. We also tend to change little things up each show, which keeps the piece fresh for us, even though we've danced it so many times. After each performance, we always do a meet-and-greet in the lobby. I love getting to speak with fans, but tonight was especially magical: My dad was there to give me a big hug!
January 29: Tulsa, OK
The grueling tour schedule has begun! We checked in to our Tulsa hotel around 4:30 am, disoriented and exhausted after our overnight drive. Believe it or not, though, it felt great to be back on the tour bus! Sometimes we're driving for up to 12 hours at a time, and, for that reason, the bus has become one of our favorite places to hang out. We usually eat dinner and watch our most recent performance while we wait for the crew to load out—and we also love playing Catch Phrase. Our competitive group gets pretty rowdy!
Luckily, we were able to go back to sleep once we arrived at the hotel, and I felt pretty good when I woke up around 10 am. I grabbed a couple of dancers for breakfast and hit the hotel gym with Channing Cooke.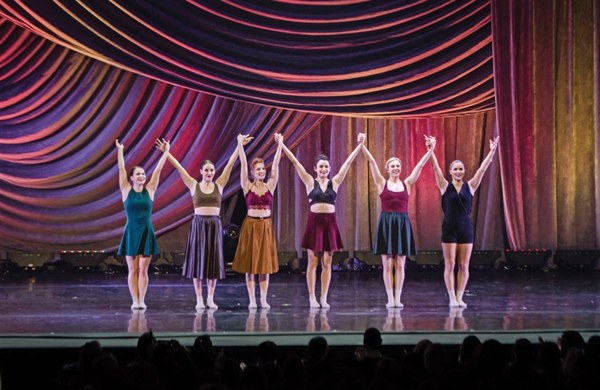 Harpootlian (third from left) during a Shaping Sound curtain call (photo courtesy Shaping Sound)
We had a 4:30 pm call time, but first we had to load all our stuff back on the bus since we'll be leaving right after the show. Three hours before every show (our call), the company meets for notes, info about our next tour stop and to get our lighting and spacing cues. An hour and 15 minutes before curtain, we take a company ballet class. Then I put my costume on, and five minutes before curtain, we regroup onstage for our company's pre-show ritual: After some words of encouragement, we take a few deep breaths. Our last exhale—a long "ahhh" sound—turns into a yell. Then we do a shake-off counting down from 8, and when we get to 1, someone shouts out "Shaping Sound" and we do a loud group clap. We like to think the better the clap is, the better the performance will be. It must have worked tonight!
February 1–2: Skokie, IL
After a four-show run in Kansas City, MO, and Minneapolis, MN, we finally have a couple days off. Some of the company stayed in Minneapolis, but the rest of us arrived to a full-on blizzard here in Skokie. It gave us a good reason to stay inside and rest.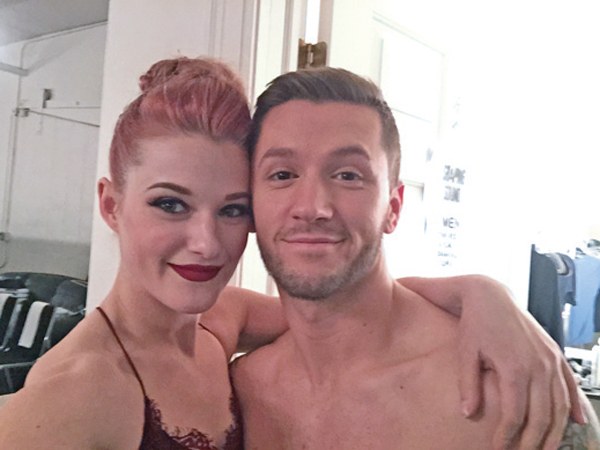 Harpootlian with Travis Wall (photo courtesy Harpootlian)
Monday in Skokie was bright and sunny, so I went into Chicago to take ballet class at the Lou Conte Dance Studio—home of Hubbard Street Dance Chicago. Then I headed to the hotel to take a quick rest before teaching a master class with Ben and Channing. I guess it wasn't much of a day off, but I love teaching. Plus, I got to reward myself afterwards by exploring Chicago one of my favorite ways—through my stomach! A lovely dinner with Travis and Nick was the perfect way to end this first week.
Shaping Sound's 2015–16 tour kicks off this month in Escondido, CA, and runs through February. Visit shapingsoundco.com/tour for details.
(From left) ABT's Erica Lall; NYCB's India Bradley; Washington Ballet's Nardia Boodoo; NYCB's Rachel Hutsell (all photos by Rachel Neville)
Misty Copeland. Her name is synonymous with exquisite artistry and outspoken advocacy. And her visibility has made a huge impact on the ballet world. Ballet's relationship with race has always been strained at best, hostile at worst. But Copeland's persistent message and star quality have finally forced the ballet industry to start talking about racial diversity, inclusivity, and representation. "The rarity of seeing ourselves represented is sad," Copeland says. "The more we see every hue and body shape represented on the stage, the more possibilities young dancers feel they have for themselves."
Keep reading...
Show less
Our nominees (clockwise from top left): Roberto Campanella, Aurélie Dupont, Ashley Wallen, and Anthony Van Laast
Last month, we asked why there wasn't a Best Choreography category at the Oscars—and discovered that many of you agreed with us: Choreographers should definitely be acknowledged for their work on the super-dancy movies we can't get enough of.
Now, we're taking matters into our own (jazz) hands.
We've decided to create a Dance Spirit award for the best cinematic choreography of 2017. With your input, we've narrowed the field to four choreographers whose moves lit up some of the best movies of the year. Check out our nominations for best choreography below—and vote for the choreographer you think deserves the honor. We'll announce the winner on Friday, March 2.
Being a dancer comes with the task of having to entertain the same questions over and over again from those outside the dance world. Of course, we love having our friends and family take an interest in our passion—but if someone asks ONE MORE TIME whether or not we've met Travis Wall, we might just go crazy.
Here are 10 questions that dancers hate getting asked.
Keep reading...
Show less
ABT JKO School student Miuka Kadoi shoiwng off her beautiful line (photo by Kenneth Edwards)
Contemporary phenom Christina Ricucci has super-flexible hips, which means she can stretch her legs to unbelievable heights. But when she noticed herself making contorted positions in class, Ricucci realized she was approaching her extensions all wrong. "I went back to the basics in class, squaring my hips and using my turnout," Ricucci says. "I learned to create proper positions, rather than whacked-out versions of them."
Some dancers are so wonky they have a hard time supporting their high legs, while others struggle with limited flexibility. But no matter your facility, you can find a balance of stretch and strength to achieve your fullest range of extension. It's not about how high (or not) your legs can go: It's the quality of the movement, and how you get those legs up, that counts.
Keep reading...
Show less
Bronze medalist Kaetlyn Osmond skating her "Black Swan" long program (screenshot via YouTube)
Once upon a time (until the 2014 Winter Olympics in Sochi concluded, to be exact), figure skaters had to compete to music without words. Before this rule change, a skater faced an automatic point deduction if the music even hinted at vocals. Understandably, there were *a lot* of Olympic programs skated to classical music, and you'd tend to hear the same music selections over and over and over.
Keep reading...
Show less


Get Dance Spirit in your inbox