Mar. 23, 2017 04:47AM EST
One of These Dancers Is Not Like the Others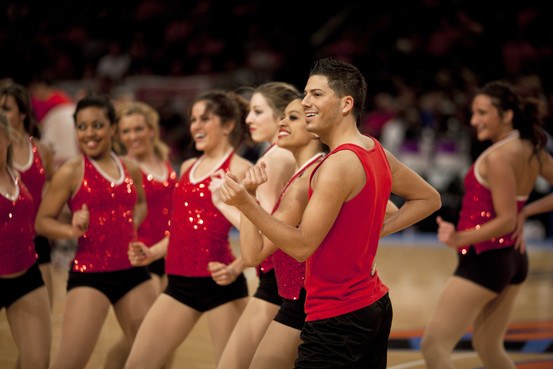 Pretty much any guy who dances is used to being outnumbered by women. But for Chris Klein, a student at St. John's University who was recently profiled in the Wall Street Journal, that differential is particularly intense: He's the only man on the school's dance team. And the dance team world as a whole is almost universally female.
The WSJ quotes UDA program director Catherine Morris saying that the number of guys on dance teams hovers around 5%; I'd wager it's even smaller. For people like Chris, that means good things and bad things. Good, in that they're pretty much guaranteed to get extra attention wherever the team goes. Bad, in that they might not ever quite fit in.
But about not fitting in: I've frequently wondered why there weren't more guys on dance teams. The WSJ story talks about issues involving pom work and costumes—but are those really so insurmountable? And while dance teamers should never be confused with cheerleaders, it's true that dudes have been on cheerleading teams for years. What if the guy-girl ratio were more even? Would it ruin the whole dance team aesthetic? Or would adding a bunch of men—assuming, of course, that they were as technically strong as the ladies—take things to a new level?
Guys on dance teams. What are your thoughts?
CBS
"Late Late Show" host James Corden was one of the many, many people shocked by President Trump's sudden decision to ban transgender people from the military yesterday. And he decided to voice his outrage in the way most likely to rile a President who's uncomfortable with anything "un-manly": through a big, beautiful, extra-sparkly song-and-dance routine.
Keep reading...
Show less
Jul. 25, 2017 05:04PM EST
(Break the Floor Productions)
In addition to training, competing and winning titles in just about every style you can think of, 13-year-old Kaylee Quinn is a regular on the sci-fi drama "Stitchers," playing the younger version of the show's main character. Her path in dance hasn't been without challenges, though. Last summer, Kaylee won the Hope Award at her regional Youth America Grand Prix, but wasn't sure she'd be able to compete at the NYC finals due to a broken foot. Patience paid off: With her doctor's blessing, Kaylee danced her variations in flat shoes and won the gold medal.
Keep reading...
Show less
Jul. 26, 2017 12:06PM EST
Trae Patton/NBC
Week 2 of Misty Copeland as guest judge, week 2 of merciless cuts...How can the final episodes of "World of Dance" possibly live up to the sheer dramaaaaaaaaa of last night's episode? Well, based on the nail-biting results dished out by Copeland and Co. last night, the competition is only going to get fiercer from here. Without further ado, last night's results, as told by Kween Misty.
Keep reading...
Show less


Get Dance Spirit in your inbox