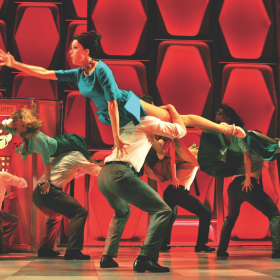 Paige Faure snatches the audience's attention right from the beginning of How to Succeed in Business Without Really Trying. Leggy and animated, she fires high kicks and struts down winding stairs, showing off balletic gams and grace. Later, as a grumpy cleaning lady, she morphs into a comedienne, hunched and shuffling.

Moving between chic and zany seems effortless for the ensemble member and lead cover. "Versatility is my marketability," she says. "I want to take whatever they throw at me." Her tactic is working: After success on tours and in regional houses, she's on Broadway boards for the first time in H2S.
Growing up in Atlanta, GA, Paige studied ballet, tap, jazz, lyrical and modern at the Alpharetta Dance Theater and also competed with the school. She added choir in her early teens and then "molded my own musical theater major at North Springs High School, the arts magnet," Faure says. "I wanted to be a better actor and singer while still dancing."
After she graduated, Paige attended Marymount Manhattan's theater program for a year and started auditioning in the city. She quickly nabbed an ensemble track understudying a lead in Elton John and Tim Rice's national tour of Aida. Four years of tours and regional shows followed, Faure's "on-the-job education," she says. "Touring teaches you to keep a performance fresh, to take care of yourself—and how to be tough!"
Then, Paige got her big break with H2S. "I was thrilled just to be in that audition room with H2S's director and choreographer Rob Ashford," she says. "The choreography was challenging, but it felt right on my body."
Paige says her Broadway debut has been dreamy. "The veterans in the cast say this is a particularly positive experience, and that I'm getting spoiled," Paige says, with a giggle. "The rehearsal process was seamless—everyone got along and worked toward the best product. It's easy to go in with Daniel Radcliffe and assume it's about his fame and Harry Potter. But we know it isn't. The show's success is contingent on everyone and we have an incredible hit."
Paige's looking forward to a long run with H2S, and also hopes to "work with as many choreographers and directors as possible, do cool new projects and move into roles, especially those that use my versatility. But I'm happy exactly where I am!"
Fun Facts
Favorite movies: It's a Wonderful Life,  10 Things I Hate About You, Mary Poppins

Favorite food: Dark chocolate

Favorite dance class: Derek Mitchell's lyrical class
Kalani Hilliker made "Dance Moms" fans sit up a little straighter when she first appeared on "Abby's Ultimate Dance Competition" back in 2013. The then–12-year-old ballerina had charisma, she had sass—and, wow, did she have technique! Abby Lee Miller, the show's infamous host, saw Kalani's star potential from the start, saving her from elimination and ultimately inviting her to perform alongside Maddie Ziegler on Season 4 of "Dance Moms." "I was never supposed to be on 'Dance Moms' beyond that one performance," says Kalani, now 16, but she ended up staying on the show for the whole season—and the following three. "It was my first time, but not my last time, causing drama. And it was also the first time I got to meet the other dancers, who have become like sisters."
Keep reading...
Show less
courtesy Jane Antonia Cornish
Translation: New York City Ballet principal dancer Ask La Cour's choreography for himself and the luxuriantly leggy Sara Michelle Murawski totally. nails. it.
Keep reading...
Show less
Kirsten Evans @settingthebarre
You may already know Apolla Shocks are able to replace your current footwear and dance shoes because of the durability, aesthetics, and traction, BUT there are many other reasons to ALWAYS keep a pair in your dance bag. BESIDES wearing them in class or onstage:
Keep reading...
Show less
Isaac Hernández in "Despertares" (via Vimeo)
Move over, Sergei Polunin*: There's a new ballet heartthrob in town.
Well, not "new," exactly: The fabulously talented Isaac Hernández has been a lead principal with the English National Ballet since 2015, and previously danced with Dutch National Ballet and San Francisco Ballet. (He's also part of a distinguished dance family: You met his brother, SFB corps member Esteban, in our March issue roundup of up-and-coming danseurs.)
But a dreamy new video by filmmaker Ezra Hurwitz—"Despertares" [Wake Up], featuring Hernández dancing in studios and on rooftops all over NYC—makes a strong case for this beautiful dancer becoming your next ballet crush:
Keep reading...
Show less


Get Dance Spirit in your inbox