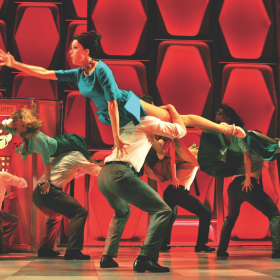 Paige Faure snatches the audience's attention right from the beginning of How to Succeed in Business Without Really Trying. Leggy and animated, she fires high kicks and struts down winding stairs, showing off balletic gams and grace. Later, as a grumpy cleaning lady, she morphs into a comedienne, hunched and shuffling.

Moving between chic and zany seems effortless for the ensemble member and lead cover. "Versatility is my marketability," she says. "I want to take whatever they throw at me." Her tactic is working: After success on tours and in regional houses, she's on Broadway boards for the first time in H2S.
Growing up in Atlanta, GA, Paige studied ballet, tap, jazz, lyrical and modern at the Alpharetta Dance Theater and also competed with the school. She added choir in her early teens and then "molded my own musical theater major at North Springs High School, the arts magnet," Faure says. "I wanted to be a better actor and singer while still dancing."
After she graduated, Paige attended Marymount Manhattan's theater program for a year and started auditioning in the city. She quickly nabbed an ensemble track understudying a lead in Elton John and Tim Rice's national tour of Aida. Four years of tours and regional shows followed, Faure's "on-the-job education," she says. "Touring teaches you to keep a performance fresh, to take care of yourself—and how to be tough!"
Then, Paige got her big break with H2S. "I was thrilled just to be in that audition room with H2S's director and choreographer Rob Ashford," she says. "The choreography was challenging, but it felt right on my body."
Paige says her Broadway debut has been dreamy. "The veterans in the cast say this is a particularly positive experience, and that I'm getting spoiled," Paige says, with a giggle. "The rehearsal process was seamless—everyone got along and worked toward the best product. It's easy to go in with Daniel Radcliffe and assume it's about his fame and Harry Potter. But we know it isn't. The show's success is contingent on everyone and we have an incredible hit."
Paige's looking forward to a long run with H2S, and also hopes to "work with as many choreographers and directors as possible, do cool new projects and move into roles, especially those that use my versatility. But I'm happy exactly where I am!"
Fun Facts
Favorite movies: It's a Wonderful Life,  10 Things I Hate About You, Mary Poppins

Favorite food: Dark chocolate

Favorite dance class: Derek Mitchell's lyrical class
Jun. 15, 2017 02:00PM EST
From left: Haley Hartsfield, Kaylin Maggard, and Michelle Quiner (photos by Erin Baiano)
Congratulations to Dance Spirit's 2017 Cover Model Search finalists: Haley Hartsfield, Kaylin Maggard and Michelle Quiner! One of them will win a spot on Dance Spirit's October 2016 cover. Learn more about the dancers on their profile pages, and then vote for your favorite below.
We also want you to get social! We'll be factoring social media likes and shares into our final tallies. Be sure to show your favorite finalist some love on Facebook, Instagram, and Twitter, sharing their profile pages and using the hashtag #DanceSpiritCMS.
Keep reading...
Show less
Performing on a Broadway stage might seem glamorous, but it comes with one of the most grueling schedules a dancer can face. Maintaining your stamina and energy, warding off injury and keeping the material fresh for eight shows a week is no joke. So how do dancers do it? Dance Spirit talked to ensemble members from some of Broadway's danciest shows to get their survival tips.
Keep reading...
Show less
You should know Leiomy Maldonado's name, because she's shaped the way you dance. Called the "Wonder Woman of vogue," the trailblazing artist was the first transgender woman to appear on "America's Best Dance Crew," as part of the Vogue Evolution crew. And her signature "Leiomy Lolly" hair flip has inspired everyone from Beyoncé to FKA Twigs to Willow Smith to, odds are good, your own teachers and choreographers. (Smith even asked Maldonado to appear in the video for "Whip My Hair," to show the world how to do the flip properly.)
Now, Maldonado is the star of a new Nike ad celebrating the queer and transgender dancers who form the heart of the voguing community. Directed by Daisy Zhou, the spot is narrated by transgender artist Precious Angel Ramirez, and showcases Maldonado's extraordinary skills, as well as those of several other dancers from the vogue scene.

Keep reading...
Show less
Jun. 25, 2017 11:00AM EST
via YouTube
...This clip, "'Hamilton' Choreographer Breaks Down His Moves," popped up on my YouTube recommended list. I mean, I could watch Hamilton's dance wizard Andy Blankenbuehler talk about anything. Have you read our interview with him back when he was making the moves for Bandstand? The guy is freaking fascinating.
Keep reading...
Show less


Get Dance Spirit in your inbox