Panera's Got a New Hidden (and Healthy) Menu!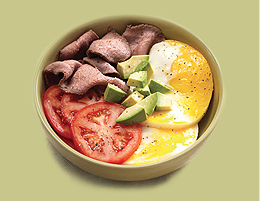 The Power Breakfast Egg Bowl with Steak includes two all-natural eggs, seared top sirloin, sliced avocado and tomatoes. Yum!
If you're anything like me, you're a regular at Panera Bread for yummy food before, between or after classes and rehearsals. So I was reeeeally excited when I stumbled across info about Panera's new "Hidden Menu." It includes six exciting options—two "breakfast bowls" and four lunch/dinner options (salad, wrap or bowl).
And all of these hidden choices "contain limited processed carbs" and "are an excellent source of protein," according to Panera's website. Just how much protein? Hidden Menu options range from 22 to 35 grams apiece—that's about half the recommended daily intake for teen girls! Perfect for keeping you satisfied and energized through those grueling summer intensives.
Oh, and did I mention that these meals sound absolutely scrumptious? Care for some seared top sirloin and sliced avocado in your Power Breakfast Egg Bowl with Steak? How about the Power Chicken Hummus Bowl's "all-natural, antibiotic-free chicken, with cilantro jalapeno hummus"? Dee-lish.
As you might guess from the name, these secret meals aren't displayed at any of Panera's bakery-cafes, so you'll have to tell the employee taking your order that you're ordering from the Hidden Menu. But you can scope out these new choices online before you go! And for nutrition info on all of Panera's menu items, click here.
Dance is a powerful form of expression, and Ahmad Joudeh is using its influence to promote peace.
The 27-year-old is a Palestinian refugee, whose decision to pursue his passion for ballet has made him the target of death threats from terrorist organizations. Despite the danger, Joudeh has decided to continue on his path as a dancer, using his performances as an opportunity to spread a message of peace and cultural awareness.
Keep reading...
Show less
A dance photo of Averi Hodgson (courtesy of Cortney Hodgson)
For 14-year-old Averi Hodgson, focusing on her ballet training while growing up was never easy: She's suffered from epilepsy since she was in first grade, and later, she was also diagnosed with scoliosis. Here, she tells her story of perseverance—and how her determination earned her a spot at the School of American Ballet's 2017 summer intensive.
Keep reading...
Show less
CBS
"Late Late Show" host James Corden was one of the many, many people shocked by President Trump's sudden decision to ban transgender people from the military yesterday. And he decided to voice his outrage in the way most likely to rile a President who's uncomfortable with anything "un-manly": through a big, beautiful, extra-sparkly song-and-dance routine.
Keep reading...
Show less
Jul. 25, 2017 05:04PM EST


Get Dance Spirit in your inbox