For years, New York City Ballet corps member Megan LeCrone wanted her dancing to be absolutely perfect. She worked hard and was incredibly focused. But instead of concentrating on how much she was improving, she obsessed over her mistakes. "I constantly saw my weaknesses and flaws as something wrong with me," she says. "In class, I'd be so busy thinking about the last mistake I made or the things about me that needed 'fixing,' that I would miss corrections from the teachers or would be slow to pick up the combination. This affected my confidence and focus."
Sound familiar? If so, you may be suffering from a kind of perfectionism that is impeding your progress and making you feel bad about yourself. DS spoke with clinical psychologist Dr. Linda Hamilton (who specializes in the performing arts) and sports psychologist Dr. Caroline Silby (who works with elite athletes and dancers) to get you the scoop on how to deal when perfectionism has got you down.
What is neurotic perfectionism—and how different is it from perfectionism?
Most dancers are perfectionists, which is a good thing. We have a strong work ethic, high standards and are often organized. "A lot of what we do is about perfecting our physique and technique," Megan says. "We are constantly making adjustments and improvements."
But when this is taken to the extreme, it becomes neurotic, or maladaptive, perfectionism. "Neurotic perfectionism is the need to succeed taken to the extreme," says Maryland-based Silby, who has worked with dancers at The Kirov Academy in Washington, DC, and American Ballet Theatre. Maladaptive perfectionism is characterized by a constant need for approval, the setting of unreasonable standards and endless anxiety about meeting those expectations. On the other hand, "People with a healthy drive to succeed understand that there are ups and downs," Silby says. "If they fail to meet expectations, they're able to negotiate through it in an effective way and use it to move forward. For neurotic perfectionists, it's either success or failure, and typically, it's failure because the standard is so high it's almost impossible to meet."
Why is it dangerous?
Maladaptive perfectionism can cause a host of psychological problems, like disordered eating, anxiety and substance abuse. It can make you lose your love for dance and make you feel depressed. It can also lead to burnout—a maladaptive perfectionist might "continually over-practice or never take a day off," Hamilton explains. "She might add cross-training, thinking she's doing something good for herself when she needs to rest."
What are the signs?
"If a dancer is unusually critical, is focusing on her mistakes, not seeing all the good things she has done, or is setting very high standards that no one could meet, my antennae go up for perfectionism," Hamilton says.
Neurotic perfectionists tend to…
…overemphasize PRODUCT, and underemphasize PROCESS. Dancers who fixate on the final outcome—say, not being cast in a particular role—dismiss the ways in which they have contributed to their success. "They don't say, 'I had a great audition today and here's why: I visualized my variation, I took a deep breath and told myself to trust my training,'" Silby says. This makes performing even more anxiety-provoking because they don't give themselves any credit for contributing to the outcome! (In fact, when asked how they have contributed to their success, nine out of 10 perfectionists will say they don't know.)
…set unrealistic standards that make them feel like they're constantly failing, which can lead to depression.
…procrastinate. The sheer thought of failing keeps them from trying at all, so they put it off.
…be indecisive, which can be problematic on or offstage. "In performance, if you can't decide whether you're really going to go for it or kind of going to go for it, it wreaks havoc on performance," Silby explains.
…feel shame and guilt about letting others down and worry about the sacrifices their parents or teachers have made for them.
…say "should" a lot instead of focusing on what they can do or have already accomplished.
What are the contributing factors?
Teachers and the studio environment also play an important role. Does your teacher put emphasis on effort or only on outcome? Does she pay attention to all the students or just the most talented ones? "You need to be able to dispute the negative thoughts with fact, logic and reason," Hamilton says. Look at the bigger picture. The teacher may have ignored you today because she worked with you yesterday, or because you have a cold and you weren't at your best.
This is hard to do on your own. Hamilton recommends thinking of what you'd say to your best friend if she was complaining of being ignored. You wouldn't tell her she was a complete loser! You'd probably give her a slew of factors—mostly circumstantial—that have contributed to her feeling down.
How do you treat it?
Hamilton focuses on both the physical and psychological issues, starting with whether the dancer is getting enough sleep. (Being sleep deprived can make anyone feel awful.) Then she uses cognitive behavior therapy to help a dancer cope.
First, she uses a technique called "thought-stopping": When you feel a negative thought coming on, you stop it early. Then you reframe the situation by treating a mistake as a learning opportunity. Let's say you fell out of a turn at a critical dress rehearsal. Instead of beating yourself up, ask yourself why. "Maybe you're exhausted," Hamilton says, "or maybe it's an awkward step. It doesn't have to mean you have no talent."
Hamilton asks dancers to become aware of their own "self-talk." What are you (unconsciously) telling yourself? Are you berating yourself for being untalented, or do you feel proud of doing a step well? Hamilton asks dancers she works with to keep a "stress diary," where negative self-talk is disputed with facts, logic and reason.
Final Thoughts
You can learn to turn maladaptive perfectionism around so that it doesn't negatively affect your dancing and self-esteem. "After a huge injury forced me to take a break, I realized that I focused too much on my imperfections and on the things that went wrong," Megan explains. "I was stressing myself out and overworking in this unrealistic attempt to be perfect." What did she do? "I started accepting myself and the things that I couldn't change. I'm committed and disciplined, but now I try not to put unnecessary pressure on myself."
She also advises staying positive for the sake of your fellow dancers. "The worst thing is working with a dancer who has a negative self-image. Now I work hard on my weaknesses, but they don't affect my focus and stress level—and they don't hold me back. It's because I'm aware of my strengths, too."
Much of Janelle Ginestra's career has been about helping others shine. She's dedicated herself to supporting and cheerleading her partner, WilldaBeast Adams; the emerging talents in their dance company, ImmaBEAST; and the countless dancers she inspires at master classes and conventions. Her YouTube channel has become a launching pad for young talents like "Fraternal Twins" Larsen Thompson and Taylor Hatala, thanks to viral videos featuring Ginestra's creative vision.
But Ginestra's a skyrocketing success in her own right—an in-demand choreographer, a social media influencer, and a dance entrepreneur, building a legacy one eight-count at a time. It's time for her turn in the spotlight. And she's more than ready. "I want to be a legend in whatever I do," she says. We'd argue that she already is.
Keep reading...
Show less
Win It
Oct. 13, 2017 04:31PM EST
When a choreographer finds a composer whose music truly inspires her, it can feel like a match made in dance heaven. Some choreographers work with the same composers so frequently that they become known for their partnerships. New York City Ballet soloist and resident choreographer Justin Peck, for example, has tapped composer Sufjan Stevens numerous times (last spring, the two premiered The Decalogue at NYCB, to rave reviews); L.A. Dance Project's Benjamin Millepied's working relationship with composer Nico Muhly has spanned a decade and two continents; and when tap dancer Michelle Dorrance premiered the first-ever Works & Process Rotunda Project, a site-specific work for New York City's Guggenheim Museum, last year, percussionist Nicholas Van Young was by her side as an equal partner. Successful collaborations require compatibility between artists, direct and honest communication, and flexible, open minds. But when the stars align, working with a composer can be extremely rewarding.
Keep reading...
Show less
(From left) Nia Sioux, Kendall Vertes, Chloe Lukasiak, and Kalani Hilliker (via @chloelukasiak)
Keep reading...
Show less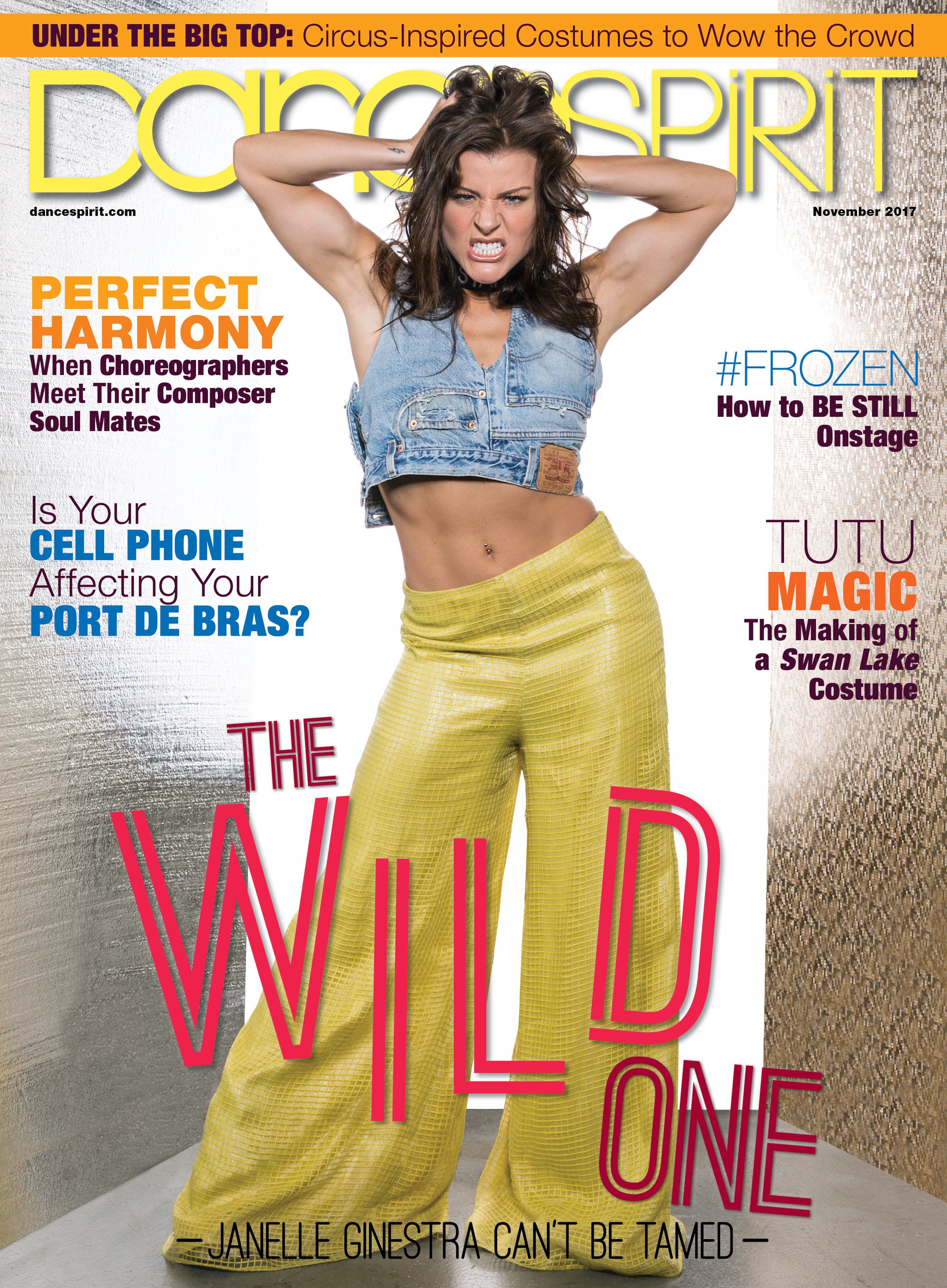 Get Dance Spirit in your inbox