It's a fact: We at Dance Spirit cannot get enough of dancing animal videos. (Examples A and B—and take a peek inside your April issue for our cutest round-up ever,"Puppy Love," with dancers and their dancing pooches.)
So imagine our glee when we discovered a new video, this time with the exotic peacock spider bustin' a move. OK, fine—it's really a mating call to female spiders, not a real "dance" per se. But watch the 'lil furry guy in action! (And if you don't love spiders, consider yourself warned, and skip to what's below the clip.)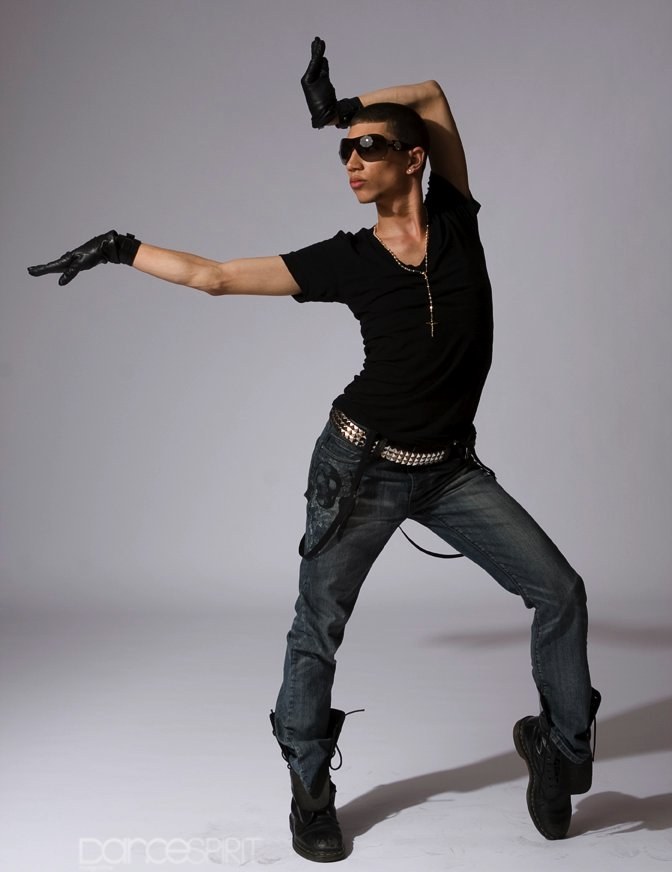 Javier Ninja, photo by Erin Baiano for DS
Remind you of anything? The tick-tick-tick staccato motion totally made me think of Javier Ninja, the world-renowned vogue dancer from the Legendary House of Ninja. Of course, put the two in a dance battle and spidey would totally get schooled by Javier. In fact, the new-way-voguer typically takes home the top prize in major competitions, including the House Dance International Championships. He's performed not only on super-sized Superbowl stages with Madonna, but also in major concert dance venues—at the Joyce Theater in Doug Elkins' work Scott, Queen of Marys, and at NYC's downtown Danspace with fellow voguer Archie Burnett. Before Javier was named a 2014 Dance Magazine "25 to Watch," Dance Spirit asked the master to explain just what exactly vogueing is. His demonstration is to die for:
via YouTube
It's no secret that ballet in pop culture has sparked its fair share of controversy. Which is why this video from Refinery29, featuring ABT's Isabella Boylston, is not only a super-fun watch, but a breath of fresh air.
Keep reading...
Show less
Jul. 21, 2017 12:26PM EST
via @phil_wright_ on Instagram
Well, this brings class videos to a whole new level! Choreographer Phil Wright and dancer Ashley Liai have been together eight-plus years, but she was still in total shock when he proposed to her mid-dance at Millennium Dance Complex earlier this week. Why? Well, the whole thing was unbelievably perfect.
Keep reading...
Show less
Jul. 21, 2017 11:03AM EST
(Courtesy ABC)
In the dance industry, dancers don't always have a say in what they wear on their bodies. This can get tricky if you're asked to wear something that compromises your own personal values. So what should you do if you find yourself in this sticky situation? We sat down for a Q&A with "Dancing with the Stars" alumn Ashly Costa to answer that very question. Here's what she had to say about the options dancers have surrounding questionable costumes.
Keep reading...
Show less


Get Dance Spirit in your inbox