Sep. 01, 2010 11:59PM EST
Prince Charming: Taylor Stanley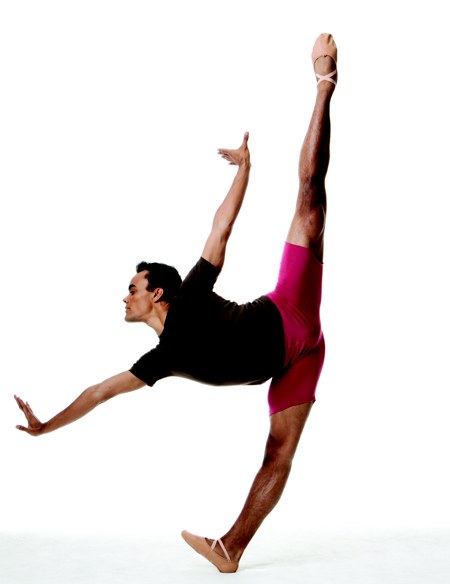 Photo by Erin Baiano
Ask most ballet guys about their dream roles and they'll list bravura, wham-boom-pow parts, like Basilio in Don Quixote or the Slave in Le Corsaire. But not shy, serious New York City Ballet apprentice Taylor Stanley. Instead, the 19-year-old hopes to someday dance in George Balanchine's courtly, mysterious, thinking-man's ballet "Emeralds," from Jewels. "It's beautiful and magical," Taylor says.
While Taylor has certainly mastered the virtuoso "tricks"—he has a buoyant jump, clean, crisp pirouettes and jaw-dropping extensions—the first thing you notice about him is the regal elegance of his bearing, his inherent "princeliness." He's an old-school danseur noble: a gallant, selfless performer with an understated charm. "Taylor has a quiet strength," says School of American Ballet faculty member Jock Soto. "He manages to be graceful and manly at the same time, and his love for dance projects through his body."
Taylor says he's had that love nearly all his life. "I grew up having fun dancing, ever since I was 3," he remembers. That was the age at which he began studying jazz, tap and ballet at a local studio in his hometown of West Chester, PA. "I was really into jazz, and actually thought I'd end up as a jazz dancer," he says. But by the time he was 12, his teachers and parents, noticing his natural talents, were urging him to think more seriously about ballet. "Eventually I realized that ballet was the foundation that everything else was built on."
Taylor transferred to The Rock School in Philadelphia as a teenager, where he focused on ballet and first encountered the Balanchine style. "Balanchine technique is extremely specific about placement, but there's also a free, jazzy quality to it, and I was able to incorporate what I'd learned in my jazz classes over the years," Taylor says. He spent a summer at SAB, the home of Balanchine technique, when he was 17, and was asked to stay for the school's year-round program. "When we see a student like Taylor, we snap him up," Soto says. "Immediately we were struck by his great facility. He's such a natural dancer."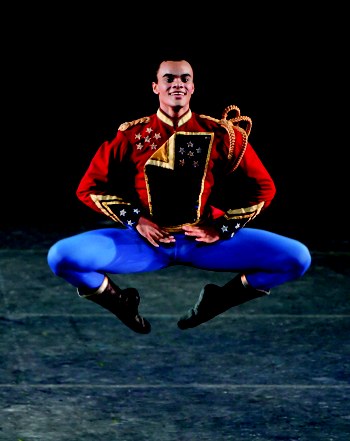 Taylor as El Capitan in Stars and Stripes at a School of American Ballet workshop performance (photo by Paul Kolnik)
Taylor accepted the offer, and after a year at SAB, he wowed audiences as El Capitan in Balanchine's Stars and Stripes at the school's workshop performances, breezing through the taxing solo and proving to be a considerate, assured partner to his leading lady. He was awarded the 2009 Mae L. Wien Award for Outstanding Promise, and was asked to return in the fall as an NYCB apprentice. "I couldn't stop smiling," he says.
The highlights of his apprentice year so far? Dancing in the corps of "Diamonds" from Jewels—which inched him closer to his "Emeralds" dream—and originating a role in NYCB principal Benjamin Millepied's premiere Why am I not where you are. But Taylor, who hopes to someday be a principal dancer, says he's thrilled by any opportunity to be onstage. "That's where I can let my heart out, where I can give it my all and be free."
Taylor had a typically terrifying apprentice experience this May, when at the last minute he was thrown into a performance of Jerome Robbins' Opus Jazz. But he didn't betray any nervousness. Instead, he burst onto the stage in orange sneakers, adding a dash of jazzy spice to his classically noble stage presence and creating a delicious hybrid of fluid and funky. Taylor, the ballet prince, transformed into Taylor, the prince of jazz—and he looked like a star.
Fun Facts
Birthday: May 30, 1991
Most-played song on his iPod: "Campus," by Vampire Weekend
Favorite TV show: "I was a big fan of 'The O.C.' back in the day."
Favorite movie: Coraline
New York City Ballet star he admires: Sara Mearns. "She's always fierce and amazing onstage."
Hidden talent: He plays the piano. "Not like a Juilliard student, but I like to sit down and play some Mozart every now and then."
Favorite foods: "Sweets, cookies, brownies, ice cream…all that stuff that's bad for you!"
Photos top to bottom: Taylor Stanley by Erin Baiano; Taylor (center right) and NYCB in Jerome Robbins' Opus Jazz by Paul Kolnik.
Dance is a powerful form of expression, and Ahmad Joudeh is using its influence to promote peace.
The 27-year-old is a Palestinian refugee, whose decision to pursue his passion for ballet has made him the target of death threats from terrorist organizations. Despite the danger, Joudeh has decided to continue on his path as a dancer, using his performances as an opportunity to spread a message of peace and cultural awareness.
Keep reading...
Show less
CBS
"Late Late Show" host James Corden was one of the many, many people shocked by President Trump's sudden decision to ban transgender people from the military yesterday. And he decided to voice his outrage in the way most likely to rile a President who's uncomfortable with anything "un-manly": through a big, beautiful, extra-sparkly song-and-dance routine.
Keep reading...
Show less
Jul. 25, 2017 05:04PM EST
(Break the Floor Productions)
In addition to training, competing and winning titles in just about every style you can think of, 13-year-old Kaylee Quinn is a regular on the sci-fi drama "Stitchers," playing the younger version of the show's main character. Her path in dance hasn't been without challenges, though. Last summer, Kaylee won the Hope Award at her regional Youth America Grand Prix, but wasn't sure she'd be able to compete at the NYC finals due to a broken foot. Patience paid off: With her doctor's blessing, Kaylee danced her variations in flat shoes and won the gold medal.
Keep reading...
Show less


Get Dance Spirit in your inbox