Apr. 01, 2014 08:02PM EST
Did you know that a lot of your favorite dancers have very special four-legged friends? While you probably won't see these adorable dogs onstage alongside their dancing moms and dads, DS found out that plenty of them do perform their own pooch-style pirouettes and pliés!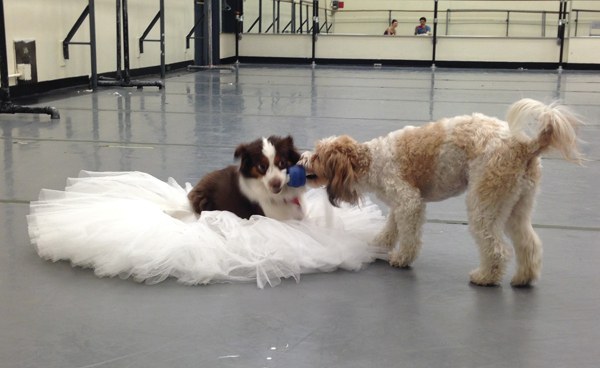 Griz (left) and Cali (courtesy Tiler Peck and Robert Fairchild)
New York City Ballet principal dancers Tiler Peck and Robert Fairchild
"Cali is a Maltipoo, and she's my little stuffed animal. She comes to class without a leash and just lays next to my spot at the barre." —Tiler
"Griz is a toy Australian shepherd. He's got much more energy than Cali—he wouldn't just sit there during class, so when I bring him he's on a leash. But when center happens, he gets so stimulated by everybody moving that he stands up and tries to say hello." —Robert
"Cali's been onstage before by accident, when I was rehearsing The Sleeping Beauty. In our studios, we have TVs upstairs that show what's happening on the stage. I was watching once during a break, and suddenly was like, 'Whose dog is onstage?' Then I realized it was Cali. The dancers were doing bourrées in a circle, and she was jumping up on her hind legs, trying to join in!" —Tiler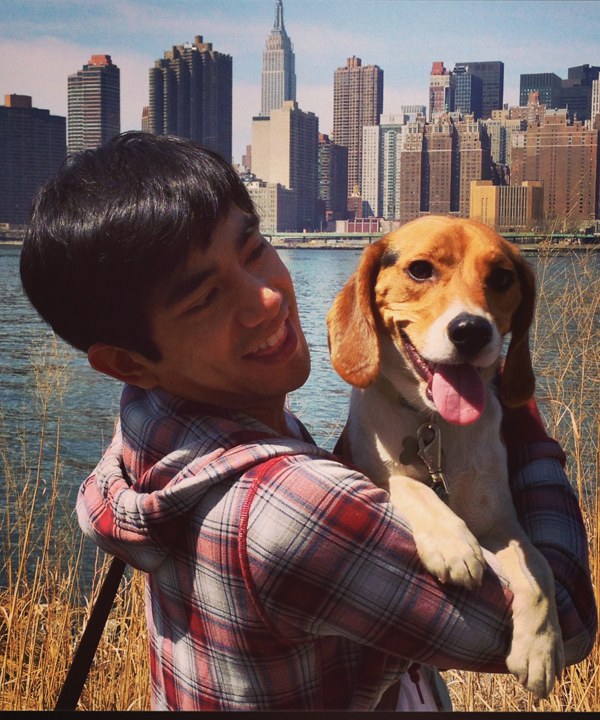 Bandit (courtesy Aaron Albano)
Newsies' Aaron J. Albano
"Bandit, my purebred beagle, is 2 1/2 years old. We have this trick we call 'barre': I put my arm out and he puts both front paws on it, like he's standing at the barre. I've even started to get him to do a tour en l'air. He doesn't quite jump all the way around yet, but he's getting there."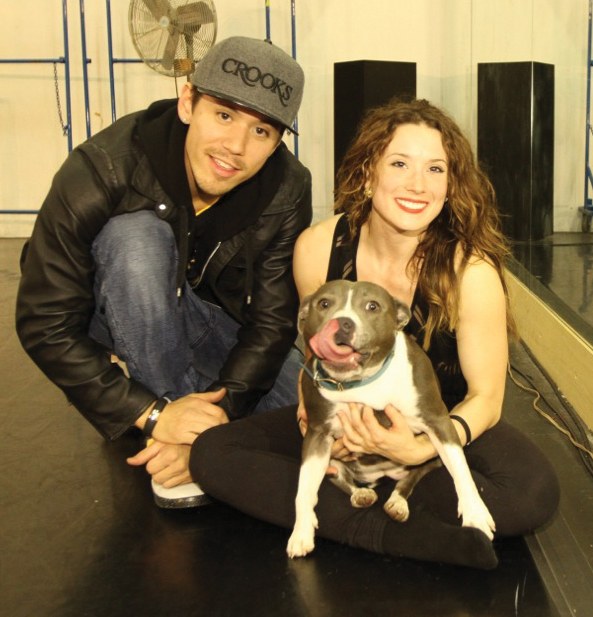 Mila with Jamie and Jamie's boyfriend, Bryan Tanaka (courtesy Jaime Goodwin)
Shaping Sound's Jaimie Goodwin
"Mila has a lot of tricks up her sleeve. One of my favorites is her downward dog pose. Ever since she was a puppy, she would sit with her chin on the floor and her bum in the air. Sometimes she even falls asleep like that…and then slowly tips over! She's also extremely flexible—she sits in her straddle and jazz splits a lot."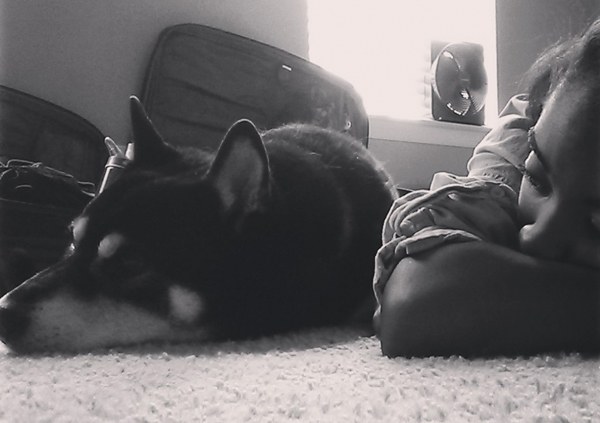 Kamille and Max (courtesy Kamille Upshaw)
Flashdance: The Musical's Kamille Upshaw
"My shiba inu, Max, is usually pretty chill, but sometimes he can be a bit of a prima donna—he'll lie near my feet and paw at my leg until I rub him. I haven't brought him to class or rehearsals because I think the music and people running around would be too much for him to handle. But occasionally I can get him to stand on his hind legs and do a spin."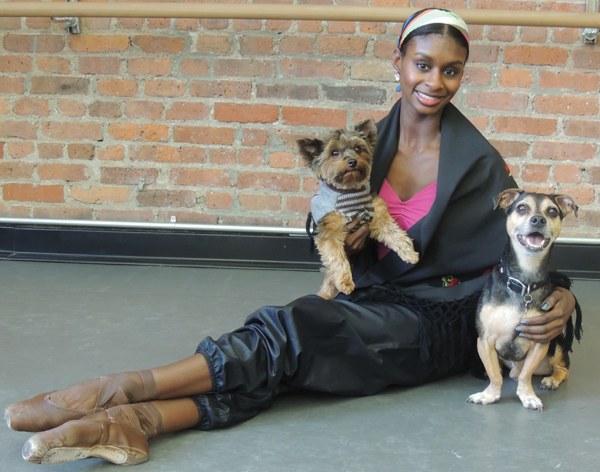 Ashley with (L to R) Minion and Atreyu (photo by Marilyn Abalos)
Dance Theatre of Harlem's Ashley Murphy
"My boyfriend and I have two dogs: Atreyu (a mixed breed) and Minion (a Yorkie). I bring the dogs to work some days because our rehearsal schedule can be taxing, starting at 10 and lasting until 6:30 or 7. Having the dogs around helps—they bring a smile to everyone's face."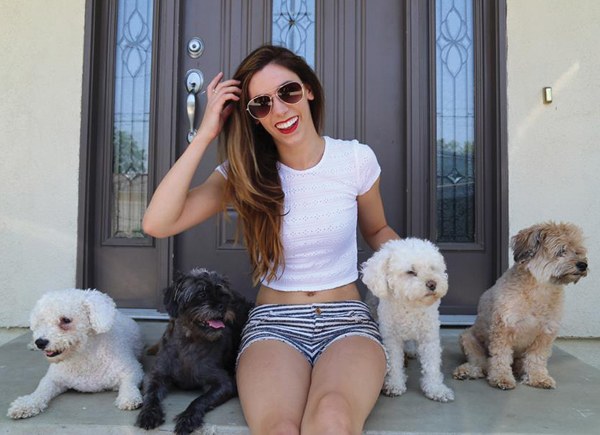 Audrey with (L to R) Smoke, Smalls, Jett and Jojo (courtesy Audrey Douglass)
Commercial dancer Audrey Douglass
"My housemates and I have four dogs: a 9-year-old Maltese/poodle named Jojo, an 8-year-old Maltese/shih tzu named Smokey, a 2-year-old affenpinscher named Smalls and a 7-month-old Maltese/poodle, Boots. We have a small dance studio in our house where we occasionally rehearse or choreograph, and the dogs will watch us. They're always waiting for us to do choreography on the ground, so they can lick our faces. At least one of the dogs makes an appearance in every choreography/rehearsal video we've shot in that room."
(From left) ABT's Erica Lall; NYCB's India Bradley; Washington Ballet's Nardia Boodoo; NYCB's Rachel Hutsell (all photos by Rachel Neville)
Misty Copeland. Her name is synonymous with exquisite artistry and outspoken advocacy. And her visibility has made a huge impact on the ballet world. Ballet's relationship with race has always been strained at best, hostile at worst. But Copeland's persistent message and star quality have finally forced the ballet industry to start talking about racial diversity, inclusivity, and representation. "The rarity of seeing ourselves represented is sad," Copeland says. "The more we see every hue and body shape represented on the stage, the more possibilities young dancers feel they have for themselves."
Keep reading...
Show less
Popular
Feb. 18, 2018 07:00AM EST
Rippon after his stunning performance (via Instagram)
We love, love, LOVE figure skaters who completely embrace the dance aspect of the sport, putting real time and thought into their choreography and music choices (while also, you know, casually pulling off death-defying jumps). This Olympics, a lot of attention has (rightly) been focused on frontrunner Nathan Chen, whose ballet background lends him a beautiful grace and fluidity on the ice. But it was Chen's teammate Adam Rippon who stole our dance-loving hearts yesterday, making his Olympic debut with a routine choreographed by none other than "So You Think You Can Dance" alum Benji Schwimmer.
Friends: HE. SLAYED. And because Rippon is the first openly gay U.S. man to qualify for any Winter Olympics—ever—the performance marked a major milestone.
Keep reading...
Show less
Popular
Jan. 21, 2018 07:00AM EST
ABT JKO School student Miuka Kadoi shoiwng off her beautiful line (photo by Kenneth Edwards)
Contemporary phenom Christina Ricucci has super-flexible hips, which means she can stretch her legs to unbelievable heights. But when she noticed herself making contorted positions in class, Ricucci realized she was approaching her extensions all wrong. "I went back to the basics in class, squaring my hips and using my turnout," Ricucci says. "I learned to create proper positions, rather than whacked-out versions of them."
Some dancers are so wonky they have a hard time supporting their high legs, while others struggle with limited flexibility. But no matter your facility, you can find a balance of stretch and strength to achieve your fullest range of extension. It's not about how high (or not) your legs can go: It's the quality of the movement, and how you get those legs up, that counts.
Keep reading...
Show less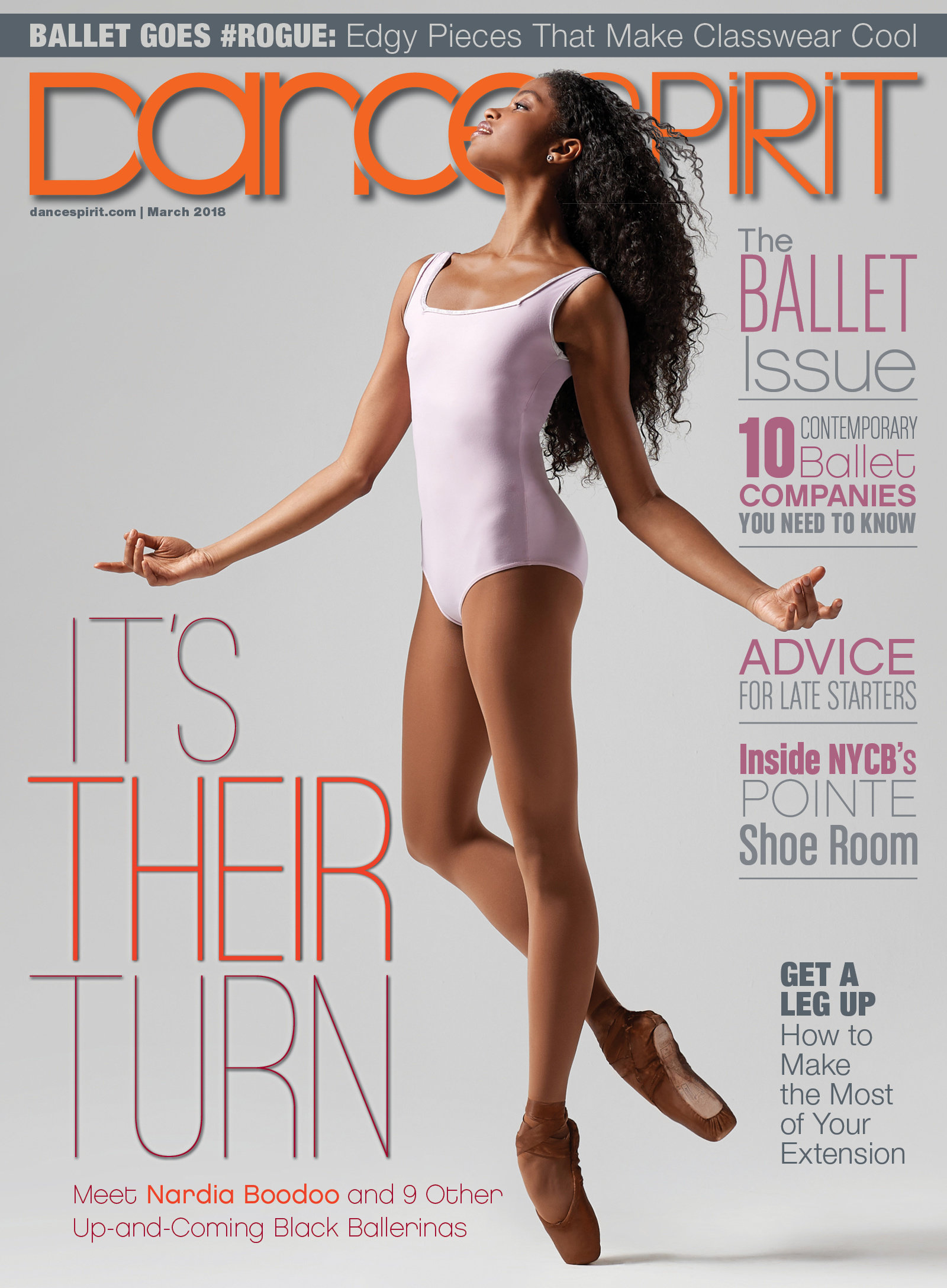 Get Dance Spirit in your inbox