Apr. 01, 2014 08:02PM EST
Did you know that a lot of your favorite dancers have very special four-legged friends? While you probably won't see these adorable dogs onstage alongside their dancing moms and dads, DS found out that plenty of them do perform their own pooch-style pirouettes and pliés!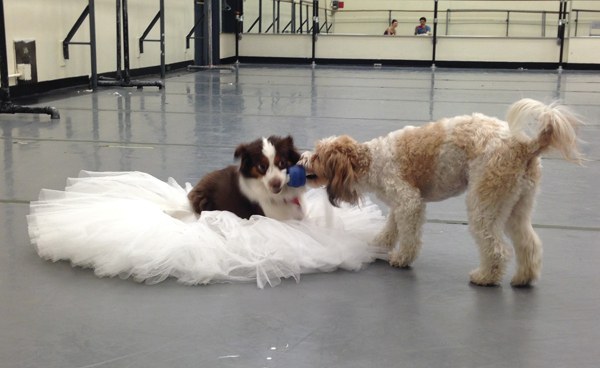 Griz (left) and Cali (courtesy Tiler Peck and Robert Fairchild)
New York City Ballet principal dancers Tiler Peck and Robert Fairchild
"Cali is a Maltipoo, and she's my little stuffed animal. She comes to class without a leash and just lays next to my spot at the barre." —Tiler
"Griz is a toy Australian shepherd. He's got much more energy than Cali—he wouldn't just sit there during class, so when I bring him he's on a leash. But when center happens, he gets so stimulated by everybody moving that he stands up and tries to say hello." —Robert
"Cali's been onstage before by accident, when I was rehearsing The Sleeping Beauty. In our studios, we have TVs upstairs that show what's happening on the stage. I was watching once during a break, and suddenly was like, 'Whose dog is onstage?' Then I realized it was Cali. The dancers were doing bourrées in a circle, and she was jumping up on her hind legs, trying to join in!" —Tiler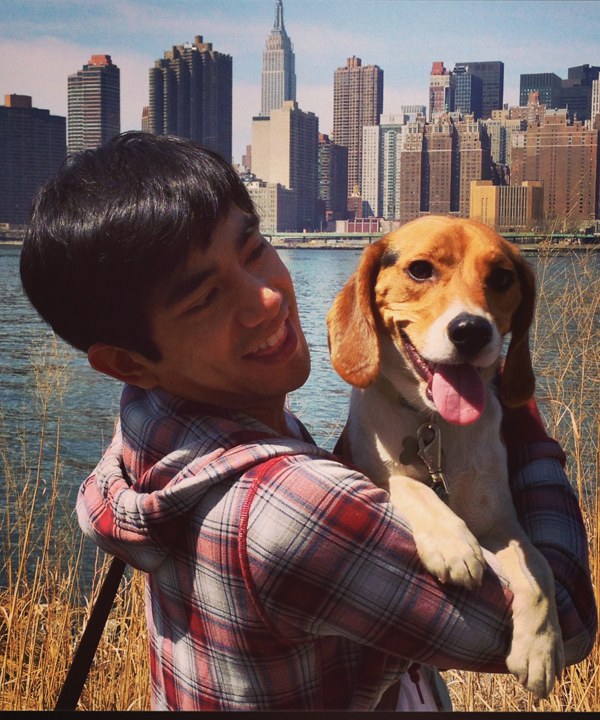 Bandit (courtesy Aaron Albano)
Newsies' Aaron J. Albano
"Bandit, my purebred beagle, is 2 1/2 years old. We have this trick we call 'barre': I put my arm out and he puts both front paws on it, like he's standing at the barre. I've even started to get him to do a tour en l'air. He doesn't quite jump all the way around yet, but he's getting there."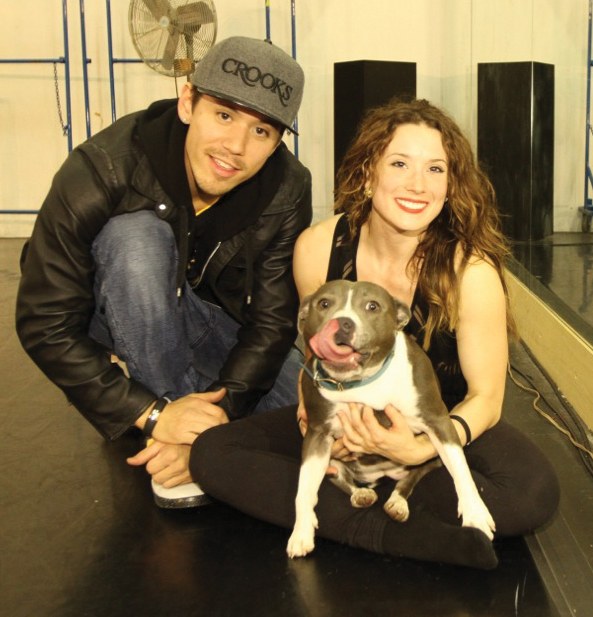 Mila with Jamie and Jamie's boyfriend, Bryan Tanaka (courtesy Jaime Goodwin)
Shaping Sound's Jaimie Goodwin
"Mila has a lot of tricks up her sleeve. One of my favorites is her downward dog pose. Ever since she was a puppy, she would sit with her chin on the floor and her bum in the air. Sometimes she even falls asleep like that…and then slowly tips over! She's also extremely flexible—she sits in her straddle and jazz splits a lot."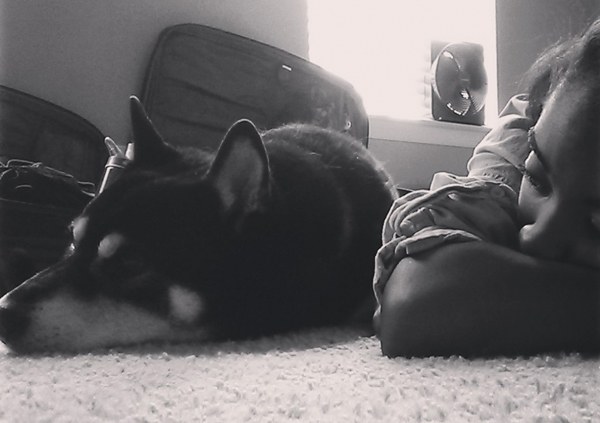 Kamille and Max (courtesy Kamille Upshaw)
Flashdance: The Musical's Kamille Upshaw
"My shiba inu, Max, is usually pretty chill, but sometimes he can be a bit of a prima donna—he'll lie near my feet and paw at my leg until I rub him. I haven't brought him to class or rehearsals because I think the music and people running around would be too much for him to handle. But occasionally I can get him to stand on his hind legs and do a spin."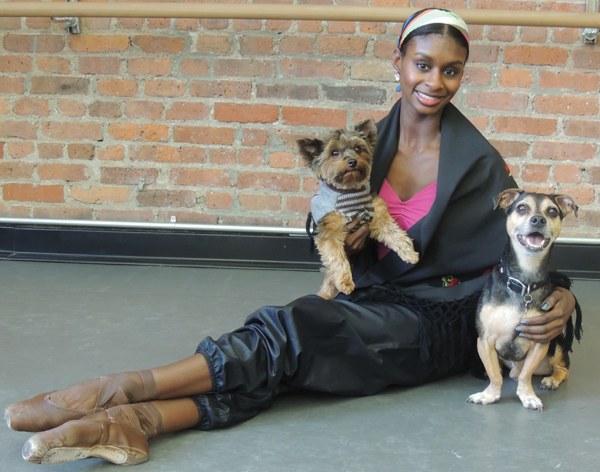 Ashley with (L to R) Minion and Atreyu (photo by Marilyn Abalos)
Dance Theatre of Harlem's Ashley Murphy
"My boyfriend and I have two dogs: Atreyu (a mixed breed) and Minion (a Yorkie). I bring the dogs to work some days because our rehearsal schedule can be taxing, starting at 10 and lasting until 6:30 or 7. Having the dogs around helps—they bring a smile to everyone's face."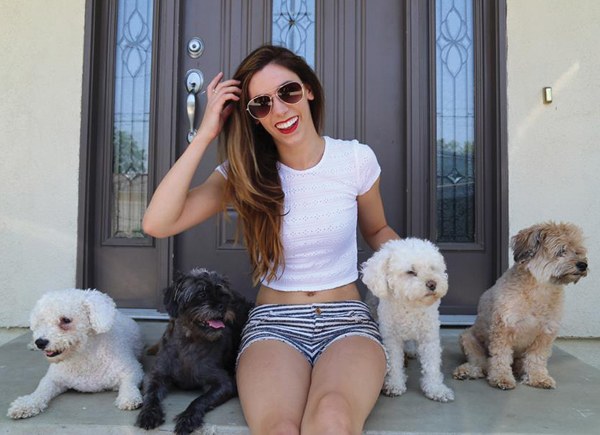 Audrey with (L to R) Smoke, Smalls, Jett and Jojo (courtesy Audrey Douglass)
Commercial dancer Audrey Douglass
"My housemates and I have four dogs: a 9-year-old Maltese/poodle named Jojo, an 8-year-old Maltese/shih tzu named Smokey, a 2-year-old affenpinscher named Smalls and a 7-month-old Maltese/poodle, Boots. We have a small dance studio in our house where we occasionally rehearse or choreograph, and the dogs will watch us. They're always waiting for us to do choreography on the ground, so they can lick our faces. At least one of the dogs makes an appearance in every choreography/rehearsal video we've shot in that room."
Much of Janelle Ginestra's career has been about helping others shine. She's dedicated herself to supporting and cheerleading her partner, WilldaBeast Adams; the emerging talents in their dance company, ImmaBEAST; and the countless dancers she inspires at master classes and conventions. Her YouTube channel has become a launching pad for young talents like "Fraternal Twins" Larsen Thompson and Taylor Hatala, thanks to viral videos featuring Ginestra's creative vision.
But Ginestra's a skyrocketing success in her own right—an in-demand choreographer, a social media influencer, and a dance entrepreneur, building a legacy one eight-count at a time. It's time for her turn in the spotlight. And she's more than ready. "I want to be a legend in whatever I do," she says. We'd argue that she already is.
Keep reading...
Show less
Win It
Oct. 13, 2017 04:31PM EST
Daphne Lee is a queen, and not just in the "OMG Girl Boss Alert" sense of the word. She's an actual queen—a beauty queen. Crowned Miss Black USA in August, she's been doing double duty as she continues to dance with the Memphis based dance company, Collage Dance Collective. Lee's new title has given her the means to encourage other black girls and boys to pursue their dreams, while also pursuing dreams of her own. The scholarship money awarded with the pageant title will assist her as she earns a Masters of Fine Arts degree at Hollins University.
Keep reading...
Show less
When a choreographer finds a composer whose music truly inspires her, it can feel like a match made in dance heaven. Some choreographers work with the same composers so frequently that they become known for their partnerships. New York City Ballet soloist and resident choreographer Justin Peck, for example, has tapped composer Sufjan Stevens numerous times (last spring, the two premiered The Decalogue at NYCB, to rave reviews); L.A. Dance Project's Benjamin Millepied's working relationship with composer Nico Muhly has spanned a decade and two continents; and when tap dancer Michelle Dorrance premiered the first-ever Works & Process Rotunda Project, a site-specific work for New York City's Guggenheim Museum, last year, percussionist Nicholas Van Young was by her side as an equal partner. Successful collaborations require compatibility between artists, direct and honest communication, and flexible, open minds. But when the stars align, working with a composer can be extremely rewarding.
Keep reading...
Show less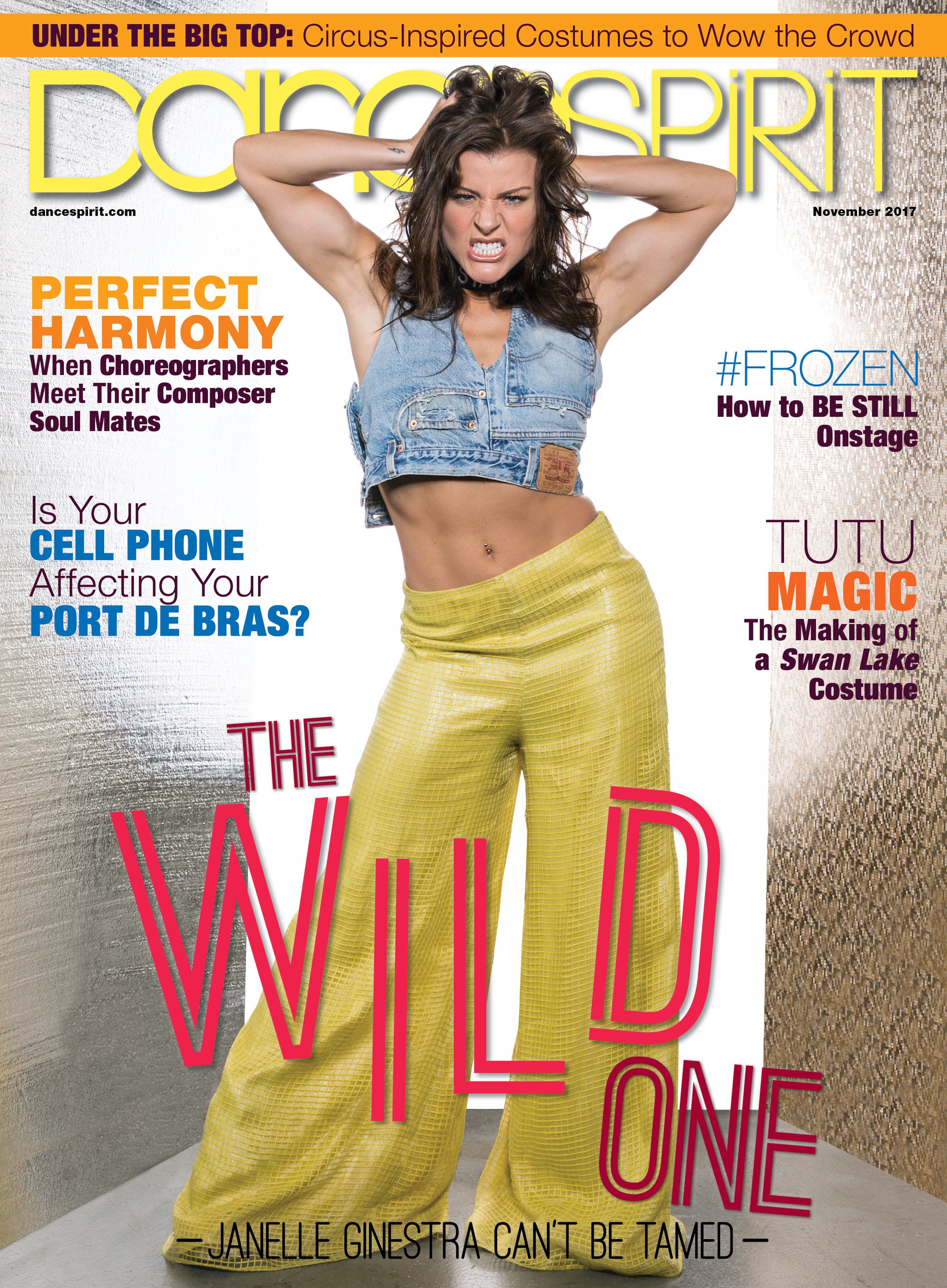 Get Dance Spirit in your inbox