Q&A with the Amazing Erica Sobol
We've admired choreographer Erica Sobol for a long time, and we have to admit that we're a little bit jealous of her life: Finding success in L.A.? Working with amazing dancers? Touring the world as a teacher? She's inspiring, to say the least. She chatted with us about winning the 2013 Capezio A.C.E. Award,  her newest production, and where she finds her motivation.
Dance Spirit: You just premiered your show runaway! What has it been like to work toward creating this show? Did winning the A.C.E. Award open any doors for you?
Erica Sobol: You know, at one point during the show, when I was finally able to sit in the audience and watch, I laughed and thought, "I made this." Winning the award influenced the creation process in every single way. It happened because we won the award. It supercharged people to get involved. It's taken years to be able to present runaway! and it was an exciting triumph for everyone who's been on this journey with me. I have a strong team behind me and I do what I do because of them.
DS: You often choose to work with an all-male cast. Are you drawn to the way men interpret your choreography, or do you make work specifically for men to dance? Or is your cast just the best for the job, regardless of their gender?
ES: I think it's a combination of all three. These men are my favorite dancers in the world. Getting to bring them together as one cast was extraordinary for me. People came in from all over to train and be part of this project. They've changed my whole world. I do have a tendency toward men and it's exciting to watch my choreography on them. I love the no-limits energy they provide in the studio. Watching them perform in class provided huge well-springs of inspiration for me. I had always dreamed of working with an all-male cast. When I see men dance, I see their physical capability, but I also wanted to explore tenderness and vulnerability. Those are strengths, too.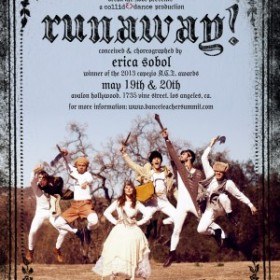 DS: Can you tell us about some of your dancers and why you love working with them?
ES: Oh man. Well, first let me tell you about Ryan Spencer, my muse and my assistant. He's the greatest dancer in the world, the most singular dancer I've ever seen. The growth I've seen over the years (and the growth he's inspired in me) is just incredible. I feel like we've known each other across lifetimes. There's also Jason Gorman. Initially I was drawn to his choreography. I was traveling and starting to get homesick, and watching his videos brought me home. I reached out to him after seeing his work, and the rest is history! I met Wyatt Rocker at a convention where he was an assistant. He's so special and kooky and it's so wonderful to finally be working together. Miguel Antonio is an extraordinary teacher here in L.A., and we've traveled and taught together. He used to write to me on YouTube, and when he finally took my class we fell madly in love with each other. BoyBoi connected with me through my friend Dana Foglia. After he took my class the first time, I knew I wanted to work with him forever. I can keep going!
DS: Talk to us about your choreographic process. Did you start runaway! from scratch, or did you revisit ideas that you'd already experimented with?
ES: I'm always creating and there are ideas coming to me all the time, but there are shifts and changes as each day passes. Things changed as we worked on the piece together as a cast. There are fragments in runaway! that have been presented before, but this was a collection of the old woven in with the new. For me, it was essential that this process be free of negativity and ego. Making a dance is difficult enough as it is. In addition to their talent and fearlessness, all of the dancers I worked with brought humility and love to the creation process.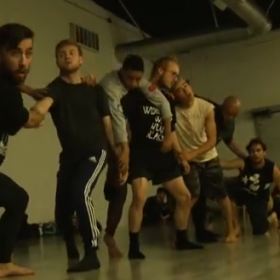 DS: What advice can you give us about breaking into the L.A. scene?
ES: I find myself really unable to answer that question because I always feel like an outsider and an underdog—not part of "the scene" at all. My dancers are misfits in their own way, and we were never able to plug in until we found each other. It's important to know that even if you feel like you don't fit into your "scene," there are people out there who can become your family. Here in L.A., it's possible to find your people.
DS: Looking back on your career so far, what are you most proud of?
ES: I am definitely the most proud of runaway! It's the most beautiful, strangest and loudest that I've ever been or felt. The feeling of "I made that" helped me be stronger and bolder than ever.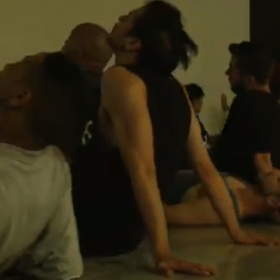 DS: What are your goals as you continue to grow as an artist?
ES: Well first of all, I hope that there will be a long life for runaway! I could spend a long time with this show. But for now, I'm booked out for the summer teaching and traveling all over the world with Ryan. I'm taking some time to catch up on real life with my family and friends, and then it's back out into the world to inspire more young dancers to follow their dreams and stick to their guns.
Want more Erica? Check out her company collidEdance and check out the trailer for runaway! We can't wait to see footage of the show itself!
Win It
Sep. 05, 2017 12:10PM EST
Photos by Erin Baiano
It's time to get your pirouette on! From September 5th to September 30th, we're hosting a contest to find out who's the best turner of them all.

Put together your most impressive turning combo. Post a video online. Share your turns with us and thousands of other dancers around the world. And if our editors think you're the top turner, you'll win a fabulous prize.
Keep reading...
Show less
All of 18-year-old Kaylin Maggard's dreams—from scoring the title of National Senior Outstanding Dancer at New York City Dance Alliance Nationals to winning the 2017 Dance Spirit Cover Model Search—are coming true. And to anyone who knows the gorgeous contemporary dancer, that's no surprise.
From the moment the Dance Spirit staff met Kaylin, it was obvious her humility and talent would take her far. Not only did she go full-out during the photo shoot and class at Broadway Dance Center, but she was always cheering on, laughing with, and supporting her fellow CMS contestants Haley Hartsfield and Michelle Quiner. During the voting period, the social media world was abuzz with praise for her work ethic, positive attitude, and generosity.
Since her CMS trip to NYC, Kaylin's moved from her hometown of Columbia, MO, to the Big Apple for her freshman year at Juilliard, and is busy getting acquainted with the city. As for the future? She's taking it one opportunity at a time, but something tells us we'll be seeing this contemporary queen reach new heights every year.
Keep reading...
Show less
In our "Dear Katie" series, former NYCB soloist Kathryn Morgan answers your pressing dance questions. Have something you want to ask Katie? Email dearkatie@dancespirit.com for a chance to be featured!
Dear Katie,
I know I'm not getting good enough dance training from any of my local studios. But I'm not sure I'm ready to move away to study at a big-name school, either. How do you know when you're ready to leave home to pursue your passion?
Marisa
Keep reading...
Show less
Instagram star Kylie Shea has built a following of nearly 170,000 with her playful workout videos, which combine traditional fitness activities, like jumping rope or running on the treadmill, with pointe shoes and sassy choreography. Shea's effortless cool-girl-next-door vibe and solid ballet technique make her vids totally irresistible.
Now Shea's using her platform to address the body image issues that tend to plague dancers. In a poignant video, she sheds her clothes and tugs at her skin. The caption explains her relationship with her body and the pressure she feels to maintain a certain aesthetic as a dancer.
Keep reading...
Show less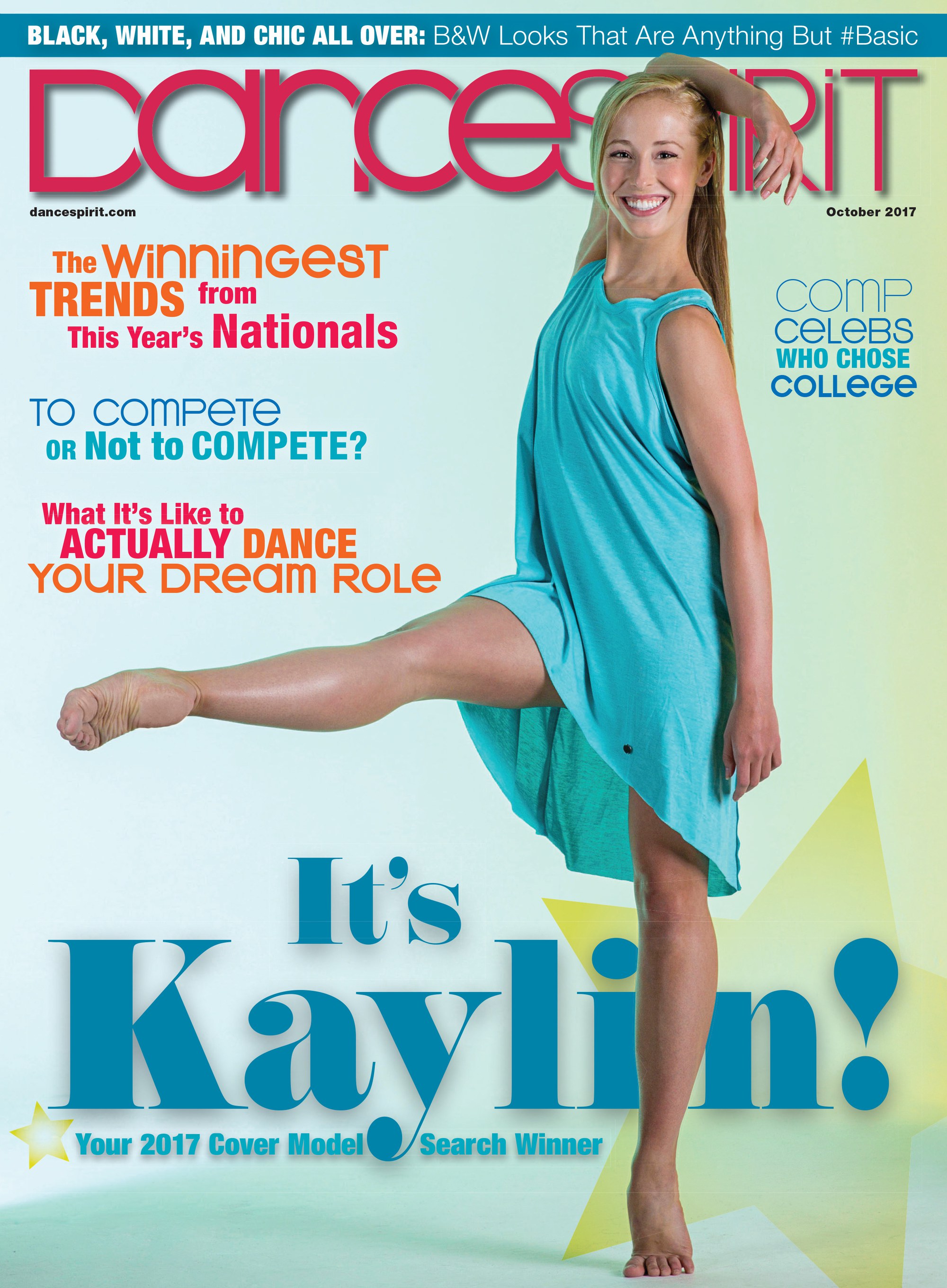 Get Dance Spirit in your inbox