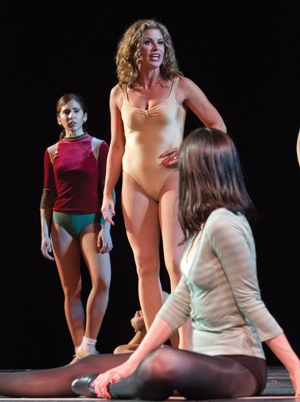 Rak as Sheila in the Paper Mill Playhouse production of A Chorus Line (Jerry Dalia)
Rachelle Rak is the quintessential Broadway gypsy. Over the course of her 25-year career, she's had featured parts in everything from Fosse to Oklahoma! on the Great White Way, as well as leads in a myriad of off-Broadway shows. (You probably also saw her courageous, though ultimately heartbreaking, audition for the Broadway revival of A Chorus Line in the documentary Every Little Step.) Whatever the role, whatever the venue, she lives to be onstage.
Rak trained from the age of 2 with her mother, Rosalene Kenneth, at the Rosalene Kenneth Dance Studio in Pittsburgh, PA. When she was still in high school, she went to an open call for the national tour of Cats—and booked the job. It didn't take long for her to become a familiar face on the musical theater circuit.
Today, in addition to performing, she teaches in NYC, gives master classes throughout the U.S. and U.K. and judges for Access Broadway and Dance Educators of America. She'll be back in the Broadway spotlight this summer as Tess in the new production of Flashdance: The Musical. —Margaret Fuhrer
Dear Rachelle,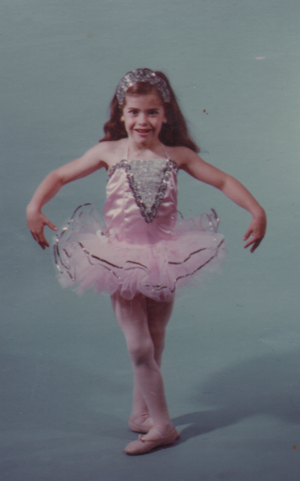 Rak as a young student
I want to let you know that I am here for you. You are loved. That will count for so much as you grow up. When you doubt yourself, jump in. When you are tired, push harder. And when you need to rest, rest.
Winning a medal is a great accomplishment, but don't let it become everything. Titles hold no real truth about you. Don't think of yourself as only a dancer—you are so much more.
When your mother buys you a piano and piano lessons, don't quit. Learn about music. It's a language you will want to understand—it will become a big part of your future. Embrace it and don't be intimidated by it. Start harmonizing now. Oh, and focus more in English class, too. Mr. Fazio is a great teacher.
You have great drive and passion. They might disguise themselves sometimes as a need for stardom and fame, but don't be fooled. There's so much more out there to do and love. And when you do start having those life-changing days, breathe, say a little prayer and then go for it. Full-out. Don't ever mark.
Your mom is in your corner. Be a sponge. She will teach you so many wonderful things. Don't fight it; just listen. Can you tell by now that you may not always want to listen? Haha. But really, listen to your parents. They love you and want what's best for you.
Have a lot of tricks in your back pocket. Start roller skating and learning poi balls now. And remember: "A cartwheel cut-through is always a crowd pleaser."
Don't let anyone put you down or hurt you. Keep God close, and when you lose sight of him, always remember that he is with you. And for your own good, try not to be so bossy.
I love you,
Sas
Erin Carpenter as a Knicks City Dancer (David Safran, courtesy of Erin Carpenter)
The groundwork for Erin Carpenter's company, Nude Barre, began when she was a teenager. At 16, she earned a spot in the residency program at The Kennedy Center in partnership with Dance Theatre of Harlem. "We were required to wear nude—as in, our actual skin tone—tights and shoes," she remembers. Carpenter brought her "sun tan" tights and a pair of pink ballet shoes with her, because that was all she could find. But she wasn't allowed in class because her dancewear didn't match her skin. "I was so embarrassed," she says. "I looked unprepared. I just didn't have the right nudes." Her teacher explained that the dancers dyed their tights and pancaked their shoes.
Keep reading...
Show less
Via @whitneybugs on Instagram
There are dancers and then there are DANCERS! Whitney Jensen, soloist at Norwegian National Ballet, is the latter. The former Boston Ballet principal can do it all. From contemporary to the classics this prima has the technical talent most bunheads dream about. Need proof? Look no further.
Keep reading...
Show less
Jul. 19, 2017 04:53PM EST
Via YouTube
Luis Fonsi and Daddy Yankee's dance inducing hit, "Despacito," is so catchy it should probably come with a disclaimer that warns people of an uncontrollable itch to tap your feet or bob your head. Some might even feel inclined to go all out and break it down. Niana Guerrero is a prime example of "Despacito's" uncanny ability to unleash the red dressed emoji dancer within. 💃🏽 💃🏽
Keep reading...
Show less
Jul. 19, 2017 04:25PM EST
(courtesy NBC)
Guys, we all knew this was coming—"World of Dance" was eventually going to eliminate someone. But man, is it brutal to watch these talented dancers give their all, only to be sent home. It's the name of the game, though, and after last night's episode, only two dancers per division remain. (At least Misty Copeland guest-judging was a silver lining!) Here's what went down last night:
Keep reading...
Show less


Get Dance Spirit in your inbox