Mar. 23, 2017 05:39AM EST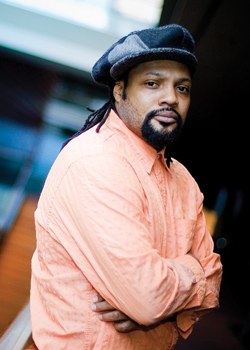 courtesy the Kimmel Center
Rennie Harris is one of the most sought-after hip-hop choreographers today. Growing up in Philadelphia, PA, he danced with several crews, including The Step Masters and The Scanner Boys. He started teaching at 15, and continues to teach hip-hop technique and history around the world. This year marks the 15th anniversary of Harris' Illadelph Legends Festival, the longest-running festival of its kind, as well as the 20th anniversary of his company, Rennie Harris Puremovement (RHPM), which is known for critically acclaimed works like Rome & Jewels and Facing Mekka. In 2007, Harris founded a second company, Rennie Harris Awe-Inspiring-Works (RHAW), to educate and mentor young dancers. Harris has also set works on ballet, modern and jazz companies, including Pennsylvania Ballet and Alvin Ailey American Dance Theater. —Komal Thakkar
Dear Rennie,
I'm writing from 2012 to share some advice with you.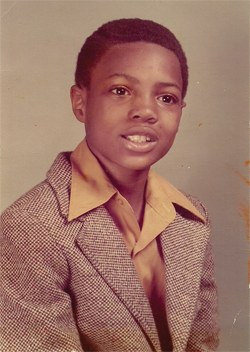 Rennie Harris in Sixth Grade
Think about the harmful situations you've allowed yourself to be in. It's OK to say no! You don't have to do what others do to be considered "cool."  
When introducing yourself, begin with "I am." Be sure to look people in the eyes when speaking to them. Be honest, even if it's uncomfortable. 
Seek the input of those who have experience in your field. You can't do everything by yourself. And don't be afraid of structure. It's a "guide-line," not a "God-line." You can go off the path as long as you get back on it eventually.  
As a choreographer, make sure to create when you're inspired—and find a choreographic mentor. Both will keep you from wasting time in the studio.
Most importantly, always remember: Movement is the manifestation of your reality. It's not what you say but what you do that confirms you. Reality is defined as what is tangible, what we can see and feel. For example: The shirt you have on right now was once someone's idea, but it required a physical action—sewing—to make that idea into reality. All your dreams can manifest if you take action. Don't get lost in talking about it. Do it!
Rennie Harris 
Dance is a powerful form of expression, and Ahmad Joudeh is using its influence to promote peace.
The 27-year-old is a Palestinian refugee, whose decision to pursue his passion for ballet has made him the target of death threats from terrorist organizations. Despite the danger, Joudeh has decided to continue on his path as a dancer, using his performances as an opportunity to spread a message of peace and cultural awareness.
Keep reading...
Show less
A dance photo of Averi Hodgson (courtesy of Cortney Hodgson)
For 14-year-old Averi Hodgson, focusing on her ballet training while growing up was never easy: She's suffered from epilepsy since she was in first grade, and later, she was also diagnosed with scoliosis. Here, she tells her story of perseverance—and how her determination earned her a spot at the School of American Ballet's 2017 summer intensive.
Keep reading...
Show less
CBS
"Late Late Show" host James Corden was one of the many, many people shocked by President Trump's sudden decision to ban transgender people from the military yesterday. And he decided to voice his outrage in the way most likely to rile a President who's uncomfortable with anything "un-manly": through a big, beautiful, extra-sparkly song-and-dance routine.
Keep reading...
Show less
Jul. 25, 2017 05:04PM EST


Get Dance Spirit in your inbox