Dec. 01, 2014 10:30PM EST
The Rockettes by the Numbers
When we watch the Rockettes perform in the Radio City Christmas Spectacular, we see a group of impeccable dancers moving in perfect unison—not a sequin or an eyelash out of place. But it takes a lot of intricate behind-the-scenes work to keep the Rockettes stage-ready. Here's a by-the-numbers look at the Rockettes' Christmas Spectacular experience, with insider information from NYC dance captain Traci Reszetylo.
Over 500: Dancers who audition for the Rockettes each season. "The line wraps around Radio City Music Hall!" says Rockette Traci Reszetylo.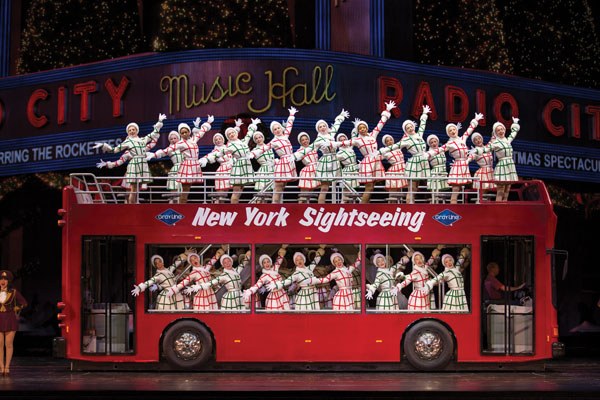 (Courtesy MSG Entertainment)
206: Christmas Spectacular performances in NYC
37: Miles the Rockettes' double-decker bus from the "New York at Christmas" scene travels across the stage during the show's run
72: Wireless microphones used to amplify the Rockettes' tap sounds. "There's one small mic on the arch of each of our tap shoes," Reszetylo says. "They catch everything, so we have to be very clean with our sounds—no extra brushes or scrapes or scuffs."
40: Rockettes in each Radio City Music Hall performance
80: NYC Rockettes
15,000: Red dots applied to the cheeks of the Rockettes each season during "Parade of the Wooden Soldiers"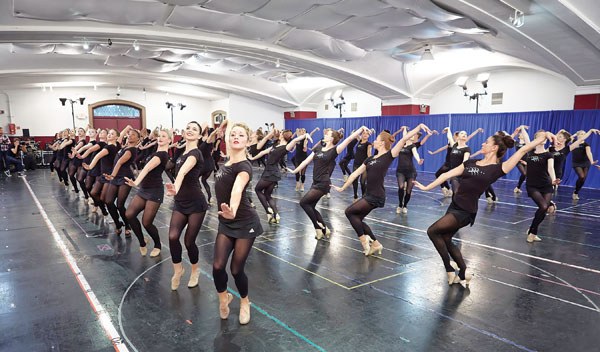 The Rockettes in rehearsal (photo by Carl Scheffel/MSG Photos)
216: Hours the Rockettes rehearse before opening night. "We go six hours a day, six days a week, for six weeks," Reszetylo says. "It's all about creating that famous Rockette precision, down to the fingertips—and that takes a lot of time."
16: Shows each Rockette does per week during busy periods, like the week after Thanksgiving and the week before Christmas—sometimes as many as five a day!
78: Seconds the Rockettes have to change costumes between "Parade of the Wooden Soldiers" and "New York at Christmas." "There's one dresser for every three Rockettes, and we have the process down to a science," Reszetylo says. "You're always putting on your earrings and your hat right as you walk onstage. I've gone on for 'New York at Christmas' with my 'Wooden Soldier' cheeks still on!"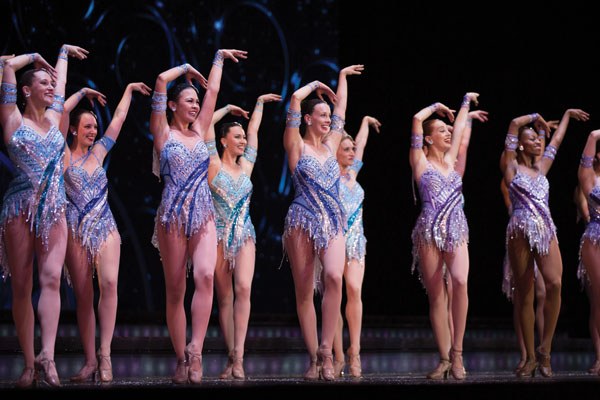 "Snow" (photo by Dan Niver/MSGE Creative)
More than 900: Swarovski crystals on the Rockettes' sparkliest costume, for "Snow." "The 'Snow' costumes are my favorite, because they embody what the Rockettes are," Reszetylo says. "Since no two snowflakes are alike, each costume is a little different—slightly different shades, slightly different designs—but they make a beautiful picture together. Similarly, while each Rockette is an individual, onstage we make a single unified line."
9: Costumes each Rockette wears during the show
102: Shows each Rockette performs in. "We have two different casts, and we split the performances pretty much down the middle," Reszetylo says.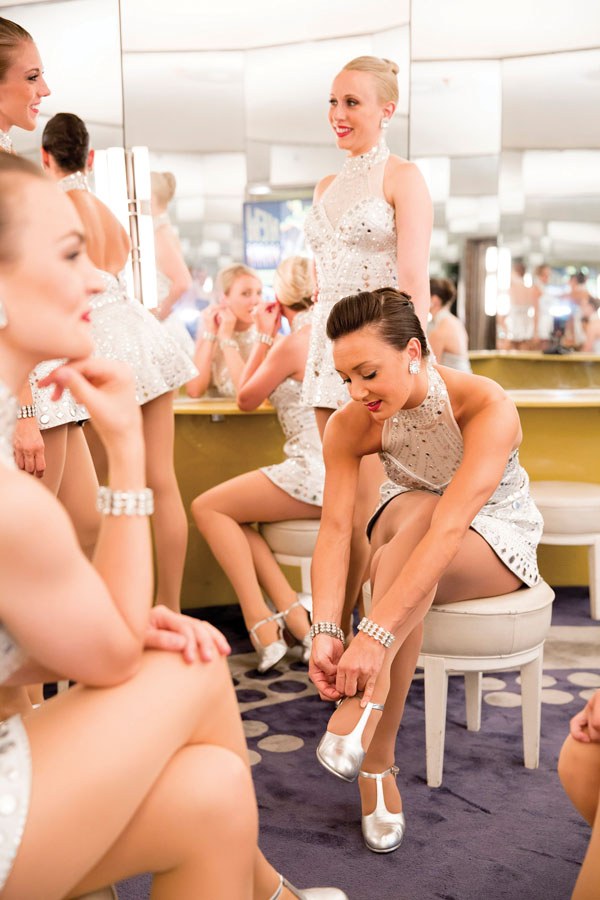 Traci Reszetylo (right) in the dressing room (photo by Avi Gerver/MSG Photos)
1,500: Kicks the Rockettes do on their busiest show days. "There are 300 kicks a show, between strut kicks, which come to the waist, and high kicks, which go to the eye," Reszetylo says. "On five-show days, that's a lot of kicking. Needless to say, we get in pretty good shape over the course of the season. We definitely earn our Christmas cookies."
"As a Rockette, you have all this onstage choreography that has to be perfect. But the choreography offstage is just as complicated, and you have to nail that, too."
—Traci Reszetylo, Rockettes dance captain
(From left) ABT's Erica Lall; NYCB's India Bradley; Washington Ballet's Nardia Boodoo; NYCB's Rachel Hutsell (all photos by Rachel Neville)
Misty Copeland. Her name is synonymous with exquisite artistry and outspoken advocacy. And her visibility has made a huge impact on the ballet world. Ballet's relationship with race has always been strained at best, hostile at worst. But Copeland's persistent message and star quality have finally forced the ballet industry to start talking about racial diversity, inclusivity, and representation. "The rarity of seeing ourselves represented is sad," Copeland says. "The more we see every hue and body shape represented on the stage, the more possibilities young dancers feel they have for themselves."
Keep reading...
Show less
Our nominees (clockwise from top left): Roberto Campanella, Aurélie Dupont, Ashley Wallen, and Anthony Van Laast
Last month, we asked why there wasn't a Best Choreography category at the Oscars—and discovered that many of you agreed with us: Choreographers should definitely be acknowledged for their work on the super-dancy movies we can't get enough of.
Now, we're taking matters into our own (jazz) hands.
Keep reading...
Show less
ABT JKO School student Miuka Kadoi shoiwng off her beautiful line (photo by Kenneth Edwards)
Contemporary phenom Christina Ricucci has super-flexible hips, which means she can stretch her legs to unbelievable heights. But when she noticed herself making contorted positions in class, Ricucci realized she was approaching her extensions all wrong. "I went back to the basics in class, squaring my hips and using my turnout," Ricucci says. "I learned to create proper positions, rather than whacked-out versions of them."
Some dancers are so wonky they have a hard time supporting their high legs, while others struggle with limited flexibility. But no matter your facility, you can find a balance of stretch and strength to achieve your fullest range of extension. It's not about how high (or not) your legs can go: It's the quality of the movement, and how you get those legs up, that counts.
Keep reading...
Show less
Popular
Feb. 16, 2018 11:58AM EST
Via Jaime Guttenberg's memorialized Facebook page
Yesterday, the dance community was heartbroken to learn that Jaime Guttenberg and Cara Loughran, both 14-year-old dancers, were among the 17 people killed on Valentine's Day in the shooting at Marjory Stoneman Douglas High School in Parkland, FL.
Keep reading...
Show less
Bronze medalist Kaetlyn Osmond skating her "Black Swan" long program (screenshot via YouTube)
Once upon a time (until the 2014 Winter Olympics in Sochi concluded, to be exact), figure skaters had to compete to music without words. Before this rule change, a skater faced an automatic point deduction if the music even hinted at vocals. Understandably, there were *a lot* of Olympic programs skated to classical music, and you'd tend to hear the same music selections over and over and over.
Keep reading...
Show less


Get Dance Spirit in your inbox