Nov. 01, 2009 09:43AM EST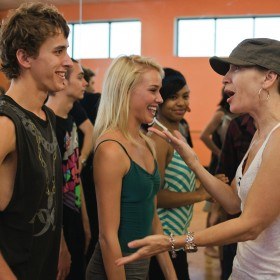 The golden rule of any audition is to impress the choreographer. But did you know there is another set of eyes behind the scenes making major decisions about your professional fate? Meet the casting director. These Hollywood insiders work closely with the director, production company and choreographer to figure out which dancers can make characters come to life.
So how do casting directors fit into the big picture? Essentially, their job is to find performers with the looks, skills and charisma required for specific roles and to put their picks in front of the choreographers for auditions. Casting directors start by compiling a "breakdown" that details each available part (whether it's a blissed-out yogi or hard-hitting B-boy) and sending it out to agents, managers and websites like Actors' Access and Now Casting. Some projects require serious pavement pounding—for Center Stage: Turn It Up, casting director Karen Meisels had just three weeks to find talent. "I went to every dance studio in town on my lunch breaks and after work to hang fliers and observe classes," Karen recalls. "I also researched schools and ballet academies everywhere, as we had to find dancers who could cross over between ballet and hip hop and go on pointe—there was no faking it!"
Once the casting director has a sufficient group of dancers rounded up, auditions begin. Though not every project follows the same pattern, typically the process kicks off with pre-screening, during which choreographers' assistants run a preliminary audition or open call. For High School Musical 3, dancers flocked from as far as Australia and Europe for their shot at stardom—and that coveted callback. Casting directors and the rest of the artistic team watch for dancers who fit the bill in terms of age, looks and ability. "We spent a week or two seeing tons of dancers; Director Kenny Ortega liked to sit in and have a lot of say," says casting director Jeff Johnson, who worked on all three HSM installments. "After that, we got into callback sessions with more complicated choreography and freestyling. We really put them through the paces to see how they would react to rehearsals."
When projects require "double threats" for dancing and acting, casting directors will bring in selected dancers to read a scene and perform a dance piece they've prepared themselves. On Center Stage: Turn It Up, female finalists ran lines and danced duets with lead Kenny Wormald and other male dancers in the ensemble. "We wanted to test their chemistry and physical connection, so it was important to mix and match different couples to see who fit," says Karen. "It was also our time to see which dancers understood the characters most; the key factor was believability."
The degree to which casting directors impact the final casting decision varies from gig to gig. For the High School Musical trilogy, Kenny and his crew did "99 percent of the decision-making; I was just there to make sure they had the particular ethnic mix they needed, since the film is about a very diverse high school," says Jeff of the 70 principal dancers and hundreds of background dancers ultimately chosen. Yet, in many instances, casting directors have a great deal of input on final casting choices. Once performers are selected, casting directors then make offers, do the hiring and deal with agents and managers to seal the deal.
Though the job calls for long hours and lots of legwork, many casting directors love what they do. After all, at the end of the day (or year), their visions come to life on the screen.
Do's and Don'ts
Want to make the cut? Follow these trusty tips from our experts:
Avoid gimmicks or props. "Stay away from props unless they are stated or specific to the character," says Karen. "Props take away from the rawness of what you have to give." Also, don't deviate too much from the script or the choreography—casting directors want to see if you can stay on the page.
Keep a healthy perspective. You can be the best dancer on the planet, but for some projects, if your age or height isn't appropriate, the call will never come. "The best thing dancers can do is acknowledge that there is no way of controlling it and just accept the fact that it can happen," says Jeff.
Leave it all on the floor. "Give me everything you have rather than holding back; don't save your best moves for later," says Karen. "I can always tone you down, but I won't know if you're capable of more."
via @phil_wright_ on Instagram
Well, this brings class videos to a whole new level! Choreographer Phil Wright and dancer Ashley Liai have been together eight-plus years, but she was still in total shock when he proposed to her mid-dance at Millennium Dance Complex earlier this week. Why? Well, the whole thing was unbelievably perfect.
Keep reading...
Show less
(Courtesy ABC)
In the dance industry, dancers don't always have a say in what they wear on their bodies. This can get tricky if you're asked to wear something that compromises your own personal values. So what should you do if you find yourself in this sticky situation? We sat down for a Q&A with "Dancing with the Stars" alumn Ashly Costa to answer that very question. Here's what she had to say about the options dancers have surrounding questionable costumes.
Keep reading...
Show less
Erin Carpenter as a Knicks City Dancer (David Safran, courtesy of Erin Carpenter)
The groundwork for Erin Carpenter's company, Nude Barre, began when she was a teenager. At 16, she earned a spot in the residency program at The Kennedy Center in partnership with Dance Theatre of Harlem. "We were required to wear nude—as in, our actual skin tone—tights and shoes," she remembers. Carpenter brought her "sun tan" tights and a pair of pink ballet shoes with her, because that was all she could find. But she wasn't allowed in class because her dancewear didn't match her skin. "I was so embarrassed," she says. "I looked unprepared. I just didn't have the right nudes." Her teacher explained that the dancers dyed their tights and pancaked their shoes.
Keep reading...
Show less


Get Dance Spirit in your inbox