Sarah Lane Writes a Letter to Her Teenage Self
Sarah Lane as Clara the Princess in The Nutcracker (photo by Gene Schiavone, courtesy American Ballet Theatre)
American Ballet Theatre principal Sarah Lane charms audiences with her bright energy and crisp technique. The San Francisco, CA, native first started dancing at age 4 at a local community center, and at age 7 started training in Memphis, TN, at the Classical Ballet Memphis. Her family later moved to Rochester, NY, where she continued studying at the Draper Center for Dance Education. In 2002, she was a YoungArts Foundation winner in dance, allowing her to become a U.S. Presidential Scholar in the Arts. She joined American Ballet Theatre as an apprentice in 2003, was made a soloist in 2007, and was promoted to principal last fall. Recently, she originated the role of Princess Praline in Alexei Ratmansky's Whipped Cream. Catch her later this spring during ABT's Metropolitan Opera season. —Courtney Bowers
---
Dear Sarah,
Do you remember when you were a little girl in Memphis, and you didn't care why or how, you simply danced? You got lost in another world where you could create something beautiful, no matter how imperfect.
Now, you're in the real world. It's OK to be afraid, but you're stronger than your fear.
You're going to have to learn how strength and humility go hand in hand. You're not perfect, but you're enough. Stop judging yourself to the point where you're defeated. You never liked the spotlight, so when you step onstage, let God's grace cover you. You're moved to dance because you are His and you are already loved. You have nothing more to prove.
It's easy to get caught up in yourself, especially when you have to look in the mirror all the time, or when you want to please every critical eye. You'll never please everyone, and trying to will only tear you down. People will say things that aren't true and do things that aren't just. Before you react, remember the grace that you've been given and give it back to others. Be humble, gracious, and caring.
Lane as a teenager in "Cinderella" (photo by Nancy Sands, courtesy Lane)
Working your hardest and trusting God will guide you through the darkest days. No matter what, persevere. There is light ahead. That kind of faith may require more patience than you ever thought possible.
Keep learning! You can always improve. Strive to wring out more creativity and more inspiration, even when you think you can't. You're an artist, so create. You're human, so share your experiences and feelings. You're alive, so enjoy every moment. Nothing lasts forever. If you give your whole heart and your whole soul to what you love on- and offstage, you'll have no regrets. If you look beyond yourself, you'll find your balance. And if you're grateful, you'll be happy.
Love,
Sarah
A version of this story appeared in the March 2018 issue of Dance Spirit with the title "Letter to My Teenage Self: Sarah Lane."
(From left) Mean Girls dancers Riza Takahashi, Ben Cook, Kamille Upshaw, Jonalyn Saxer, DeMarius R. Copes, and Stephanie Lynn Bissonnette (photos by Erin Baiano)
Get in, losers. We're going to Broadway.
OK, not losers, actually—more like the bajillion die-hard fans of Tina Fey's 2004 cult hit Mean Girls, who've been wearing pink every Wednesday since a musical adaptation of the film was first teased back in 2013.
Now their world is like a cake filled with rainbows and smiles, because Mean Girls the musical, which had a trial run in Washington, DC, last fall, is set to open at Broadway's August Wilson Theatre April 8. And in a very grool twist, it turns out the show—with direction and choreography by Casey Nicholaw and a book by Fey herself—is delightfully dancey.
Keep reading...
Show less
Maddie Ziegler (via @tiffanyandco on Instagram)
Take a look at Tiffany & Co.'s new ad campaign and you might recognize a familiar face. The one and only Maddie Ziegler has partnered with the luxury jewelry brand and the resulting video is pure brilliance. The glamorous collaboration reveals Maddie's candid thoughts about life as a dancer and the work ethic that's gotten her to where she is today.
Keep reading...
Show less
Photo by Erin Baiano
We've all seen the videos on Instagram: a professional ballerina, casually perched atop a BOSU ball, développé-ing like it's no big deal. When done properly, BOSU ball exercises are both insanely impressive and incredibly effective for strengthening your core, ankles, and overall stability. Dance Spirit turned to Joel Prouty, a NYC-based personal trainer and injury prevention/exercise-conditioning specialist, for his top three BOSU ball moves, ranging from easy to hard.
Photos by Erin Baiano. Modeled by Lauren Post, dancer with American Ballet Theatre.
Keep reading...
Show less
How To
Jan. 30, 2017 01:44PM EST
Illustration by Lealand Eve
A few years ago, 16-year-old Kayla Gonzalez found herself dancing alongside a mean-spirited girl. "She could be so rude," says Gonzalez, who trains at The Dance Zone in Henderson, NV. "It got worse at competitions. She'd make up lies, saying my teammates and I were doing things we weren't. She was always trying to get ahead." Sound familiar? A competitive environment can bring out the very worst in some dancers' personalities. When put in a stressful situation, students can become bossy, overdramatic or downright mean. Here, DS breaks down four toxic types you might encounter, and offers tips on how to respond.
Keep reading...
Show less
The Lethal Ladies performing in STEP (courtesy Fox Searchlight Pictures)
"A dancer's body is her instrument"—we've all heard the saying. But for steppers, who use their bodies to emulate rhythmic drumming, that saying is everything.
Step swept the U.S. last summer with the release of the documentary STEP, which followed three members of the Baltimore Leadership School for Young Women step team. The team also made it onto the "So You Think You Can Dance" Season 14 stage, after member Blessin Giraldo's audition ended in an invite from Nigel Lythgoe himself.
For dance fans, it may have seemed like the summer of step. But this art form has been around for well over a century. What is it, where did it come from, and why is the wider dance world taking notice?
Keep reading...
Show less
Evans as Captain America, saluting tap-dancers everywhere.
Giphy
So WHY isn't there more video evidence of this hidden talent?
Keep reading...
Show less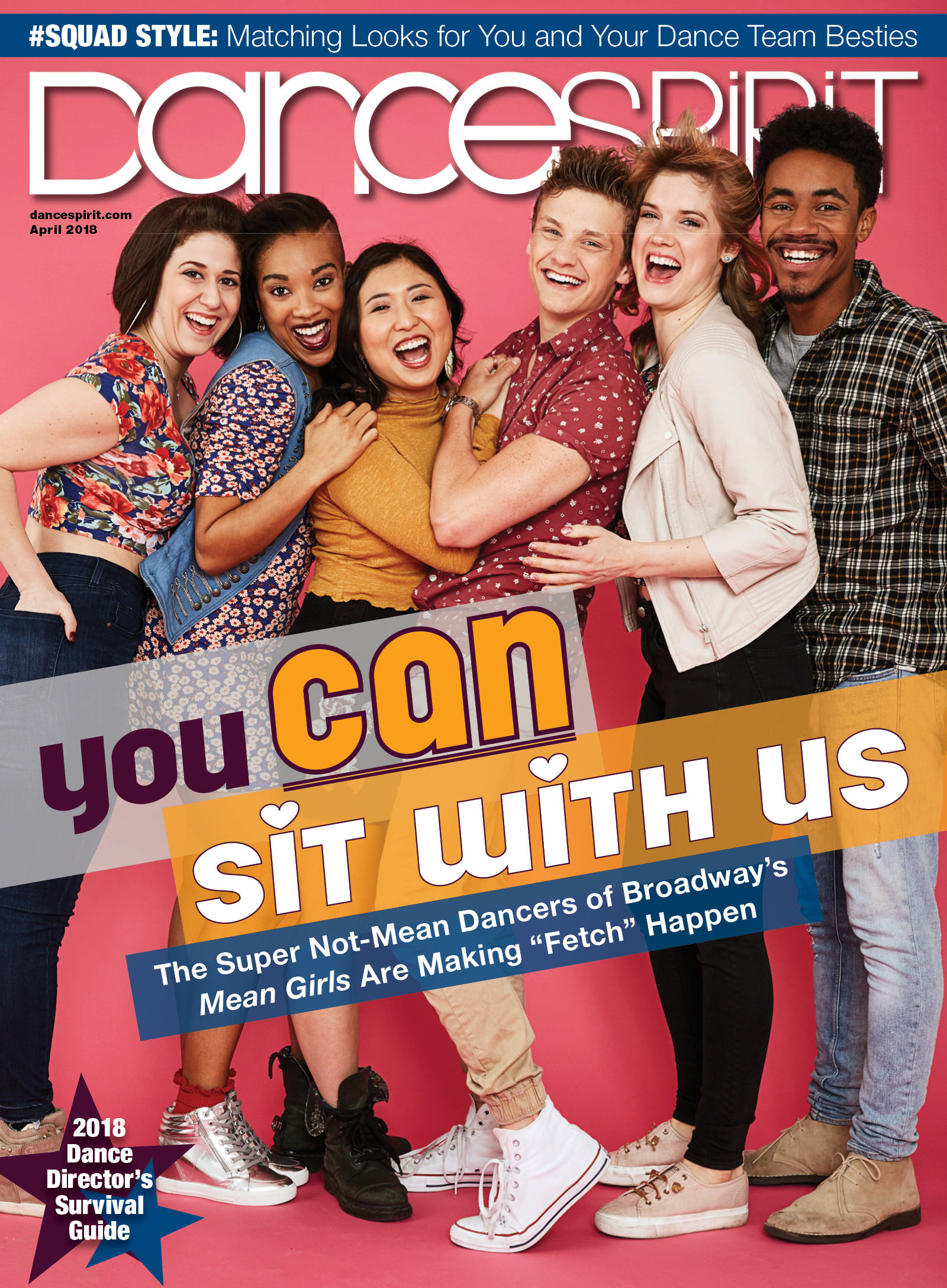 Get Dance Spirit in your inbox