School Buzz: SAB's Meaghan Dutton-O'Hara
SAB's Meaghan Dutton-O'Hara
It's flattering to be recognized as a standout among your peers. Just ask 17-year-old Meaghan Dutton-O'Hara, a student at the School of American Ballet and recipient of the prestigious Martin E. Segal Award. "I was shocked when Kay Mazzo [SAB's co-chairman of faculty] and Peter Martins [New York City Ballet's Ballet Master in Chief] told me I'd been selected to receive the award," Meaghan says. "I was excited and thrilled to be honored."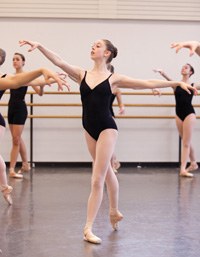 Meaghan Dutton-O'Hara in class at SAB, photo by Rosalie O'Connor
Designed to encourage and support emerging artists, the award is given to two young artists affiliated with Lincoln Center each year. Dancer Daniel Ulbricht and choreographer Christopher Wheeldon are both past recipients.
Mazzo says Meaghan received the award because she's an exemplary student and dancer. "She's musical, very coordinated and has a beautiful line," Mazzo says. "When she's onstage, she's got a smile that wins everyone over. She's a delightful performer."
As part of the award, Meaghan received $7,500 to be used for career and education-related expenses. Though Meaghan dreams of eventually joining New York City Ballet, she plans to return to SAB and to begin taking classes at Fordham University in the fall.
Joffrey Students Study in Russia
This August, approximately 20 lucky students from the Joffrey Ballet School in NYC will spend two weeks studying at the Bolshoi Academy in Moscow, Russia. The dancers will live on campus and spend five days a week taking classes.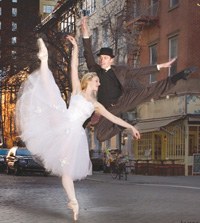 McCallah Moriarty (left) will study at the Bolshoi Academy this summer, photo by James Culp
Sixteen-year-old McCallah Moriarty is one of the dancers headed to Russia. "Dancing at the Bolshoi Academy is an experience most dancers dream of because the school is world renowned," she says. "I'm also excited to learn more about the Russian culture."
Davis Robertson, director of the Joffrey program and summer program, selected McCallah and her fellow travelers based on their proficiency in ballet technique and their "adventurous spirits." He says the dancers will be treated to a curriculum created especially for them, and that it will feature classes in pointe, character dance and historical dance. The students will also have to get used to dancing on the Bolshoi's raked studio floors. "Initially, dancing on a rake is quite an adjustment," Robertson says. "But, after a day or two you adjust to it. By the time the dancers begin their second week of classes, it will be second nature."
This is the first time that Joffrey students will have this type of international training experience, but the school hopes that the program will be a springboard for an ongoing relationship with the Bolshoi Academy.
East Meets West
James Madison University and China's Chengdu University have created a unique partnership. This past April, professors from Chengdu spent a week at JMU's Harrisonburg, VA, campus teaching classical and folk dances from various regions of China. In July, two JMU professors will return the favor by traveling to China, where they will spend a week teaching modern technique, composition and improvisation to Chengdu's dance students.
"The Chinese dance classes were physically challenging, but not in the same way that my technique classes at JMU were," recent JMU graduate Kate Folsom says. "We learned to make unusual shapes with our hands and fingers. They were beautiful, but it hurt to hold them for a long time."
Kate Trammell, the JMU dance professor who spearheaded this project, says she hopes to build on the relationship with Chengdu over time and that she aspires to bring JMU students to China for more in-depth study in the next few years.
Much of Janelle Ginestra's career has been about helping others shine. She's dedicated herself to supporting and cheerleading her partner, WilldaBeast Adams; the emerging talents in their dance company, ImmaBEAST; and the countless dancers she inspires at master classes and conventions. Her YouTube channel has become a launching pad for young talents like "Fraternal Twins" Larsen Thompson and Taylor Hatala, thanks to viral videos featuring Ginestra's creative vision.
But Ginestra's a skyrocketing success in her own right—an in-demand choreographer, a social media influencer, and a dance entrepreneur, building a legacy one eight-count at a time. It's time for her turn in the spotlight. And she's more than ready. "I want to be a legend in whatever I do," she says. We'd argue that she already is.
Keep reading...
Show less
For more on choosing whether to compete or not, click here.
I started dance classes at a young age. By the time I was 3, I was training at The Dance Club, and I grew up there. I started with the basics—ballet and jazz—and eventually added tap, tumbling, contemporary, and hip hop.
Early on, I did compete. I remember my first time: I did a trio at a small local competition, and it got first place. The trophy was as tall as I was, and I loved it. I attended conventions as a mini, and had the opportunity to take classes from Travis Wall, Sonya Tayeh, Andy Pellick, and Joey Dowling-Fakhrieh. There was so much variety—I was in awe.
Keep reading...
Show less
For more on choosing whether to compete or not, click here.
My mom was a dancer growing up, and she went on to become a dance teacher, so I've really grown up in the studio. I started classes when I was 2, and by the time I was 9, I was training at The Dance Club and knew I wanted to dedicate all my time to dance.
Keep reading...
Show less
Win It
Oct. 13, 2017 04:31PM EST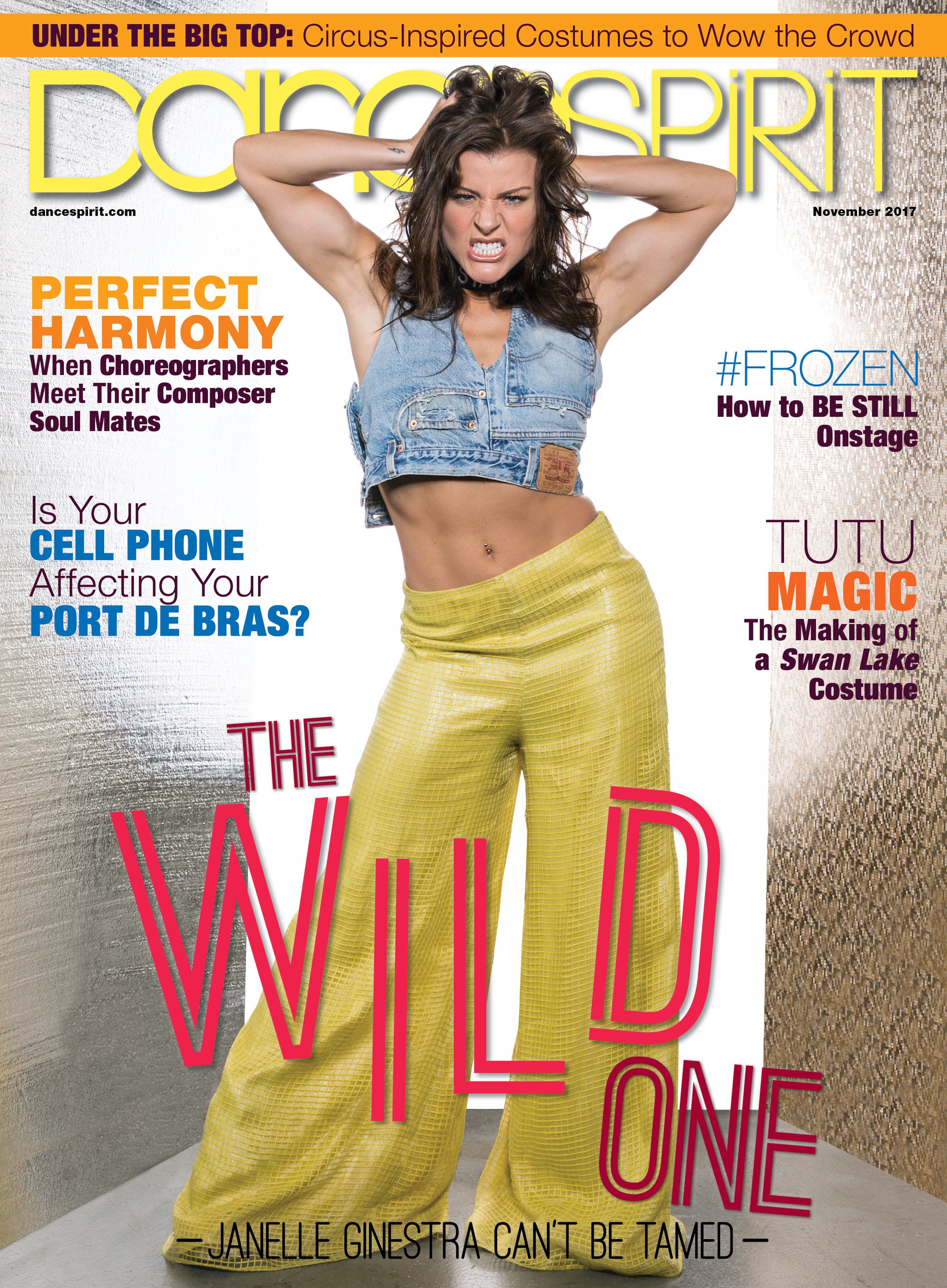 Get Dance Spirit in your inbox