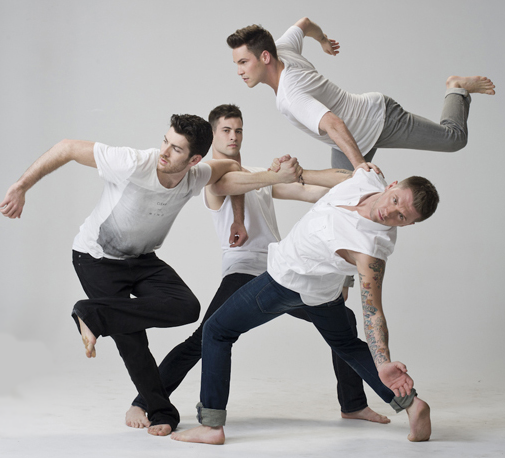 (L to R) Shaping Sound's Teddy Forance, Kyle Robinson, Nick Lazzarini and Travis Wall, photographed for "Dance Spirit" by Joe Toreno
Last night, the DS staff got all gussied up and headed to the Beacon Theater for Shaping Sound's That's Where I'll Be Waiting. So did pretty much everyone else in NYC.
No, but really: The crowd at this show, which was the last stop on the company's month-long tour, was incredible. Along with mainstream dance fans like Jesse Tyler Ferguson (a.k.a. the best "So You Think You Can Dance" judge of all time), there were a host of familiar dancers and choreographers milling through the lobby of the Beacon. Joey Dowling! Kenny Wormald! Dana Wilson! Ida Saki! Catherine Hurlin! It was like a reunion for all the dance world's cool kids.
Not that that's surprising. The members of Shaping Sound are some of the most exciting people on the commercial scene, after all—and definitely not less famous since their turn on the reality show "All the Right Moves." Almost every Shaping Sound dancer is a dance celebrity, and the people most prominently featured in That's Where I'll Be Waiting—Travis Wall, Nick Lazzarini, Teddy Forance and Kyle Robinson, who also created and choreographed the show—have become legit stars. More celebrities onstage = more celebrities in the audience (and also = more opportunities for us lesser non-celebrities to totally freak out because Jesse Tyler Ferguson is sitting one seat away from us, eee!).
The Shaping Sound foursome were smart about how they presented their well-known team, too. That's Where I'll Be Waiting gives each dancer a specific character—i.e., "The Trouble" (Alexa Anderson), "The Temptress" (Channing Cooke), etc—and at least a few moments in the spotlight. While the piece is threaded through with a love-triangle dream-story involving Travis, Teddy and Jaimie Goodwin, it's really driven by all the strong personalities onstage—personalities the audience already knows and loves.
Does that always work? Well, not quite. (Frankly, I'm still not sure why Chelsea Thedinga is "The Being.") Could I watch Nick, a.k.a. "The Wayward," do his flamboyantly fabulous David-Bowie-in-Labyrinth-meets-Herr-Drosselmeyer act (which is really just Nick being Nick) in his leather cape-vest alllll night? Oh, totally. And so could the rest of that star-studded crowd, which went standing-o bonkers for the entire cast at the curtain call. Congrats, guys!
Photo by ABC/Eric McCandless
And that's a wrap on "Dancing with the Stars" Season 24, ladies and gents! It's certainly been one for the books. From injuries to shocking eliminations, let's just say Season 24 has had its emotional ups and downs. But despite all that, the season made for some seriously phenom dancing and some killer performances. And as usual, we've loved watching every second of those cha chas, foxtrots, and waltzes.
Let's get right to the exciting stuff, though: Last night's winning couple of "Dancing with the Stars" is...
Keep reading...
Show less
May. 23, 2017 01:11PM EST
Via @quinn_starner on Instagram
Nearly 80,000 dance-loving Instagram followers can't be wrong: Quinn Starner is one to watch. And what's just as impressive as the 15-year-old's rabid online following is her ever-growing list of competition accolades. Quinn, who trains at Indiana Ballet Conservatory and Stars Dance Company, been named first runner-up at The Dance Awards for two years in a row (as a junior and a teen); was the 2016 West Coast Dance Explosion Teen National Champion; earned first place in contemporary and third place in the classical division at Youth America Grand Prix Regionals in Pittsburgh last year; has won the Grand Prix Award at ADC|IBC; and was a gold medalist at World Ballet Art Competition Grand Prix. Plus, she made it to the Academy round on last year's "So You Think You Can Dance: The Next Generation," and has performed as Clara in the Radio City Christmas Spectacular. Here's what Quinn has to say about her favorite songs, teachers, and career highlights.
Keep reading...
Show less
May. 23, 2017 02:34PM EST
NBC
Want a chance to get personally involved in the HOTLY anticipated TV show "World of Dance"? Of course you do. That's why J. Lo. and the rest of the "WOD" team have launched an interactive version of the upcoming NBC series that lets Snapchatters get in on the action.
Keep reading...
Show less
May. 22, 2017 02:07PM EST
On Saturday morning, Russell Horning—aka 15-year-old Instagram king @i_got_barzz—was already kind of famous. His admittedly bad but weirdly mesmerizing dance videos had earned him shoutouts from the likes of Rihanna (and dance tributes from the likes of Josh Killacky).
But by Sunday morning? By Sunday morning, Russell Got Barzz had reached an entirely different level of memedom. Because Katy Perry tapped the teen—signature backpack and all—to perform "Swish Swish" with her on "Saturday Night Live." And the internet lost its darn mind.
Keep reading...
Show less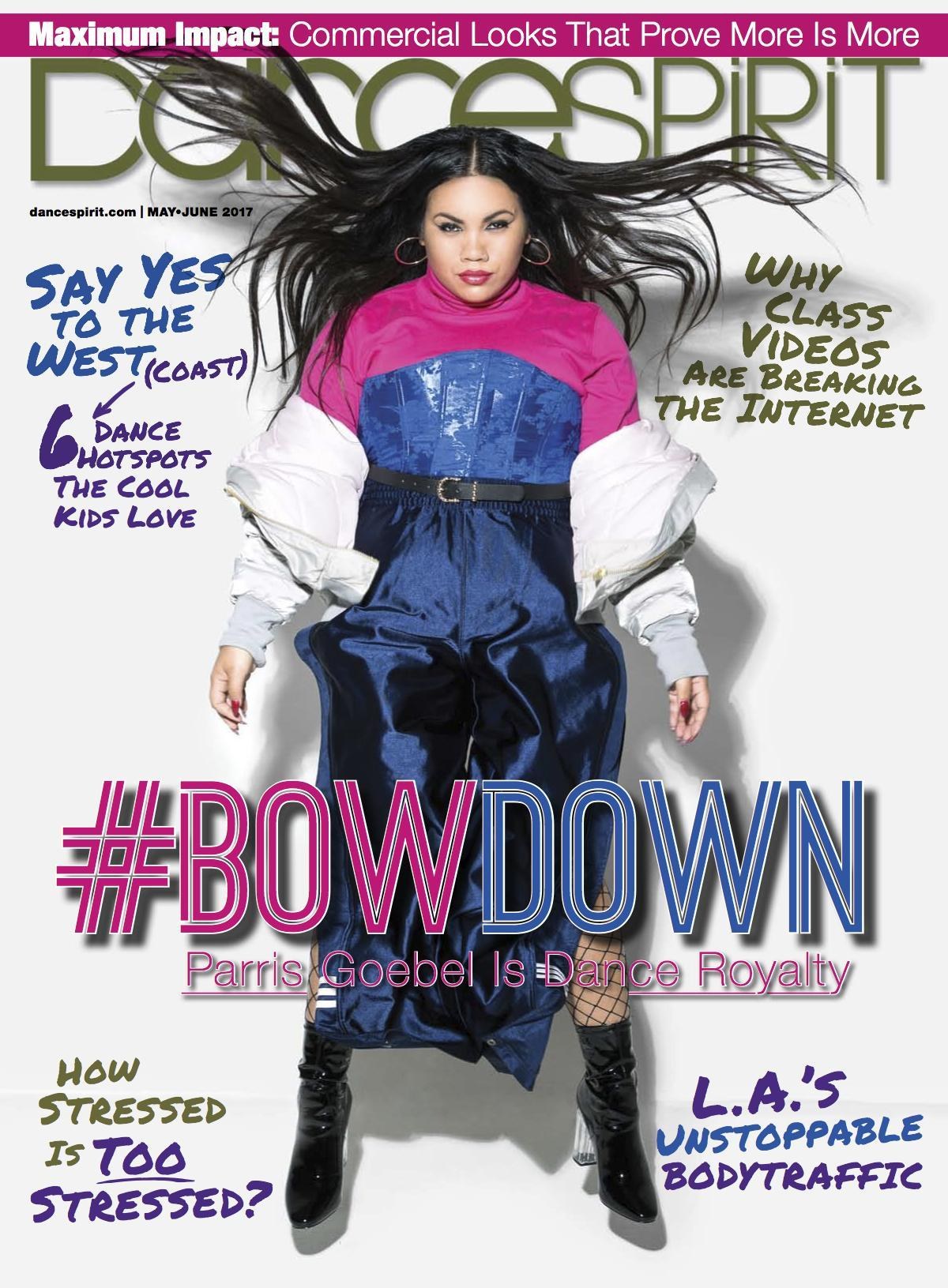 Get Dance Spirit in your inbox