Feb. 01, 2010 11:04AM EST
Showmance Is In The Air: Falling For Your Co-Star
Ryan Novak noticed Jen Talarico the minute he walked into the first rehearsal for the Miley Cyrus/Hannah Montana Best of Both Worlds tour. "Her presence shone through the entire crowd of people," Ryan remembers. The couple had their first kiss on opening night, and they've been together ever since. Now, two years later, they travel the world together on tour (all expenses paid!) and dance behind one of the world's biggest singing sensations.
Good life, right? But not all showmances play out like Ryan and Jen's. In the October 2009 issue of Dance Spirit, Karina Smirnoff told us she couldn't live without Maksim Chmerkovskiy, her then-fiancé and co-star on "Dancing With the Stars" and Broadway's Burn the Floor. By the time the issue printed, the couple had broken up and moved into separate dressing rooms. Yikes!
Dating a co-star is tricky, but it can be rewarding. DS talked to a few happy couples, as well as a psychologist, to help you navigate the romantic highs and complicated lows of getting involved in a showmance.
Talent is a turn-on!
Whether you're prepping for your studio's performance of The Nutcracker or getting ready for the opening night of a Broadway show, you're undoubtedly spending long hours in the rehearsal studio as well as onstage. And while you may initially be attracted to a co-star for the obvious reason—he's cute—you'll soon discover that talent is an aphrodisiac too. The Danny to your Sandy becomes more enticing when you realize he can sing and dance circles around you as you swoon. So don't feel ashamed if you find yourself getting butterflies around your cute castmate. "These feelings are like a drug; suddenly it's like you're living in a fantasy place," says Harlene Goldschmidt, PhD, director of wellness for the NJ Dance Theatre ensemble.
Being in a show with someone, whether you're cast directly opposite each other or not, inevitably means you'll get to know each other both as dancers and on a more personal level. Close quarters, long nights, sweaty practices—now you've got all the makings of a steamy romance novel. For Fiona and Jason Mills, longtime performers in STOMP, the connection came from being paired together to represent the show. "We were constantly making press appearances," says Fiona, who, as rehearsal director, was actually Jason's boss at the time. "We'd do early morning radio spots, rehearse during the day and do the show at night. And we'd do it all together."
Similarly, Ryan and Jen's initial attraction developed into full-blown crushes when they were partnered together for a lift during Miley Cyrus' "Let's Dance" tour routine. "There was instant, undeniable chemistry," Jen says. "Even once we had the lift down perfectly, I'd always try to practice with him just to get to spend extra time together."
Making the most of your offstage duet
Getting involved with a fellow performer has its upsides and downsides. On one hand, dating a dancer means being with someone who shares your passion. That hot guy from your pas de deux class will understand if you can't hang out on some weekends because you want to log extra hours in the studio. He may even show up on Saturday morning with a latte and a few pointers for you! As dancers, you can learn from each other's styles and strengths and help each other conquer weaknesses. "When we started the show, Jason would help me with my drumming and I would help him with the dancing," Fiona says. "And we still always run ideas by each other."
Janette Manrara and Jason Glover, both contestants on "So You Think You Can Dance" Season 5, started dating soon after they were both eliminated from the show. "He helps me with my technique and body movement and I'm helping him perfect his salsa," Janette says.
Performing side by side can heighten your life experiences. Couples in touring shows, for example, can end up seeing the world together. "I remember being in the middle of our tour standing at the base of the Eiffel Tower with Ryan and thinking 'Wow, is this really my life?' " Jen says. Fiona adds that her relationship with Jason made dancing in the show—on a grueling tour schedule, no less—stop feeling like work. "I was just doing the best thing in the world with the best person by my side," she says.
Those feelings—whether good or bad—can drive your onstage performance. If you're blissfully happy in love, let it shine through during your Juliet debut. Or if you've just had an argument, channel your rage into an angsty pop jazz routine. But if your emotions aren't compatible with your performance (An angsty Juliet? No, thank you), you'll need to separate the two. You don't dwell on Spanish homework while you're at the barre (we hope); similarly, force yourself to focus completely on your performance rather than your relationship status.
When everything's not coming up roses
Before you consider getting involved romantically with a fellow dancer, think about how it will affect your job performance. You must remain professional at all times. Can you handle seeing your boyfriend or girlfriend dancing with someone else? Will you be able to deliver a strong performance alongside this person even if you break up? How will you feel if your signicant other is more successful than you are? Janette, who wrapped the "SYTYCD" 40-city tour with Jason Glover in November, had to witness her boyfriend kissing not one but two girls onstage every night. "No, I don't get jealous," she says. "I know they're kissing for the sake of the piece they're performing."
For Jason Mills, conflict arose as soon as he realized he was into Fiona. "She was my boss," he says. "There was a hierarchy we had to respect, so, ethically speaking, there was hesitation to get involved." Even when Fiona was no longer Jason's immediate superior—they each briefly joined separate legs of the STOMP tour—the two were reluctant to give in to their attraction. "You're working together," Jason says. "You have to be careful because if something goes wrong, it can make for a messy situation. Our bosses were nervous." Luckily for these two STOMPers, the decision to take things slowly paid off: They're married now and have a 3-year-old son, Aubrey.
Before getting into a relationship, check with your company to see if there are any rules discouraging coworkers from being romantically involved, or if there is a full-disclosure policy you'll need to adhere to.
It's all about balance
It can be particularly tough to separate your work life and personal life when sharing both with the same person. "It's important to have a good life outside of work," Goldschmidt says. "Otherwise, getting involved is a setup for destruction. You need to be grounded in your life outside dance." Adds Ryan, "No matter what is going on in your relationship, you still have to put on a show together."
How to make it work? "The key is to stay open with each other and talk through everything," Goldschmidt says. "Always talk about how you feel. Otherwise you make yourself very vulnerable." Learn to leave your issues at home when you need to focus on a rehearsal or performance. "We have ground rules," Fiona says. "We don't involve anyone in the company in our personal business." Not only can bringing your romantic life backstage affect your performance, it can also make your fellow castmates uncomfortable. "We maintain professionalism by not hugging or kissing and refraining from calling each other 'babe' or other lovey-dovey names we have for each other," Jason Mills says. "We save that for our time."
The bottom Line
If you move forward dating a dancer, supporting each other in your respective careers is essential. "I am Ryan's biggest fan," Jen says admiringly. A job, girlfriend and a built-in support system? We guess Ryan really is getting the best of both worlds!
What they're saying about you
It's all fun and games when you start dating a castmate—but what do your co-stars think about your relationship? We chatted with top tapper and STOMP cast member Michelle Dorrance about her experiences with several dancing duos.
DS: How did you find out that your castmates were dating?
Michelle Dorrance: We could just see it coming. But let's be real—girls in a dressing room…there's lots of talking (read: prying).
DS: How did the rest of the cast feel about the relationship?
MD: We were really happy for them.
DS: Did the relationship affect you or your dancing?
MD: It didn't affect my dancing, but it spiced theirs up a little!
DS: Got any advice for dancers seeking a showmance?
MD: Try to avoid it unless you're both genius communicators. I've rarely seen couples work harmoniously together. It's possible, but rare.
(From left) Mean Girls dancers Riza Takahashi, Ben Cook, Kamille Upshaw, Jonalyn Saxer, DeMarius R. Copes, and Stephanie Lynn Bissonnette (photos by Erin Baiano)
Get in, losers. We're going to Broadway.
OK, not losers, actually—more like the bajillion die-hard fans of Tina Fey's 2004 cult hit Mean Girls, who've been wearing pink every Wednesday since a musical adaptation of the film was first teased back in 2013.
Now their world is like a cake filled with rainbows and smiles, because Mean Girls the musical, which had a trial run in Washington, DC, last fall, is set to open at Broadway's August Wilson Theatre April 8. And in a very grool twist, it turns out the show—with direction and choreography by Casey Nicholaw and a book by Fey herself—is delightfully dancey.
Keep reading...
Show less
Screenshot form YouTube
What do you get when a hoard of dancers collaborate to the catchy tune of "Love Somebody," by the band Frenship? The most epic dance party ever, of course! Said dance party was produced by the talented Michael Riccio, who's performed in feature films, including "Confessions of a Teenage Drama Queen" and "Shrek Forever After."
Keep reading...
Show less
Quiz
Dec. 11, 2017 04:24PM EST
Alicia Vikander in Tomb Raider (Warner Brothers)
Keep reading...
Show less
University of Minnesota Dance Team (courtesy University of Minnesota)
They say there's no "I" in "team"—and nowhere is that truer than the world of college dance teams, where precision reigns, uniformity is key, and a single misstep from any given "I" can cost a group a championship trophy. So it's unsurprising that securing a spot on one of the best dance teams in the country is no easy feat.
Members of these highly athletic teams rehearse for hours every week—on top of academic classes and commitments—and perform at football and basketball games, annual concerts, and nationally televised competitions (hi, ESPN). And "no I" rule notwithstanding, each of these top teams is made up of highly trained, highly technical, highly hard-core individuals, who come together to create a ready-for-victory pack.
These six teams aren't one-off success stories—they're consistently strong, and earn the top spots at major competitions like UDA and NDA nearly every year. Up for the challenge? Here's what to know before you go to auditions.
Keep reading...
Show less
Popular
Mar. 16, 2018 12:48PM EST
courtesy ADCC
Are you a high school senior who's been accepted to a four-year accredited college or university program? Congrats! Within the 2017-2018 season, have you competed in events run by at least two of the organizations in the above graphic? Double congrats, because the Association of Dance Conventions and Competitions, or ADCC for short, wants to give you $1,000 (!!) towards college tuition.
Keep reading...
Show less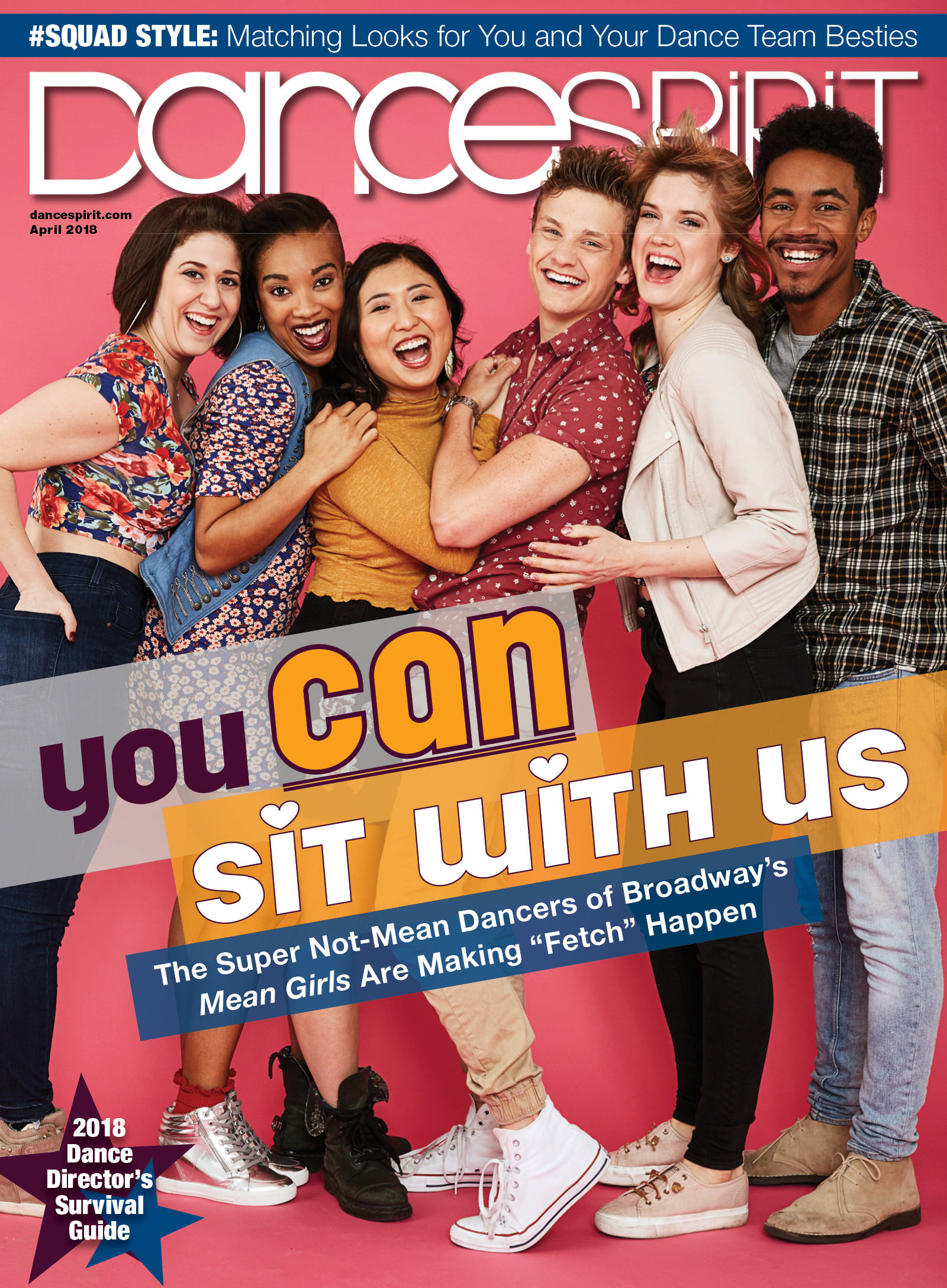 Get Dance Spirit in your inbox