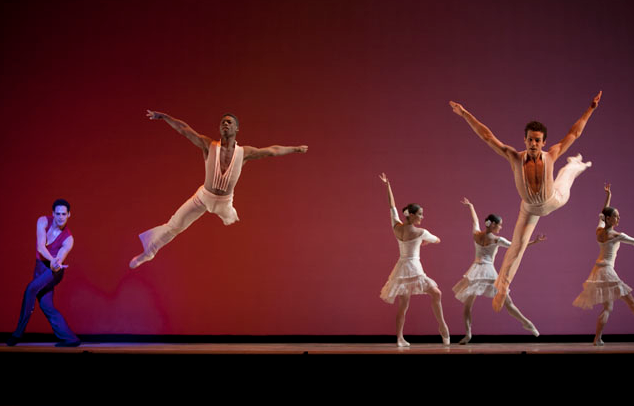 When audiences watched Washington Ballet's premiere performance of Annabelle Lopez Ochoa's Sueño de Marmol, they could've missed "wow" moments like this with just the blink of an eye. (Photo by Brianne Bland)
We're all about power moves here at DS—you know, those characteristic tricks that add a spark to your routine...that make your audience go "WOW!"
Whether it's an impressive jump, a daring lift or a dizzying pirouette combo, part of what makes these moments wow-worthy is how fleeting they are. Blink your eyes and you risk missing the pinnacle of Kitri's grand jeté in Don Quixote. And even if you keep your eyes open, you probably won't see the complicated hand shifting that goes on during the jaw-dropping Cheshire Cat lift in ALICE.
If it seems like we've got ballet on the brain, it's because this week, The Washington Post's PostTV did a special on "Ballet's hardest dance moves" with Washington Ballet. In the clip, seven dancers show off their power moves...but they're in slow motion so you can really see what's going on. Check it out!
Bonus round: Care to polish some power moves of your own? Find out how to do Alexia Meyer's Super Cabriole, Ashi Ross' Tilt Drop, Kamille Upshaw's Ring Jump, Jakob Karr's Layout or Zoey Anderson's Leg Hold Turn.
Dance is a powerful form of expression, and Ahmad Joudeh is using its influence to promote peace.
The 27-year-old is a Palestinian refugee, whose decision to pursue his passion for ballet has made him the target of death threats from terrorist organizations. Despite the danger, Joudeh has decided to continue on his path as a dancer, using his performances as an opportunity to spread a message of peace and cultural awareness.
Keep reading...
Show less
A dance photo of Averi Hodgson (courtesy of Cortney Hodgson)
For 14-year-old Averi Hodgson, focusing on her ballet training while growing up was never easy: She's suffered from epilepsy since she was in first grade, and later, she was also diagnosed with scoliosis. Here, she tells her story of perseverance—and how her determination earned her a spot at the School of American Ballet's 2017 summer intensive.
Keep reading...
Show less
CBS
"Late Late Show" host James Corden was one of the many, many people shocked by President Trump's sudden decision to ban transgender people from the military yesterday. And he decided to voice his outrage in the way most likely to rile a President who's uncomfortable with anything "un-manly": through a big, beautiful, extra-sparkly song-and-dance routine.
Keep reading...
Show less
Jul. 25, 2017 05:04PM EST


Get Dance Spirit in your inbox