"So You Think You Can Dance" Recap: L.A. Auditions
We're baaaaaack!
And be "we," I mean Nigel, Mary, Cat and yay! Jesse Tyler Ferguson! My favorite ginger funnyman guest judge.
"So You Think You Can Dance" Season 10 kicked off last night with auditions in L.A.
As always, we'll be recapping our way through the entire season, so stick with us here after each episode. Without further rambling, here are last night's Top 5 Noteworthy Moments:
1. The "SYTYCD" theme song. Is it just me, or does the first time you hear that opening jam mean it's officially summer?
2. Eighteen-year-old Du-Shaunt "Fik-Shun" Stegall. He was the season's first to audition (well, the first to make it to TV, at least), the first to receive a standing ovation and the first to receive a ticket straight to Vegas. Well then! His musicality was spot-on, his breaker-esque moves were smooth like butter (yum!) and he was downright adorable. Will his style translate later in the competition when he has a partner? We'll see. But for now, he's cute, fun and entertaining. AKA he's "SYTYCD" gold.
3. Paul Karmiryan. Wait...he already won "SYTYCD: Armenia?" That's cool (congrats, Paul!), but I feel like he shouldn't be allowed to audition again. He's a Latin ballroom dancer and he's mega-talented, it just seems unfair to go for a second title, right? Greedy? Meh, whatever, he's darn cute (even if his technique isn't the best I've ever seen). The judges compare him to Season 2 winner Benji Schwimmer, so it's no surprise he nabs himself a ticket to Vegas.
4. B-boy Morris Isby. He literally had tricks up his sleeves. Tons of 'em. He was fun, easy on the eyes and did a crazy thing where he spun on his elbow. See you in Vegas, Morris! (And hey, Cyrus is in the audience! Though he doesn't seem to be paying attention...it's fine.)
5. Jesse Tyler Ferguson as a guest judge. Obviously. He coined a few dance terms, such as "the lemon zester," and he made them sound so good they just might catch on. And any guy who can look at Nigel and exclaim, "You don't know me!" gives me the giggles. Keep coming back, JTF!
That's all for now. I've gotta say, I wasn't truly blown away by any of the auditions in L.A. But tune in again tonight for more audition excitement in Detroit (collective "ugh," I know—get us to Vegas Week, already!) with guest judge (and my personal favorite) tWitch!
Any thoughts on L.A. auditions? Favorites? Least favorites? Let us know in the comments!
Much of Janelle Ginestra's career has been about helping others shine. She's dedicated herself to supporting and cheerleading her partner, WilldaBeast Adams; the emerging talents in their dance company, ImmaBEAST; and the countless dancers she inspires at master classes and conventions. Her YouTube channel has become a launching pad for young talents like "Fraternal Twins" Larsen Thompson and Taylor Hatala, thanks to viral videos featuring Ginestra's creative vision.
But Ginestra's a skyrocketing success in her own right—an in-demand choreographer, a social media influencer, and a dance entrepreneur, building a legacy one eight-count at a time. It's time for her turn in the spotlight. And she's more than ready. "I want to be a legend in whatever I do," she says. We'd argue that she already is.
Keep reading...
Show less
Win It
Oct. 13, 2017 04:31PM EST
Oct. 13, 2017 03:01PM EST
Okay, so it's also Friday the 13th. (Eek! Be sure not to let any black cats cross your path on the way to the studio!)
Keep reading...
Show less
If you've ever seen a Janelle Ginestra class video, you know how lit her combos are. What you don't see in those clips is how devoted Ginestra is to her students. We went behind the scenes at one of her sold-out IMMA SPACE classes to see Ginestra in her element, mentoring some of L.A.'s most talented dancers. It was an inspiration feedback loop.

All photos by Joe Toreno.
Keep reading...
Show less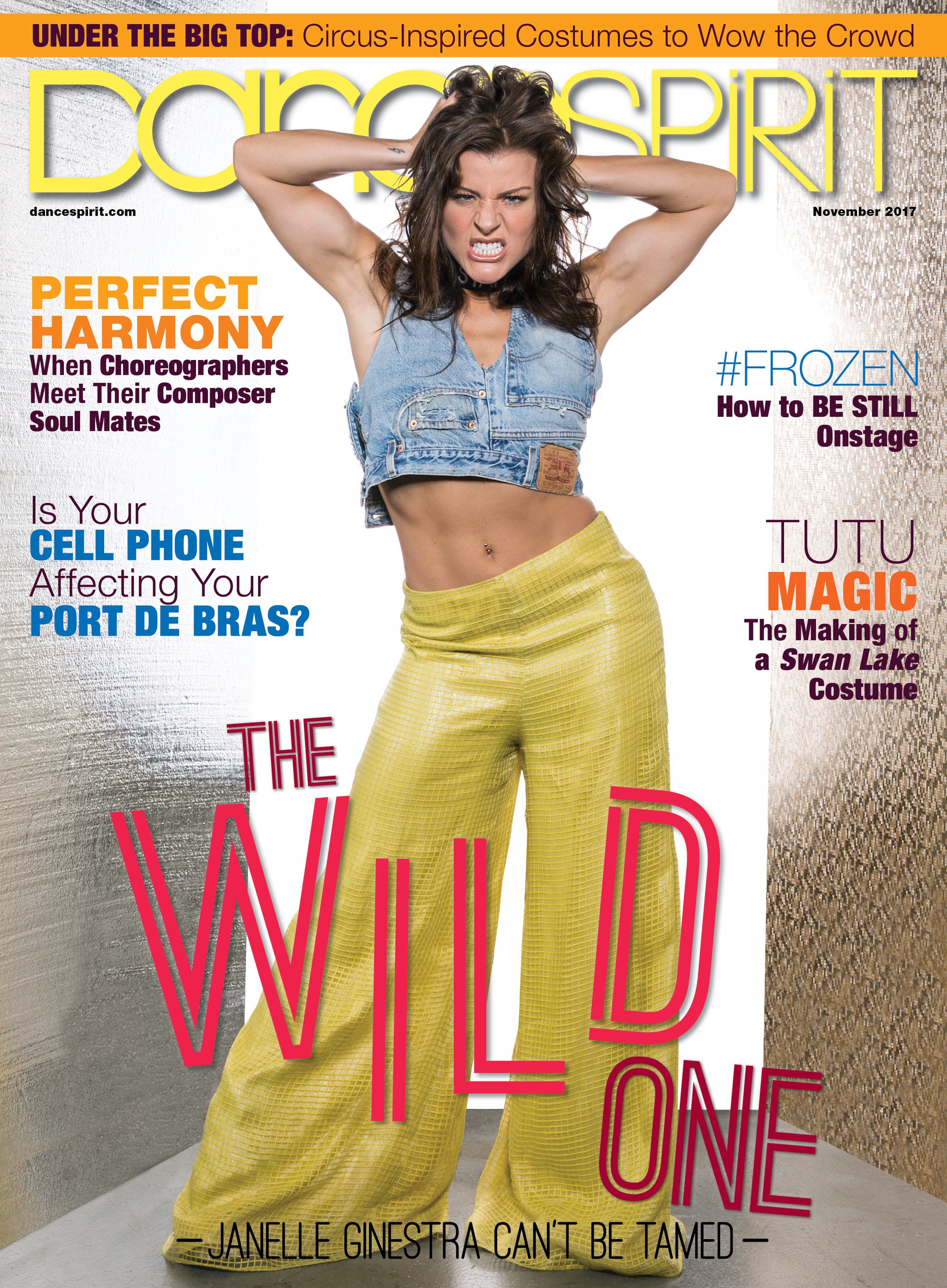 Get Dance Spirit in your inbox