I love the first week of competition on "So You Think You Can Dance." It's that wonderful time when nobody's injured, everyone's amped up and, since there are no eliminations, we can pretend all the dancers are going to stay around forever and ever.
In that spirit—and because last night's show was pretty fun—I'm going to keep things 100 percent positive in this recap. (OK, fine—we'll say 95%. This is new for me! I'm trying!) Here are my top five happy* highlights from the episode.
1. The opening number rocked my socks. Tabitha and Napoleon always kick butt, but this kick-butt routine was unusually butt-kicky. Let's break it down, shall we? Nappytabs gave us:
-a montage filmed in a single extended shot...
-...featuring all of the dancers—and judges (Nigel can animate, sort of!), and choreographers (ahhhh Travis' giant feather shrug!)...
-...playing in the costume room and popping in and out of backstage doorways before arriving on the actual stage...
-...to rock out to, of all things, "Puttin' on the Ritz."
The finished product felt like one of those classic "Saturday Night Live" "let's go behind the scenes" openers. It was totally charming. Plus, BABY LONDON WAS IN THE HOUSE! Shocker of the century: Mini-Nappytabs is adorable.
2. The costume department was on fire. Malece and Jade's glamorous Gatsby-esque ensembles? Tucker and Jenna's cute 1940s getups (complete with the verrrry tricky to pull off vest-and-suspender combo)? Makenzie's ruffly, kicky 1950s dress? It was like a whirlwind tour of fashion in the 20th century. And I'm not even going to talk about the multiple pairs of animal-print hammer pants that appeared over the course of the evening. Multiple pairs.
3. Brittany and BluPrint made beautiful Afro-Jazz music together. Brittany's Latin ballroom training and BluPrint's animator skills meshed surprisingly well. They both have that laser-sharp attack thing down pat, which worked perfectly in Sean Cheesman's hard-hitting Afro-Jazz routine. This number also gave us the gift of Cat Deeley's Afro-Jazz impression, which was awesomely hoe-down-y. (But Nigel, please: Let's not ever make comments about how BluPrint "didn't grow up in a jungle" again. *facepalm*)
4. Wayne Brady gave Jesse Tyler Ferguson a run for his money as the best "SYTYCD" guest judge of all time. Wayne's awesomeness really came to a head after Aaron and Jasmine Harper's Sonya Tayeh routine. On Jasmine: "If Lil' C was here, he'd say, 'You are a little chocolate Amazonian fool and imbued of all the strength that you draw upon of the divergent forces which make you an entity to be reckoned with!' " Brilliant. That said, Wayne occasionally drifted into dirty-old-man territory. For example—when talking to a topless Fik-Shun about partnering Amy in an intense Sonya Tayeh duet: "Fik-Shun, whenever I want people to see my serious side, I take my clothes off and dance with a white girl, too." Ugh, don't go there, Wayne! Nigel's already got that territory more than covered!
5. But let's talk about Fik-Shun and Amy in that sick Sonya piece. The powerful choreography felt like a return to form for Sonya, who's seemed a bit off her game in recent seasons. (I guess it's hard not to look like you're going downhill after creating the masterpiece that is "The Garden.") The number's premise—that Fik-Shun represented all of Amy's unresolved issues—was reminiscent of Mia Michael's famous "Gravity" routine, and the concept proved to be just as fruitful for Sonya. Amy is both a natural Sonya muse and possibly the best dancer in the competition, which definitely didn't hurt. And there was something appealingly restrained about the way both she and Fik-Shun approached this number. It's not that they weren't dancing full-out; they just didn't fall into the over-emoting trap that seems to plague most dancers in Sonyaland. Also, the performance gave Cat her first chills of the season, and she sang a song about it, so, plus a million bonus points.
And there you have it! After all that, who do you think is heading home? Let us know in the comments—and we'll see you here next week, same time, same place, for our recap of the first elimination episode (DUN DUN DUNNNNNNN)!
*Because I'm working very hard to remain positive, I'm not going to say anything about Nigel and Adam Shankman's "So You Think You Can Prance" video. I'm just going to link to it. There you go.
Photo by ABC/Eric McCandless
And that's a wrap on "Dancing with the Stars" Season 24, ladies and gents! It's certainly been one for the books. From injuries to shocking eliminations, let's just say Season 24 has had its emotional ups and downs. But despite all that, the season made for some seriously phenom dancing and some killer performances. And as usual, we've loved watching every second of those cha chas, foxtrots, and waltzes.
Let's get right to the exciting stuff, though: Last night's winning couple of "Dancing with the Stars" is...
Keep reading...
Show less
May. 23, 2017 01:11PM EST
Via @quinn_starner on Instagram
Nearly 80,000 dance-loving Instagram followers can't be wrong: Quinn Starner is one to watch. And what's just as impressive as the 15-year-old's rabid online following is her ever-growing list of competition accolades. Quinn, who trains at Indiana Ballet Conservatory and Stars Dance Company, been named first runner-up at The Dance Awards for two years in a row (as a junior and a teen); was the 2016 West Coast Dance Explosion Teen National Champion; earned first place in contemporary and third place in the classical division at Youth America Grand Prix Regionals in Pittsburgh last year; has won the Grand Prix Award at ADC|IBC; and was a gold medalist at World Ballet Art Competition Grand Prix. Plus, she made it to the Academy round on last year's "So You Think You Can Dance: The Next Generation," and has performed as Clara in the Radio City Christmas Spectacular. Here's what Quinn has to say about her favorite songs, teachers, and career highlights.
Keep reading...
Show less
May. 23, 2017 02:34PM EST
NBC
Want a chance to get personally involved in the HOTLY anticipated TV show "World of Dance"? Of course you do. That's why J. Lo. and the rest of the "WOD" team have launched an interactive version of the upcoming NBC series that lets Snapchatters get in on the action.
Keep reading...
Show less
May. 22, 2017 02:07PM EST
On Saturday morning, Russell Horning—aka 15-year-old Instagram king @i_got_barzz—was already kind of famous. His admittedly bad but weirdly mesmerizing dance videos had earned him shoutouts from the likes of Rihanna (and dance tributes from the likes of Josh Killacky).
But by Sunday morning? By Sunday morning, Russell Got Barzz had reached an entirely different level of memedom. Because Katy Perry tapped the teen—signature backpack and all—to perform "Swish Swish" with her on "Saturday Night Live." And the internet lost its darn mind.
Keep reading...
Show less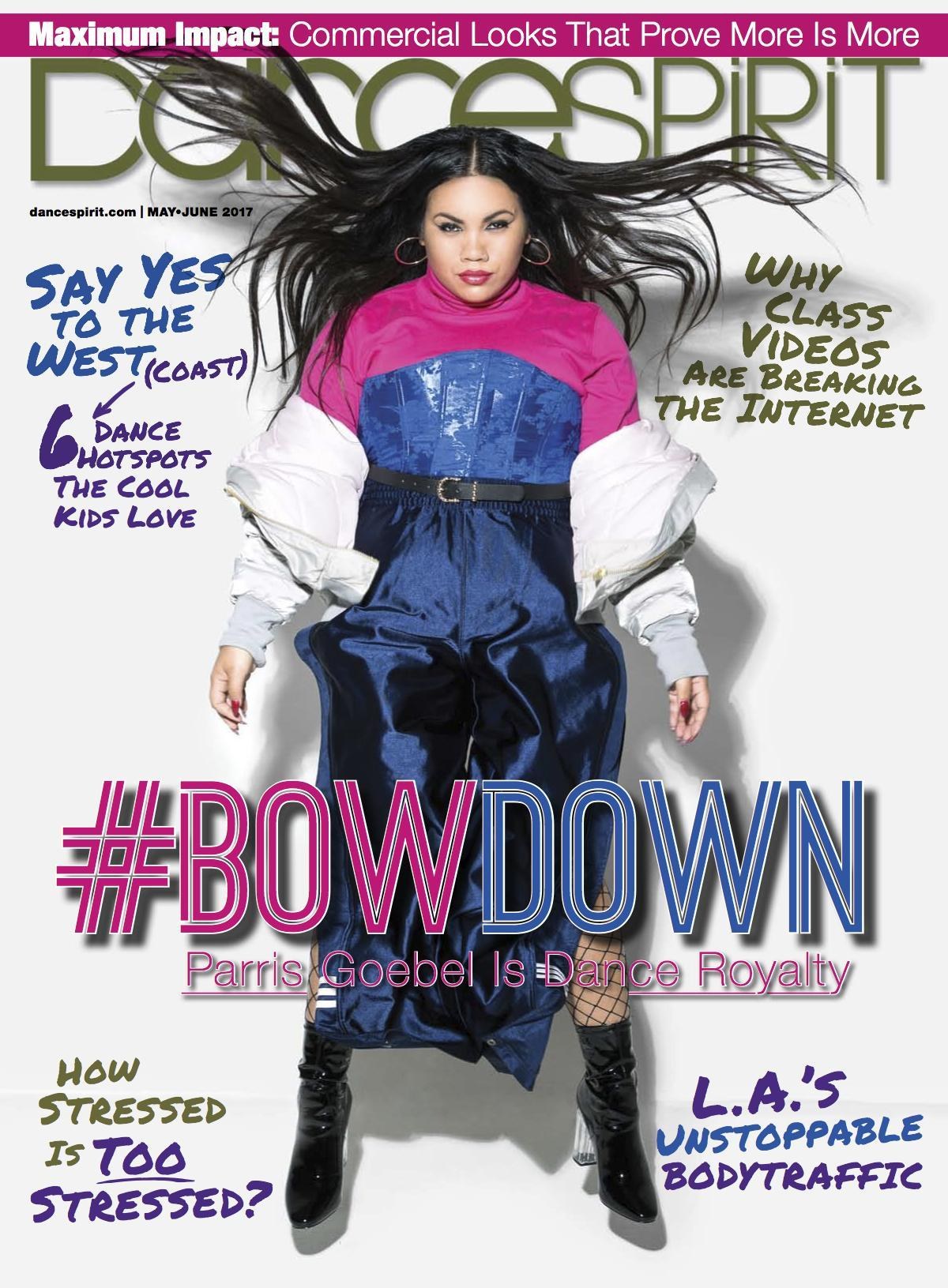 Get Dance Spirit in your inbox