"So You Think You Can Dance" Recap: The Top 7 Become the Top 6
Kiki and Jenna in Warren Carlyle's Broadway routine (Adam Rose/FOX)
While most of us spent the weekend saying sayonara to summer, the remaining "SYTYCD" contestants were working hard. Because for this week's live show, each member of the Top 7 performed SO MANY TIMES: a solo, a duet with an All Star, and a mini group routine—plus the opening number. Phew! Next week, there's a double elimination coming our way (with no help from the judges). But here's how last night played out.
---
The Opening Number
Fringe! Sequins! Big ol' wigs! Dapper white dress shirts and matching pants! Choreographed by Broadway boss Warren Carlyle, this routine had a little something for everyone. The choreography transitioned from hip hop to jazz to tap to ballroom to swing dancing, with a cabaret-style finale. There were lots of tricks and a bunch of big smiles—exactly what you want before things start to get emotional (which they did, for the next two hours).
Lex & Gaby
Style: Hip hop
Choreographer: Luther Brown
Lex is here to turn up. Between his stank face, Gaby's insane wig, Kendrick Lamar's kickin' soundtrack, and those magic carpet-looking jackets, this was super fun (and reminiscent of the time tWitch and Alex Wong killed that "Outta Your Mind" hip-hop routine back in 2011). At this point, everyone knows that Lex is fantastic. He does have personality, he can do every trick in the book, and he's already a working professional dancer (hi, Shaping Sound). At this point it's just a matter of giving him memorable routines that'll get people to pick up their phones and vote.
The judges said: Standing ovation! Mary praised Luther Brown for taking it to "a whole 'nother level" and said #LexNation destroyed it. Nigel loved it, too. And a Moana-channeling Vanessa said Lex can do it all.
Logan & Allison
Style: African jazz
Choreographer: Sean Cheesman
As "warriors in a hidden tribe in the jungle," Logan and Allison "need to be in Olympic marathon shape," Cheesman says of this routine. Sounds easy and chill enough, right? Nah. This piece was no. joke. There were acrobatics, lifts, a bridge-like prop, and some seriously impressive turns in second by Logan. Even though Allison is always amazing, Logan and his long legs were the focus this time around. But mostly, OMG, that looked so exhausting.
The judges said: Nigel said Logan hits the ball out of the park every week (a nod to Logan's story about quitting baseball in favor of dance). Vanessa said "wow!" A lot. And giggled. And Mary said it felt like a crazy rollercoaster ride, then granted Logan access to the Hot Tamale Train.
Kaylee & Cyrus
Style: Contemporary
Choreographer: Tyce Diorio
This piece was about "the couple that has been through real disaster." It was dark and dirty—literally, like Kaylee and Cyrus were covered in grime. It wasn't a conventionally pretty contemporary piece, which was a nice change, especially for these two. There were hip-hop elements worked in throughout, plus loads of lifts and partner work. These two clearly adore each other and are a great team, which is lovely, but they aren't always the smoothest when it comes to lifts that should look easy.
The judges said: Vanessa loved it and said it showcased Kaylee's strength and ferocity. Mary told Kaylee she looked so dynamic and powerful out there. Nigel said it was the best routine Kaylee and Cyrus have ever done together. (Aww!) The best part, though, was the cut to Kaylee's parents in the audience. Have you ever seen a prouder papa or a more emotional mom? Too cute.
Kiki & Jenna
Style: Broadway
Choreographer: Warren Carlyle
"Dancing with props is a nightmare," Carlyle says—and then proceeded to give these two a whopping 10 canes to work with. But Kiki and Jenna were up to the challenge. The canes just kept getting tossed onstage by some mysterious force (or, you know, a "SYTYCD" prop coordinator), and Kiki and Jenna grabbed each one #flawlessly. The turns at the end were so fast, the red suits were so hot, and Cat Deeley (who rushed the stage the minute it was over) was so much more excited than anyone about it all.
The judges said: Standing ovation! Mary said the routine gave her "high anxiety," and that it took her out of her comfort zone for the first time all season. And that shriek? It meant she loved it. Nigel did, too, and said Kiki has become a brilliant all-around dancer. (Most Improved for sure.) Vanessa held her breath the entire time, said it was terrifying, and concluded that Kiki is a joy to watch. Agreed.
Koine & Marko
Style: Jive
Choreographer: Dmitry Chaplin
Marko is a geek, Koine is a beauty—and together, they're a cute couple with a whole lotta fancy footwork. Honestly, it's crazy Koine has ever been in the Bottom 3. Not only is she super talented and versatile, but she also has incredible stage presence. She made those lifts look like a breeze (shoutout to Marko for his work on those, too—namely at the halfway point when she flipped him). The competition is super stiff this season, but Koine definitely deserves to be in there.
The judges said: Nigel acknowledged how scary some of those lifts can be, and said they crushed them. Vanessa praised Koine for her versatility (see? that's what we said!), and Mary said it was "just amazing."
Taylor & Robert
Style: Contemporary
Choreographer: Mandy Moore
This was #flawless. We really don't have much additional commentary for it. Love these two together, love that yellow dress, and love the sincerity in their emotions.
The judges said: Vanessa said it was completely stunning and so gorgeous and "never frigid." Mary got very emotional and batted away tears and said it was astounding and ethereal. Then Nigel swooped in and said the simplicity of the music made the routine extra beautiful, but now he wants Taylor to dig even deeper—her technique is already superb, so it's time to find the extra special things.
Mark & Comfort
Style: Hip hop
Choreographer: Misha Gabriel
"No more love stories," Misha Gabriel said: He got Mark and Comfort fighting ninja-style! Did they pull it off? Well, they definitely got a workout in, that's for sure. This routine was super athletic and we were tired just watching it (on the couch, in pajamas, obviously). But if Mark and Comfort were tired, they didn't let it show, more power to them.
The judges said: Mary loved the concept and said it was clean, synchronized, and hard-hitting. Nigel said it made him smile, and praised Mark for always bringing so much personality to his routines. And Vanessa said she doesn't know if there's anything she loves more than a ninja. (Um, what about Troy Bolton, Vanessa? Did you love him more than a ninja?)
Group Routine #1: Kaylee, Logan, & Lex
Choreographers: Dwight Rhoden & Desmond Richardson
YES, Dwight and Desmond! It's always a treat having this dynamic duo on the show. They served up another prop-y routine — but instead of canes or bridges, they used simple wooden stools. Unsurprisingly, this piece was incredible. Between Lex and Logan's gorgeous classical training and Kaylee's powerful presence, this was a winning routine. Plus, it was just nice to mix things up a bit with a small group number. (Kaylee, we love ya, but can we request a dance-off between Logan and Lex, please?)
The judges said: Nigel said he loves Kaylee because she's unique, and that she stood out brilliantly next to Logan and Lex. He praised Logan's lines and strength and said Lex just amazes him (shout-out to the triple tour en l'air he did in his solo earlier in the night). Vanessa said it made her heart explode and was stunning and stupendous. And Mary said it was out of this world.
Group Routine #2: Mark, Kiki, Taylor, & Koine
Choreographer: Sean Cheesman
Cheesman created a piece about people from all different races coming together, and can't we all use more of that kind of idea right now? It was a beautiful and powerful way to end the show—both the dancing and Maya Angelou's message. (Bonus points for all the tricky lifts.)
The judges said: Standing ovation! Vanessa said it was out of control and brilliant. Mary thanked Cheesman and the dancers. And Nigel said diversity is so important.
So after all that—and, more precisely, after last week's votes—the dancers in the bottom three were Kaylee, Mark, and Kiki. (The audience's audible gasps after hearing Mark's name, and the even louder gasps upon hearing Kiki's, were equal parts LOL-inducing and super sad.)
And the dancer taking the Top 7 to a Top 6 is:
Mark.
Whaaat?! Were you shocked? We were shocked. Kaylee was definitely shocked. But that's how America voted, so consider this your reminder to vote vote vote for the dancer you want to see in the finale! Next week, the Top 6 face a double elimination, which will be very sad, but will ultimately introduce the Top 4 headed for the finale. Wahhhhh, but also yay! We are feeling so many feelings!
(From left) Mean Girls dancers Riza Takahashi, Ben Cook, Kamille Upshaw, Jonalyn Saxer, DeMarius R. Copes, and Stephanie Lynn Bissonnette (photos by Erin Baiano)
Get in, losers. We're going to Broadway.
OK, not losers, actually—more like the bajillion die-hard fans of Tina Fey's 2004 cult hit Mean Girls, who've been wearing pink every Wednesday since a musical adaptation of the film was first teased back in 2013.
Now their world is like a cake filled with rainbows and smiles, because Mean Girls the musical, which had a trial run in Washington, DC, last fall, is set to open at Broadway's August Wilson Theatre April 8. And in a very grool twist, it turns out the show—with direction and choreography by Casey Nicholaw and a book by Fey herself—is delightfully dancey.
Keep reading...
Show less
Screenshot form YouTube
What do you get when a hoard of dancers collaborate to the catchy tune of "Love Somebody," by the band Frenship? The most epic dance party ever, of course! Said dance party was produced by the talented Michael Riccio, who's performed in feature films, including "Confessions of a Teenage Drama Queen" and "Shrek Forever After."
Keep reading...
Show less
Quiz
Dec. 11, 2017 04:24PM EST
Alicia Vikander in Tomb Raider (Warner Brothers)
Keep reading...
Show less
University of Minnesota Dance Team (courtesy University of Minnesota)
They say there's no "I" in "team"—and nowhere is that truer than the world of college dance teams, where precision reigns, uniformity is key, and a single misstep from any given "I" can cost a group a championship trophy. So it's unsurprising that securing a spot on one of the best dance teams in the country is no easy feat.
Members of these highly athletic teams rehearse for hours every week—on top of academic classes and commitments—and perform at football and basketball games, annual concerts, and nationally televised competitions (hi, ESPN). And "no I" rule notwithstanding, each of these top teams is made up of highly trained, highly technical, highly hard-core individuals, who come together to create a ready-for-victory pack.
These six teams aren't one-off success stories—they're consistently strong, and earn the top spots at major competitions like UDA and NDA nearly every year. Up for the challenge? Here's what to know before you go to auditions.
Keep reading...
Show less
Popular
Mar. 16, 2018 12:48PM EST
courtesy ADCC
Are you a high school senior who's been accepted to a four-year accredited college or university program? Congrats! Within the 2017-2018 season, have you competed in events run by at least two of the organizations in the above graphic? Double congrats, because the Association of Dance Conventions and Competitions, or ADCC for short, wants to give you $1,000 (!!) towards college tuition.
Keep reading...
Show less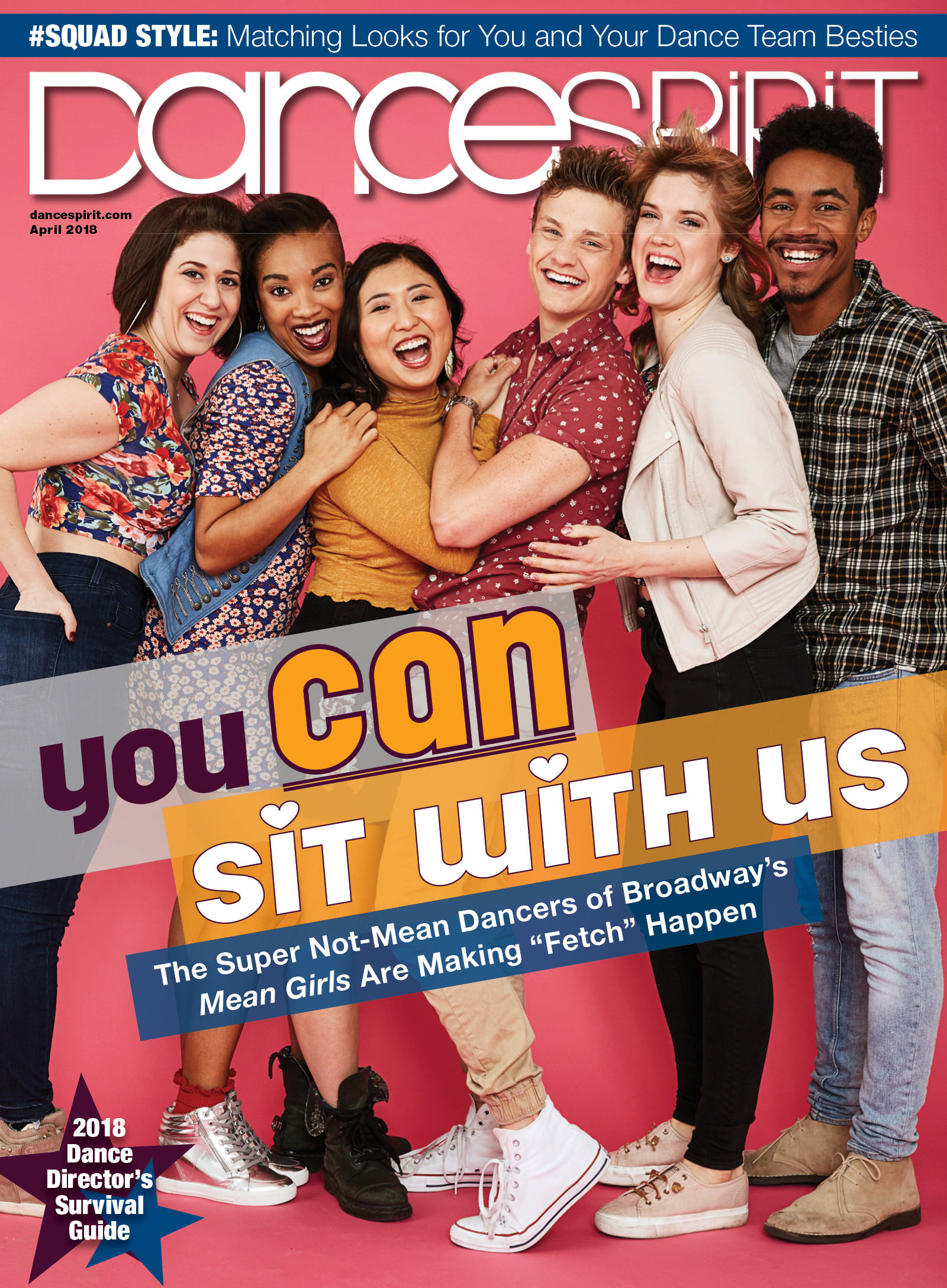 Get Dance Spirit in your inbox