"So You Think You Can Dance" Season 10 Recap: The First Elimination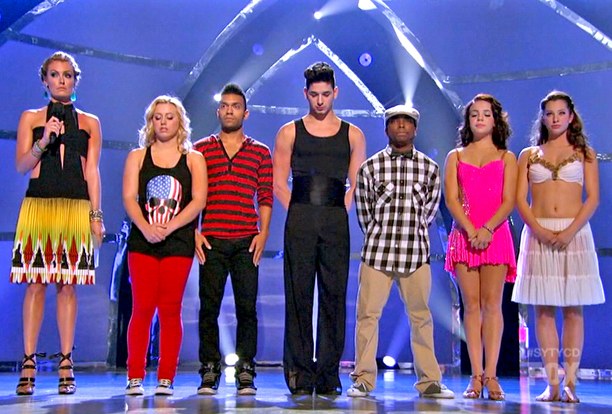 The Bottom 6: Mariah, Carlos, Alan, Jade, Brittany and Makenzie. (FOX/Adam Rose)
"First is the worst, second is the best…" Okay, so the first part of that saying might not be true here (last week's episode was pretty amazing, too), but I'm willing to bet that this second episode with the Top 20 is the best so far this season! There were so many jaw-dropping moments last night (even if we did have to say goodbye to Brittany and Carlos in the first five minutes—what?!), it's going to be tough for me to pick my own Top 5. But seeing as "SYTYCD" is a competition, it seems only right to spotlight the best—and the craziest—of the best…
1. Makenzie's in danger?! Wait, no, she's saved by the judges! This just floored me. After all the critical acclaim Makenzie had racked up in previous weeks, she'd landed squarely in my sights as the girl who was going to kill it technically—and on a regular basis, too. I mean, she practically radiates consistency, right? While it seemed that America didn't initially agree with me, the judges took pity on this utter diva, immediately bailing her out. Thank goodness for that, because the fembot/mad-scientist routine she later danced with Paul promises more mesmerizing performances from her in the future.
2. Speaking of mesmerizing, there must've been something in the water this week at "SYTYCD." Nearly every routine was smolderingly sexy, from Stacey Tookey's sensitive and intimate choreo for Nico and Alexis, to Jenna and Tucker's blazing hot cha-cha. And can we talk about how Curtis grabbed Hayley's derrière for, like, ten years during their aggressive jazz number? Pretty sure that crossed the line from sultry/awesome to just kind of awkward.
3. Guest judge Christina Applegate gets full marks for awesomeness! Mary and Nigel (but especially Mary) can sometimes get a little carried away with the gushing. Of course I agree that "SYTYCD" contestants are out-of-this-world talented. But really, there are only so many ways to say, "Oh my gosh, you're a really good dancer and I love the way you just danced!" Christina brought a breath of fresh air to the judges' panel by humbly offering constructive criticism. While also offering her fair share of compliments, she also suggested paying attention to a song's lyrics (not just to its instrumental elements) and to focus on telling the story of a Broadway piece. I couldn't agree more. Thanks for stopping by, Christina!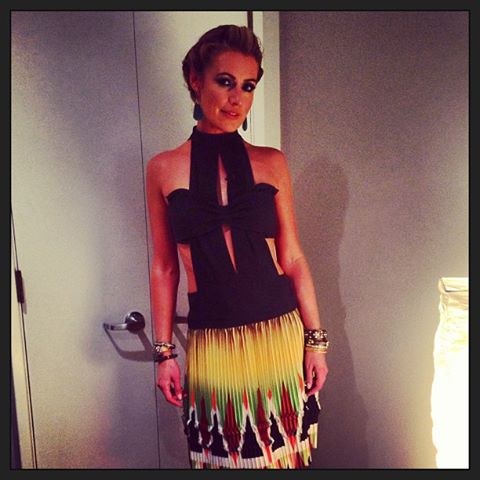 4. A rare fashion miss from Cat Deeley. Please tell me I'm not the only one who thought that quasi-bikini top just didn't work. Maybe I was just disappointed because I love to see Cat in all her super-blonde glory, and her braided chignon this week confined those gorgeous waves. Here's hoping next week's Cat-tire is as chic as usual—and incorporates some form of sparkle!
5. Mariah and Carlos' contemporary routine to Ellie Goulding's "Dead in the Water." For me, this dance represented all that is good in the world of contemporary dance. I'm talking cool lifts, genuine portrayals of emotion, poetic lyrics, and moments that simply take your breath away. In that instant when Mariah sat frozen on Carlos' shoulders, her arms raised helplessly, I'm pretty sure I had a mini contemporary catharsis. (Yes, I just invented that term. But I think you know what I mean.) Adding to the piece's high emotional level was the fact that Carlos had already been eliminated, and Mariah barely escaped elimination herself. Oh, reality TV. Why must you pluck at my heartstrings so?
Yikes! I really didn't mean to end on such a gloomy note. If you now find yourself in need of a smile, I highly recommend Fik-Shun and Amy's adorable bellhop dance. If bouncy Nappytabs hip hop on a luggage cart doesn't cheer you up, I don't know what will.
Don't forget to enter our "SYTYCD" finale sweepstakes contest—you could win a trip to the Season 10 finale!
(From left) ABT's Erica Lall; NYCB's India Bradley; Washington Ballet's Nardia Boodoo; NYCB's Rachel Hutsell (all photos by Rachel Neville)
Misty Copeland. Her name is synonymous with exquisite artistry and outspoken advocacy. And her visibility has made a huge impact on the ballet world. Ballet's relationship with race has always been strained at best, hostile at worst. But Copeland's persistent message and star quality have finally forced the ballet industry to start talking about racial diversity, inclusivity, and representation. "The rarity of seeing ourselves represented is sad," Copeland says. "The more we see every hue and body shape represented on the stage, the more possibilities young dancers feel they have for themselves."
Keep reading...
Show less
Popular
Feb. 18, 2018 07:00AM EST
Rippon after his stunning performance (via Instagram)
We love, love, LOVE figure skaters who completely embrace the dance aspect of the sport, putting real time and thought into their choreography and music choices (while also, you know, casually pulling off death-defying jumps). This Olympics, a lot of attention has (rightly) been focused on frontrunner Nathan Chen, whose ballet background lends him a beautiful grace and fluidity on the ice. But it was Chen's teammate Adam Rippon who stole our dance-loving hearts yesterday, making his Olympic debut with a routine choreographed by none other than "So You Think You Can Dance" alum Benji Schwimmer.
Friends: HE. SLAYED. And because Rippon is the first openly gay U.S. man to qualify for any Winter Olympics—ever—the performance marked a major milestone.
Keep reading...
Show less
Popular
Jan. 21, 2018 07:00AM EST
ABT JKO School student Miuka Kadoi shoiwng off her beautiful line (photo by Kenneth Edwards)
Contemporary phenom Christina Ricucci has super-flexible hips, which means she can stretch her legs to unbelievable heights. But when she noticed herself making contorted positions in class, Ricucci realized she was approaching her extensions all wrong. "I went back to the basics in class, squaring my hips and using my turnout," Ricucci says. "I learned to create proper positions, rather than whacked-out versions of them."
Some dancers are so wonky they have a hard time supporting their high legs, while others struggle with limited flexibility. But no matter your facility, you can find a balance of stretch and strength to achieve your fullest range of extension. It's not about how high (or not) your legs can go: It's the quality of the movement, and how you get those legs up, that counts.
Keep reading...
Show less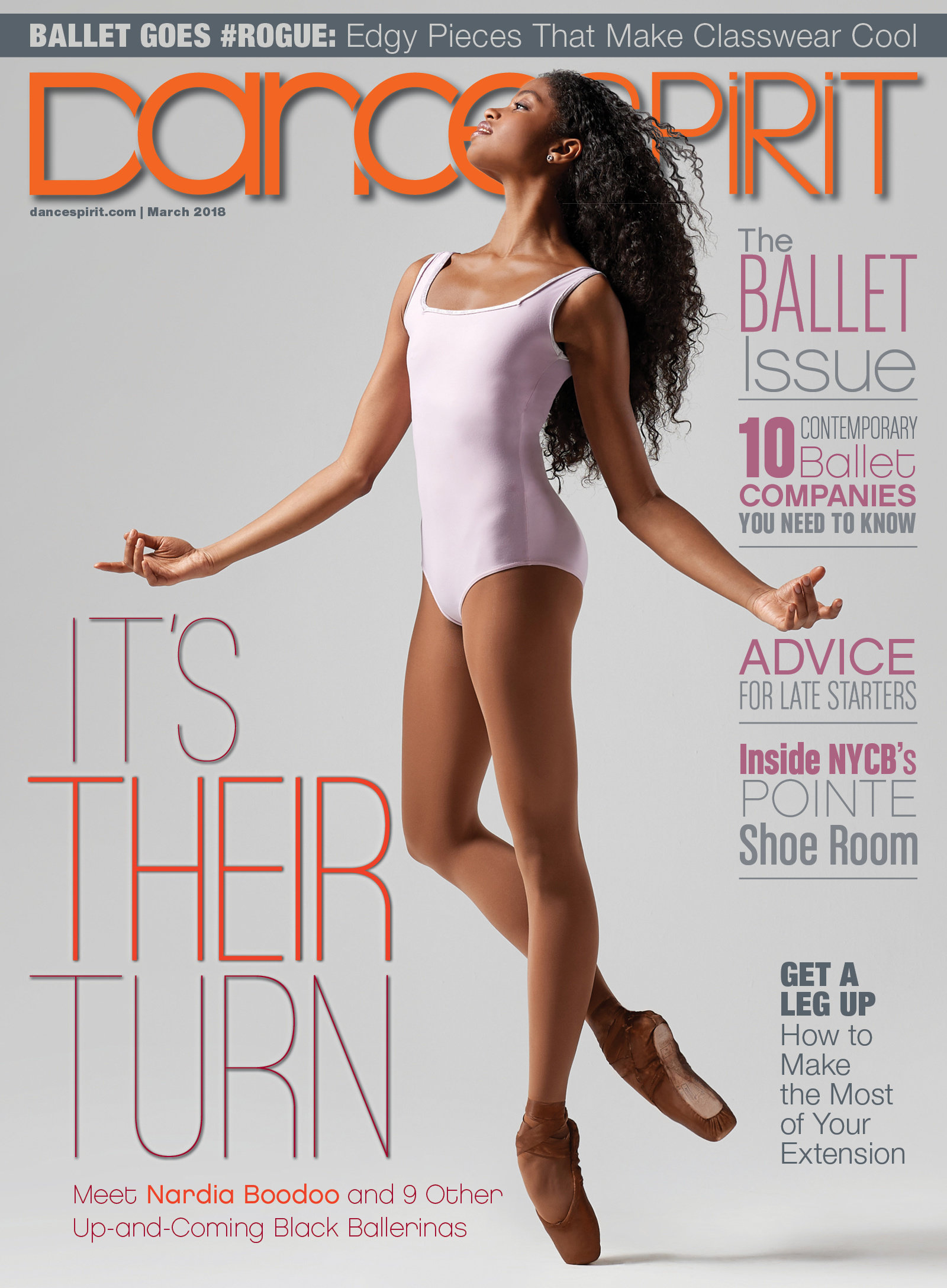 Get Dance Spirit in your inbox