"So You Think You Can Dance" Season 10 Recap: The Top 12 Perform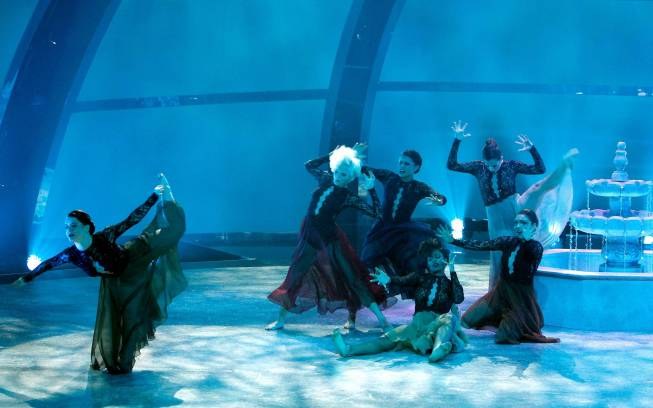 Stacey Tookey transforms the girls. (Adam Rose/FOX)
This episode didn't start off well: For the second week in a row, it was bad news bears for the boys. Tucker (no!) has an infection in his knee and can't compete this week. Then, who's in danger? Almost all of my favorites! Amy, Malece, Jenna, Tucker, Nico, Alan. Sigh… As soon as the dancing started, though, the episode got much better. This group is the Top 12 for a reason, and number after number just looked amazing! It was hard to choose, but here are my top 5 moments from this week's show:
1. The battle-for-your-life solos. Not that I ever want to see amazing dancers in the bottom, but one perk is that we got to watch them dance! Tucker, it seems, had made a miraculous recovery and danced flawlessly. Amy showed off her firecrackery self. Malece was beautiful, and Alan was just too cute. Can't we keep them all?! (P.S. Can we discuss how the judges saved Jenna AGAIN? Not that I don't love me some Jenna, but this is getting a little predictable.)
2. Hayley found her inner Gypsy. It's no secret that Hayley is one of the most technically perfect dancers on the show, and when combined with Nico's charm and Sean Cheesman's choreography, it's magical. Then there was that leg grab/lift/throw/flippy thing. Whoa!!! I'm going to go ahead and dub that the best leg grab/lift/throw/flippy thing on "SYTYCD" ever. But seriously, it was amazing. Standing ovation!
3. Pirates of the Paso Doble. Jenna and Tucker (who apparently coats himself in Axe body spray before rehearsals. All bad.) were paired up for this striking Jean-Marc Genereax number. Due to Tucker's injury, Alex Wong (yay!) fills in. Jean-Marc is certainly at his best when he's choreographing a paso. And I missed you Tucker, but these two made a great pair. Fierce pirate fun, I say. And, as if it couldn't get any better, Nigel told the Best. Joke. Ever. "Why are pirates called pirates? Because they argghhhhh." I'll be giggling at that one all day.
4. Fik-Shun and Amy waltzed it up. Confession: When a couple pulls the Viennese Waltz, it's often my cue to take a break and get a snack. But these two kept me captivated. As Amy said, it was the perfect way to rap up their partnership. So lovely—and so different from their kooky personalities! Mary said there were technical issues, but I certainly didn't notice them. And we knew after this piece (because Nigel and Kenny Ortega essentially told us so) that Amy would be saved, and we'd say goodbye to Malece. Way to ruin the surprise, guys!
5. Stacey Tookey turned the girls into women. My goodness, I love Stacey Tookey. You know who else I love? These girls! The final six formed such a cohesive, technically strong group, and as Mary said, there was no weak link. This fountain of youth-inspired dance will go down as one of my favorite group routines. I couldn't take my eyes off the TV. Another well-deserved standing ovation!
When it came down to elimination time, Nigel gave Malece and Alan the boot, but told them he still wanted them to go on tour. So here you have it, boys and girls, your TOP TEN DANCERS! Amy, Aaron, Jasmine, Hayley, Fik-Shun, Makenzie, Jenna, Nico, Paul and Tucker will kick off the tour on October 1! We'll be there. Will you?
We can't wait for the All-Stars to join the show next week. But in the meantime, enter our "SYTYCD" finale sweepstakes contest—you could win a trip to the Season 10 finale! And don't forget to let us know what you thought of this week's episode in the comments!
(From left) ABT's Erica Lall; NYCB's India Bradley; Washington Ballet's Nardia Boodoo; NYCB's Rachel Hutsell (all photos by Rachel Neville)
Misty Copeland. Her name is synonymous with exquisite artistry and outspoken advocacy. And her visibility has made a huge impact on the ballet world. Ballet's relationship with race has always been strained at best, hostile at worst. But Copeland's persistent message and star quality have finally forced the ballet industry to start talking about racial diversity, inclusivity, and representation. "The rarity of seeing ourselves represented is sad," Copeland says. "The more we see every hue and body shape represented on the stage, the more possibilities young dancers feel they have for themselves."
Keep reading...
Show less
Our nominees (clockwise from top left): Roberto Campanella, Aurélie Dupont, Ashley Wallen, and Anthony Van Laast
Last month, we asked why there wasn't a Best Choreography category at the Oscars—and discovered that many of you agreed with us: Choreographers should definitely be acknowledged for their work on the super-dancy movies we can't get enough of.
Now, we're taking matters into our own (jazz) hands.
We've decided to create a Dance Spirit award for the best cinematic choreography of 2017. With your input, we've narrowed the field to four choreographers whose moves lit up some of the best movies of the year. Check out our nominations for best choreography below—and vote for the choreographer you think deserves the honor. We'll announce the winner on Friday, March 2.
Being a dancer comes with the task of having to entertain the same questions over and over again from those outside the dance world. Of course, we love having our friends and family take an interest in our passion—but if someone asks ONE MORE TIME whether or not we've met Travis Wall, we might just go crazy.
Here are 10 questions that dancers hate getting asked.
Keep reading...
Show less
ABT JKO School student Miuka Kadoi shoiwng off her beautiful line (photo by Kenneth Edwards)
Contemporary phenom Christina Ricucci has super-flexible hips, which means she can stretch her legs to unbelievable heights. But when she noticed herself making contorted positions in class, Ricucci realized she was approaching her extensions all wrong. "I went back to the basics in class, squaring my hips and using my turnout," Ricucci says. "I learned to create proper positions, rather than whacked-out versions of them."
Some dancers are so wonky they have a hard time supporting their high legs, while others struggle with limited flexibility. But no matter your facility, you can find a balance of stretch and strength to achieve your fullest range of extension. It's not about how high (or not) your legs can go: It's the quality of the movement, and how you get those legs up, that counts.
Keep reading...
Show less
Bronze medalist Kaetlyn Osmond skating her "Black Swan" long program (screenshot via YouTube)
Once upon a time (until the 2014 Winter Olympics in Sochi concluded, to be exact), figure skaters had to compete to music without words. Before this rule change, a skater faced an automatic point deduction if the music even hinted at vocals. Understandably, there were *a lot* of Olympic programs skated to classical music, and you'd tend to hear the same music selections over and over and over.
Keep reading...
Show less


Get Dance Spirit in your inbox