"So You Think You Can Dance" Season 10 Recap: The Top 6 Perform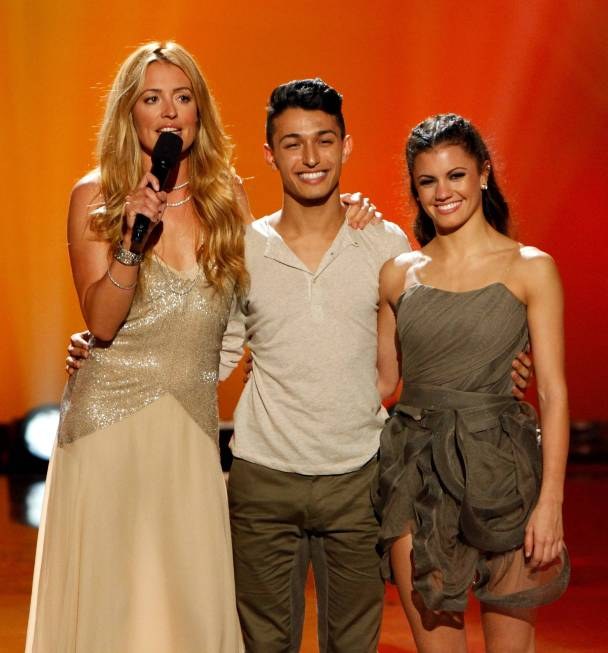 We'll miss you, Hayley and Paul! (Side note: I agree with Mary, they look adorable together. I wouldn't be mad if they started dating.) Photo by Adam Rose
With Jesse Tyler Ferguson joining Nigel and Mary at the judges' table and a stellar All-Star lineup, I was more than a little excited for last night's episode. And I'm happy to say that it exceeded my expectations! (I mean, even Cat Deeley brought her A-game. Did you see that dress?! And is just me, or was she even more hilarious than normal? Love her.)
Here are my Top 5 Moments: 
1. Paul and Kathryn's jazz routine. It's no secret I'm a sucker for a technical, high-energy jazz routine, so naturally I was all about the Tyce Diorio-choreographed number. I loved the Latin flavor and the costumes and the performance quality and the partnership—it was the perfect way to start the show.
2. The Nappytabs Family. OMG. Did you see Baby London? That hat? Coolest kid ever. Which is not surprising considering who his parents are. Can I be adopted into the family, too?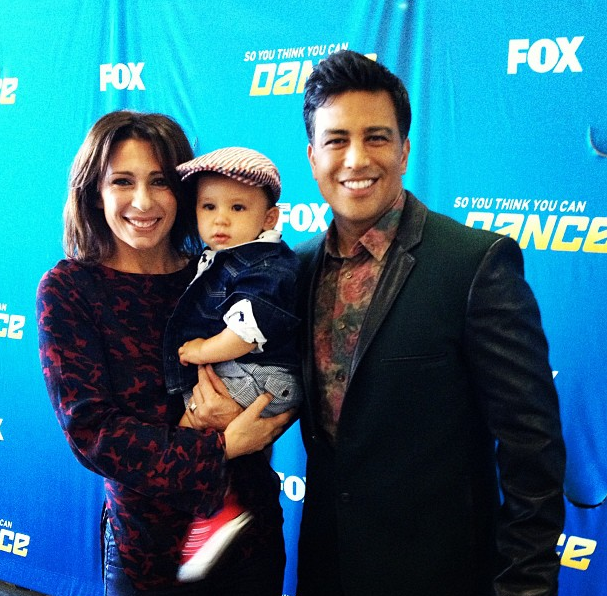 See what I mean? I die. (Photo via nappytabs Instagram)
3. Jasmine and Neil's contemporary routine. While I wasn't in love with the routine itself, I was blown away by the quality of the dancing. Neil is a ridiculous partner and was able to really show off Jasmine and her gorgeous technique (those legs!). I'd love to see them do more together.
4. Amy and Alex's Bollywood routine. How could I not love this routine—Amy and Alex are two of my favorite dancers to ever compete on the show! I'll admit, I was nervous Alex's Achilles wouldn't hold up with all the tuck jumps and bouncing around, but that's what Bollywood is. Speaking of the style, I've never danced it, but I love it. Sometimes I just want my life to be a Bollywood routine—energy, cheesiness, bright costumes? I'll take it.
5. Paul and Hayley's contemporary routine. The song, the choreography, the chemistry—this dance was one of the highlights of the night. I really loved that Dee Caspary just let them dance. There was no need for crazy, intricate lifts or tricks, they just moved—brilliantly.
In the end, we tearfully said goodbye to Hayley and Paul. Thank goodness we'll be seeing them on tour in no time!
So, what do you think? Did they send the right dancers home? Which routine was your favorite? Tell us in the comments below, and be sure to tune in for next week's performance finale!
Jul. 22, 2017 04:55PM EST
via YouTube
It's no secret that ballet in pop culture has sparked its fair share of controversy. Which is why this video from Refinery29, featuring ABT's Isabella Boylston, is not only a super-fun watch, but a breath of fresh air.
Keep reading...
Show less
Jul. 21, 2017 12:26PM EST
via @phil_wright_ on Instagram
Well, this brings class videos to a whole new level! Choreographer Phil Wright and dancer Ashley Liai have been together eight-plus years, but she was still in total shock when he proposed to her mid-dance at Millennium Dance Complex earlier this week. Why? Well, the whole thing was unbelievably perfect.
Keep reading...
Show less
Jul. 21, 2017 11:03AM EST
(Courtesy ABC)
In the dance industry, dancers don't always have a say in what they wear on their bodies. This can get tricky if you're asked to wear something that compromises your own personal values. So what should you do if you find yourself in this sticky situation? We sat down for a Q&A with "Dancing with the Stars" alumn Ashly Costa to answer that very question. Here's what she had to say about the options dancers have surrounding questionable costumes.
Keep reading...
Show less


Get Dance Spirit in your inbox