"So You Think You Can Dance" Season 11 Recap: L.A. and Philadelphia Auditions
Last night brought us round three of "SYTYCD" Season 11 auditions, a two-hour smorgasbord of delectable dancers that totally renewed my faith in the show. Confession time: I was a tad disappointed with the level of talent we saw during the first two episodes. I'd even started to wonder if the "SYT" talent pool might be drying up. But tons of auditionees totally knocked my socks off last night, and from the looks of the in-between-featured-dancers montages, there were dozens more impressive hopefuls we didn't even get a good look at. Plus, lovely American Ballet Theatre soloist Misty Copeland came to Philly to guest-judge a round of auditions. Great dancers evaluating other great dancers? Yes. Yes please. (And continued kudos to the producers for celebrating the standouts rather than bullying the not-so-greats.)
Without further ado, here are my Top 5 moments from the episode:
1. #TeamBallroom was in the house... Whoa, you guys: The level of ballroom talent this season is staggering. First up were partners Serge (a Season 10 audition vet) and Alla, who, despite the romantic awkwardness between them—that "will you be my girlfriend" post-performance stunt was cringe-inducing—burned up the floor with their cha-cha. Next we saw Marlena and Armen (another Season 10 auditionee, perhaps best known as the guy who dropped Malece on her head); thankfully, their intense chemistry seemed totally real. Finally, there was Landon, my new favorite ever. With his extremely pinchable babyface, he looks like the most unlikely ballroom dancer in the world—and yet boy can work those hips. It didn't hurt that his partner was Season 10 ballroom favorite Jenna (whom Nigel promptly asked to return as an All-Star, of course).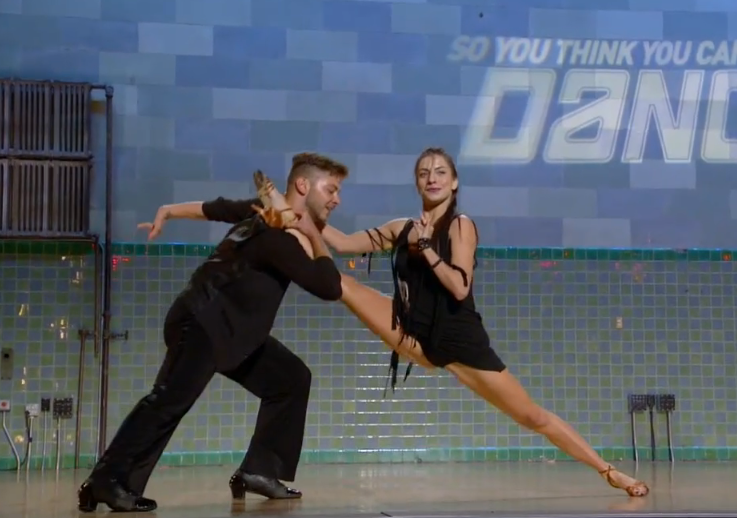 Alla and her LEGS and Serge and OH MY GOSH ALLA'S LEGGGGS
2. ...and so was #TeamBallet. The ballerinas came out to play last night! I was thrilled to see Jourdan Epstein, one of my favorite members of Complexions Contemporary Ballet, nail her powerful solo. (Hey, Complexions co-directors Desmond Richardson and Dwight Rhoden—does this mean we can expect to see you back on the show this season? SAY YES.) And I fell in love with Amir, the "funky ballerina," who, despite the small holes in her technique, showed so much charisma in her eclectic pointe piece to Beyoncé's "Flawless." Also, jeez louise, super-duper props to you ladies for dancing on pointe on waxed wooden floors, a.k.a. ice.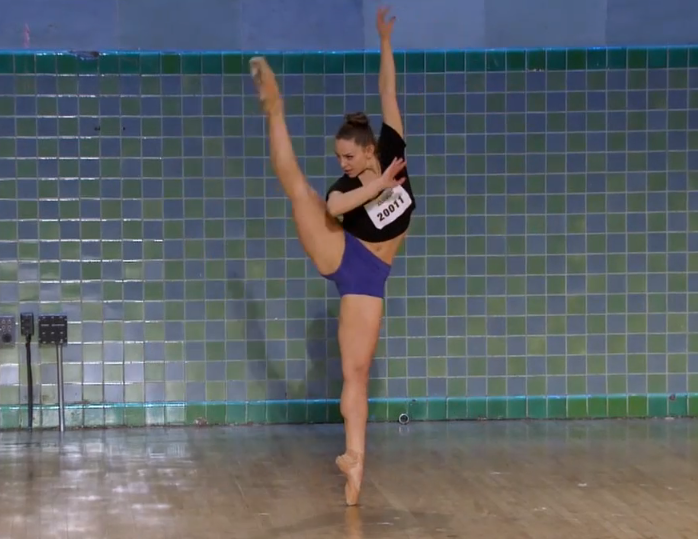 Jourdan Epstein being beautiful, as she does
3. Johnny Waacks came back! I couldn't get enough of Johnny during his Season 9 audition, when he introduced the judges to the art of waacking. (A sidenote for you, judges: Waacking is amazing and has been around for literally decades, so A. you should really know what it is by now and B. you should really, really, really stop giggling and making dirty jokes every time someone brings it up. K? Thanks.) This time around, Johnny rocked an incredibly fabulous skirt and waacked to WHITNEY HOUSTON and the world was filled with flowers and unicorns and happiness. Dance gods, hear my prayer: Please let this man make it through to the Top 20.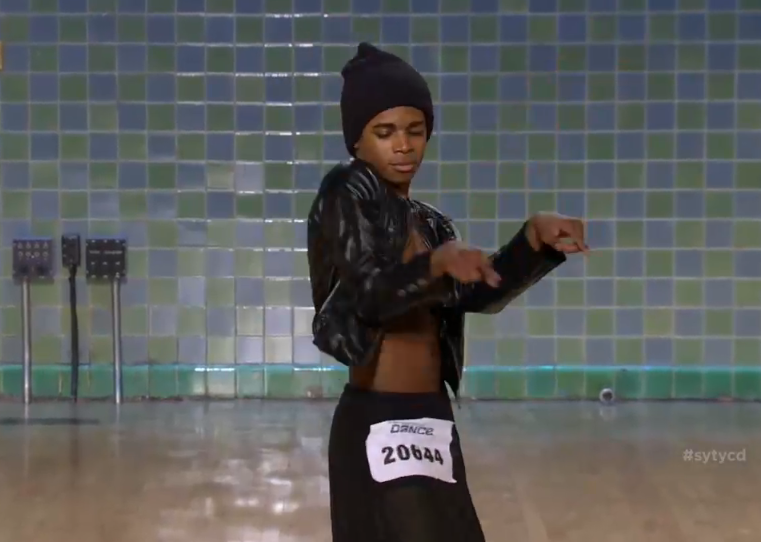 Get it, Johnny.
4. J-4 became the new frontrunner for the winner of "SYTYCD" Season 20. He's 9 going on "18 and a half," in his words, and he is just the cutest, most talented little b-boy. Naturally Nigel called Cyrus and Fik-Shun up onstage to freestyle with him, and while I'm getting a little tired of seeing past contestants hogging the spotlight, it was, I admit, a priceless moment. See you in nine years, J-4!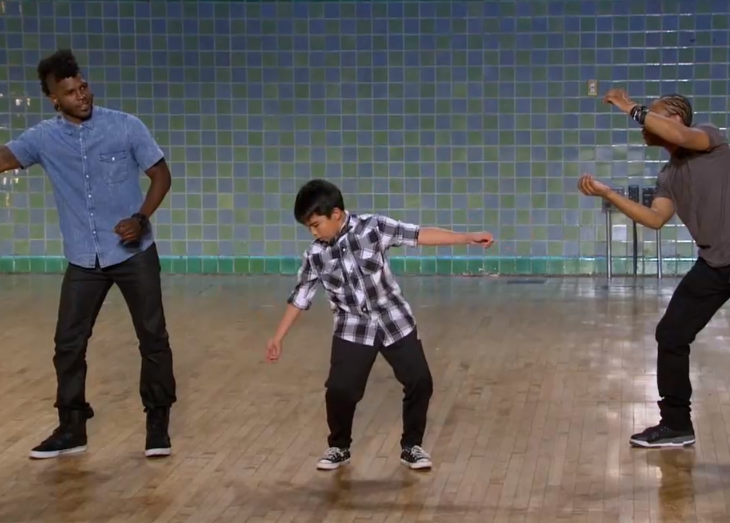 Never let those big kids steal your thunder, little guy.
5. We heard some truly powerful stories. Sometimes I get frustrated when audition episodes focus on dancers with tragic pasts. There's an exploitative quality to that kind of thing that makes me vaguely uncomfortable. But last night, the stories we heard were so moving that I repeatedly found a strange, watery substance leaking from my hard, cynical eyes. Contemporary dancer Bridget lost her father in a car crash when she was just 12; her last memory of him is the two of them watching "SYTYCD" together, and him telling her, "If you follow your dreams you can get there one day." Krumper James was shot in the knee and nearly lost his leg, which gave him a new appreciation for life and dance. Shy, gentle Stanley lost his mom when he was 4, and was raised by a friend of hers after nobody from his father's side of the family claimed him. (That weird eye-liquid—it was just pouring out of me during his segment.) A beautiful technician, Stanley was also able to channel the hurt and anger he's felt in the past into an astonishing, "creaturelike" solo.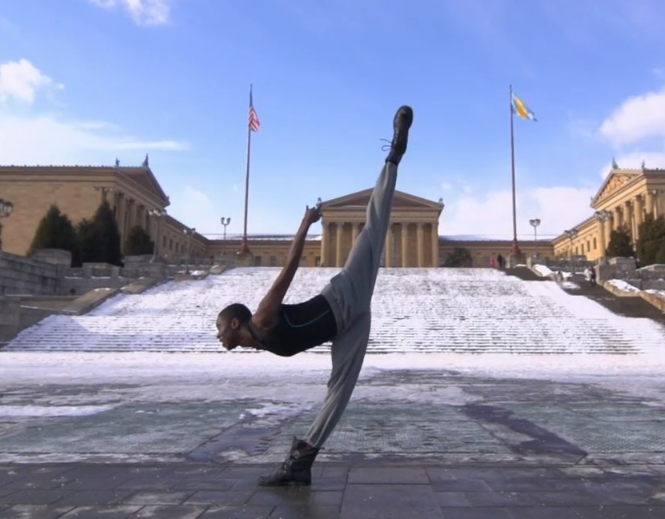 Stanley is absolutely one of my early favorites for the Top 20.
What did you guys think? Let us know in the comments—and come back next week, same time, same place, for our recap of the final auditions episode. We're heading to Atlanta, and from the looks of the preview footage, things are about to get real intense, y'all.
Win It
Sep. 05, 2017 12:10PM EST
Photos by Erin Baiano
It's time to get your pirouette on! From September 5th to September 30th, we're hosting a contest to find out who's the best turner of them all.

Put together your most impressive turning combo. Post a video online. Share your turns with us and thousands of other dancers around the world. And if our editors think you're the top turner, you'll win a fabulous prize.
Keep reading...
Show less
All of 18-year-old Kaylin Maggard's dreams—from scoring the title of National Senior Outstanding Dancer at New York City Dance Alliance Nationals to winning the 2017 Dance Spirit Cover Model Search—are coming true. And to anyone who knows the gorgeous contemporary dancer, that's no surprise.
From the moment the Dance Spirit staff met Kaylin, it was obvious her humility and talent would take her far. Not only did she go full-out during the photo shoot and class at Broadway Dance Center, but she was always cheering on, laughing with, and supporting her fellow CMS contestants Haley Hartsfield and Michelle Quiner. During the voting period, the social media world was abuzz with praise for her work ethic, positive attitude, and generosity.
Since her CMS trip to NYC, Kaylin's moved from her hometown of Columbia, MO, to the Big Apple for her freshman year at Juilliard, and is busy getting acquainted with the city. As for the future? She's taking it one opportunity at a time, but something tells us we'll be seeing this contemporary queen reach new heights every year.
Keep reading...
Show less
Instagram star Kylie Shea has built a following of nearly 170,000 with her playful workout videos, which combine traditional fitness activities, like jumping rope or running on the treadmill, with pointe shoes and sassy choreography. Shea's effortless cool-girl-next-door vibe and solid ballet technique make her vids totally irresistible.
Now Shea's using her platform to address the body image issues that tend to plague dancers. In a poignant video, she sheds her clothes and tugs at her skin. The caption explains her relationship with her body and the pressure she feels to maintain a certain aesthetic as a dancer.
Keep reading...
Show less
Physical discomfort is inevitable when you're spending tons of hours in the studio every day, but some pain shouldn't be suffered through. "Dancing through pain can make an injury worse and lead to more time away from dance," says Dr. Joel Brenner, medical director of dance medicine at Children's Hospital of The King's Daughters in Norfolk, VA. "Failing to rest and recover when you're in serious pain could even lead to the point where you're unable to dance in the future."
That may sound scary, but there's good news: If you take precautions and listen to your body, many injuries can be stopped in their tracks. The first step? Knowing what's normal—and what's not.
Keep reading...
Show less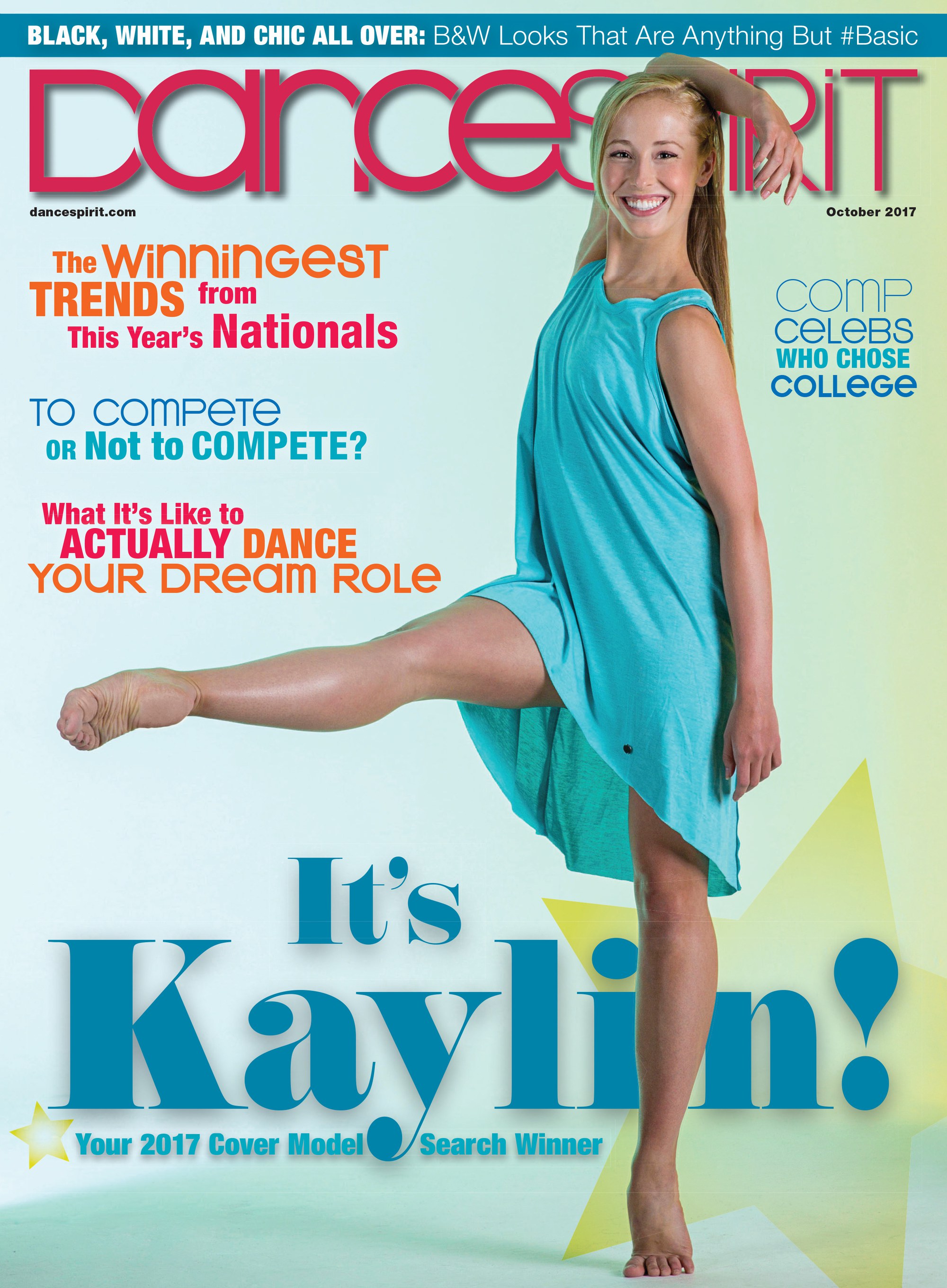 Get Dance Spirit in your inbox