Strength In Numbers: The Payoffs of Being an Ensemble Dancer
Mishay Petronelli onstage in Janet Jackson's Unbreakable world tour (Solaiman Fazel, courtesy Petronelli)
In 2015, Mishay Petronelli was one of nine dancers to book a spot on Janet Jackson's Unbreakable world tour. After a grueling audition process, the group learned iconic choreography, traveled and performed with one of the greatest pop divas of all time.
"It was my dream job," says Petronelli. "Not only was it crazy to be onstage with Janet, but I also never expected our group to become such a unit, too. We called ourselves the 'J Tribe.' "
When you train so intensively to stand out in a crowd, getting cast as one in a large group can feel like a blow. But, as Petronelli, who's also performed in groups on "Lip Sync Battle" and "Saturday Night Live," will say, the payoffs can be pretty great, too. And while few ensemble gigs seem as glamorous as being a member of the prestigious J Tribe, they all come with a few similarities. For one, being in an ensemble isn't easy: It requires an extraordinary amount of precision, teamwork and stamina. Whether you're backing up Jackson's iconic "Black Cat," working it second from the right in a world-famous kick-line, or shielding Odette in a line of white swans, your presence onstage can mean just as much as the artist's in front. Read on to find out how and why dancing in an ensemble can be so rewarding.
Improve Your Technique
While being one of two dozen Wilis in Act II of Giselle may not seem too challenging, Houston Ballet's Natalie Varnum disagrees: "Don't let standing on the side fool you," she says. "It might look simple, but it requires extreme focus and precision." Corps members might not always get to perform the most virtuosic steps, but that meticulous attention to detail—an exact tilt of the head, or an arm placement on a specific count—can be a boon for a dancer's artistry. "Paying attention to these little things has really refined my dancing," says Varnum, who, as a seven-year corps member, regularly steps into soloist roles. "Having danced as a snowflake in our production of The Nutcracker for so long, I felt like I had an extra edge when I was given the opportunity to finally do Snow Queen," she continues. "The sets, lighting and formations were all familiar, so I was able to focus on performing my new role and getting into character."
Make Connections
Being part of a group can also improve your ability to connect with others onstage. While most roles often require dancers to rely on their peripheral vision to ensure they're in the right spot at the right time, sometimes, says Paul Taylor Dance Company's Sean Mahoney, "it's OK to really look at each other. When we're all dancing together, there's a sense of community onstage—unity. It's less about showmanship and more about what we're doing as a group." This kind of work doesn't go unnoticed: Audiences often recognize and appreciate a group of dancers who can move as one and look like they enjoy doing it. And for a dancer, the opportunity to make those connections can improve partnering and storytelling—all traits that will help in a future soloist role, too.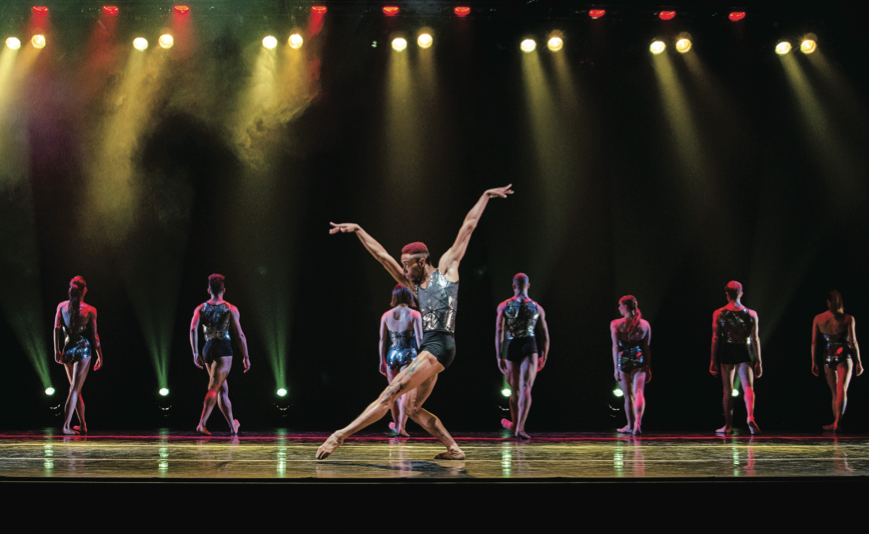 Addison Ector takes center stage in Dwight Rhoden's Strum with Complexions Contemporary Ballet (courtesy Complexions Contemporary Ballet)
Stand Out While Blending In
Dancing in an ensemble doesn't always mean you have to relinquish your artistic individuality. Complexions Contemporary Ballet's Addison Ector loves how the troupe's 15 members have varied dance backgrounds and how that can shine through the choreography. "Sometimes, we have the freedom onstage to smile and let our personalities out, even though we're all doing the same thing," he says.
Petronelli loves the opportunity to learn from her colleagues in an ensemble. Jackson's tour group, for example, was all female, but the dancers shared little else in common. "We were such individuals, and were all able to give something unique," Petronelli says, noting that performing with the crew was a constant source of inspiration. "It made me want to push myself further as an artist."
Build Relationships
Emma Love Suddarth, who joined Pacific Northwest Ballet's corps de ballet in 2009, loves the atmosphere in her theater dressing room. "There's no place like it," she says. "The laughs, the tears. We're all in the same boat and support each other through everything." If a PNB program doesn't require much corps work, the dancers actually miss it, says Suddarth. "It's about the dynamic, that dependability. We spend 90 percent of our time together, and there's comfort in that." Even if you're ultimately setting your sights on star status, don't diminish the value of a group experience. "Dancing in an ensemble is about learning to function well with other people," says Suddarth. "Embrace it, because you won't get that experience elsewhere."
(From left) Mean Girls dancers Riza Takahashi, Ben Cook, Kamille Upshaw, Jonalyn Saxer, DeMarius R. Copes, and Stephanie Lynn Bissonnette (photos by Erin Baiano)
Get in, losers. We're going to Broadway.
OK, not losers, actually—more like the bajillion die-hard fans of Tina Fey's 2004 cult hit Mean Girls, who've been wearing pink every Wednesday since a musical adaptation of the film was first teased back in 2013.
Now their world is like a cake filled with rainbows and smiles, because Mean Girls the musical, which had a trial run in Washington, DC, last fall, is set to open at Broadway's August Wilson Theatre April 8. And in a very grool twist, it turns out the show—with direction and choreography by Casey Nicholaw and a book by Fey herself—is delightfully dancey.
Keep reading...
Show less
Screenshot form YouTube
What do you get when a hoard of dancers collaborate to the catchy tune of "Love Somebody," by the band Frenship? The most epic dance party ever, of course! Said dance party was produced by the talented Michael Riccio, who's performed in feature films, including "Confessions of a Teenage Drama Queen" and "Shrek Forever After."
Keep reading...
Show less
Quiz
Dec. 11, 2017 04:24PM EST
Alicia Vikander in Tomb Raider (Warner Brothers)
Keep reading...
Show less
University of Minnesota Dance Team (courtesy University of Minnesota)
They say there's no "I" in "team"—and nowhere is that truer than the world of college dance teams, where precision reigns, uniformity is key, and a single misstep from any given "I" can cost a group a championship trophy. So it's unsurprising that securing a spot on one of the best dance teams in the country is no easy feat.
Members of these highly athletic teams rehearse for hours every week—on top of academic classes and commitments—and perform at football and basketball games, annual concerts, and nationally televised competitions (hi, ESPN). And "no I" rule notwithstanding, each of these top teams is made up of highly trained, highly technical, highly hard-core individuals, who come together to create a ready-for-victory pack.
These six teams aren't one-off success stories—they're consistently strong, and earn the top spots at major competitions like UDA and NDA nearly every year. Up for the challenge? Here's what to know before you go to auditions.
Keep reading...
Show less
Popular
Mar. 16, 2018 12:48PM EST
courtesy ADCC
Are you a high school senior who's been accepted to a four-year accredited college or university program? Congrats! Within the 2017-2018 season, have you competed in events run by at least two of the organizations in the above graphic? Double congrats, because the Association of Dance Conventions and Competitions, or ADCC for short, wants to give you $1,000 (!!) towards college tuition.
Keep reading...
Show less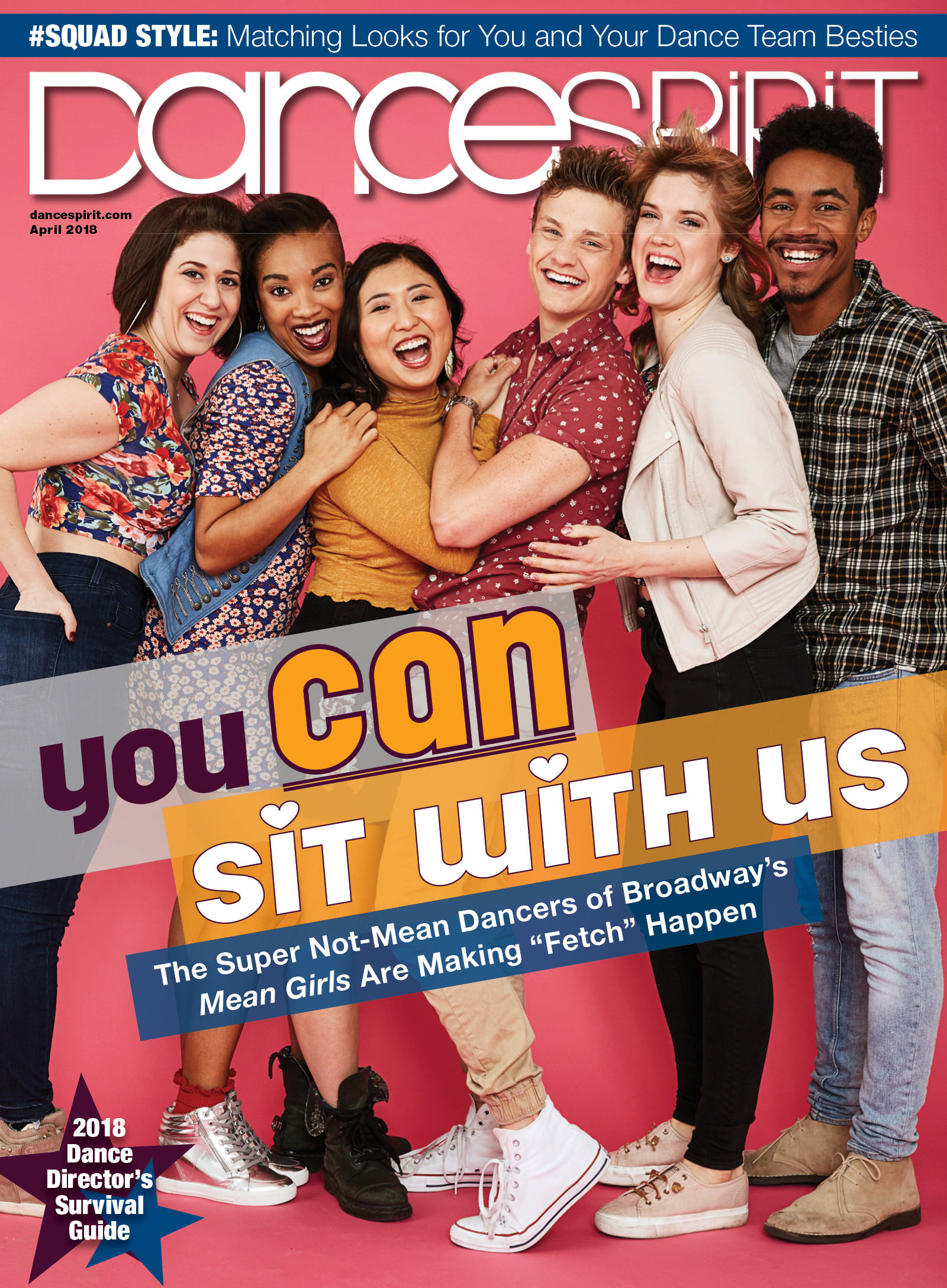 Get Dance Spirit in your inbox