Try These Strength Training Exercises for Stable Partnering
Samuel Melnikov weight training to build strength for partnering (photo by Jonah Rosenberg)
Safe partner-work demands you put in some time at the gym. Peter Frame—former principal dancer with New York City Ballet and founder of the School of American Ballet's strength training program—says, "Even advanced dancer forget about placement once they're lifting. They're doing the work, but you'll see shoulders and weight distribution out of whack." Want centered, controlled partnering? Grab a mat and dumbbells to try Frame's top three pre-partnering exercises.
Photos by Jonah Rosenberg. Modeled by Samuel Melnikov.
---
Lying Back Extension
"When you're lifting a partner, stabilization of the spine is the most important thing," Frame says. "This is a simple exercise to strengthen your back, preparing you to maintain a stable spine while moving your partner around."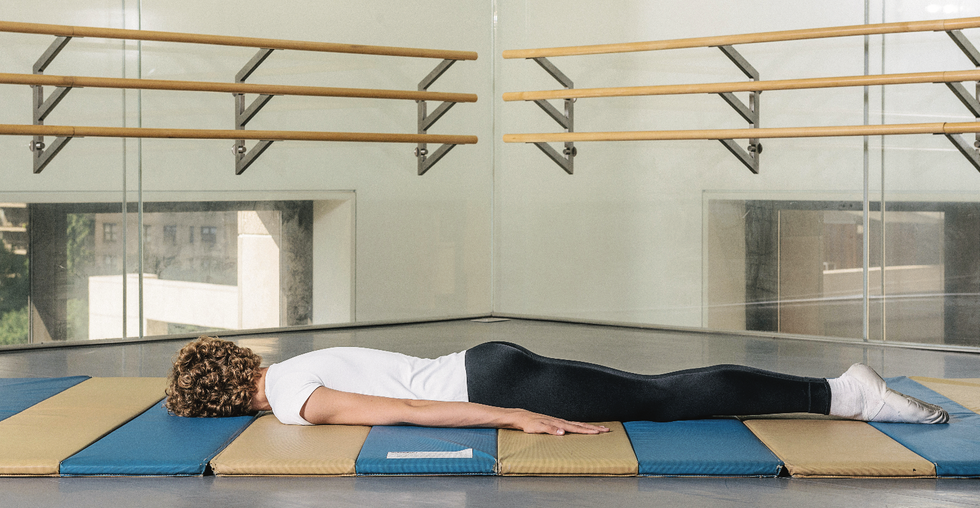 1. Lie on your stomach on the mat, with your arms by your sides.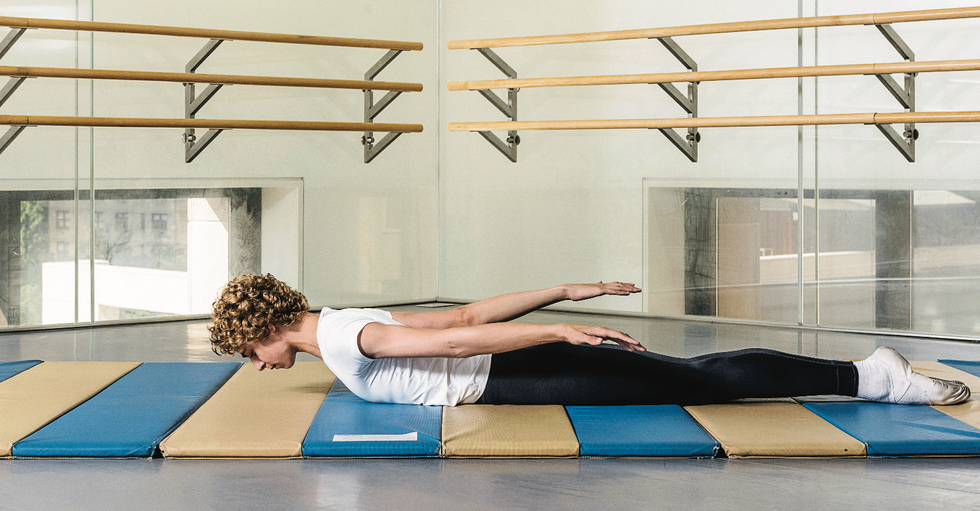 2. Focusing on your core, slowly lift your head and arms up off the mat. Don't arch your lower back, open your rib cage, or let your shoulders drift up.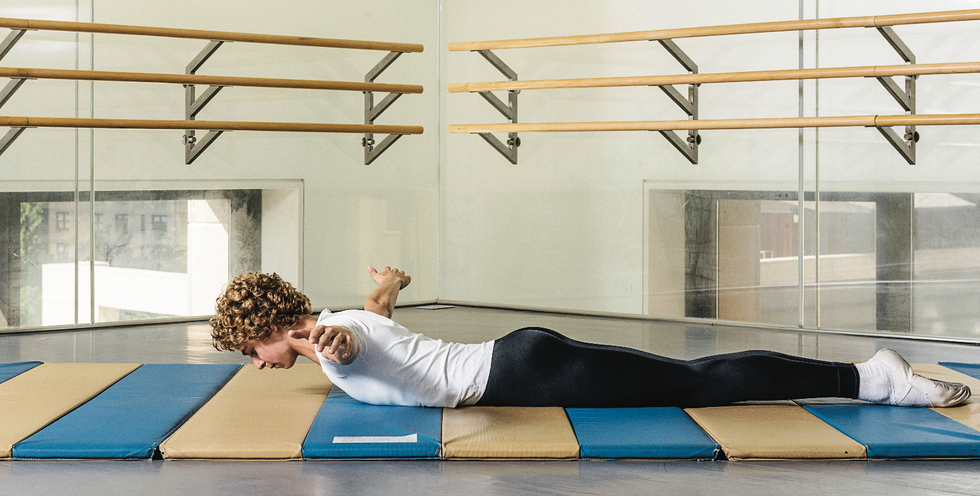 3. Move your arms around to the side and then above your head to lift your torso up and away from the mat.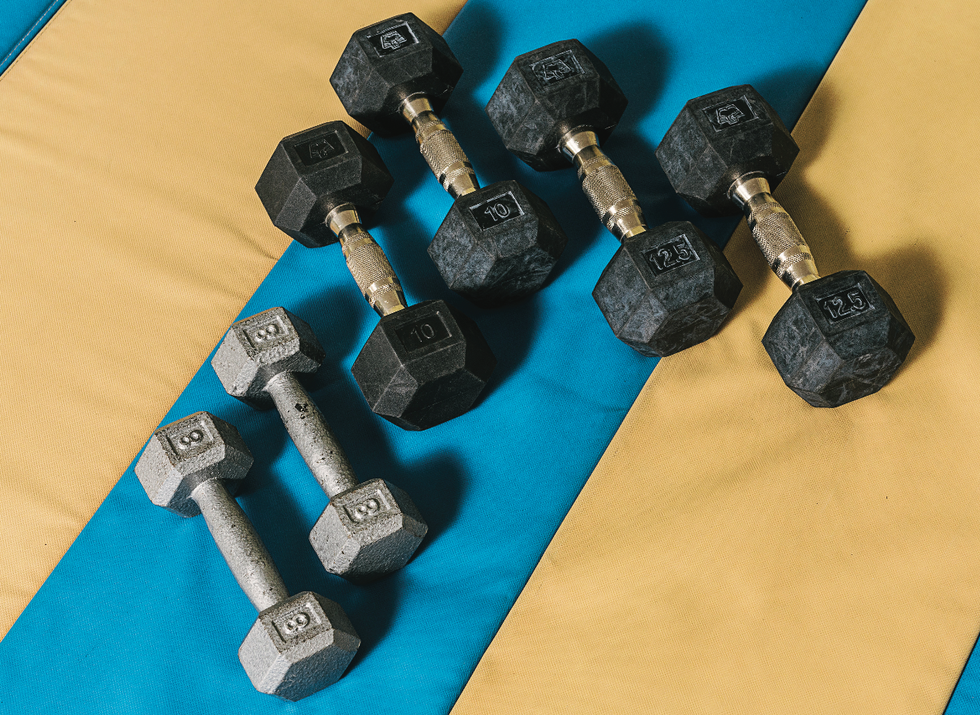 Advanced version! Try the exercise with a 3-pound or 5-pound weight in each hand.

Single-Leg Spinal Stabilization
According to Frame, "This is a classic way to build stability of the spine and strengthen the core."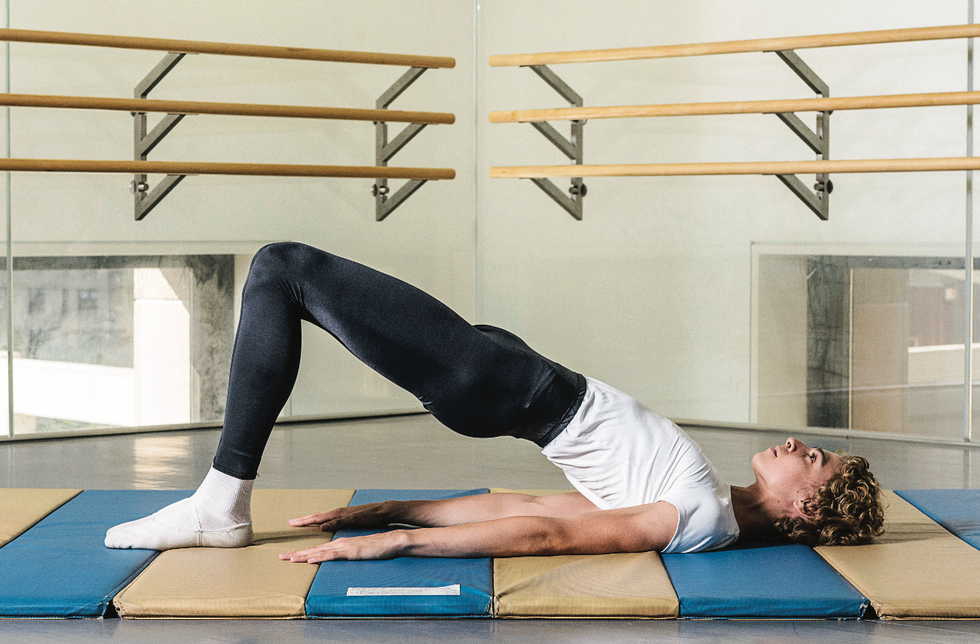 1. Lie on your back with your arms on the ground and your feet and knees touching in parallel, close to your torso. Lift your buttocks and lower back by tilting the pelvis up slowly one vertebra at a time, with your arms resting on the mat.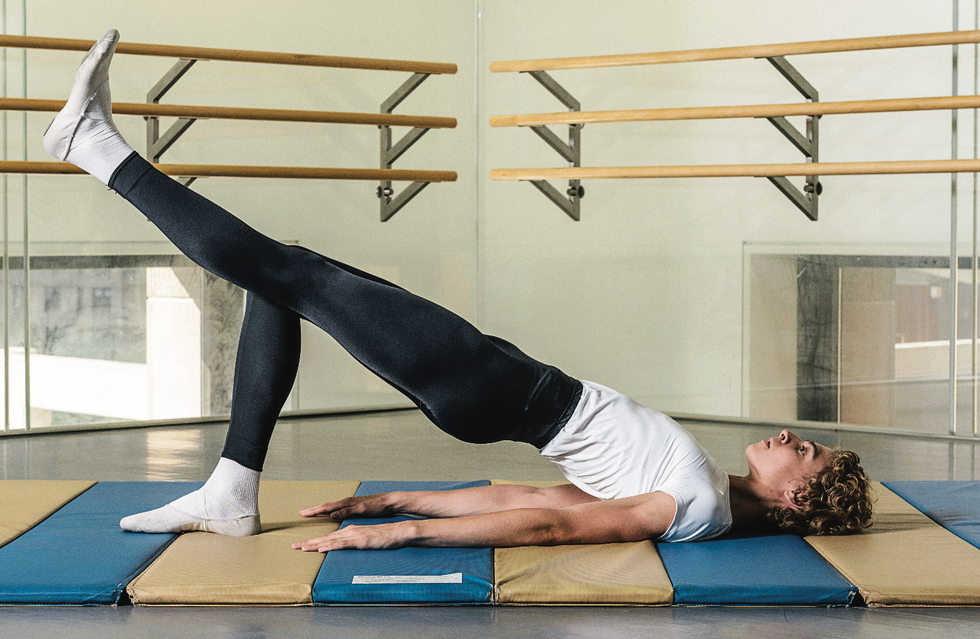 2. Release one foot from the mat, extending that leg out so it's level with your other knee.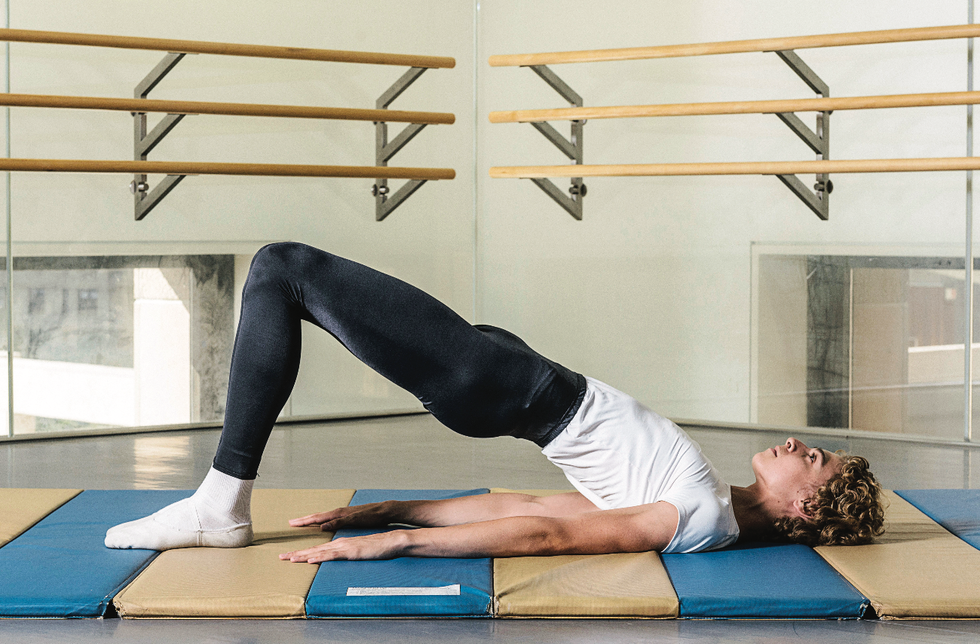 3. Bend your lifted leg, returning to the bridge position. Repeat with your other leg, 8 reps total.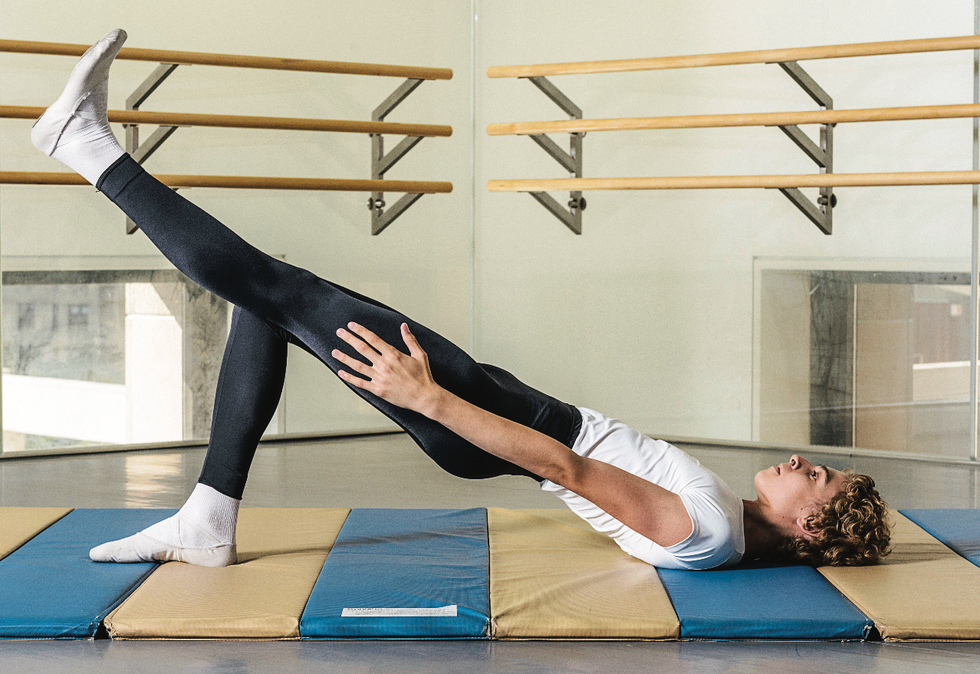 Advanced version! Lift your arms off the mat, extending them in alignment with your spine.
Standing Shoulder Press/Bicep Curl
"This exercise brings spinal awareness, lifting and lengthening, and shoulder placement together," Frame says. "It mimics lifting a partner over your head."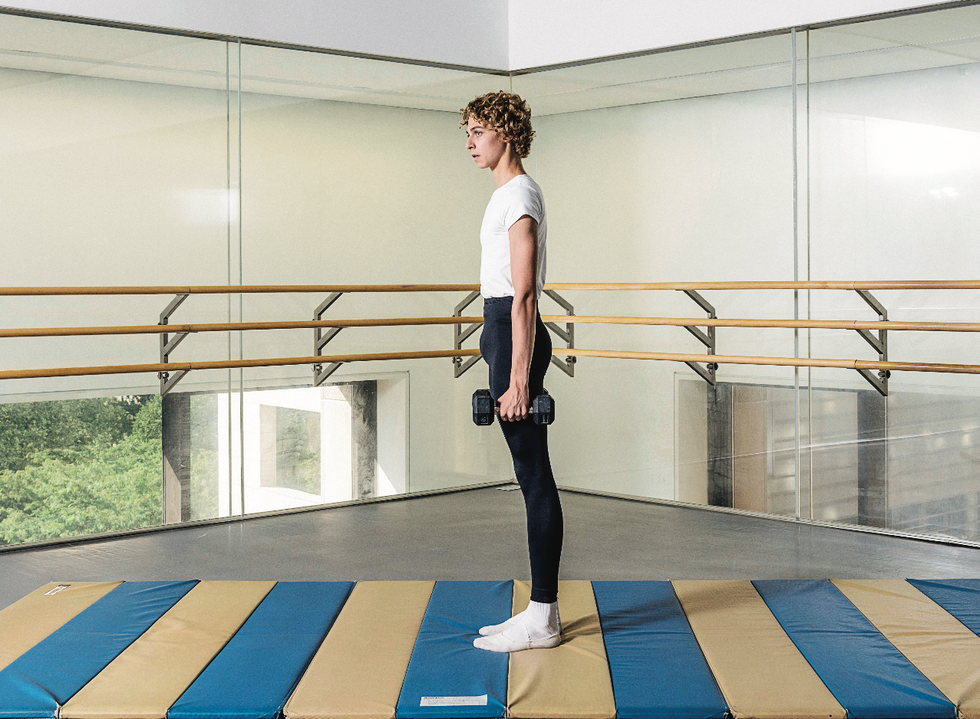 1. Stand with your arms by your sides, holding 10–15-pound dumbbells (or whatever feels comfortable based on your age and strength level).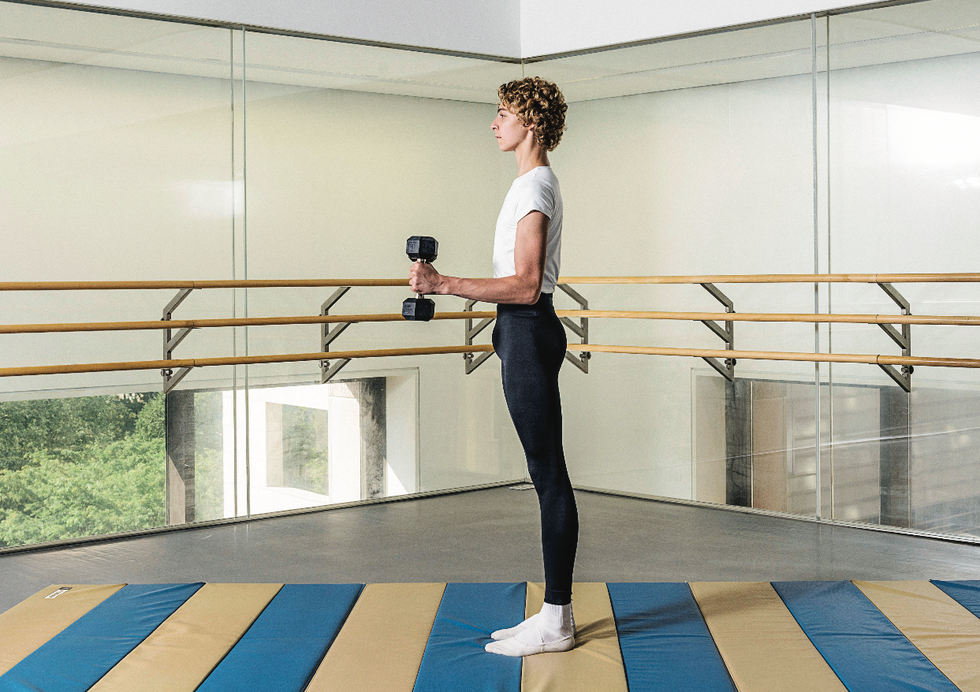 2. Bend your arms at a 90-degree angle, engaging the biceps and maintaining shoulder placement. Do 8 reps total.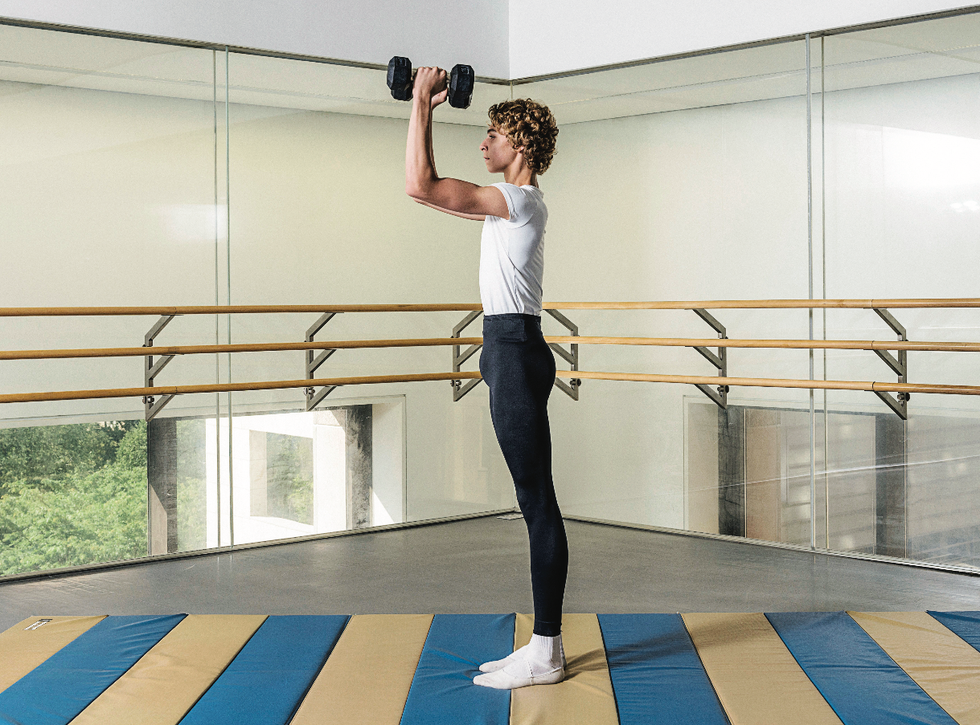 3. Maintaining the 90-degree angle and parallel position, lift the upper arms so your hands and elbows are in front of you.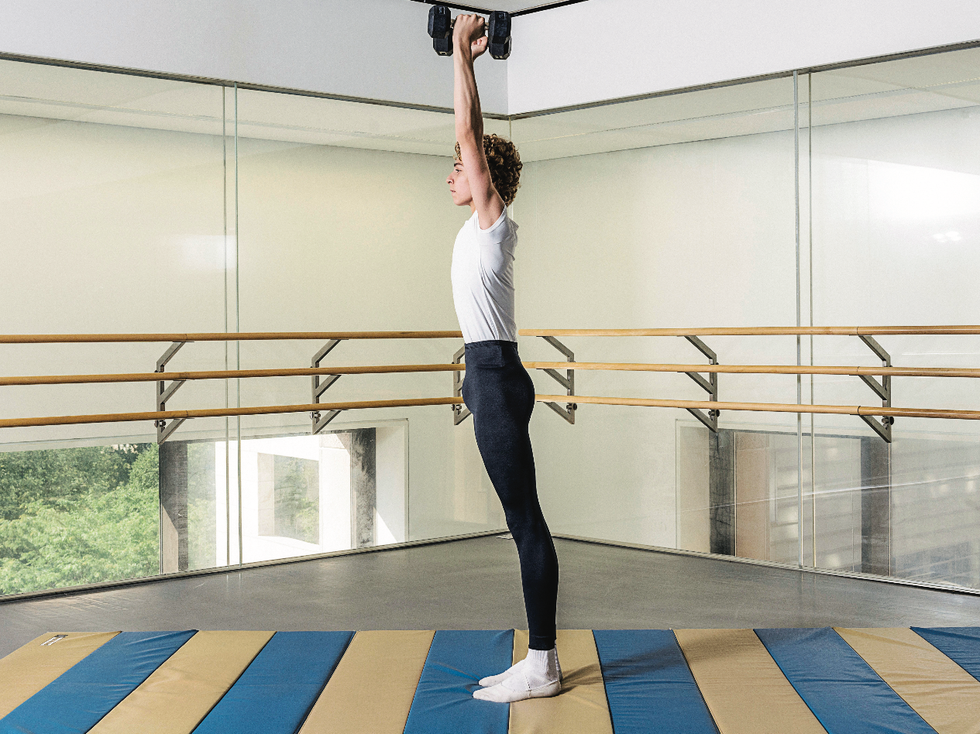 4. Straighten your arms for 8 reps, keeping your rib cage closed and spine aligned. Your hands should be slightly behind your head and your elbows should be in your peripheral vision.
A version of this story appeared in the November 2017 issue of Dance Spirit with the title "3...2...1... Liftoff."
(From left) Mean Girls dancers Riza Takahashi, Ben Cook, Kamille Upshaw, Jonalyn Saxer, DeMarius R. Copes, and Stephanie Lynn Bissonnette (photos by Erin Baiano)
Get in, losers. We're going to Broadway.
OK, not losers, actually—more like the bajillion die-hard fans of Tina Fey's 2004 cult hit Mean Girls, who've been wearing pink every Wednesday since a musical adaptation of the film was first teased back in 2013.
Now their world is like a cake filled with rainbows and smiles, because Mean Girls the musical, which had a trial run in Washington, DC, last fall, is set to open at Broadway's August Wilson Theatre April 8. And in a very grool twist, it turns out the show—with direction and choreography by Casey Nicholaw and a book by Fey herself—is delightfully dancey.
Keep reading...
Show less
Screenshot form YouTube
What do you get when a hoard of dancers collaborate to the catchy tune of "Love Somebody," by the band Frenship? The most epic dance party ever, of course! Said dance party was produced by the talented Michael Riccio, who's performed in feature films, including "Confessions of a Teenage Drama Queen" and "Shrek Forever After."
Keep reading...
Show less
Quiz
Dec. 11, 2017 04:24PM EST
Alicia Vikander in Tomb Raider (Warner Brothers)
Keep reading...
Show less
University of Minnesota Dance Team (courtesy University of Minnesota)
They say there's no "I" in "team"—and nowhere is that truer than the world of college dance teams, where precision reigns, uniformity is key, and a single misstep from any given "I" can cost a group a championship trophy. So it's unsurprising that securing a spot on one of the best dance teams in the country is no easy feat.
Members of these highly athletic teams rehearse for hours every week—on top of academic classes and commitments—and perform at football and basketball games, annual concerts, and nationally televised competitions (hi, ESPN). And "no I" rule notwithstanding, each of these top teams is made up of highly trained, highly technical, highly hard-core individuals, who come together to create a ready-for-victory pack.
These six teams aren't one-off success stories—they're consistently strong, and earn the top spots at major competitions like UDA and NDA nearly every year. Up for the challenge? Here's what to know before you go to auditions.
Keep reading...
Show less
Popular
Mar. 16, 2018 12:48PM EST
courtesy ADCC
Are you a high school senior who's been accepted to a four-year accredited college or university program? Congrats! Within the 2017-2018 season, have you competed in events run by at least two of the organizations in the above graphic? Double congrats, because the Association of Dance Conventions and Competitions, or ADCC for short, wants to give you $1,000 (!!) towards college tuition.
Keep reading...
Show less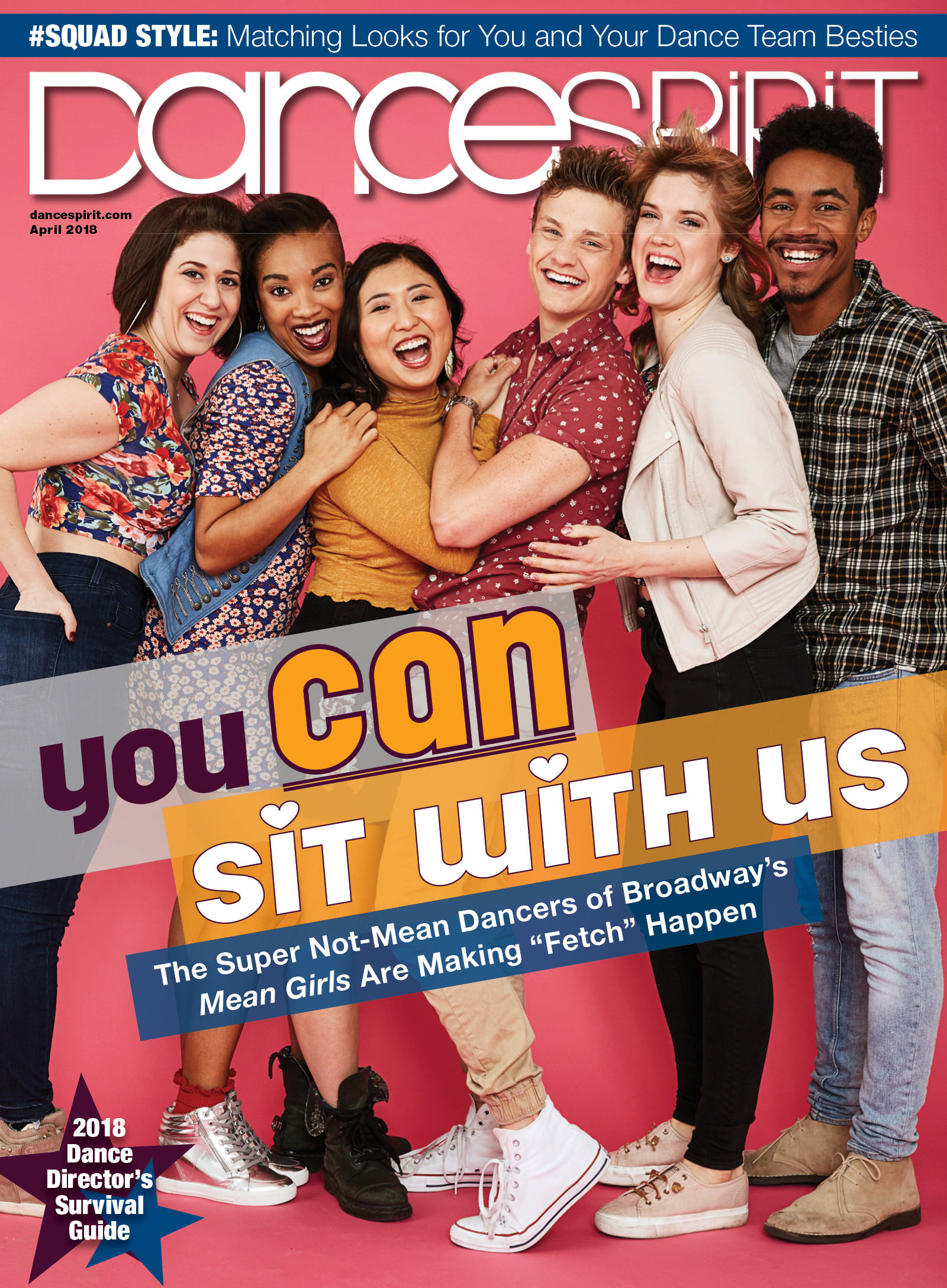 Get Dance Spirit in your inbox