Swap It Out: Comfort Food Edition
DS health and nutrition expert Caroline Lewis-Jones brings you tips for eating well during the winter months.
The weather is freezing each night when you drive home from rehearsal, so you're probably craving warm, wintery foods before you go to bed. But instead of high-calorie, fat-filled comfort foods, try these healthier versions that will bring the same satisfaction.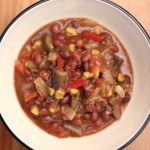 Instead of: Beef chili topped with sour cream, cheese and tortilla chips
Try: Vegetarian chili with beans and corn.
Beans are an excellent source of fiber and complex carbohydrates. If you want to add a meat protein, try some chopped rotisserie chicken or ground turkey breast, which have less saturated fat than beef. Use a scoop of plain low-fat Greek yogurt in place of sour cream, and add avocado for a healthy fat rather than cheese.
Instead of: A baked potato with butter, cheese and sour cream
Try: A baked potato with marinara sauce and steamed veggies on top
Marinara sauce is loaded with lycopene (which lowers your risk for cancer), and steamed veggies are a great source of antioxidants.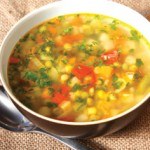 Instead of: Cream of potato or broccoli cheese soup
Try: Vegetable, miso or black bean soup
Broth-based soups are lower in calories and saturated fat than creamy soups.
Instead of: Cheesecake, pie or brownies
Try: A low-fat, low-calorie ice cream treat if you're craving something chocolaty. (Skinny Cow ice cream cones or soy ice cream with fresh or frozen berries on top are both good options.) Or just don't eat the crust.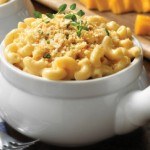 Instead of: Macaroni and cheese from a box
Try: Homemade mac and cheese with low-fat cheese, almond milk and an egg substitute like flax or chia seeds mixed with water. (For the equivalent of 2 eggs, boil 6 tablespoons water and 2 tablespoons flax or chia seeds. Stir a few times and let simmer.
Instead of: Pumpkin bread
Try: A piece of whole-grain bread, like
Ezekiel Bread by Food For Life, with pumpkin or apple butter on top.
Pumpkin bread can be full of sugar—you want bread that's high in fiber and made from sprouted grains.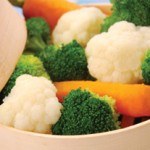 Instead of: Fried side dishes
Try: Steamed veggies or a baked sweet potato
Any time a food is fried, it's loaded with calories and saturated and trans fats.
Words to avoid:
crispy, fried, panko-crusted, creamy,
mayonnaise, gravy, buttered, pan-fried
Words to look for:
steamed, poached, grilled, sautéed, roasted, baked, broth-based
Caroline Says: Here are some of the most nutritious (and in-season) foods to eat this winter: pomegranates, apples, Brussels sprouts,
kiwifruits, leeks, oranges, beets and kale. Try my recipe for baked kale chips—they're delicious and healthy!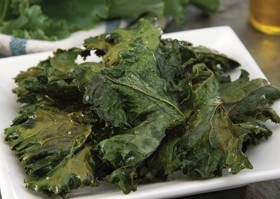 Kale Chips
Prep Time: 10 minutes
Cooking Time: 20 minutes
Ingredients:
•    1 to 2 bunches of kale
(a pre-cut bag from the grocery store works, too)
•    1 tablespoon extra virgin olive oil
•    sea salt and pepper to taste
Directions: Preheat your oven to 425 degrees. Remove the kale from its stalk, leaving the greens in large pieces, and put them in a zip-close bag. Pour the olive oil, salt and pepper into the bag and shake. Place the kale on a baking sheet and cook for about 20 minutes. Turn the kale over after 5 minutes and bake with the other side up. Do this a couple of times. Remove and serve.
via @phil_wright_ on Instagram
Well, this brings class videos to a whole new level! Choreographer Phil Wright and dancer Ashley Liai have been together eight-plus years, but she was still in total shock when he proposed to her mid-dance at Millennium Dance Complex earlier this week. Why? Well, the whole thing was unbelievably perfect.
Keep reading...
Show less
(Courtesy ABC)
In the dance industry, dancers don't always have a say in what they wear on their bodies. This can get tricky if you're asked to wear something that compromises your own personal values. So what should you do if you find yourself in this sticky situation? We sat down for a Q&A with "Dancing with the Stars" alumn Ashly Costa to answer that very question. Here's what she had to say about the options dancers have surrounding questionable costumes.
Keep reading...
Show less
Jul. 20, 2017 04:39PM EST
Erin Carpenter as a Knicks City Dancer (David Safran, courtesy of Erin Carpenter)
The groundwork for Erin Carpenter's company, Nude Barre, began when she was a teenager. At 16, she earned a spot in the residency program at The Kennedy Center in partnership with Dance Theatre of Harlem. "We were required to wear nude—as in, our actual skin tone—tights and shoes," she remembers. Carpenter brought her "sun tan" tights and a pair of pink ballet shoes with her, because that was all she could find. But she wasn't allowed in class because her dancewear didn't match her skin. "I was so embarrassed," she says. "I looked unprepared. I just didn't have the right nudes." Her teacher explained that the dancers dyed their tights and pancaked their shoes.
Keep reading...
Show less


Get Dance Spirit in your inbox