"SYTYCD" Celebrates Mamma Mia Michaels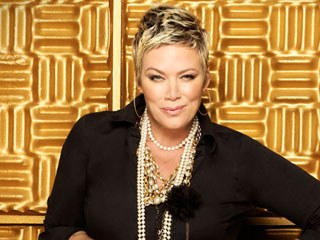 I'm guessing most of you are already pretty psyched to watch "So You Think You Can Dance" tonight, seeing as the show has been off the air for the past two weeks in deference to the Olympics. But there's another reason to get excited: Tonight's episode will also be a special tribute to the one, the only, Mia Michaels.
What would "SYTYCD" be without Mamma Mia? Many talented choreographers have earned national fame thanks to the show, but it was Michaels (along with Wade Robson—come back, Wade!) who took the limited "SYTYCD" format and stretched it into something much bigger, something truly significant (and, frequently, something Emmy-worthy). Her pieces bring out the best in the "SYTYCD" dancers, who describe working with her as a transformational experience. Mia's been off doing some very impressive things recently—starring in Step Up Revolution and making moves for Tom Cruise, to name just a couple—but here's hoping she never gets too busy for "SYTYCD." I think a lot of us will always consider it her home.
Tonight we'll see a new group number, choreographed by Michaels, of course. Then the Top 14 will perform seven of her classic routines from past seasons. If you'd like to refresh your memory before the show—or if you just want to watch some beautiful dance—here are the memorable Mia pieces that'll be revived tonight. Enjoy!
"Time"
Lacey & Neil
Season 3
"Hometown Glory"
Katee & Joshua
Season 4
"Mercy," aka "The Door Piece"

Katee & Twitch
Season 4
"Dreaming with a Broken Heart," aka "The Bed Piece"

Kherington & Twitch
Season 4
"Calling You," aka "The Bench Piece"
Travis & Heidi
Season 2
"Gravity," aka "The Addiction Piece"

Kayla & Kupono
Season 5
"Koop Island Blues," aka "The Butt Piece"

Randi & Evan
Season 5
Erin Carpenter as a Knicks City Dancer (David Safran, courtesy of Erin Carpenter)
The groundwork for Erin Carpenter's company, Nude Barre, began when she was a teenager. At 16, she earned a spot in the residency program at The Kennedy Center in partnership with Dance Theatre of Harlem. "We were required to wear nude—as in, our actual skin tone—tights and shoes," she remembers. Carpenter brought her "sun tan" tights and a pair of pink ballet shoes with her, because that was all she could find. But she wasn't allowed in class because her dancewear didn't match her skin. "I was so embarrassed," she says. "I looked unprepared. I just didn't have the right nudes." Her teacher explained that the dancers dyed their tights and pancaked their shoes.
Keep reading...
Show less
Via @whitneybugs on Instagram
There are dancers and then there are DANCERS! Whitney Jensen, soloist at Norwegian National Ballet, is the latter. The former Boston Ballet principal can do it all. From contemporary to the classics this prima has the technical talent most bunheads dream about. Need proof? Look no further.
Keep reading...
Show less
Jul. 19, 2017 04:53PM EST
Via YouTube
Luis Fonsi and Daddy Yankee's dance inducing hit, "Despacito," is so catchy it should probably come with a disclaimer that warns people of an uncontrollable itch to tap your feet or bob your head. Some might even feel inclined to go all out and break it down. Niana Guerrero is a prime example of "Despacito's" uncanny ability to unleash the red dressed emoji dancer within. 💃🏽 💃🏽
Keep reading...
Show less
Jul. 19, 2017 04:25PM EST
(courtesy NBC)
Guys, we all knew this was coming—"World of Dance" was eventually going to eliminate someone. But man, is it brutal to watch these talented dancers give their all, only to be sent home. It's the name of the game, though, and after last night's episode, only two dancers per division remain. (At least Misty Copeland guest-judging was a silver lining!) Here's what went down last night:
Keep reading...
Show less


Get Dance Spirit in your inbox