"SYTYCD" Celebrates Mamma Mia Michaels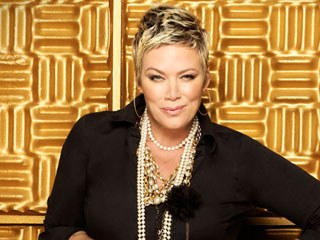 I'm guessing most of you are already pretty psyched to watch "So You Think You Can Dance" tonight, seeing as the show has been off the air for the past two weeks in deference to the Olympics. But there's another reason to get excited: Tonight's episode will also be a special tribute to the one, the only, Mia Michaels.
What would "SYTYCD" be without Mamma Mia? Many talented choreographers have earned national fame thanks to the show, but it was Michaels (along with Wade Robson—come back, Wade!) who took the limited "SYTYCD" format and stretched it into something much bigger, something truly significant (and, frequently, something Emmy-worthy). Her pieces bring out the best in the "SYTYCD" dancers, who describe working with her as a transformational experience. Mia's been off doing some very impressive things recently—starring in Step Up Revolution and making moves for Tom Cruise, to name just a couple—but here's hoping she never gets too busy for "SYTYCD." I think a lot of us will always consider it her home.
Tonight we'll see a new group number, choreographed by Michaels, of course. Then the Top 14 will perform seven of her classic routines from past seasons. If you'd like to refresh your memory before the show—or if you just want to watch some beautiful dance—here are the memorable Mia pieces that'll be revived tonight. Enjoy!
"Time"
Lacey & Neil
Season 3
"Hometown Glory"
Katee & Joshua
Season 4
"Mercy," aka "The Door Piece"

Katee & Twitch
Season 4
"Dreaming with a Broken Heart," aka "The Bed Piece"

Kherington & Twitch
Season 4
"Calling You," aka "The Bench Piece"
Travis & Heidi
Season 2
"Gravity," aka "The Addiction Piece"

Kayla & Kupono
Season 5
"Koop Island Blues," aka "The Butt Piece"

Randi & Evan
Season 5
Jun. 15, 2017 02:00PM EST
From left: Haley Hartsfield, Kaylin Maggard, and Michelle Quiner (photos by Erin Baiano)
Congratulations to Dance Spirit's 2017 Cover Model Search finalists: Haley Hartsfield, Kaylin Maggard and Michelle Quiner! One of them will win a spot on Dance Spirit's October 2016 cover. Learn more about the dancers on their profile pages, and then vote for your favorite below.
We also want you to get social! We'll be factoring social media likes and shares into our final tallies. Be sure to show your favorite finalist some love on Facebook, Instagram, and Twitter, sharing their profile pages and using the hashtag #DanceSpiritCMS.
Keep reading...
Show less
via YouTube
...This clip, "'Hamilton' Choreographer Breaks Down His Moves," popped up on my YouTube recommended list. I mean, I could watch Hamilton's dance wizard Andy Blankenbuehler talk about anything. Have you read our interview with him back when he was making the moves for Bandstand? The guy is freaking fascinating.
Keep reading...
Show less
Jun. 23, 2017 03:57PM EST
via YouTube
Great contemporary choreographers and soulful singer-songwriters have always made for a perfect match. That's why we were thrilled when we found out "SYTYCD" and "Dance Moms" choreographer Kristin McQuaid created the music video for "Light the Sky," a hit single from "America's Got Talent" winner Grace VanderWaal.
Keep reading...
Show less


Get Dance Spirit in your inbox