"SYTYCD: The Next Generation" Season 13 Recap: The Top 9 Perform
And then there were eight...
Last night, the Top 9 contestants performed and, like during the first live show, they were again paired with their All-Stars to perform routines in their own styles. But by the end of the episode, we were down to eight contestants. These eliminations are heartbreaking. But we'll get to that. First, let's talk about our five favorite moments from last night's show.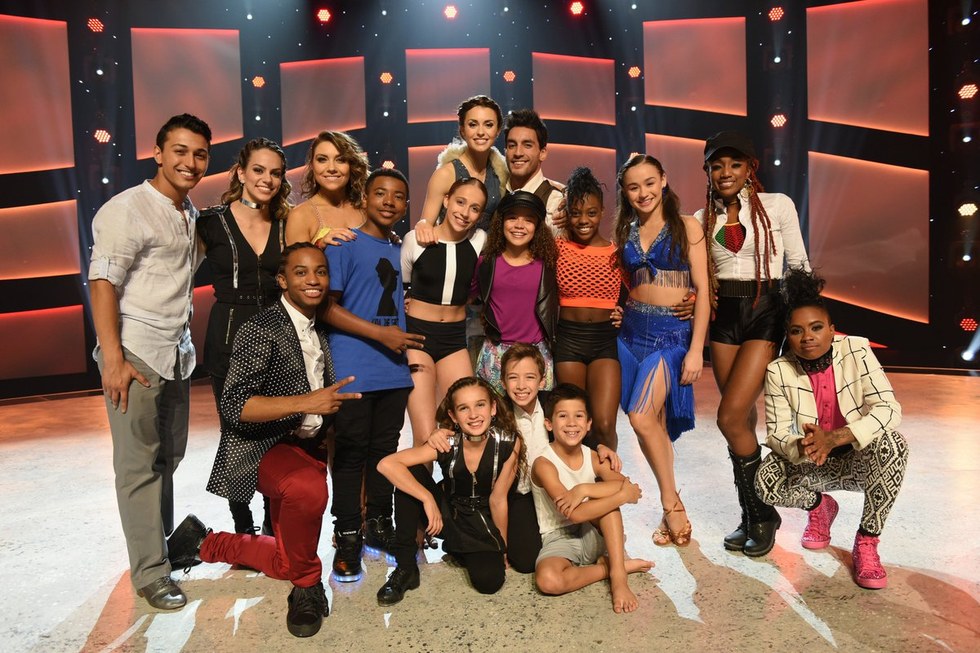 (Photo via FOX)
1. Tate and Kathryn's contemporary routine
These two. What more can we say? They're consistently incredible, no matter their choreography. Brian Friedman gave them a lovely piece (We're happy you're here, Brian!), and the glam squad gave them incredible crown braids. One complaint? All that fog! We want to see Tate and Kathryn's feet and legs—not torsos floating on a foggy stage! It was too distracting and took away from an otherwise #flawless performance.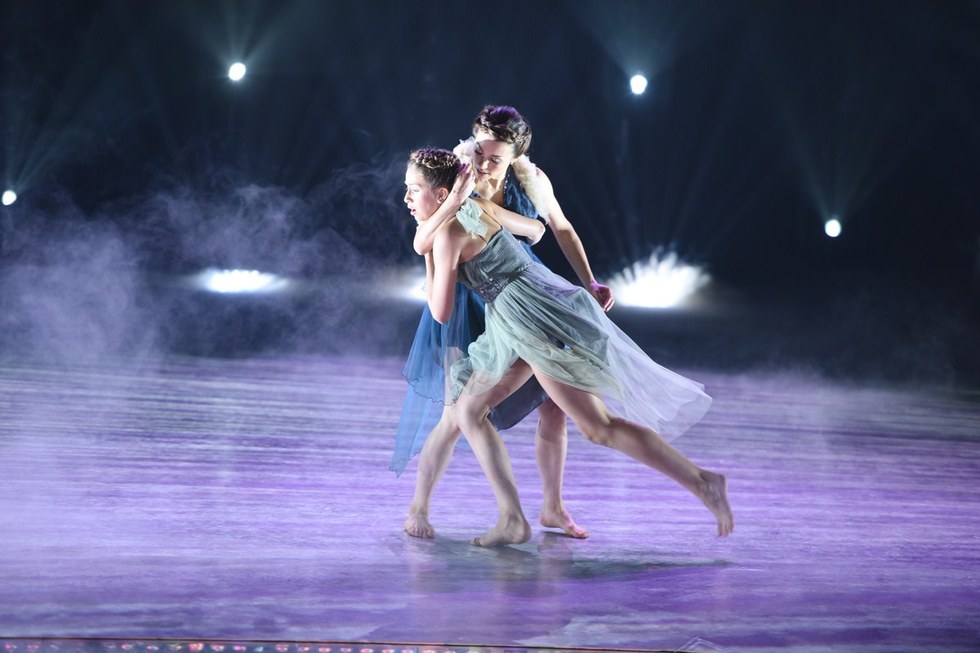 (Photo via FOX)
2. Kida and Fik-Shun's hip-hop piece
Thank you, Dave Scott, for giving these two such fun, awesomely conceptual choreography. Kida—as a ventriloquist dummy—was amazing. These two are awesome individually, but together they're a total dream team. Kida is such an entertainer, and we were happy Nigel disagreed with Jason's feedback about him needing to smile more. Nigel called them "the perfect pairing," and we're entirely on board with that.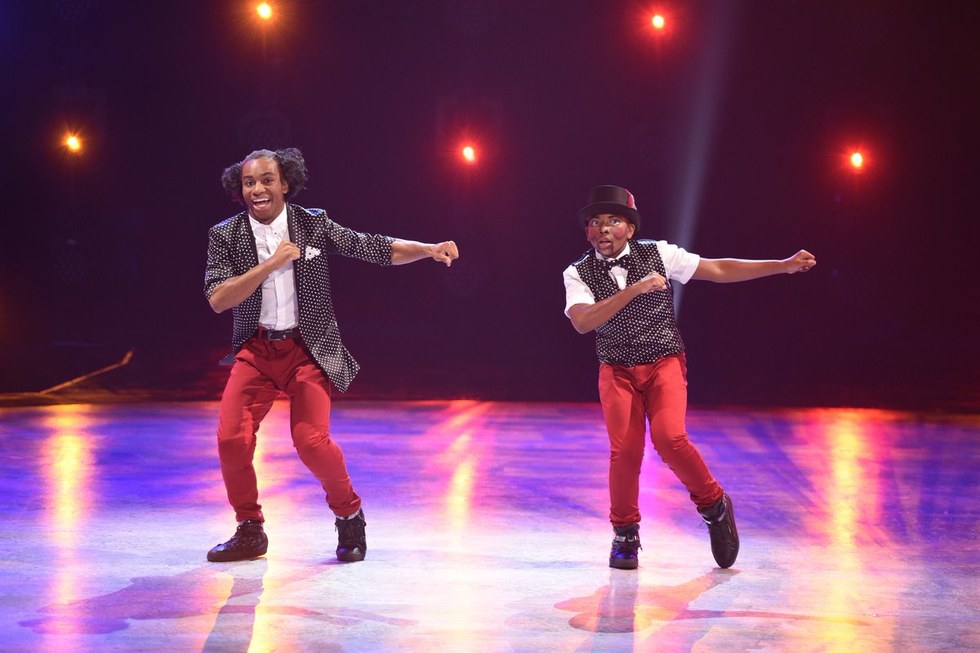 (Photo via FOX)
3. Jaci Royal's group routine
Tate's developpé gave us life, Tahani's commitment to the routine was on point, and Jordan's headspring convinced us that we, too, could master that tricky move. In other words? The girls dominated this contestants-only piece. (Again, with the fog though! Make it stop!)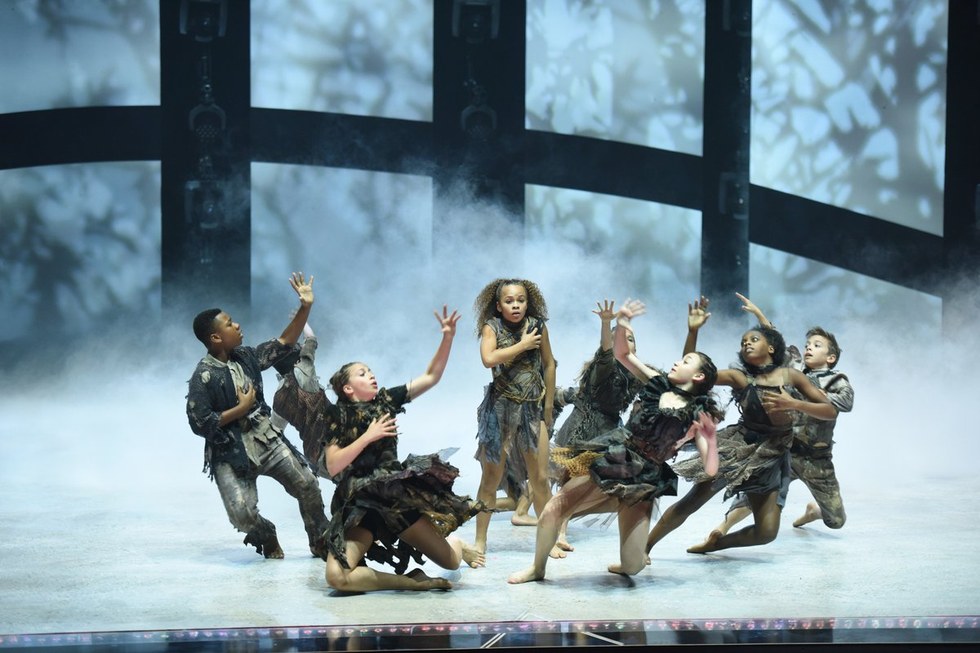 (Photo via FOX)
4. Travis Wall's All-Star group routine
Is "Send In the Clowns" ever not the saddest song in the world? This piece can be summed up in two words: Kathryn McCormick. She had the featured role in this Travis Wall routine and she nailed it. She was so committed to her character, and the entire piece was sad and moving and beautiful. Travis Wall. Keep it up.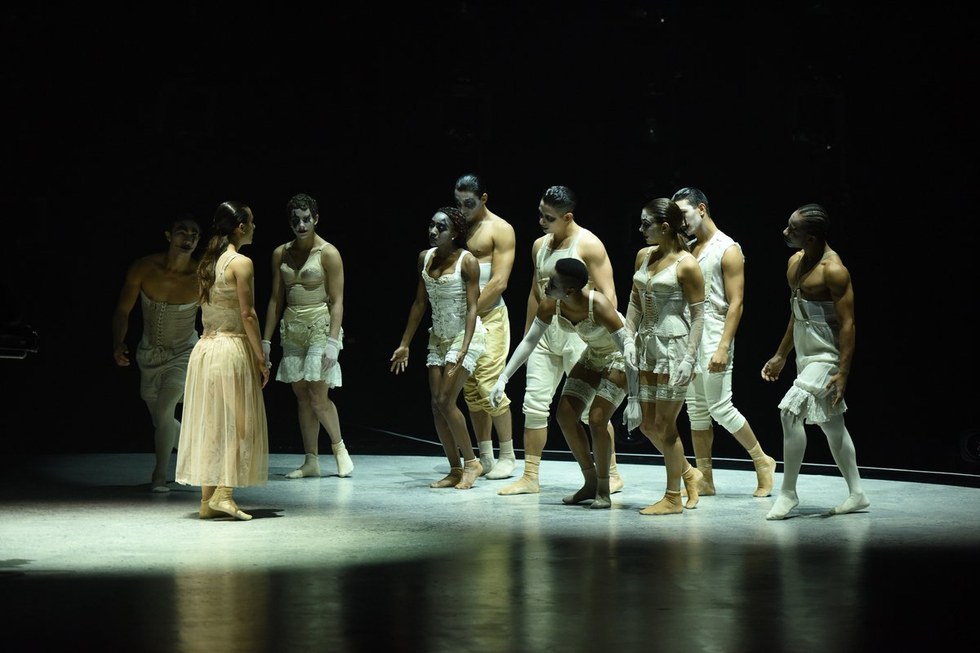 (Photo via FOX)
5. J.T. and Robert's duet
Speaking of Travis Wall, he created a beautiful contemporary routine for this too-cute pair. It was all about Robert looking through a mirror and seeing himself when he was younger—fitting, really, since J.T. totally looks like a mini-Robert. The mirror prop was simple, but very effective—and at the end it turned into a real mirror! How did they do that?! Travis, tell us your wizard-y secrets. You're brilliant. Each week, J.T. continues to prove that he's more than just a cute kid. He is cute, but he's also a fierce competitor on this show. Nigel even said that J.T. and Robert are his favorite couple.
As for the eliminations? "This is the part of the show that sucks for all of us," Nigel said, verbalizing what we were all thinking. Ultimately, Ruby and Sheaden found themselves in the bottom two spots, and the judges chose to save Ruby. Sheaden, buddy, you had a great run, and we loved watching you. You remind us of a young Keone Madrid, so keep doing what you do, and your future is so very bright.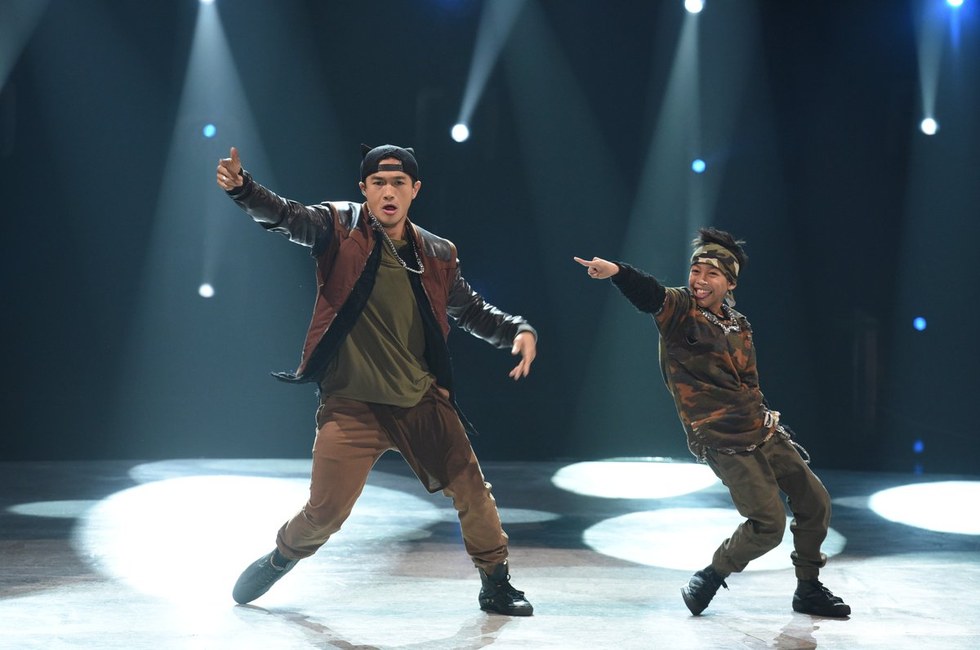 Bye, buddy. (Photo via FOX)
Other highlights: Cat Deeley's fringe dress (want. need.), Brian Friedman's fun, high-energy opening number to Megan Trainor's "Me Too" and Jordan's killer solo.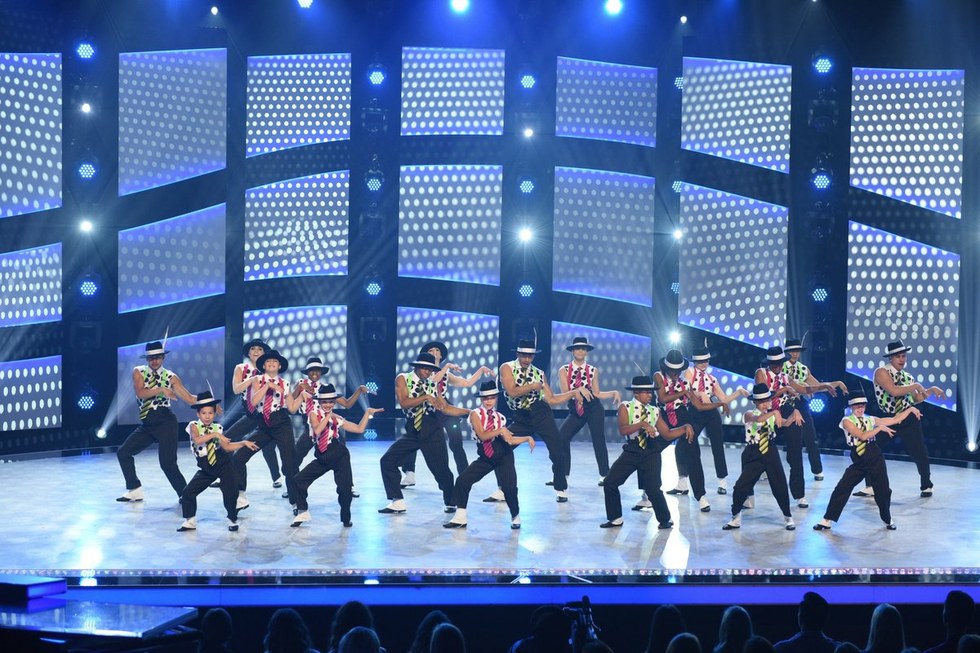 (Photo via FOX)
Quote of the night: "The only wall that should be shared between Canada and the United States is Travis Wall." —Tate McRae
See you next week for more great dancing and tearful eliminations!
Kalani Hilliker made "Dance Moms" fans sit up a little straighter when she first appeared on "Abby's Ultimate Dance Competition" back in 2013. The then–12-year-old ballerina had charisma, she had sass—and, wow, did she have technique! Abby Lee Miller, the show's infamous host, saw Kalani's star potential from the start, saving her from elimination and ultimately inviting her to perform alongside Maddie Ziegler on Season 4 of "Dance Moms." "I was never supposed to be on 'Dance Moms' beyond that one performance," says Kalani, now 16, but she ended up staying on the show for the whole season—and the following three. "It was my first time, but not my last time, causing drama. And it was also the first time I got to meet the other dancers, who have become like sisters."
Keep reading...
Show less
The Top 9 in a Chris Baldock routine (Adam Rose/FOX)
Before we get into this week's recap, let's all show some love for Travis Wall, who had a day yesterday. Just hours before "So You Think You Can Dance" was set to air, Wall was at Disneyland (with friend and "Modern Family" star and aspiring Shaping Sound member Jesse Tyler Ferguson, NBD), where he found himself at a bit of a standstill—literally. "Not gonna be able to make 'So You Think' tonight...because I'm stuck on Indiana Jones," Wall shared on Instagram yesterday afternoon.
But hooray! He eventually did get off the stalled ride, and was in the audience alongside Mandy Moore. We're glad you made it, Travis!
On to the show:
This week, the Top 9 performed solos and duets with their All Stars. You know the drill. As always, we'll skip the solos and get right to the good stuff. (Though the solos were, like last week, so good.) Here's how it all went down.
Keep reading...
Show less
Michael J. Moore Photography (Courtesy Stacey Tookey)
To say that three-time-Emmy-nominated choreographer and dancer Stacey Tookey is in demand is an understatement. One glance at her resumé says it all: She's worked with artists like Celine Dion, Justin Timberlake, and Michael Bublé; performed with R.A.W. (Mia Michaels' dance company), Parsons Dance Project, and Ballet British Columbia; choreographed viral music videos like Christina Perri's "Jar of Hearts" and Ingrid Michaelson's recent "Celebrate"; presented full-length works for Los Angeles Ballet and Cincinnati Ballet; and formed her own contemporary company, STILL MOTION. She's currently marking her 10th season choreographing for and judging on "So You Think You Can Dance," which is where she racked up those Emmy noms.
Keep reading...
Show less
Tulle is the common thread (or should we say fabric?) that has woven its way through the course of Janay Robison's life: She's handled the delicate netting in one way or another since the age of 7. Once a soloist on her university's ballet company, she's now an emerging designer in the wedding dress industry, and has seamlessly transitioned from tutus to big-day gowns.
Robison is currently one of Utah's leading ladies in fashion. She launched Utah Fashion Week, an event that has grown to incorporate over 50 local designers and hundreds of models, make-up artists, and hair stylists, in 2014, and has had her gowns featured in several magazines. But she's found ways to pay homage to her past life as a dancer—and to use her dance knowledge in her new business. From her work ethic to her designs, Robison says ballet has given her a solid foundation from which to launch a successful wedding dress line. Check out our interview with this talented artist, and discover how she's combined her passion for dance and her love of fashion.
Keep reading...
Show less


Get Dance Spirit in your inbox