"SYTYCD: The Next Generation" Season 13 Recap: The Top 9 Perform
And then there were eight...
Last night, the Top 9 contestants performed and, like during the first live show, they were again paired with their All-Stars to perform routines in their own styles. But by the end of the episode, we were down to eight contestants. These eliminations are heartbreaking. But we'll get to that. First, let's talk about our five favorite moments from last night's show.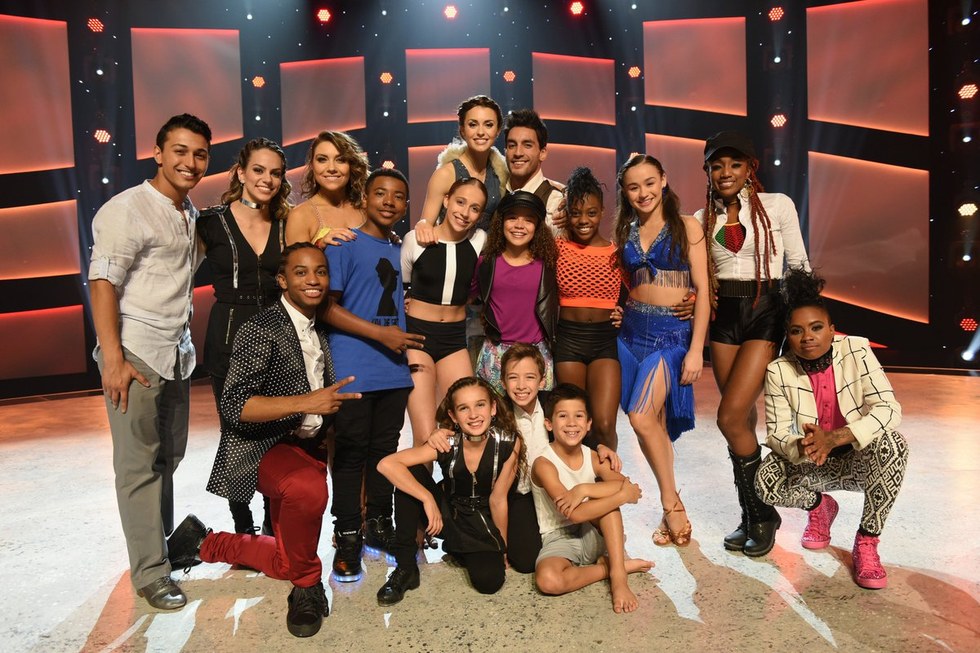 (Photo via FOX)
1. Tate and Kathryn's contemporary routine
These two. What more can we say? They're consistently incredible, no matter their choreography. Brian Friedman gave them a lovely piece (We're happy you're here, Brian!), and the glam squad gave them incredible crown braids. One complaint? All that fog! We want to see Tate and Kathryn's feet and legs—not torsos floating on a foggy stage! It was too distracting and took away from an otherwise #flawless performance.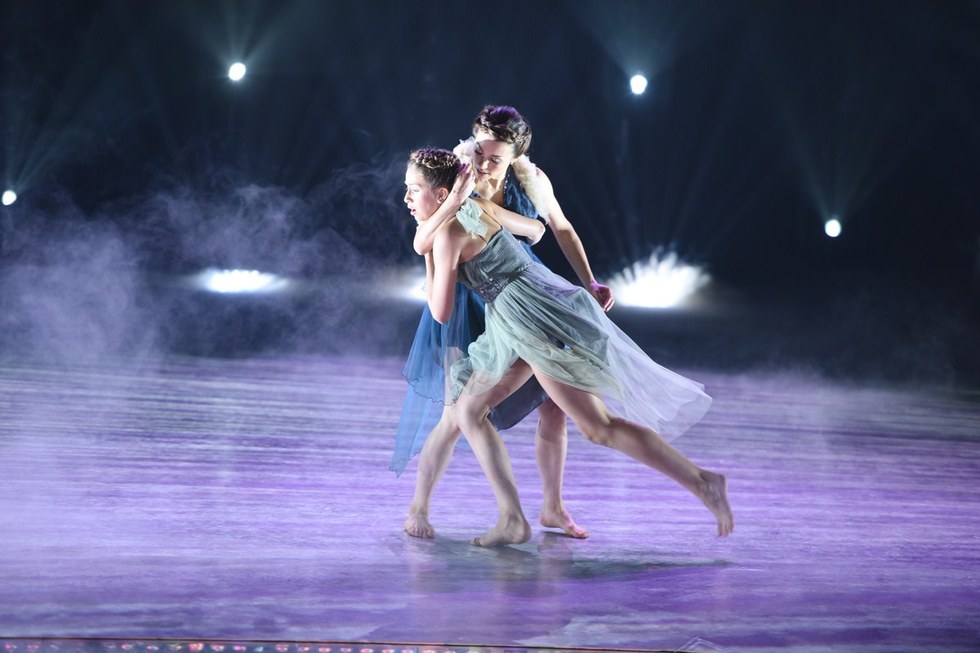 (Photo via FOX)
2. Kida and Fik-Shun's hip-hop piece
Thank you, Dave Scott, for giving these two such fun, awesomely conceptual choreography. Kida—as a ventriloquist dummy—was amazing. These two are awesome individually, but together they're a total dream team. Kida is such an entertainer, and we were happy Nigel disagreed with Jason's feedback about him needing to smile more. Nigel called them "the perfect pairing," and we're entirely on board with that.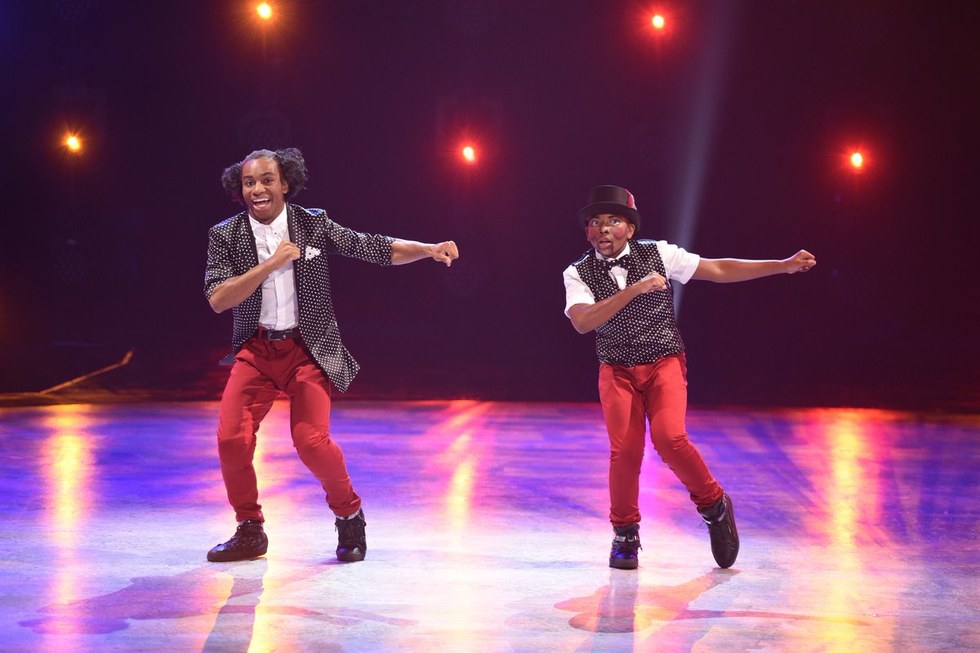 (Photo via FOX)
3. Jaci Royal's group routine
Tate's developpé gave us life, Tahani's commitment to the routine was on point, and Jordan's headspring convinced us that we, too, could master that tricky move. In other words? The girls dominated this contestants-only piece. (Again, with the fog though! Make it stop!)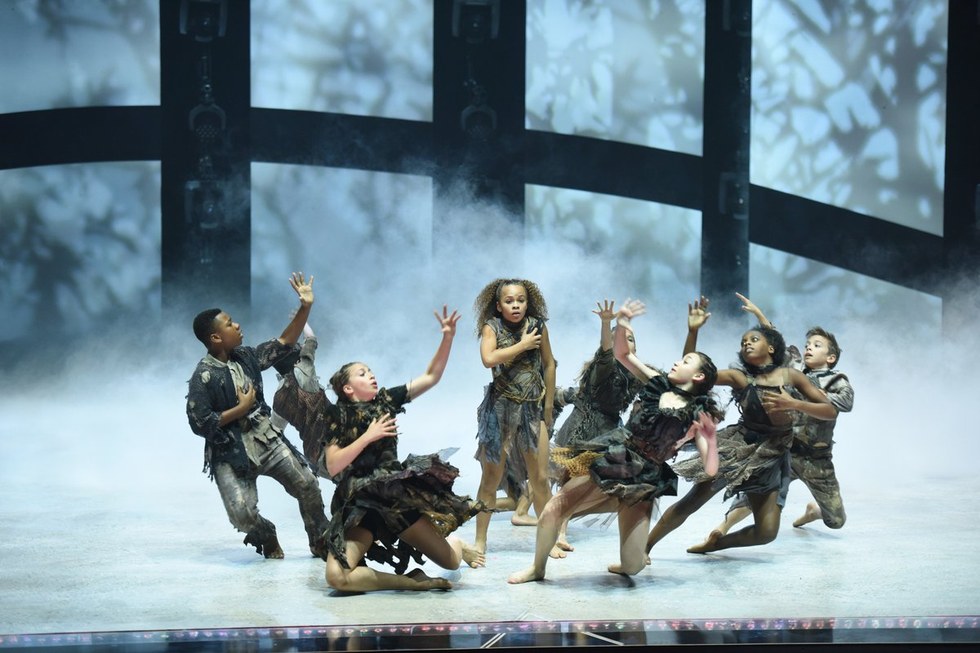 (Photo via FOX)
4. Travis Wall's All-Star group routine
Is "Send In the Clowns" ever not the saddest song in the world? This piece can be summed up in two words: Kathryn McCormick. She had the featured role in this Travis Wall routine and she nailed it. She was so committed to her character, and the entire piece was sad and moving and beautiful. Travis Wall. Keep it up.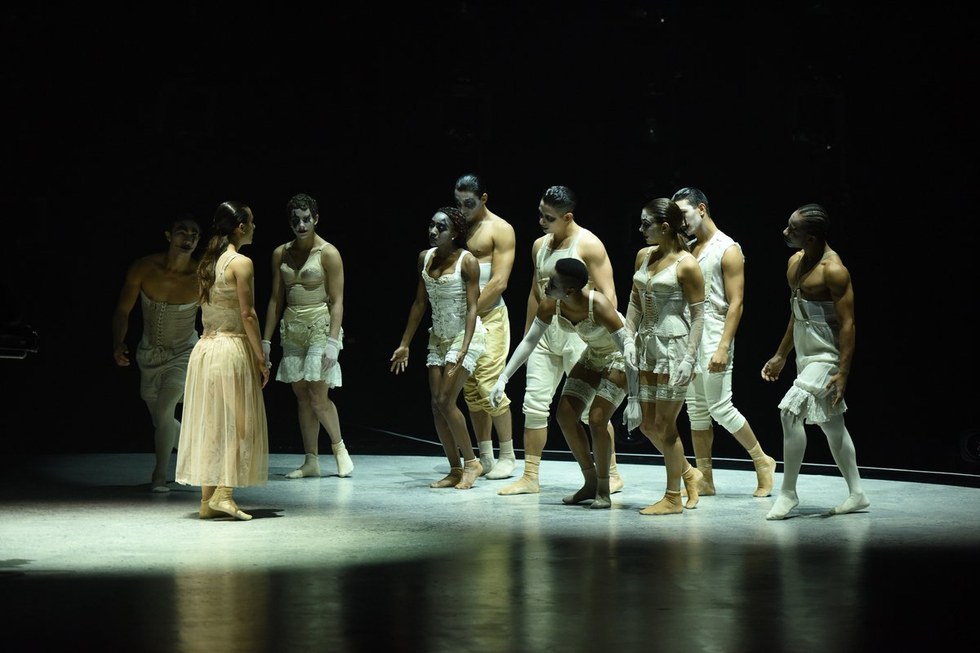 (Photo via FOX)
5. J.T. and Robert's duet
Speaking of Travis Wall, he created a beautiful contemporary routine for this too-cute pair. It was all about Robert looking through a mirror and seeing himself when he was younger—fitting, really, since J.T. totally looks like a mini-Robert. The mirror prop was simple, but very effective—and at the end it turned into a real mirror! How did they do that?! Travis, tell us your wizard-y secrets. You're brilliant. Each week, J.T. continues to prove that he's more than just a cute kid. He is cute, but he's also a fierce competitor on this show. Nigel even said that J.T. and Robert are his favorite couple.
As for the eliminations? "This is the part of the show that sucks for all of us," Nigel said, verbalizing what we were all thinking. Ultimately, Ruby and Sheaden found themselves in the bottom two spots, and the judges chose to save Ruby. Sheaden, buddy, you had a great run, and we loved watching you. You remind us of a young Keone Madrid, so keep doing what you do, and your future is so very bright.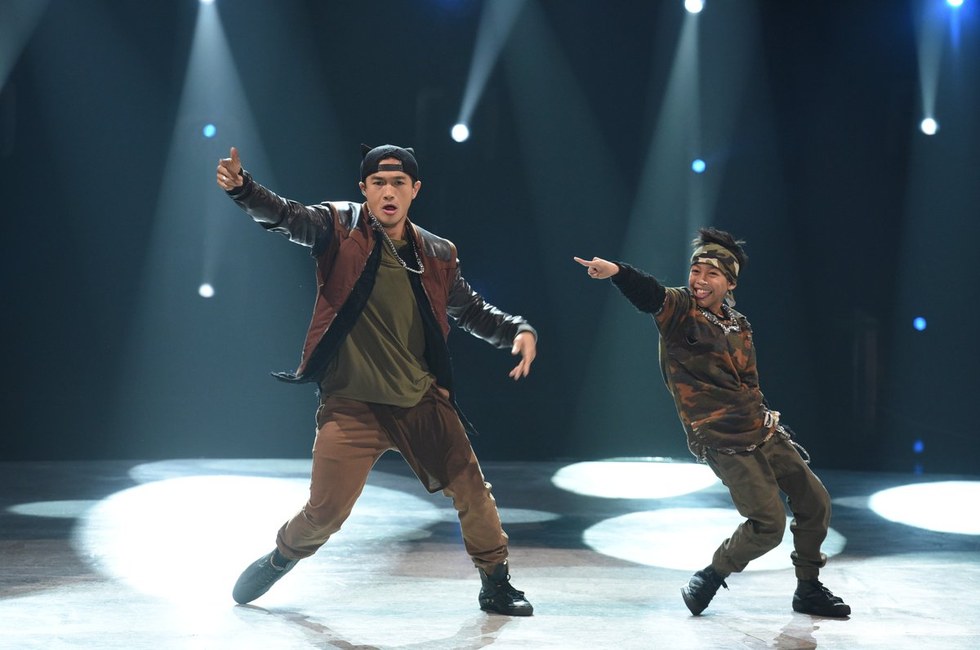 Bye, buddy. (Photo via FOX)
Other highlights: Cat Deeley's fringe dress (want. need.), Brian Friedman's fun, high-energy opening number to Megan Trainor's "Me Too" and Jordan's killer solo.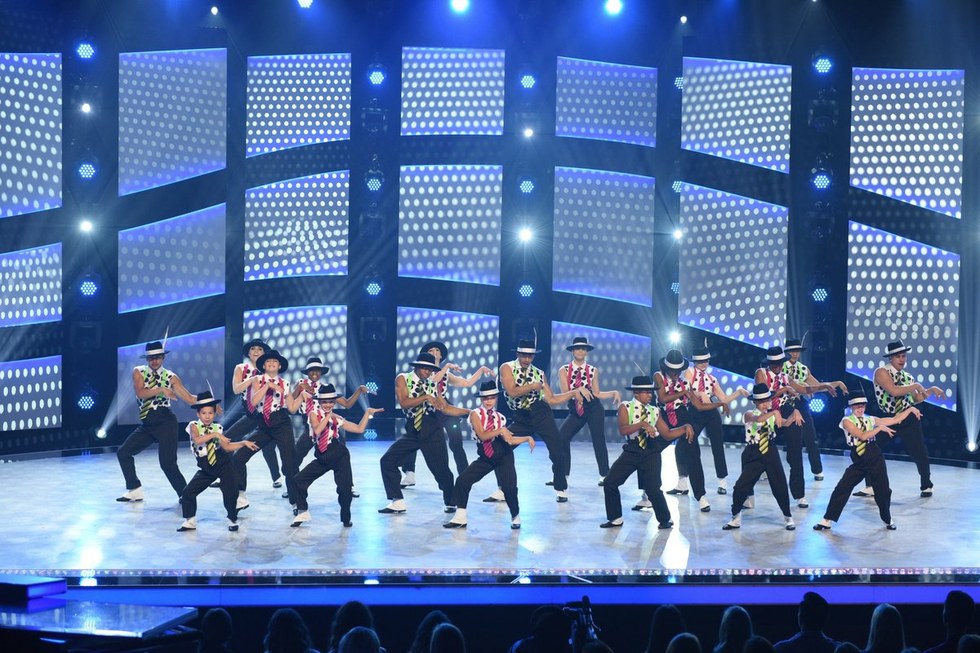 (Photo via FOX)
Quote of the night: "The only wall that should be shared between Canada and the United States is Travis Wall." —Tate McRae
See you next week for more great dancing and tearful eliminations!
(From left) Mean Girls dancers Riza Takahashi, Ben Cook, Kamille Upshaw, Jonalyn Saxer, DeMarius R. Copes, and Stephanie Lynn Bissonnette (photos by Erin Baiano)
Get in, losers. We're going to Broadway.
OK, not losers, actually—more like the bajillion die-hard fans of Tina Fey's 2004 cult hit Mean Girls, who've been wearing pink every Wednesday since a musical adaptation of the film was first teased back in 2013.
Now their world is like a cake filled with rainbows and smiles, because Mean Girls the musical, which had a trial run in Washington, DC, last fall, is set to open at Broadway's August Wilson Theatre April 8. And in a very grool twist, it turns out the show—with direction and choreography by Casey Nicholaw and a book by Fey herself—is delightfully dancey.
Keep reading...
Show less
(From left) Val Chmerkovskiy, Peta Murgatroyd, and Maksim Chmerkovskiy (Jerry Metellus, courtesy Nicola Phillips)
Keep reading...
Show less
Quiz
Dec. 11, 2017 04:24PM EST
Alicia Vikander in Tomb Raider (Warner Brothers)
Keep reading...
Show less
Screenshot form YouTube
What do you get when a hoard of dancers collaborate to the catchy tune of "Love Somebody," by the band Frenship? The most epic dance party ever, of course! Said dance party was produced by the talented Michael Riccio, who's performed in feature films, including "Confessions of a Teenage Drama Queen" and "Shrek Forever After."
Keep reading...
Show less
University of Minnesota Dance Team (courtesy University of Minnesota)
They say there's no "I" in "team"—and nowhere is that truer than the world of college dance teams, where precision reigns, uniformity is key, and a single misstep from any given "I" can cost a group a championship trophy. So it's unsurprising that securing a spot on one of the best dance teams in the country is no easy feat.
Members of these highly athletic teams rehearse for hours every week—on top of academic classes and commitments—and perform at football and basketball games, annual concerts, and nationally televised competitions (hi, ESPN). And "no I" rule notwithstanding, each of these top teams is made up of highly trained, highly technical, highly hard-core individuals, who come together to create a ready-for-victory pack.
These six teams aren't one-off success stories—they're consistently strong, and earn the top spots at major competitions like UDA and NDA nearly every year. Up for the challenge? Here's what to know before you go to auditions.
Keep reading...
Show less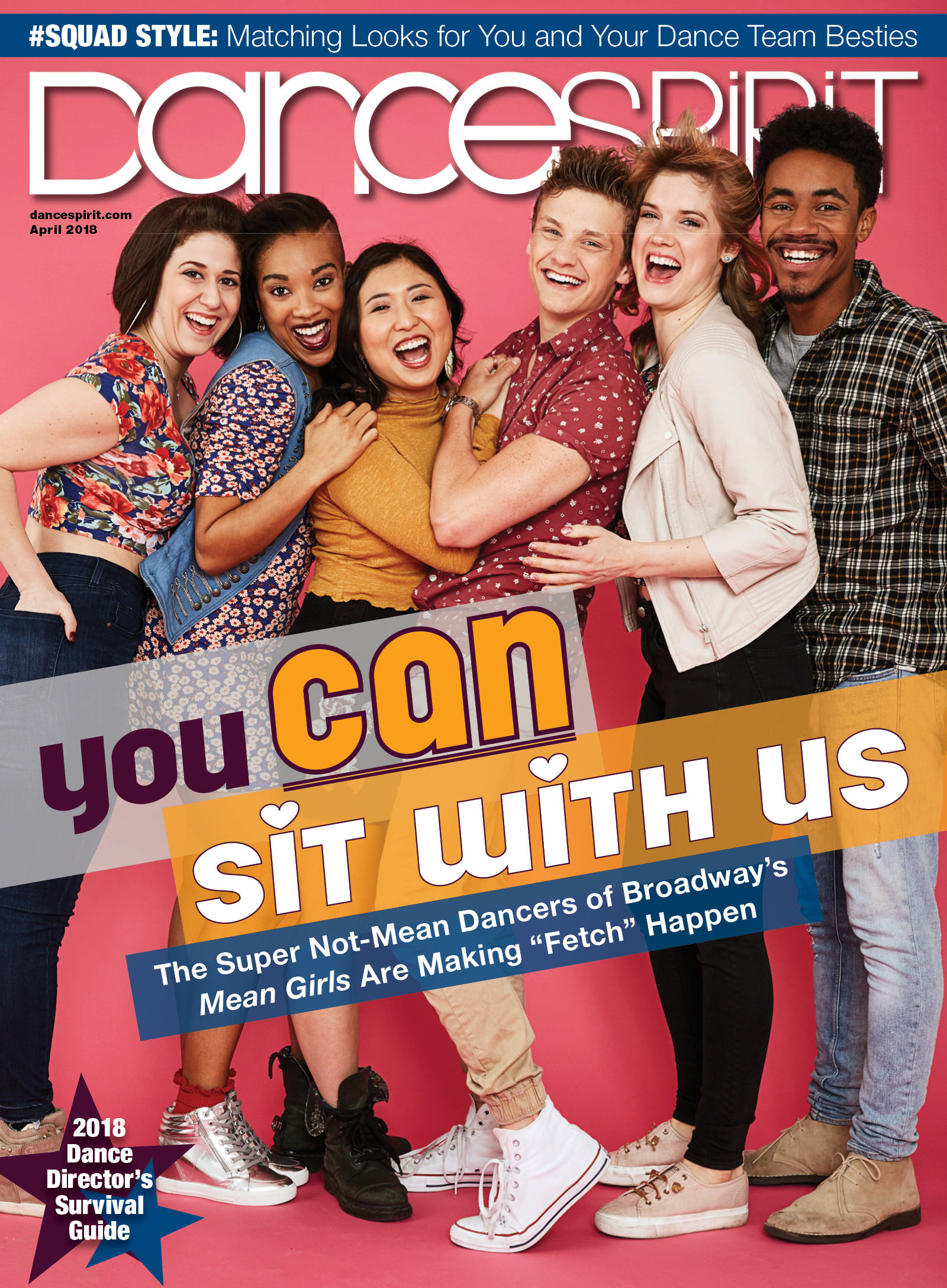 Get Dance Spirit in your inbox