"SYTYCD" Season 9: Meet the Top 20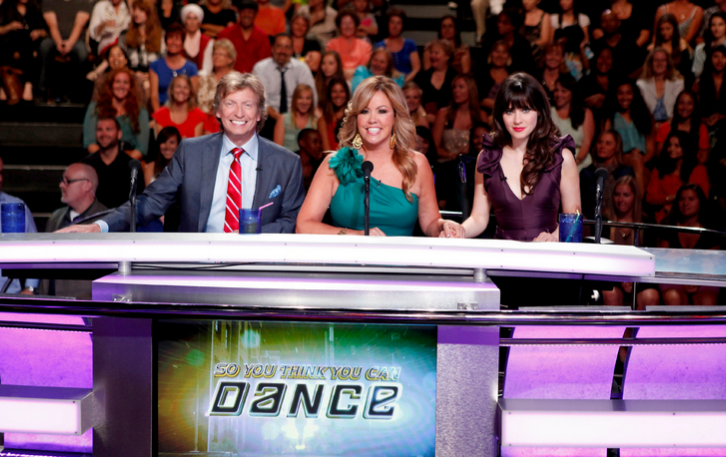 After a grueling Vegas Week filled with tears, lectures and heartache, the final group of dancers (an insanely talented bunch!) headed to Hollywood to walk the famed Green Mile and learn whether they would snag a spot in the "So You Think You Can Dance" Season 9 Top 20. Like always, the announcements were brimming with drama and suspense. And the judges were up to all of their old tricks: The pitting-best-friends-against-each-other trick (but, surprise! They took them both!), the you-really-weren't-good-enough-but-we'll-take you-anyway trick and, of course, the no-explanation (Kaitlynn Edgar, whaaat?!) dismissal.
So without further ado, meet your Season 9 Top 20!
Alexa Anderson, 19, Contemporary
Amber Jackson, 21, Contemporary
Amelia Lowe, 18, Contemporary
Audrey Case, 18, Jazz
Brandon Mitchell, 27, Stepping
Cheyon Wespi-Tschopp, 23, Ballet
Cole Horibe, 26, Martial Arts Fusion
Cyrus "Glitch" Spencer, 22, Animation
Daniel Baker, 24, Ballet
Dareian "Dare" Kujawa, 20, Contemporary
Eliana Girard, 21, Contemporary Ballet & aerialist
George Lawrence II, 19, Contemporary
Janaya French, 20, Lyrical Contemporary
Janelle Issis, 24, Belly Dancing
Lindsay Arnold, 18, Latin Ballroom
Matthew Kazmierczak, 21, Contemporary
Nick Bloxsom-Carter, 20, Ballroom
Tiffany Maher, 19, Jazz
Will Thomas, 19, Contemporary
Witney Carson, 18, Latin Ballroom
Now onto the best part of the night—the performances. Here are our Top 5 moments:
5. Eliana, Daniel and Cheyon's contemporary ballet piece. We couldn't have been happier to have a contemporary ballet number kicking off the season. Complexions Contemporary Ballet artistic directors Dwight Rhoden and Desmond Richardson choreographed an edgy, technical piece and the boys absolutely killed. While Eliana definitely gave a valiant effort, she had a few technical issues. But we have to give her credit, we can't imagine dancing in pointe shoes on that stage. [Side note: We swear Eliana and Lauren Gottlieb could be twins. They look so similar.]
4. Travis Wall's Top 10 girls routine. While we absolutely adore Travis, this wasn't our favorite piece he's ever done (the idea felt a bit unoriginal). That said, the performance was jaw-dropping. The girls were technically flawless and their precision and timing was perfect. Each girl was 100 percent full-out and dancing for her life. It. Was. Awesome.
3. Sonya Tayeh's Top 10 boys routine. We can't say we were as impressed with the boys as a whole as we were with the girls, but holy cow, Sonya—you rocked our world last night! The male-male partnering and strong masculine choreography were stunning. It was a bit underrehearsed and those maternity pants (as Nigel called them) were heinous, but that didn't stop us from loving the choreography.
2. Mia Michaels' Top 20 routine. Oh Mia, we've missed you! She more than made up for her absence last season with this brilliant routine. We can't wait for more.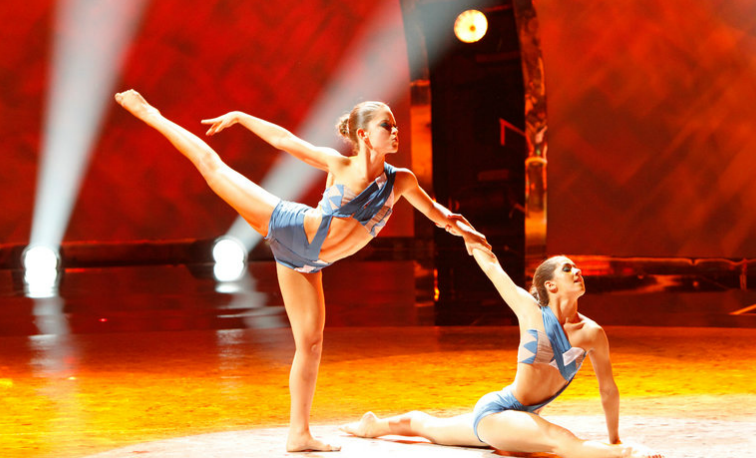 1. Tiffany and Audrey's Sonya Tayeh contemporary routine. These two tiny powerhouses stole the show! We were nervous when we learned Janelle was sick and would be sitting out, but after watching Tiffany and Audrey perform, we never would have guessed it was choreographed as a trio. They were technical and captivating and gave the best performance of the night. We want to see more from these two.
The "So You Think You Can Whaaaat??" moment of the night: Zooey Deschanel. The "New Girl" star joined Nigel and Mary on the judges' panel and it was just painful. Poor Cat kept trying to feed her lines and help her out, but it never got any better. We're all for guest judges—we just ask they have a teeny tiny bit of dance experience?
Now it's your turn. What did you think of the show? Do you have any early favorites? Tell  us in the comment section below!
Be sure to tune in next time on Wednesday, July 11!
(From left) Mean Girls dancers Riza Takahashi, Ben Cook, Kamille Upshaw, Jonalyn Saxer, DeMarius R. Copes, and Stephanie Lynn Bissonnette (photos by Erin Baiano)
Get in, losers. We're going to Broadway.
OK, not losers, actually—more like the bajillion die-hard fans of Tina Fey's 2004 cult hit Mean Girls, who've been wearing pink every Wednesday since a musical adaptation of the film was first teased back in 2013.
Now their world is like a cake filled with rainbows and smiles, because Mean Girls the musical, which had a trial run in Washington, DC, last fall, is set to open at Broadway's August Wilson Theatre April 8. And in a very grool twist, it turns out the show—with direction and choreography by Casey Nicholaw and a book by Fey herself—is delightfully dancey.
Keep reading...
Show less
Screenshot form YouTube
What do you get when a hoard of dancers collaborate to the catchy tune of "Love Somebody," by the band Frenship? The most epic dance party ever, of course! Said dance party was produced by the talented Michael Riccio, who's performed in feature films, including "Confessions of a Teenage Drama Queen" and "Shrek Forever After."
Keep reading...
Show less
Alicia Vikander in Tomb Raider (Warner Brothers)
Keep reading...
Show less
Quiz
Nov. 30, 2017 10:41AM EST
University of Minnesota Dance Team (courtesy University of Minnesota)
They say there's no "I" in "team"—and nowhere is that truer than the world of college dance teams, where precision reigns, uniformity is key, and a single misstep from any given "I" can cost a group a championship trophy. So it's unsurprising that securing a spot on one of the best dance teams in the country is no easy feat.
Members of these highly athletic teams rehearse for hours every week—on top of academic classes and commitments—and perform at football and basketball games, annual concerts, and nationally televised competitions (hi, ESPN). And "no I" rule notwithstanding, each of these top teams is made up of highly trained, highly technical, highly hard-core individuals, who come together to create a ready-for-victory pack.
These six teams aren't one-off success stories—they're consistently strong, and earn the top spots at major competitions like UDA and NDA nearly every year. Up for the challenge? Here's what to know before you go to auditions.
Keep reading...
Show less
courtesy ADCC
Are you a high school senior who's been accepted to a four-year accredited college or university program? Congrats! Within the 2017-2018 season, have you competed in events run by at least two of the organizations in the above graphic? Double congrats, because the Association of Dance Conventions and Competitions, or ADCC for short, wants to give you $1,000 (!!) towards college tuition.
Keep reading...
Show less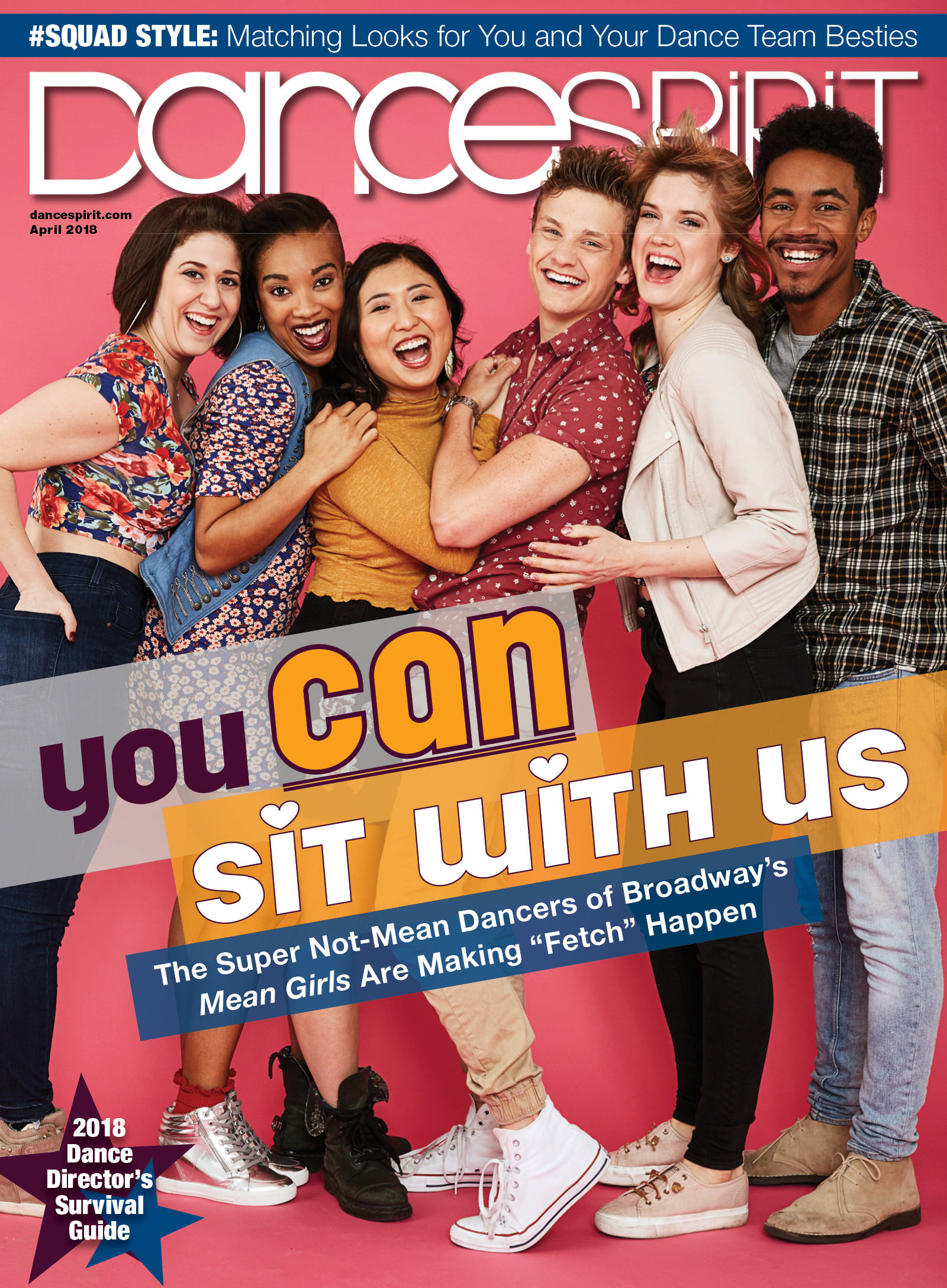 Get Dance Spirit in your inbox